Managers Have Epic Face-Offs With Crazy Customers
In almost every interaction with a Karen, there will come a point where she (or he) will ask to speak to the manager. They seem to think that if they over others and just act a fool, they can get what they want—but the following managers REFUSED to let these Karens get away with their inconsiderate antics.
Reddit user Bluemonday82 asked: 'Daughters of reddit: what's the biggest mistake dads make with their daughters?'
"Daddy's Girl, Daddy's Girl, I'm the center of Daddy's world..." ~ "Daddy's Girl" by Red Sovine
A lot has been written about the bond between fathers and daughters.
But there's always room for improvement, right?
And who better to offer constructive criticism than daughters?
Reddit user Bluemonday82 asked:
"Daughters of Reddit: what's the biggest mistake dads make with their daughters?"
Affection
"My dad and I recently talked about how he stopped showing physical affection when I hit puberty (20 years ago). He didn't know how to act because his sisters got treated inappropriately by others when he was young, and he wanted to be sure I never felt like that."
"It resulted in me never getting hugs or kisses on the cheeks anymore. He also didn't know how to talk about it in the past."
"But in the last years, he worked through so much of his rough childhood and really learned to express himself better. He apologized, and I said I understood and that his intentions came from a good place, that the only bad thing was all the hugs we missed out on."
"We hugged for a really long time after that, and we've been hugging extra tight ever since."
"So I guess what I wanna say is, don't treat your daughters differently when their bodies start to change. And always keep talking!"
"I'm so proud of my dad for the person he's become."
"For a while, I didn't wanna hug my dad either. Puberty was rough for me, and the adults in my life kept acting like it was just a phase."
"And I guess it was, but that doesn't mean it wasn't the most emotionally complicated and lonely period of my life. The feelings weren't less real."
"My dad and I struggled a lot. He didn't know how to express himself at all, and I was so overwhelmed I didn't know either."
"I also grew up with two autistic brothers who needed a lot of care and attention. I love them so much, but it resulted in me always looking out for them and never learning (until just a few years ago) to properly give space to my own inner turmoil."
"My brothers were never physically affectionate either. But once I got out of the heaviest puberty years, I did want that affection from my dad. For a while, male physical attention was a very complicated topic for me."
"A Christian upbringing also played a role in that cause as a young girl growing into a woman, it had a lot to say about how I should behave around men."
"Something important to add is that my dad's rough childhood not only made it hard to show love but also receive it. His journey started with the realization that he had no idea how to react to getting compliments."
"I think that's a thing that a lot of men (from his generation especially, but also younger ones) will recognize. Know that we are all deserving of love and kindness, especially from our loved ones, but even more so from ourselves!"
"My dad couldn't ever have grown this much without learning to really understand what that means. And diving into the withholding of love from his parents heavily impacted how he dealt with that himself."
"I'm so glad my dad and I could both grow and work through our issues. Even if he couldn't show or say it, I never really doubted his love for me."
"But I know he would encourage you all to learn how to show and receive appreciation! That man is my example for people never being too old to learn."
"I'm sending love and strength to all of you who struggle with this in one way or another."
"And to the fathers who feel like their young kids don't want their affection, just know that this will most likely change again over time. They might act like they don't wanna hear it, but keep letting them know you're there for them."
~ yuffieisathief
Showing Up
"The one mistake my dad made was not really being present. A lot of the memories I have of him are him watching TV or being on the computer and not having time to play with me."
"He always said he's too tired or he'll come play later but then he never did. So since we never really bonded when I was little we weren't all that close as I grew older either."
~ katie__kat
Communication
"Getting angry for something the kid doesn't know, and never teaching it. Not before and not even after getting angry.
"Doing something you know upsets the kid on purpose."
"Slamming doors and stuff in the house because you're angry."
"Not listening, and talking only to make themselves look smart and great parents rather than talking for helping."
~ yoyuayu
"I'll never forget the time my dad saw me put something metal in the microwave. I don't know how old I was, but I know I needed to push a chair to the counter to even reach the microwave."
"He SCREAMED at me for several minutes about how STUPID I was and how he couldn't believe I would do something SO INCREDIBLY DUMB and was I trying to start a fire??"
"I had no idea you weren't supposed to put metal in a microwave."
"I did learn a few things that day- don't put metal in the microwave and don't do anything wrong in front of Daddy. Oh, but you won't know if was wrong or not until too late..."
~ DrScarecrow
"Didn't have to look very far to find the description of my dad—especially slamming doors and hitting things loudly when upset while stomping all over the house."
"People always get a kick out of how jumpy I am (easily startled), but it's reflexive from anticipating loud bangs/crashing that would come out of nowhere every day."
~ ouija__bored
"My dad had such a short temper. He didn't necessarily hit me, but I got spanked til I was 9 years old and then my mom told him I was too old for that."
"But whenever he was angry (and that was a lot of the time) he'd scream and sometimes slam things."
"My husband slammed his hand onto the table a couple times during fights near the beginning, but realized he was wrong for acting like that, especially seeing how I'd immediately shut down. He's gotten much better."
~ Educational_Cat_5902
Being Your Child's Bully
"Singing in a falsetto voice and poking until your autistic kid is screaming at you to stop isn't 'fun' or teaching them to be less sensitive, it's why they don't ever want to hang out with you."
~ Redqueenhypo
"Making fun when your small daughter is having big feelings."
"I got so furiously frustrated when my parents wouldn't listen to what I was trying to tell them and my dad just loooooved to mock my crying or squeaky 'upset' voice back at me."
"It made me so f*cking hurt and angry to not only be ignored and patronized, but actively MOCKED when I tried to communicate."
"Now as an adult I don't bother trying to share anything with them."
"Another classic was when I was disappointed and said, 'aww, man' he'd scrunch up his face, raise his voice three octaves, and 'AwW mAn!!' back at me."
"So now I wasn't just sad and disappointed, but sad, disappointed, and humiliated!"
"Imagine choosing to be your child's first bully... 😞"
~ Not_a_werecat
Just a Girl
"Or from my experience—not even bothering to teach anything because Dad assumes his daughter wouldn't be interested because she's a girl."
"Worse—actively making sh*tty jokes about women not liking those things."
~ Cinnapuns
"Not having anything to do with their daughters because the dad 'doesn't have anything in common with a girl'."
"This goes double if a son shows up and the dad is really involved in the son's life."
~ Dangerous_Contact737
Puberty Isn't a Disease
"My dad basically bailed on parenting once I hit puberty."
"Like, you think I'm enjoying this? It would have been great to have another supportive adult around."
~ captain_flasch
"Same! What's up with that?"
"I remember having a good relationship with my dad as a child but he emotionally cut me off and stopped hanging out with me when the boobs came in."
"I would be lying if I said that I'm past it and it doesn't f*ck with my head still."
~ Pandapartyatmidnight
Know Nothing
"Literally knowing nothing about their daughters lives."
"Those 'funny' videos where they ask fathers basic questions—like what their daughter's birthday, or eye color, or school is—and the dads have no idea are not at all funny.
"I love my dad but he can't tell you anything about me—even the name of the place I've worked for over 6 years."
~ Lazylioness17
"One year when I was in elementary, my mom left a comically large piece of paper on the front door for my dad telling him not to forget to wish me a happy birthday."
"Not only did he not wish me a happy birthday, but he somehow didn't see the gigantic sign when he walked in the house from work. So I got to read it when I got home from school."
"Sometimes I think about calling him to check in but then I think of that (and other complete fumbles) and then I just don't."
~ TetonsTeaTin
"When I was in 4th grade, we did a Christmas recital where all the classes sung songs. My mom couldn't make it because she had work so she sent my dad with the camcorder."
"He recorded the wrong kid. Very awkward watching the tape that night."
~ myturtlebitme
The original poster shared their reason for asking his question.
"Wanted to add that I'm a dad of a teen and that motivated me to ask this. The replies are just heartbreaking."
"I'm reading every single reply and I really hope all the dads and parents and basically everyone is learning something."
~ Bluemonday82
"Dad of an almost 4 year old daughter with two older brothers…. I'm scouring this post like there is cash on it somewhere."
~ Feeling_Advantage108
"I'm doing the same thing, stepdad that adores both my boy and girl. Couldn't have kids myself. Searching for gold on this thread."
~ Numbthumbz
And the daughters appreciated it.
"This is healing my younger self—knowing that there are fathers trying to do right by their young girls.
"I'm 25 now and I think if he just would have asked me how I was doing (and meant it) it would have changed me a lot."
~ Loniceraa
"Same. My father was cartoonishly selfish, strict, controlling and mostly only saw me as a pretty, obedient mirror born to reflect his glory. What I thought, felt, liked, or wanted mattered very little and we seldom had what I would call 'real' conversations."
"Reading the posts of all the good fathers in this thread has been wonderful."
"I'm so happy there are tons of little girls out there with fathers who want to know them and see them for who they really are, who want to teach them things and bond with them."
"My father never wanted to get to know the real me, which is a shame because I'm a f*cking delight."
~ insolentpopinjay
As the OP stated, hopefully everyone has used this opportunity to learn something.
Is there anything you would add?
Full disclosure at all times with your significant other, right?
Yeah, good luck with that.
Let's get real—there are things we don't tell our partners for a lot of reasons.
Sometimes you just don't feel like having to explain something that doesn't really affect them.
Sometimes you're protecting them from something that will have a devastating effect on them.
These are probably going to be more that second one...
Reddit user Janine_18 asked:
"What's the one thing you'll never tell your SO?"
Love/Hate Relationship
"She loves her siblings and hates her parents."
"I hate her siblings and love her parents."
"They were very tight with their parents for the first 3 years of our relationship, and in 2017-2018 all hell broke loose so to say. My partner has no personal animus towards her parents, she is however extremely close to her older sibling who has a heap of problems with their parents."
"My partner follows their lead and it guides her own relationship with their parents. And the reason her siblings have huge problems with their parents is that they retired, moved 20(!) whole minutes away from their childhood home and went on a vacation for a month.
"They are apparently 'selfish', 'inconsiderate', and 'don't think of themselves as parents'. This despite the fact that they call and visit for every holiday, birthday, promotion, celebration of any kind. Dog and babysit. Frequently host. Communicate well."
"No the absolute truth is that my partner's siblings are black holes and not great."
"Would 'I radically dislike your one sibling and don't trust the other at all" be a viable middle ground?'."
~ Agreed_fact
Sweet Tooth
"A few years ago, my girlfriend put a candy bowl in our hallway at our apartment for Halloween. She came home that day to discover that nobody took any candy, and she was a little bummed."
"Over the course of that week, I'd take candy out before work or when she was asleep."
"She got so happy that 'the neighbors loved the candy'. She does this every year now, and I have to continuously swipe the candy and pretend it is the neighbors."
"It makes her happy, and I get free candy. Win win."
~ AlecsWebHair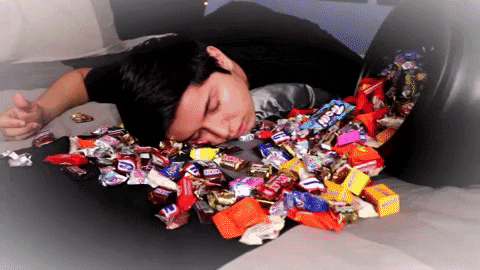 Giphy
In It For the House
"That I know she cheated on me and the only reason I haven't left her is because the mortgage interest rates are a bit high so I can't comfortably buy her half of the equity we have in the house."
"I got a valuation, a mortgage pre-approval, and a lawyer all ready to go... But would only have about $21 per week to spare... I'd be screwed the first time a major appliance or the car breaks down..."
~ H_He_Metals
Mommy Dearest
"That her mother is a bad person in disguise of a caring and beloved figure."
~ Relative_Rich8169
"My pet name for my girlfriend is Bambi."
"She thinks it's because has big brown eyes, but really it's because I want to shoot her mother with a rifle."
~ airblizzard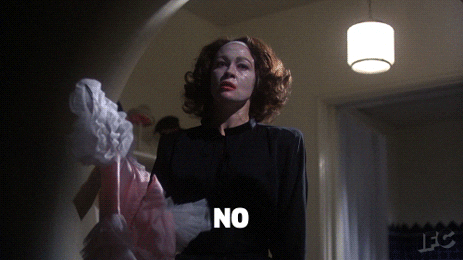 Giphy
"That's my mother in law. For her daughter, she'll do anything... to the point that it's overbearing and controlling and difficult to deal with."
"And for everyone else, she is one of the least empathetic people I've ever met..."
"She CRIED when Rush Limbaugh died, and she literally said the Proud Boys are like the Boy Scouts. But she'll drop $2,000 on Christmas presents for one person like it's nothing, so she thinks she's owed respect and kind words."
"I literally had to tell her at one point, 'If you want me to stop calling you a Nazi, buying me more presents or arguing with me isn't going to do it, you have to stop saying Nazi-friendly sh*t'. But she didn't stop, of course."
"She thought COVID was no big deal until a family member died of it."

"She also makes tons of snide comments about my work. I'm a lawyer in Big Law, I make great money but it's soul sucking and I never wanted to do this forever, I want to work for the government."
"She'll see a postal worker and say 'That'll be you one day, government worker, not a great way to provide for my daughter'."
"Her daughter, my wife, is a DOCTOR who is going to make more than I do no matter what job I work, and she herself is a dentist who worked until her banker husband could retire at the same time as her."
"She talks sh*t about how I made her daughter an atheist (I didn't, she did that on her own), but she herself has NEVER read the Bible and hasn't been to church in 20 years."
"She unironically believes in aliens, Big Foot, and ghosts, and thinks she saw Mother Mary in the sky."
"All the bad things I tend to think about Republicans (they don't care about an issue until it personally affects them, they have no standards except double standards, they use religion as a cudgel but don't actively live a spiritual life, they believe insane sh*t with zero evidence, they're old fashioned and judgy and can't accept that the world is changing around them, etc...) is her to the letter."
~ 2Charming-Fig-2544
Magic the Retirement Fund
"How much my Magic the Gathering collection is worth."
"They'll absolutely try to get me to sell some of it."
"It's my precious."
~ Ganthamus_prime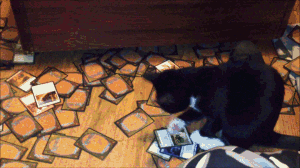 Giphy
First Impressions
"When he and I first met, I was CERTAIN he was gay."
"He is very much NOT gay."
"And he will NEVER know I ever thought this."
~ ShinyIrishNarwhal
No Llama Drama
"When me and my wife first started dating, I had a dumb canvas painting with a llama and rabbit on it that I found at Walmart. I showed it to her and told her how much I loved it just because it was just such a dumb random thing to find."
"For some reason she took that as I love llamas and that they are my favorite animal. So now, every time she sees one or something with a llama on it I see her brighten up to show me and I get excited with her!"
"Llamas are not my favorite animal. Never have been. I don't know how she made this connection, but i will never tell her otherwise because seeing her face light up every time is way better."
~ WhereTheChapstickAt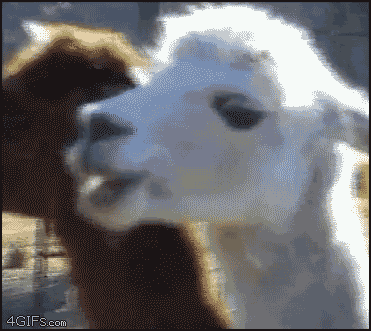 Giphy
Relationship by Google
"I spend a couple hours doing research on how to make relationships work and keep her happy in the long run."
"She thinks I'm this awesome perfect guy but I just do what the internet tells me."
~ BadRobot___
Chemical Warfare
"He thinks I don't fart around him because I'm too shy or polite."
"It's really because they are so bad they could kill a horse."
~ Neonpantsuit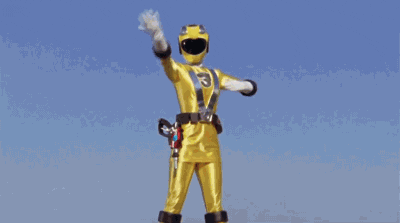 Giphy
Are There Raisins?
"I don't like the potato salad she makes, and she always tries to make it as a treat for me."
"It's my mom's recipe, but doesn't taste like mom's."
~ Bean_Juice_Brew
*yawn* 🥱
"The spot you make me sleep in on the bed is uncomfortable but I lay there because you're comfortable where you are."
~ legacyrisky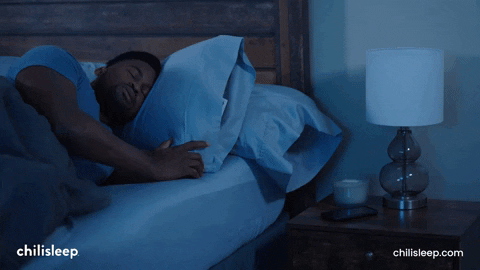 Giphy
Confessions
"We're both in college, and last semester we both had a cold at some point. He had it much, much worse than I did, so I went to class and he skipped."
"Afterwards, I went to his dorm to share notes and take a nap. I was almost asleep, and I'm assuming he thought I was, because I felt him squeeze me and whisper, 'I love you so f**king much'."
"It was the sweetest thing ever and I'm never telling him I know he did that."
~ scorpiomooon
Maybe a Farm Upstate?
"I definitely didn't kill that massive spider, and I have no idea where it went."
~ Cothak88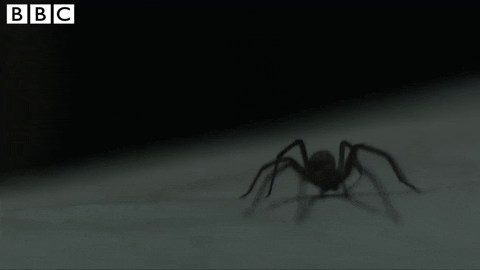 Giphy
So, these weren't too awful, right?
What secrets are you keeping?
We all have that moment where someone we know says something so completely absurd, the only response we think of is 'WTF is wrong with you?'
Sometimes, it's something woefully inaccurate that you can't wrap your head around the fact that someone believes that.
Othertimes, it's something completely offensive and you regret your association with that person.
My college roommate was a girl I knew from my high school. I didn't know her too well, but we had some big things in common, so I figured it'd be fun to live with her.
This girl was half-Korean and talked a lot about racist people. At first, I let her rant, figuring maybe she or someone in her family faced some racism. I faced some myself, and I agreed with most of the things she said about racists. Eventually, however, I realized she was equating the word 'racist' with the word 'white.'
I spoke to her once, telling her she can't use 'racist' and 'white' interchangeably. She agreed to stop doing that, but within a few days, she started doing it again. She was a very bright girl, so I was a little concerned about this, especially since her own dad was white and was possibly the nicest man in the world. Not to mention, this made her and her siblings half-white too. Did that mean they were all half-racist?
I stuck by her for a while, but when she started saying things about what she wanted to do to racist people (once again using the word 'white' instead of 'racist'), I realized I couldn't be around her anymore. She couldn't talk about anything else after a while, and every time she spoke, I wanted to say, 'WTF is wrong with you?'
We did not room together the next year.
Redditors have stories similar to mine (and some even crazier), and they are eager to share.
It all started when a Redditorasked:
"What did the person do/say that made you go "what the f**k is wrong with you?"
How To End A Friendship
"In college I used to kill time between classes hanging out with a guy who was from the same redneck county as myself. We didn't really have much else in common, but he was nice enough and seemed eager to socialize so I figured why not. I wasn't overly social myself and didn't know a whole lot of people."
"One day we decided to go somewhere off-campus, and he drove us. While driving, on an interstate mind you, he proceeds to show me his handgun that he kept in his truck - not in a menacing way, but in a "Ain't that cool?" way."
"I was not immediately frightened, but I respect firearms enough to recognize we are going like 60-70mph on an interstate in daylight, and nothing good can happen in this scenario. I calmly asked him to put it away because I was not comfortable in this situation at all. He then tells me "Oh it's not loaded" and presses the gun to his head before pulling the trigger."
"Thank f**k he was right, but still it was a wild and frightening display of reckless disregard for his own life and mine for that matter in the event that he'd accidentally killed himself while driving us. I didn't hang out with him much after that, certainly didn't get in a car with him."
– omjf23
""It's not loaded" famous last words of many an idiot."
– GloInTheDarkUnicorn
The Worst Kind Of People
"When my dad was in the nursing home, they weren't running certain expenses, like ambulance rides, through his insurance. When I took over his financials, he was tens of thousands in medical debt that shouldn't have ever been charged to him in the first place. He was in numerous collections, and his credit score was tanked."
"When I complained to the nursing home director, he said, "Well, it's not like he's going to be buying a house or a car!" Then he laughed."
"My dad was paralyzed from the waist down and needed lifelong care, so he was never going to leave the nursing home. Even though he was technically correct, I gave him the "WTF is wrong with you look." Then I complained to HIS boss and he got canned a couple a weeks later. My dad's insurance was fixed pretty quick, too."
– MNWNM
""Sorry, what was funny about that? Could you please explain.""
– v3n0mat3
...Seriously?
"MIL told my wife she should divorce me bc I googled whether a lasagna should be covered with foil while cooking."
– Struggle-Silent
"This is my first laugh of the thread lmao wtf."
– koreantrvp
"It actually ruined this entire trip. It was at my BIL's wedding, which was only close family (siblings + parents) and they had the caterer make a lasagna for an evening dinner."
"Father of the bride was gonna pop it in the oven and asked if it should be covered. I googled lasagna cooking instructions and said yes it should be covered and cooked at this temp. MIL said absolutely not!"
"Me and the father of the bride kinda gave each other a look and he covered it. MIL was furious and texted my wife that I was an a hole and she should divorce me before we had kids."
– Struggle-Silent
Hostile Work Environment
"Boss at old job told the team we needed to 'get used to a healthy level of conflict, fear and anxiety in the workplace.' I dipped so fast after that."
– Prestigious-Energy69
"Similarly, a boss told me that I owed him my loyalty because he was paying me."

– Kylearean
How To End A Relationship
"A girl I was with while we were still together just looked at me while I was driving to her house and said." You know I would get over you faster than you'd get over me" I was like …… Tf did you just say?"
– omega91301
"Huh. And just like that I'm over you."
– Pineapple_Spenstar
"Honestly, that would absolutely do it for me. When I was younger, I would be stupid and hurt and argue. I'm past 50 and I got no time for that nonsense."
– Terpsichorean_Wombat
There Are Other Ways To Stave Off Boredom
"I was DD for some buddies who wanted to go to a particular dance club in Baltimore. They're all hammered, it's too loud and we've been there for several hours. Casually an older woman next to me chats me up and notices my eyes are nearly crossing from boredom. I explained what I was doing there and casually (stupidly) mentioned I'm a bit bored. This psycho BITES ME on the chest! Afterward says "Well ya ain't bored now, are ya??""
– Mike7676
"Well, were you bored after that?"

– DontWannaSayMyName
"I must say, I was not!"
– Mike7676
That Goes Both Ways!
"I'm a man who works with kids, and when I started this job, I was talking to one of my old coworkers about how every once in a while I'll get weird looks for being a man working with kids and my coworker said I deserved it because some men can't be trusted with kids. I was shocked and she went on to say that I did it to myself and deserve to be questioned about it. I immediately stopped talking to her."
– Dolhedew
"What? What in the actual f**k? Doesn't she know there are women who can't be trusted with kids?"
– Anonymoosehead123
That Escalated Quickly
"The lady that accused my kids of cutting the line. (They hadn't, I was watching). When I went to ask her what was wrong, she told me to go back to my own country with that sh*t. (I was born in Massachusetts.)"
"The line was to pet dogs at a Renaissance Fair."
– pasafa
Everything All At Once
"While alone with a coworker, he told me that "women in the work place will lead to the decay of the fabric of society" to me. A woman. He also asked me out, got an attitude when I didn't say yes and continues to walk around with huge incel energy. He always complains that he has no one to go home to yet refuses to look at himself as a possible reason."
– Nopeferatu31
"Sounds like they should learn something from the phrase, "if you meet one a**hole, they're the a**hole. If everyone you meet is an a**hole, you're the a**hole.""
– tmpope123
Ouch!
"I told a coworker my wife had died."
"Her response: "You're one of those bald middle aged guys with a dead wife.""
"Me: "Yeah.""
– WalrusCello
"I want to think this was a wholesome thought that came out wrong. An awkward attempt at dark humor."
– ThisUsernameIsTook
*Cringing*
"Had an otherwise normal co-worker who was completely convinced windmills will cause the earth to stop spinning."
– Shadowmant
"WINDMILLS DO NOT WORK THAT WAY! GOOD NIGHT!"
– Torvaun
These are all crazy 'WTF is wrong with you' stories, but that last one blew my mind in 'how is it possible people think that could be true' sort of way!
One of the possible wonders of adulthood is home ownership. But homes come with so many things that can break.
And the last thing you want is a nonfunctioning furnace when temperatures dip below zero or no water when you're covered in dirt and grime.
That's what routine maintenance is for—to make sure things work when you need them.
Reddit user drop_user_table asked:
"What is a home maintenance task most homeowners are probably not doing but should?"
Dryer Vents
"You know the exhaust from your dryer that vents outside."
"Pull the vent off, take a dry vac and vacuum the lint out of there."
"You'll be surprised."
~ wm313
"Cuts down on dryer fires."
"There are a shocking number of dryer fires!"
~ AgedAccountant
There are TikTok and YouTube channels of just people cleaning dryer vents and dryer hoses.
Carbon Monoxide Detector
"Not sure I'd call it 'maintenance' but installing a carbon monoxide detector is a good idea."
"You can get ones that just sit on a shelf somewhere."
~ jayhitter
"A $20 carbon monoxide detector saved my life. We put them in when we moved in, the previous owners didn't have any."
"A year later it went off, hot water tank malfunctioned and dumped gas into the basement. The firefighters confirmed the levels in the house would have killed us."
"It's surprising how quick the gas can get through your house. A family of 6 lived there before us."
~ _northernlights
Smoke detectors have become common in homes, but carbon monoxide awareness isn't quite there yet.
Baseboards
"I worked with a lady who once told me (when I asked if she had plans for the weekend), 'Well, it is the first of the month, so it is time to wash the baseboards'."
"In my house, they only get washed if something spills in them, we are painting, or we are getting ready to sell the house."
~ TroubledWaterBridge
Washing baseboards monthly might be excessive, but you should dust, mop or vacuum them when you do the rest of the room to keep dust and allergens down.
Water Valve
"Turn the main valve for your water off and on once or twice a year."
"If you do not, eventually it will corrode and stick and when you have a major leak you will not be able to shut the water off."
~ spider0804
"Only do this with hardware stores open in the event it actually is defective and in need of replacement because consequences."
~ stuffedbipolarbear
Locate your main water shut-off BEFORE you need it in an emergency situation. This can be especially useful during cold weather since in-home plumbing can freeze.
Roof Vents
"Caulking around your roof vents every 3-5 years. That stuff deteriorates and it WILL leak."
"I can't count the number of homes I've seen with interior water damage as a result of deteriorated sealant around the roof vents."
~ mrclean18
How to create a watertight seal around a vent pipe.
Gutter Clogs
"Cleaning the gutters."
~ CheezeMaGeeze69
"My husband goes up with a leaf blower and blows them all out. So much easier, but much, much messier."
~ Discopants13
Leaf blowers make the job quick and easy.
Working Fire Extinguisher
"Having FIRE EXTINGUISHERS on hand and turning them upside down to prevent settling."
~ CochinealPink
"Minimum once a year. My company does fire extinguisher inspections."
"An annual inspection for a fire extinguisher is turning it upside down for a few seconds and then removing the hose and checking for obstructions/debris."
~ SgtGo
Routine inspections of your fire extinguisher will ensure it works when you need it.
Dishwasher Filter
"Clean out the filters/traps in your dishwasher."
~ comfortableydumb
"This is one I truly didn't know. First time homeowner and didn't know about that until about 3 years into owning the house."
"Apparently the previous owner didn't know anything about it so that first cleaning was a doozy."
~ Deltas111213
Cleaning your dishwasher improves efficiency.
Hot Water On Tap
"Drain hot water tank and check anode rods if you've got an electric unit."
~ 0net
"We replaced a rod a couple of years ago. That thing was scary looking!"
"The couple we bought our house from apparently did no routine maintenance, so we've had to do almost everything listed in this post."
~ evileen99
Replacing a water heater anode rod extends the life of the tank.
There are a lot of things to add to the to-do list here.
Is there anything else you'd add?