Scorned Lovers Reveal Their Worst Cheating Stories
Cheating is one of the worst things a person can do to a loved one. Betraying the trust of someone we are supposed to be committed to on such a fundamental level is truly despicable and heartbreaking, and the users of Reddit blew off some steam by telling the tales of their very worst, no good cheating exes.
Reddit user GazelleHistorical705 asked: 'What is the most ridiculous college major you've ever heard of?'
Many high school graduates face the conundrum of what to major in when they go on to pursue higher education.
Teens who haven't already sparked an interest in a particular field by the time they graduate wind up buying more time waiting for enlightenment by electing "undecided."
But to avoid any stigma of being an idle scholar, some students settle on majors they thought never existed.
"Fun with pasta," anyone?
While such a major might not exist, I wouldn't put it past some academia for coming up with it.

Curious to hear what those unheard-of specialized fields of study are out there, Redditor GazelleHistorical705 asked:

"What is the most ridiculous college major you've ever heard of?"
Majors with one word, please.

Sounds Like A Hard Major
"PENIS. My school offered a major in Political Economy of Newly Industrialized Societies, but eventually realized the acronym and changed the name. Pity. I hope some were able to get their degrees with a concentration in PENIS."
– OhMaiMai

Hidden Objective
"Golf."
"It was made so the Vice Chancellor could buy a private golf course for the university, so he could play on it. I believe it had 5 enrollments ever, and one was a joke that didnt show up or pay. It got cancelled the first year, but he got to enjoy his own personal golf course for some years after."
– jadelink88

Just Throwing Ideas
"Frisbee. A friends roommate at Amherst was in some kind of 'create your own major' thing and chose frisbee. His family had momey and college was just a formality."
– hightower65
Certain concepts as a major were hard to grasp.
Seed Of Despotism
"IIRC, like 20 years ago some college in Indiana offered a major in World Domination."
– Rev_Christopheles
"You can only get a job as a henchman with a BS."
"You need a full PhD to be an evil mastermind."
– JimBean823

A Vague Focus
"PhD in general studies."
– dravik
"Tf do you even write your dissertation about."
– Fragile_Line
"Everything."
– ProsciuttoPizza
"Generally."
– cropguru357

Let's Take It Outside
"An old friend has a Bachelor's degree in Outdoor Activities. He was never able to explain exactly what that meant, though."
– EnlargedBit371
"A guy I know majored in Recreation."
– kmsc87
"When I was there, my college had one of the top Parks Recreation and Tourism Management (PRTM) programs in the country."
"It had the nickname 'Party Right Through May.'"
"It was extremely popular with student athletes, especially football players."
"There's always a demand for graduates too. It seems like one of those fields where you shouldn't need a college degree to do the work, but you need one to get in the door."
– JimBeam823

Going At Your Own Pace
"When I was in uni my friend dated a guy who was majoring in leisure studies. I used to joke that leisure studies is a 4 year program, but if you're good enough at it you can do it in 6."
– Mtldoggogogo

Arghhh Ya Kiddin' Me?
"At MIT you can be certified in being a pirate if you complete the courses of pistol, archery, sailing, and fencing."
– yhdreytaweatrst
"It's not a major, it's a certificate. But if I ever get my own office it's going in a very nice diploma frame and I'm gonna see who notices."
– PoorCorrelation
Veritable Hodgepodge
"My university had an Interdisciplinary Studies department that served mainly to get super duper seniors graduated. They would cobble together the random credits people got because they changed majors every semester into a 'degree.' You get some wild majors like a BA in Culinary Traditions and Music in the Former British Empire."
– pinelands1901
Sapphic Education
"My college briefly had a major in Nordic Lesbianism."
– WhizzleTeabags
"I've read many of the responses on here where most of them weren't ridiculous imo but you gave the best one!"
– 90DayTroll
"HUH."

– OP

Make It Up
"At a graduation at the University of Redlands. They have a degree whereby you basically take the classes you want and call it what you want."
"The degree conferred was, I kid you not: 'Still trying to figure out who I am.'"
– dmur726
Clearly there's a major for all occasions.
But at the end of the day, does it really matter as long as you have a BA in something to show you were academically tenacious?
Now go out there and carve out your own path, young scholars!
Just make sure you can pay off those student loans.
Maybe there should be a major on how to avoid debt.
Artificial intelligence (AI) is defined as:
"the theory and development of computer systems able to perform tasks that normally require human intelligence, such as visual perception, speech recognition, decision-making and translation between languages."
AI is broken down into four types—from most basic to most advanced:
Reactive machines
Limited memory
Theory of mind
Self-awareness
The first two—reactive machines and limited memory—currently exist.
Reactive machines AI have no memory—it responds directly to current information. An example is a recommendation based on your streaming activity.
Limited memory looks into the past and monitors specific objects or situations over time, and adds the information to adapt responses. Self-driving cars are a good example of limited memory AI.
The other types—theory of mind and self-awareness—don't exist yet.

Theory of mind AI would be able to understand intentions and predict behavior while adjusting its own responses, simulating human interpersonal relationships.
The final step in AI is self-awareness. These would be systems that have a sense of self, a conscious understanding of their existence.
As AI advances, some human work functions will be done cheaper or more efficiently by AI.
Reddit user othersimon asked:
"Those who actually had their jobs replaced by AI, what was the job? What replaced it? What do you do now?"
Not Me!
Redditors definitely had feelings about businesses implementing AI.
"To everyone who argues that AI isn't capable of doing their job yet I say, so what? All that matters is your boss thinks it can do the job."
"Laughing at their failure is small solace when you're unemployed."
~ obscureferences
"I mean how many people were fired because they had been working for 10 or 20 years and earned high pay, to be replaced by some minimum wage worker who completely botched the job and took twice as long?"
"Lots."
~ Black_Moons
WUT U MEEN IZ RONG SPELD?
"My entire editing team was replaced by a robot that was supposed to write and edit text like a human can."
"They didn't test the robot first—it was terrible, and their entire project failed."
"No tears were shed."
~ IllustriousNight4
"My wife was a copywriter/wrote blogs for internet optimization online primarily for legal and medical fields."
"AI took over and her company either fired everyone or severely reduced the amount of pay that was offered per job—wife is still unemployed."
"But we heard just last week that it sounds like the company is now going under."
~ The_SchnitzelMan
"AI-written articles are obvious from a mile away and they're terrible."
"I think Google should penalize search rankings for AI generated content as it's often not valuable to the reader who is looking for useful information."
"And these articles bastardize Google's own value in a sense as the info showing up in search results is materially less valuable than genuine content."
~ mokikithesloppy
1, 2, 3...
"Worked at Amazon for a few years. Did inventory basically all night."
"Then they installed cameras, scanners, AI, etc..."
"Still need a human, but yup, a lot of us were no longer needed."
"SBC (simple bin count, just count everything in the bin, easy) is redundant."
~ somecow
Unexpected Development
"I was on a very small software development team at a relatively large company."
"We were often tasked with not only working on our project, but utilizing new cutting-edge technologies to test whether they would be viable before rolling them out to the rest of the dev teams."
"We were asked to start leveraging AI to help us with our development and we gave it pretty high praise."
"Apparently we talked it up too much though and they decided to see if they could simply bypass needing software developers and have the business analysts generate code from their requirements and then send that code straight to QA."
"They didn't really test if that would work before laying off our entire dev team, and a couple of months later they laid off the remaining members of the team because it wasn't working out."
"It was just one of many bad decisions they made around that time and they're currently struggling and losing market share because of it."
"I'm still working as a software engineer and use AI as a useful tool, but I'm sure to always let my supervisors and managers know what its pitfalls are and how its just supplementing my work, and not completely doing my job for me."
~ karma_aversion
"Software dev here, new exec came in and replaced me (only dev) with 'no-code' software."
"From what I hear from my friends still there, they shot themselves in the foot."
~ tanMud
"In order to get AI to work well for you, you'd have to spell out your specs in great detail and spoon feed it. Of course, in order to do that one would need to know exactly what they want first."
"Unless they have a helluva business analysis team, that is a fantasy."
"Oh, and how are they going to update the AI generated code down the line? There is a guy on my team who is sharp as a tack but his code is actual mental gymnastics. I make him spell it out to me because it simply makes no sense."
"Turns out he was writing code that was assisted by ChatGPT. AI writes code that computers can read, devs need to write code that other devs can maintain/expand."
"AI can create stuff from scratch, sure, but I don't think it's prepared as of yet to digest complex code, interpret it, and then add to it with more complexity. They could try to run everything we do with AI but will hit some dense walls quickly."
~ skyphoenyx
No Injuries If There's No People
"Some warehouses have some self driving high reach forklifts."
"Someone said that their warehouse has only 2 human high reach drivers & 9 self driving high reaches."
"Crazy stuff."
~ wistteria_
"Lights off manufacturing is getting closer by the day."
"I work in a facility that's about 800k sqft. It has 20 employees in it and hundreds of not thousands of robots. We make millions of widgets a week."
"Single use medical devices. All plastic. Huge boom in business during Covid, back down to earth now! But still very profitable."
"All the lights are on sensors because there are areas people don't go into for weeks at a time. It's eerily quiet and creepy. If there's an issue we fly someone in from another location."
"Trucks unload raw material into large totes. Robots collect the totes and deliver to the material storage area. A human inspects quality and quantity."
"Machines mold the widgets, a robot pulls them out, cameras inspect the parts. Data is sent to a central quality facility in Mexico."
"When the lot is approved, robots pick up the totes and delivers to packaging lines where it gets boxed up, weighed, labeled, and taped shut—all by robots."
"Then the completed pallets get delivered back to the warehouse where a truck picks it up and delivers to the customer."
"We have a few engineers (I am one) that maintains, inspects, and reports out on the systems. We have three security guards—one whose job is a 'buddy' to escort people to dangerous areas."
"If you had an accident we wouldn't know about it until your shift ended."
"There's a plant manager, a pair of quality techs, a couple material handlers. And two maintenance folks."
"That's the entire operation."
~ bondsman333
Digital Age
"I used to be a projectionist."
"Now a movie is on a hard drive and it's programmed to run remotely."
~ FlintWaterFilter
Facing the Future
"I'm about to lose my job to a layoff, but I will be replaced by 2025."
"Working in semiconductor manufacturing, most of production is fully automated already with plans to automate more. My job is basically to babysit idle machines right now."
"The maintenance crew will always be necessary but as soon as AI can do the rest of my job, I am not necessary at all."
"I can be replaced by code, the company would love to get all the product made without paying people for their time. I know I am expendable to them but it's the best paycheck in the county."
"Sad but it's the truth. Gonna have to try and stick it out while I apply to new jobs."
~ DERtheBEAST
It Is What It Is, But Isn't What It Isn't
"I feel like this is going to happen a lot in the next few years."
"Don't get me wrong, AI is an incredible technology, and depending on the specific implementation, it's capable of great things."
"But the unveiling of ChatGPT and AI art bots started a bubble of sorts, which we're currently still in."
"People seem to be over-conflating and misunderstanding how AI works, what AI is, and what AI is capable of, and for that reason, I think we're going to see a lot of misguided layoffs coming."
~ AbyssalRedemption
Technological advancements have eliminated human labor forever.
This isn't a new dilemma created in the computer age.
All we can do is pay attention and adapt.
I was very fortunate that my parents were able to pay all expensive not only through adolescence but even through college. However, they made it very clear that once I graduated, I was on my own.
I made every effort to make sure I could afford to live once I graduated. I made copies of all the recipes my parents got when they bought stuff for me, and started saving my own receipts, something I didn't do through high school. I calculated monthly expenses and created a budget for the future.
When I graduated, I had accounted for all the big expenses: take-out food, the expensive skin care essentials I needed to keep my acne at bay, and utilities (heat, AC, electricity).
What I didn't realize was that small expenses are not so small. Microwavable meals went up by $2. Gas, which was pretty steady while I was in college, seemed to shoot up daily. And things that don't seem expensive at first glance, such as toilet paper, become big expenses as they add up.
I'm not the only one who had these realizations. Redditors have too, and are eager to share what items they didn't realize were expensive until they became an adult.
It all started when Redditor ForeignReviews asked:
"What item did you not realize was expensive until you became an adult?"
Yummy, Yummy
"Food is both more expensive and goes bad quicker when you're an adult."
– BriSnyScienceGuy
"I know right! I honestly love grocery shopping, so when I started driving I would go grocery shopping when I had the car and so nowadays I do maybe half of the grocery shopping. But, it's just so expensive. I often look for deals and will buy generic/store brand on most items but, still."
"My biggest tip for "goes bad quicker" is to always get from the back, because usually that's where the longer lasting stuff goes and when it's stacked, get from the bottom. When it's stuff with longer shelf life like cereal and canned stuff, I don't usually bother. But I mostly do that with bread and dairy products. My mom taught me that when I was little."
– ariana61104
"Yes! Having to feed yourself and your household is getting too expensive and so tedious. I really admire my mom for making dinner every night when I was growing up. Thankfully I don't have kids so me & my husband are okay with just eating snacks sometimes."
– WildMoonWitch
So Sweet
"My parents split up when I was a kid in the 90s, and I remember going to my dads apartment in another city, and him cooking us steak on the grill. I always loved that."
"Once I moved out I was like "wait steak is how much? Why the hell did Dad keep feeding us this?""
"Then I realised he was eating poverty meals all week to treat his kids on the weekend."
"For his 60th birthday us kids pooled our money and took him to arguably the best fine dining restaurant in my province for the full tasting menu. Seeing him light up at trying things like caviar and truffles for the first time made me realize how much he has sacrificed for us."
"So yeah, steak is expensive."
– KFBass
"You guys are awesome; what a nice story. He raised y'all right."
– Augustus58
Where Do I Sit?
"Gotta be furniture."
– harrisrichard
"When I bought my house I only had a bed in the master bedroom and all my friends kept saying "you make good money just buy furniture, you could have it furnished in a month." Then they themselves bought houses and now understand why it took me a year to furnish my house."
– Stetikhasnotalent
They Don't Need To Be That Nice!
"Rugs. Why did no one tel me a 'nice' rug was $18,000."
– BenSadfleck
"But it really ties the room together."
– alittlec4
"Dude, you could fly to Morocco and get a hand made wool rug for that much. What the heck are you buying?"
– mofukkinbreadcrumbz
"My dog isn't going to want to butt scoot on anything cheaper than 10k."
– iamaliberalpausenot
Car Accessories
"New tires. Most unexciting $1,000 purchases I have ever made."
– PRCraig
"Also why the hell are oil changes so expensive now!?"
– johnstonb
"Bro fr I swear they were just $20 just a second ago now it's like $60?? I asked my dad to teach me how to do it myself as a teen and he said it was so cheap that I might as well pay someone else. That didn't last."
– greeneggiwegs
Walk It Off
"A good pair of shoes will set you back a bit, especially if you need more specialized ones for whatever reason."
– sedition-
Part Of The Family
"Pets."
– TeacherLady3
"They have gotten a lot more expensive due to expected care changing dramatically, and how we feel about them."
"The idea that you would put a pet down because a vet treatment costs too much is horrible now, but was pretty common in the past. Outdoor cats were the norm so they pretty much fed themselves and you had far fewer litter changes - litter was just clay, and you tossed the whole thing."
"Dogs ate table scraps and whatever they hunted down, or cheap as dog feed made of whatever ended up on the slaughter house floor (bones and all)."
"While purebreds were probably still super expensive, most people had a mutt or tabby, that the found/were given, instead of buying."
– RandomChance
"All true. But I waited until I was in my 50's and had raised my kids until I could afford a pet. Like kids, I wasn't going to be a pet owner until I could provide the care they deserve."
– TeacherLady3
The Cost Of People
"Kids."
"I'm amazed how my parents could afford me."
– only_stupid_answers
"My parents had 5 of us. It amazes me to this day, that my fathers paultry salary at the time had to support it all. How the f**k could anyone do that today?"
– The_REAL_McWeasel
Vroom, Vroom
"Cars, all grown-ups had them, maybe even multiple. I still think its insane that some cars are more expensive than a 2 bedroom apartment."
– Tommer_nl
"I remember people restoring cars all the time when I was growing up. I would love to do it but even a rough condition rolling rust is super expensive now for even common things people aren't super after."
– Pup5432
"Yeah what the hell!? I feel like everyone's dad (mine included) had a project car that they were tinkering with."
"All of my 'tinkering' is to keep my single, daily driver running!"
– disisathrowaway
Shiny Teeth And Me
"My teeth."
– Bumfuzzled_Hobgoblin
"Teeth are luxury bones, don't ya know? Why on earth would regular health insurance cover them? Hahaha. The fact that vision and dental are separate from the rest of your body is absurd."
– Blackfoxx907
I See You!
"Glasses. I have awful eyesight and an astigmatism and got quite a shock when I had to pay for my own prescription glasses for the first time."
– Heavy_Mycologist_104
Time Flies
"Free time."
"As a kid I had loads of it and gave it away. now I can't afford even a minute !!"
– TokenFeed
"I took a toll road home today for an extra hour of free time and it was the best money I ever spent."
– squidkiosk
What I wouldn't give -- or pay -- for some extra free time!
In the 1987 movie Wall Street, actor Michael Douglas' antihero Gordon Gekko infamously said:
"Greed, for lack of a better word, is good."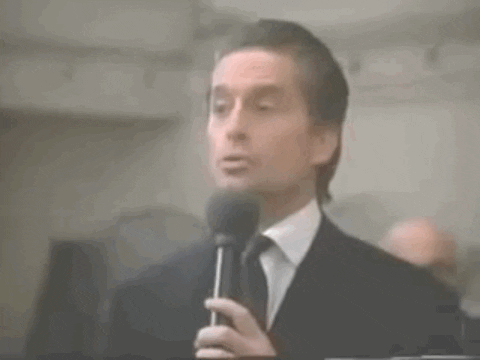 Giphy
The quote became a perfect representation of rampant corporate greed and corruption prevalent in the era during and after Republican President Ronald Reagan's stint in the Oval Office. The Reagan administration pushed deregulation and elimination of consumer protections.
While the government may not always step in to thwart shady or harmful businesses, consumers have one way to control them—their money.
Money talks.
Reddit user Wetter42 asked:
"What's a dirty little secret you found out about a company or service that made you stop using them?"
Poor Working Conditions
"Ashley Furniture—abysmal OSHA record, repeat and willful violations."
"People are not expendable."
~ surfinwifsharks
"I assure you, it's worse."
"That's just what OSHA made public, but I live near their factory in Arcadia and know people who work there, or used to work there."
"Someone bled for your dresser."
~ Wild_Question_9272
"I used to work as the lead designer for BLUENOTES in Canada. YM Inc knowingly uses near slave and child labour and denies everything in the press, but they do know, and they don't care."
"Money is more important."
~ Pkactus
"I used to work for Goodwill and in the back I saw one of my coworkers who has a physical and mental handicap come out of the office of our store manager crying. I really liked this coworker, I remember her as one of the nicest people I've ever known."
"I asked her what was wrong and she said that her wages were going to be cut substantially. She stated the store manager was told by corporate that it was since she was not able to work as fast as others in the back doing pricing.
"I asked if she would mind if I asked what they had cut it to and she said $3.30 an hour."
"WTF!"
"It turns out that Goodwill has a policy to pay disabled workers the legal subminimum wage."
"Sec 14 (c) allows corporations to pay people with disabilities a subminimum wage. According to Labor Department records, Goodwill pays some of its disabled workers as low as $0.22, $0.38 and $0.41 per hour depending on the state laws."
"Goodwill does not show much goodwill towards their workers."
~ Red_Beard_of_Tucson
Questionable Spending
"Susan G. Komen for the Cure."
"The pink ribbon is a scam!"
~ worldsokayestmomx3
"Most people also don't realize it just because something is pink, has a ribbon on it, says breast cancer on the front or is sold in October it doesn't necessarily benefit anything other than the company that made it!"
"There are no patents or trademarks on pink ribbons that mean that anytime it's used it has to benefit breast cancer research or awareness. Literally anybody can sell something pink with a ribbon and it doesn't mean a damn thing for actual cancer patients."
~ Crystal_crone
Shady Business Practices
"H&R Block used to do something like this with their tax preparation service. Not sure if they still do."
"Their slogan was something like, 'Come on in and we'll tell you if there's mistakes in your self-prepared return, for free!'."
"So you go in, they spend 5 minutes looking at your self-prepared return, and they tell you, 'Yes, indeed, there are mistakes here'."
"And then you ask them to tell you what the mistakes are. And that's when they tell you it'll cost $75 for them to tell you."
~ whomp1970
"Intuit lobbied the government to keep taxes complex."
"F*ck TurboTax."
~ lifesavingsgoboom
"Angie's List (aka Angi). Did work for a person and they left a good review on Angie's List.
"Next thing I know I've got a guy from their call center blowing up my phone. He wanted me to pay them to put more good reviews under my company's name and to steer potential customers towards my business for an additional fee."
"Basically everything they say they don't do on their ads. I'm sure it was a trustworthy company when Angie still owned it, but it's scammy as hell now."
~ Tangboy50000
"My mother is terminally ill and closing her business. Angie's List called about promotion and she kept saying no."
"Finally had to tell them she was dying."
"They offered her a cheaper promotion. They suck."
~ StitchingKitty897
"The sheer amount of people who still use uTorrent, even among my friends boggles my mind."
"It's basically an adware at this point. They even used to bundle a cryptominer at one point that secretly used your computer to mine bitcoin (or some other crypto)."
"ALWAYS use open-source Torrent clients."
~ vpsj
"There is a vintage toy store chain near me called the Toy Vault. The owner, Dan, has been ripping people off for years, offering them very little money for their toy collections."
"He treats his employees terribly. Many toy collectors in the area have their own Dan story."
"One time a couple of years ago I was setting up a pop-up shop to sell a massive collection of toys that my friend's parents had hoarded."
"We had been advertising for a couple weeks and were excited to make some people happy offering great deals on a lot of cool toys."
"The Thursday prior to opening Dan messaged me asking if there was a price we'd sell the whole collection for, saying that he could bring a truck that night and rid us of the burden."
"I said no because neither of us had the time and told him he could come Saturday with the rest of the buyers."
"He replied angrily calling me an 'amature' and said that if we were 'serious about selling' we would make the time, and that he knows we shop at his stores."
"Well I don't anymore, Dan."
~ ancient_scully
"There used to be a comics and collectibles store near me that was run by the same type of people. They would take the current month's comics and bag them and mark them up by at least 50%, so you would have to pay a premium for even the most recent issues."
"If they thought the comics were going to be hot, the marked them up even more). They were pretty much the only comics store in the area, and they were one of the few that sold a lot of independent comics, so it sucked that I had to boycott them."
"What's worse was their policy towards collectibles and action figures—the owner would buy case upon case of whatever the latest fad toy was and pull out the rarest figures and charge $100+ for them."
"Then he would drive his pre-teen son to the local Toys R Us with the rest of the figures, and have the kid walk in and claim that he had gotten all of them for his birthday, but he didn't want them, so could he trade them in for store credit.
"At the time, Toys R Us had a pretty loose policy towards returns—if you brought in something still sealed in its original box and it was an item they sold, you could get store credit for it. This worked for a while, but eventually this guy was banned from every Toys R Us within like an hour's drive."
"Eventually, the comics and action figures craze died down and this guy went out of business shortly thereafter."
~ WaldoJeffers65
"Companies like BetterHelp (mental health platform) exploit clients data/info and breached privacy."
"Yet they still advertise everywhere. Somewhere like 3 lawsuits about it."
~ Friendly-Jump-5307
"Therapist here. BretterHelp is total garbage."
"I feel bad for the clients who go through several green therapists to find someone who's actually a good fit and then the therapist leaves (understandably) because BetterHelp treats and pays them so poorly."
~ SpuddyBud
"The Weather Channel app collected and sold user location data without disclosing it would it be shared with advertisers."
~ KawIsTheLaw
"I will never buy anything from LG."
"Sometime around 2008ish, they (like many other hardware/software companies) were messing around with what was essentially adware, seeing how far they could push things to get borderline-malicious advertising onto your home computer."
"Stuff like the pile of CDs that came with your new Gateway, the 'do you also want to install X, Y and Z? We're going to imply it's necessary' when installing messaging apps, or the huge unnecessary printer 'software suite' when all you needed was the driver."
"LG went a step further."
"LG embedded adware in the firmware of their CD/DVD drives."
"Every time you opened or closed the drive, you'd get a little popup from your system tray that served you an ad—pretty much indistinguishable from the legions of adware/spyware your aunt would get from clicking 'yes' to all her popup ads."
"Except nobody clicked yes on anything, and it couldn't be removed. It was embedded in the drive itself, essentially performing an AutoPlay exploit on a virtual drive to show you the ads, then disappear again."
"They eventually were threatened with legal action and had to post a firmware update/removal tool on their website.
"The ad software was called BlueBirds, and LG scrubs all mentions of it from their Wikipedia article every now and then."
~ DJ33
"Crumbl Cookies. Their VP of HR did an AMA (Ask Me Anything) on LinkedIn that I happened to see because they are fairly local and I have a few mutual connections."
"Anyway, she went off on why they were always understaffed in an area because 'everyone one else is paying above market value for employees and [we] only want to pay market value and hire people passionate about [our] brand and making cookies'."
"It really rubbed me the wrong way, because if everyone else is paying more than you it doesn't mean they are paying above market value, it means you are paying below market value."
"I haven't been back since, besides they also sued another company for also selling cookies in square boxes… and honestly the other companies cookies taste better."
~ Luckyfinger7
While we as consumers and customers can't directly dictate anyone else's morals or ethics, we can choose who we will and won't give our money to.
Use your buying power wisely.