Medicine is a difficult profession. Thanks to the wonder that is human nature, healthcare workers are subjected to incredible Darwin-award-winning scenarios daily, so it's no wonder that many of them feel the need to go home and scream into their pillows at night. From self-inflicted injuries to dangerous prescription misuses, these Redditors revealed the most facepalm-worthy patients they've ever encountered.
But be warned: They'll all leave you wondering how we've survived this long as a species.
Reddit user WaterWalsh asked: 'What product no matter how innovative it is do you refuse to buy?'
With the latest advancements in technology, consumers are faced with the challenge of narrowing their list of products to buy.
The anxiety is only fueled by FOMO–fear of missing out–when they see their friends on social media bragging about the latest gadget that supposedly makes life easier.
But some people can't be bothered with all the fancy gadgets that are at the top of consumer reports as the best product so far in whatever year we're in.
They just prefer sticking to the basics and doing things the old-school way–like clicking on the TV with a remote instead of dictating to it what you want it to do after fumbling around for that elusive mic button to activate the function.

Curious to hear from consumers, Redditor WaterWalsh asked:

"What product no matter how innovative it is do you refuse to buy?"
Some people could do without all the bells and whistles of tried and true basic appliances.
Chilly Reception
"Smart' Refrigerator. I just need something that keeps my food cold. I don't need it to show me advertisements or what foods I might be out of. I can look for myself."
– SomeSamples
"Unless it can remind me of the box of fresh spinach that I stacked the yogurt in front of and, therefore, forgot existed, I wouldn't even consider it."
– FallenEquinox

Things Get Heated
"A stove also shouldn't be connected to the internet and should just be a normal stove."
– Illustrious_Risk3732
"My stove has an app so you can set the oven temperature from your phone, when I got it I thought 'ok this might be useful if I want to preheat the oven on my way home or something,' but alas, it proved itself useless, you have to touch your phone to the oven to give it the command, like wft?? I'm already here I might as well just turn on the damn oven."
– I_dont_know_you_pick

Get The Picture?
"If I could, I wouldn't even buy a smart tv. That's what my Apple TV is for. I just need something to turn on and make a nice picture."
– GlendoraBug
"I intentionally locked out my smart TV because I have a secondary device. It doesn't need to be connected to the mothership. My TCL television probably has zero security, and who knows how many backdoors to circumvent my router."
"All these IoT devices are just great "dumb" tools to use for DDOS attacks by unsavory nation states. Blackberry said this years ago."
– SkivvySkidmarks

Just because products are under a famous person's name doesn't necessarily make them top quality.
Clever Marketing, Poor Product
"I'm Irish and Conor McGregor's whiskey isn't really drank over here. It's very average whiskey with a premium price tag. You could buy far superior whiskey for less. His branding is amazing though."
"It's the same with his stout. No one in Ireland touches it... Again his branding is amazing and people all over the world are buying in to this sh*t."
– geoffraffe

Refusing The Socialite Family Brand
"Anything promoted by any kardashian… my curling iron broke so I stopped at target on the way home (This was years ago)… all they had were curling irons with Kardashians on the box - I refused."
– SammieCat50

These consumers just don't get the hype over these smart devices.

Bendy Phones
"Folding smartphones. They're expensive as all get out, and I've seen a lot of them develop weird screen issues just through normal use, that are prohibitively expensive to repair. I'll stick to my slab phone."
– EvilDarkCow

Personal Home Assistant
"Alexa."
– f'kswagga
"My roommate has one and I f'king hate it."
– VeterinarianFit1309
"My girlfriend has an Alexa in our bedroom and it's the most annoying thing in the world. She uses it to set a morning alarm and it always start spouting the weather and playing sh**ty music that we both hate. She refuses to get rid of it because she comes from a third world country and always dreamed of having 'American-life tech.' Of course, I overlook it because I don't want to be an a**hole, but nevertheless I dread waking up in the morning and hearing the Bezos bot."
– OldLavyGenes1998

Undesirable Communication Partner
"As a general rule, I don't like talking to inanimate objects."
– Interesting_Ad2464
"We got one as a gift, put it in the kitchen."
"1. The little kitchen TV was on and had an Alexa commercial and then our Alexa started talking to the commercial because the woman on TV said "Alexa" and it kinda went back and forth."
"I thought some people broke into the house. Our Alexa (don't ask me how) was playing our neighbors having a fight next door through their Alexa."
"The device lasted about a week before it was donated."
– Mackheath1

People were getting nowhere fast with these cars of the future.
Out Of Touch
"Cars with touch screens."
– Ruminations0
"I could stand a touch-screen, so long as it was supplemented with buttons. A car with only a touch screen? Terrible."
– SuperFLEB
"Have one of those at work. Just changing the heat while driving is a risk of traffic accident."
– Kaikeno

Some Drivers Musk Need This
"Tesla."

– brando9d7d

"I rented a Tesla on my last trip. I have the electric Volvo as a company car, so I was curious what Teslas were like. What a piece of sh*t. Materials are cheap, fit and finish was like my 95 Saturn, and it took forever to figure out how to control everything. Almost every damned thing has to be controlled by the software. Even the wipers, which is really distracting while you're driving. The key card recognizes when you walk up and unlocks the door, however in order to actually drive you have to tap the card on the arm rest. It's so stupid. Oh, and the 'shifter' is where the wipers should be, on the steering column. It's like they went out of their way to make the whole car as different as they could just to do it. I was happy to get back to the Volvo as it's a normal car that happens to have a battery, and a much better product."
– IcedT_NoLemon

Maybe it's because I'm not a gamer, but I personally don't see the need for an iPad.
I love using my iPhone and MacBook Pro to get all my business and social needs in order. Introducing a third option for going about my daily tasks and interacting with social media will only make my head spin.
I've also seen people walking around with their iPads and taking photos with them, which looks ridiculous in my opinion.
I remember thinking to myself after witnessing the bizarre practice, "I will not be that person."
But hey, that's just me.

We all love our pets.
And be it a dog, cat, parrot, or turtle, we all like to think our pet is cuter and smarter than everyone else's.
Most of the time, that is purely owing to our unending love for them.
But every now and again, we might witness our pet do something truly extraordinary, leading us to believe that our pet truly is the smartest animal on earth.
Redditor CoreyMatthews was curious to hear about the times people were truly blown away by the intelligence of their pets, leading them to ask:
"Pet owners of Reddit, what are some examples of your pet doing something that made your realize how intelligent they are?"
Talk About Coordination!

"I watched both my cats sit in the hallway and roll a ball back and forth between them gently and on purpose."
"They both know how to open doors."- TurbulentStep4399
The Real Truth About Cats And Dogs
"I had a cat that learned to turn on my radio so I would think the alarm was going off and get up to feed him."
"He and my dog would also team up on me in various ways."
"The most memorable was when I had gotten a little water pistol to squirt the cat when he got on the kitchen counter."
"I always kept the water pistol in the very back corner of the kitchen counter."
"I got home one day, and the water pistol was chewed to pieces on the floor."
"It was too far back on the counter for the dog to have reached it by herself (and it's not the sort of thing she would normally have liked to chew on), so the only explanation is that the cat climbed onto the counter, pushed the water pistol across the counter until it fell on the floor, and then convinced the dog to chew it up."- TheBat3
More Than Most People Can Say About Their Children!
"My 6 month old kitten will alternate bringing his mylar ball to me or my husband to throw--taking turns."
"He plays fetch better than my dog did."
"He puts his toys away at bedtime."
"I have a small basket that we keep his toys in."
"At bedtime, I'll tell him, 'Let's pick up your toys' and he will get any toys that hasn't been eaten by the couch and drop them in his basket."
"No hard balls/toys as he can't pick those up with his mouth."
"I pick up those."- Danivelle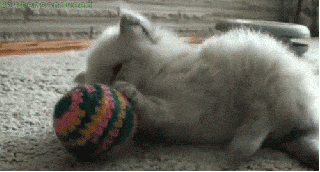 cat playing GIF
Giphy
The Female Of The Species...
"I had two Shelties and one large dog bed."
"The female Sheltie did not want to share the bed with her brother, so whenever he was lying on it she would go to the door and start barking like crazy at … nothing."
"He would leap up barking and race to the door to guard the house alongside her and as soon as he got out of the dog bed, she would run back and curl up in the middle of it."
"He never caught on."- NoNefariousness104
Always On The Lookout
"My dog greeted me at the garage door when I got home."
"He then had me follow him to my daughters room, then my sons room, then the front door."
"My mother in law had picked up the kids."
"He was telling me that 'this one and this one are gone and went that way'."
"Let's go get them!'"- YourFriendInSpokane
Asking Permission Never Goes Unnoticed
"I had a blue heeled mix that was crazy smart."
"Two of many examples:"
"He was occasionally allowed to eat table scraps off of a plate but was never allowed to beg."
"He had to wait until the plate was put on the floor."
"One day I was caught up working on my laptop and had put the scraps from my dinner on the couch on a plate next to me."
"An hour or so went by and I saw him pick up the plate off the couch and put it on the floor so he was allowed to eat it."
"He slept in my room and was getting up in years."
"One night after I was settled in bed he let me know he needed to go outside, thinking an older bladder, I got up to take him out."
"Instead he went to the kitchen and turned to look at me."
"Curious I followed him."
"Same thing , he went to the family room and waited for me."
"When I turned on the light, he went to an end table near the TV where one of my teenagers had left an uneaten piece of fried chicken."
"He stood and stared and it and then turned to me and I swear he asked if he could have it."
"I laughed and took the meat off the bones and put it in the floor for him, after which we both went back to bed."
"How he knew that chicken had been left there is beyond me!"
"I could share dozens of stories like this."
"He was as smart as most humans I know."
"I will miss him forever."- JCKligmann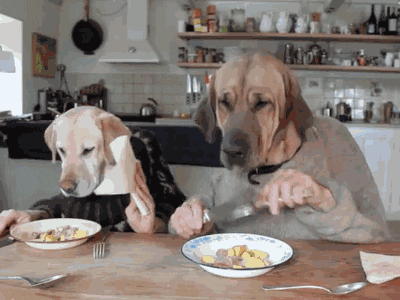 dog human eating GIF
Giphy
Peeing With Purpose

"My mom's cat had a urinary infection."
"So he peed a tiny bit in the bathroom sink and waited by it for my mom to see it."- HyliaSerket
Everyone Wants A Little Attention Every Now And Then...
"A small thing, but my cat will paw at my hand when he wants to be petted."
"The first couple times it happened, I didn't think anything of it, until I realized one day that he basically had me trained/conditioned to pet him whenever he nudged or pawed at my hand."- Square-Raspberry560
And You Thought All They Could Do Was Change Colors
"My chameleon will look me square with both eyes and make a chomping movement with his mouth when he's hungry."
"He'll also pat at the glass if he wants to come out."
"He'll hold a grudge, calculate ways to go or get what he wants."
"One of my Boas will only look at me when hungry."
"She had a go at caudal luring whilst doing it the other day."
"Like 'look, dude, I know you bring the food'."
"I'm hungry, look I'm even trying to lure you to give me some food'."
"It worked."- Ugglug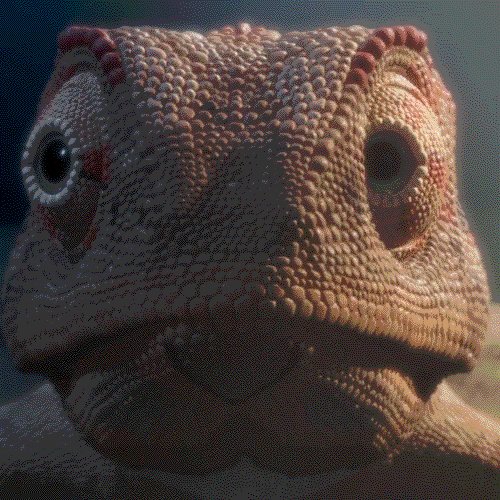 Giphy
A Kind Gesture Is Never Forgotten
"My brother's cat, Coconut."
"We live 2,600 miles apart."
"The first time I met her, I gave her a little pink fuzzy kitty toy."
"2-3 years later was the next time I was able to visit her again for the 2nd time ever."
"She immediately disappeared & came back with this filthy, dusty, brown toy that had obviously been hidden away somewhere."
"We dusted it off & it was the toy I had gifted her years before."
"She remembered me."
"My brother said he had never seen the toy again until that day."
"She's also very precious with her toys & will leave them outside his bedroom door as bribes."- emilyyancey
Innate Obedience
"When she was a baby I said, 'Go get your toy!' in the same pitch I always do."
"Never trained her with that phrase."
"She went a grabbed her toy and came back."
"I tested her again the next day and the next day."
"She went to her toy pile and brought back a toy each time."
"She picked up the phrase by herself."
"She's also the first dog I've had that looks at planes in the sky when they fly overhead and recognizes dogs on TV even on mute."- Spare-Bread8416
Get The Tissue Ready...
"I have two cats and a dog."
"A little backstory about my dog:"
" I don't know anything about dog training."
"I wasn't even thinking about adopting a dog but it seems like it was one of those things that 'meant to be'."
"My sister found him on the street at a winter night."
"We thought he was lost and there is an owner looking for him."
"Because where I live we have so many strays and you wouldn't see many 'specific breeds', they are just strays and specific breeds have an owner 99% of the time."
"So we took him home and start to search for the owner but it was obvious that poor dog went through some sh*t."
"And we learned about his story from an animal society; that he had a few owners but all of them left him to the streets because he was barking a lot (we haven't heard him barking even once during that time), he was peeing everywhere (he did it once and that was probably because he was nervous of being in a new environment and that was it), he wasn't listening at all (we had 3 cats at that time and I said no one time when he tried to run at them and that was it, never did it again)."
"And we learned that he has been in the shelter twice with big wounds."
"And I said I'm not going to let him go through more, he stays with us."
"He learned how to let me know he needs to go out all by himself."
"He learned to pee on the pads all by himself on the days that I can't take him for a walk."
"He learned to give me my slippers when I come home all by himself because I wear slippers when I get home."
" He learned how to clean his face by watching cats doing it."
" I still don't know how to train a dog other than a few basic stuff."
"He just learns."
"That's been a really long comment."
"So I'm going to leave that how I know my cats are clever for another time."
"Thank you for reading my sweet dogs story."
"I'm glad to have him and I don't know who was lucky about all those; me or him."- LittleBitOff2Day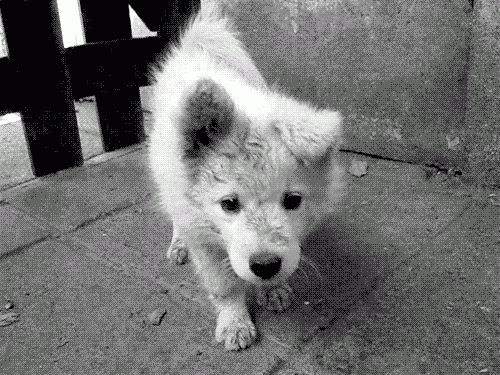 dog pies GIF
Giphy
Never underestimate your pets.
As sometimes you have no idea of the things they might see or notice.
Making it all the more important to give them the love and attention they deserve.
Aging is a reminder that the end is near.

But life is constantly finding ways to expedite the aging process.
So many variables contribute to our looks... it's almost shocking.
Redditor sabletoothtiger_ wanted to hear about the things that can cause us to age rapidly, so they asked:
"What instantly ages someone?"
Weight.
My flipping and flopping with my weight has aged me.
It never gets easier to lose too.
Lack of Sleep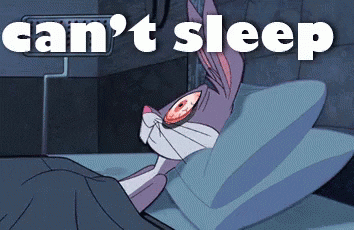 Wide Awake Insomnia GIF by MOODMAN
Giphy
"Lack of sleep."
Yasmin947
"Can confirm. I have an aunt who looks older than my grandmother because she regularly gets 3 hours of sleep a night while my grandmother will fall asleep anywhere."
SCG414
Farewells
"Grief, nothing ages you like Grief."
TheGreatGrappaApe
"My brother died 2 years ago, I aged so much since and now look older than some friends of mine who are 15 years older than me. On top of not sleeping well due to autoimmune issues, I notice new grey hairs every day. Grief, lack of sleep, stress. I have the trio and it's just awful. Losing a sibling is a nightmare, especially at a young age. My deepest sympathies."
ScissorsOfJealousy

Flare-Ups
"Back pain. You can't move like a young person if your back hurts."
AdWonderful5920
"I went from being active and spry to barely able to move and in constant pain. It changed so much about my personality as being active and sporty was a huge part of who I was. I also gained some weight."
"I'm way better now and not in constant pain, but there is always a risk of flare-ups now so while I can exercise and be active, it's always in the back of my mind and I can't do it with the carefree attitude I once did."
"I also believe it makes me susceptible to other aches and pains as the nerves all connect so sometimes a flare-up sends pains to other extremities such as my hips or shoulders. If there was one thing I could go back and change in my life, it would be to prevent the back injury."
nononanana
Seemingly Healthy...
"F**king cancer. Have watched my brother-in-law age 30 years in a month."
imapassenger1
"I have been a witness to this many times. '30 years in a month' is an accurate measurement."
WimpyZombie
"This hits close to home. My (seemingly healthy) uncle was diagnosed with pancreatic cancer two weeks ago. Within the last two weeks, his body has completely broken down. So sorry for everyone here who has had to see loved ones go through this."
JosjeAB
"My mom had breast cancer (in her 50's) like 7 years ago. All her hair turned gray and she looked frail and old for a couple of years through treatment. After the cancer was gone, her hair all grew back brown again and she looked like she did before. It was really weird."
a-ohhh
From the Top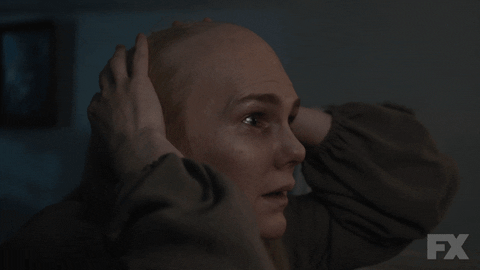 American Horror Story Fx GIF by AHS
Giphy
"Hair loss. Not me personally but I used to work with a guy who I swore was like 35, and he was 19. Poor kid."
Kaiserhawk
"When I have an interview, I let my baldness show a little bit. I look older, and I'm taken more seriously by recruiters that way."
lord_machin
Keep It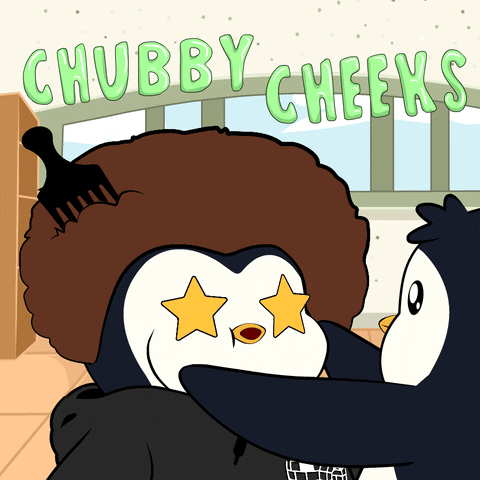 Nft Child GIF by Pudgy Penguins
Giphy
"Buccal fat removal."
arieljoc
"Surprised this wasn't higher up. People with baby cheeks don't realize how well they will serve them thirty years down the line when their buddies who teased them for it look like Skeletor."
Burly_Bara_Bottoms
Deep Breaths
"Stress."
gablamegla
"When I was younger and first entered the real world I remember working with a white-haired woman that had an always tired look about her. She had a picture of her daughter on her desk, young, blonde, that looked so incredibly much like her I mentioned it once. Turned out that wasn't her daughter, but was her prior to her going through the FBI academy."
F_is_for_Ducking
Work of the Devil
"Troubleshooting printer problems. I swear these devilish machines only exist to trigger me to smithereens."
Philitt
"A couple years ago I decided to officially give up on having a personal printer and only use the one at the library because when it f**ks up, it's someone else's problem. I still have my old printer and I've considered dropping it off my roof for fun."
Painting_GatoI
"Had the opportunity to throw one out of a third-story window. The absolute joy I felt watching that a**hole machine soar through the air and smash to smithereens was the best kind of natural high. It's been 15 years, and I still get goosebumps thinking about it."
Natural_Garbage7674
Bad Relations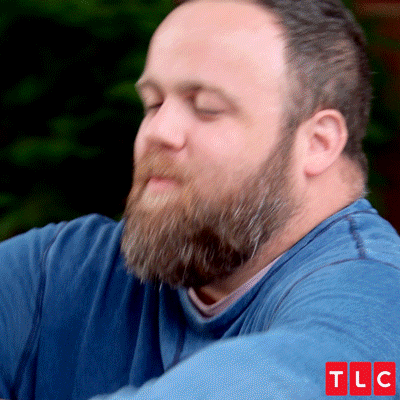 My Big Fat Fabulous Life Kiss GIF by TLC
Giphy
"Having a spouse that contributes nothing to your relationship and allows your family to slip further and further into debt without caring that you're all only a couple of bills away from bankruptcy."
Xmenenslaver
Life is just an endless well of aging.
No cream is coming to save us.
There's an old saying about walking a mile in someone else's shoes in order to understand them. It's an accurate sentiment as there are things in life one simply won't grasp unless experienced personally.
For example, I've been very open about my autism in my writing.
My fellow autistic adults often share how similar our experiences are and how well we can relate to each other.
However no matter how descriptive I am, it's difficult for someone neurotypical to fully understand what it's like to have a brain that's wired differently.
But on the flip side, my autism means there are things I'll never understand.
Like what hunger feels like or how people usually feel pain or easily recognize faces or eat spicy foods or visualize things in their mind or don't get physically ill because of noises.
Reddit user Slow_Inflation8701 asked:
"What's something people don't understand until they've been through it themselves?"
Pain
"Nerve pain."
~ LaughingIsAwesome
"I pinched L3/4, L4/5, and L5/S1at the same time. It's unreal the pain, numbness and weakness that comes with it. Also really hard to explain to someone else."
~ Aken42
"I herniated L5/S1 and didn't sleep for 6 days, barely slept for a month. I didn't understand nerve pain. You can't understand it until it happens to you."
~ HamOwl
"My experience was and is so minor compared to what could be. I had nerve damage that lasted for about a year before it began to heal—it's mostly okay now, but I still don't trust that limb."
"It looks fine, so you always feel like everyone thinks you're faking. It's inconsistent, so sometimes it feels fine, and then YOU start to wonder if you're faking—then something little happens and it's hot lightning bolts again."
"That something could be lifting a few pounds the wrong way."
"Or you could feel fine one day and lift something heavy without thinking and be fine. Or it might just be horrible pain for literally no goddamned reason."
"You look the same regardless."
"It's maddening and f*cking horrible. Take care of your bodies, people."
~ paprikashi
Loss
"Losing a parent at a young age."
"You're not sad because you miss them. You're sad because you were robbed of ever knowing them."
"The last times (aside from now) that I cried about her was because a cousin sent me photos and another cousin posted a family video and she was in it."
"The photos triggered a dream where I actually touched her. I was 3 when she passed, so I have zero memories."
~ Schmaron
"I lost my mom at 16 and it's been 33 years."
"I just started seeing a new therapist and when I was describing my childhood, I started crying talking about my mom."
"She was sick for a long time and I don't really have strong memories of what our relationship was like."
"There's just a mom shaped hole in my life."
~ kylielapelirroja
"My wife Alyssa died in my arms on May 13th 2023, at 6:28 pm. She was 33. I heard her last breath, saw her eyes empty, felt her go limp."
"I didn't dream at all the first 4 months after. No nightmares, no dreams. I had to call her family and friends to let them know she had died that evening."
"From September of last year to May this year, she had lost 70 pounds. She looked like a skeleton, but not to my eyes. She was beautiful and I told her every single day."
"She started Agonal Breathing at 1 am on Saturday the 13th. I administered morphine and Ativan every hour so she wouldn't suffer too much.
"I played all of her favorite movies (50 First Dates, Deadpool, Forgetting Sarah Marshall) and read her our wedding vows. Her last words were 'I love you too'. She died 6 hours later."
"When the funeral home employees came to pick her up that night, they asked me if I wanted to spend some time with her before they took her, I couldn't speak. I just shook my head no."
"She wasn't there anymore, her mortal cage had opened its door, and she had flown away. Her eyes......I'll never forget her eyes after she had gone."
"Please, everyone. If something doesn't feel right, and the doctor says it's nothing, GET A SECOND OPINION. C student's get degrees, and Aly's primary care doctor absolutely murdered her through misdiagnosis."
~ Cubbycupcake-Uther
Disability
"Chronic illness and disability."
~ StayWinning100x
"…'but you don't look sick'…"
~ birchitup
"Have you tried this diet? This essential oil? Losing weight? This drink concoction? Exercise?"
"Standing on your head with your hands on your hips like a down-pointing arrow? NO‽‽"
"You don't want to get healthy."
"You're doing it all for attention."
"You're exaggerating. Etc... Etc... Etc..."
~ FuzzyTotoro
"My husband has epilepsy and his brother told him he just needs to drink more water—like dehydration is the reason for his brain misfiring."
~ kitty0712
"Chronic debilitating illness and disability. How quickly life can change permanently without you doing anything wrong."
~ melkesjokolade89
"Most people don't realize that having a body that doesn't hurt and isn't sick is a luxury they should appreciate as much as they can while they still can. Illness and disability can happen to anyone at any time."
~ badskibunny
"I'm paraphrasing, but I once read 'The healthy have hundreds of desires. The chronically ill have one'."
"Somehow that quote was what got me in gear to finally pay attention to my health."
~ Liquidmilk1
"I want to add being too disabled to work."
"Living in deep poverty because what the government gives you to live on is barely half of what a person needs to survive."
~ mapletreejuice
"And when you're not living in complete poverty people say it would be 'so nice to sit at home and just do nothing'. No it's not, I sit at home because I can't do anything."
"Remember covid lockdowns when everyone was getting stir crazy after a week? That's your life now."
"They really think we can just go out or something—have fun outside."
"No, I'm just working on surviving while not going insane from my limitations thank you.
"I'd be overjoyed if I could reliably work, my life would be so much better and less isolated."
"It's not a vacation it's forever!"
~ lokimycat
No Safety Net
"Struggling without anyone or anything to fall back on."
~ Fried-Pig-Ds
"Knowing that if one thing goes wrong, I'm completely f*cked. That there is no safety net.
"Then watching prices climb and mentally running scenarios of what I'm gonna do in any given situation."
"All while acting like everything is ok so I don't pass 'adult' problems on to my son."
~ kylanmama
"Not having enough money due to unforeseen circumstances."
"Not every poor person is poor because of their own decisions."
"Finances are like traffic, you can do everything right on the road, and have your life completely flipped by some other a**hole driver."
~ WhereTheMoneyAtBoy
"My Dad's family had money until his brother was diagnosed with a rare heart disease that needed surgery. They sold everything to pay for it."
"It hit them so hard my Dad didn't go to high school so he could work for food."
"I grew up dirt poor because my Dad didn't have an education and struggled with everything. I finally clawed my way out of poverty."
"One hit took three generations to correct."
~ Sekmet19
Cancer
"Cancer."
"What it really means to go through cancer treatment."
~ Japan_Superfan
"I'm 4 years NED but still have regular interventions which terrify me—monitoring CT last December showed random liver growth, so liver MRI in February which thankfully showed it was harmless but so scary."
"Then colonoscopy last week to check for polyp growths (had bowel cancer) as part of my surveillance. One harmless dude found and removed but still the whole process was exhausting and frightening."
"I'm so so grateful for my treatment (was a stage 4 recurrence and treatment seems to have been curative) but I wish I could erase all the memories I have of diagnosis, treatment (which included psychosis due to steroids used to treat radiotherapy side effects and emergency admissions for chemo toxicity), recurrence, fear."
"I think that's what's difficult for someone to get their head round when they've not experienced it themselves."
~ t00manykittieees
Car Crashes
"I was literally in a minor crash, 20mph I was going when someone crashed into the side of me."
"I now hesitate driving by junctions where a car is waiting to exit, I freak out thinking they'll get me. It's honestly so f*king horrible."
~ twopeasandapear
"I was rear ended twice in 2 years. Both times, I was stopped with my left turn signal on waiting for oncoming traffic to pass."
"The first one was relatively minor—her car was totaled but we were both fine. Second time, the person who hit me was injured badly but I was okay."
"I didn't even notice (?) I was hit—I felt the car vibrate, thought 'oh, someone just hit me' and pulled over—did not realize my car had been pushed up like, 25 feet."
"I don't remember the actual impact at all. Also did not even realize it was considered a 'serious accident' until the police and the doctor at urgent care and the insurance agent who totaled my car kept all calling it that."
"I swear I have PTSD-like issues from those accidents now."
"I hate left turns and I dislike being in the passenger seat, and I just imagine getting hit in some catastrophic accident now when I drive. When I was driving shortly after the second accident, my Apple Watch kept dinging at me to 'breathe'."
~ Ok-Grapefruit1284
Mental Illness
"'Can't you just wake up and not be depressed?'."
~ Nornamor
"'Why are you depressed? You have nothing to be depressed about'."
"No, I do not have trauma. I had a perfectly healthy childhood. I have a healthy marriage. I love my job. We aren't rich by any means, but we are financially stable. I have 2 wonderful children. I have a great relationship with my family. I have friends. I have hobbies."
"My brain just sucks."
"It has since I was in middle school. Like how a diabetic's pancreas doesn't produce insulin, my brain doesn't produce sufficient levels of serotonin."
"No amount of therapy or lifestyle modification is going to fix that. I need drugs to function normally."
~ the-hound-abides
"This is truly the thing that people don't understand. There are literally people in this [Reddit] thread trying to argue that it's all just your mindset and you need to change the way you think and everything will get better. Just take control of your life."
"I think most people in this world experience depression at some point in their life. But it's situational, it's because of something that happened, a breakup, losing a loved one, job loss, bullying, etc..."
"Because they go through that they think they understand what it's like to suffer through more severe mental illness. When you suffer from a true life long mental illness it is a disability, it's like having a permanent injury to your knee that causes you to walk with a limp. You can't just stretch and drink water and walk normal again."
"Sure diet and exercise and positive thinking can help, but it's not a cure. It doesn't matter how well things are going in your life—sometimes it's just excruciating to be alive. Like it just hurts to be awake."
"It's impossible to explain to someone how awful it feels."
"It sucks because no matter what you do you'll always be broken. But there's always going to be someone there to tell you that it's your fault, that if you just did X you would feel better."
~ MrBurnz99
"Someone commented on another Reddit thread that they completely understand people who have a psychotic episode after they stopped taking their mental health medications because 'people don't want to become dependent on those drugs'."
"It's a perfect illustration of how people don't get what clinical mental illness is."
"Who applauds an insulin dependent diabetic who skips their insulin and ends up in a coma?"
"Or an epileptic who skips their medication and has a seizure?"
"My medication is viewed as a weakness and a choice I'm making to be dependent, but stopping it can kill me just as well as the diabetic or epileptic who skip their meds."
"Massive F*CK YOU to people who have this attitude about mental health medications."
~ Redditor
Sexism
"The medical gaslighting and downplay."
"I watched my girlfriend go through it trying to get her fibro diagnosis and I will never forgive certain doctors—both male and female—who ignored obvious symptoms just because of her gender."
~ mmm_burrito
"YES. This was my experience, also. All because I am a woman."
"Took me well over 10 years for a correct diagnosis for ONE of my ailments, by which time my affected internal organs were literally nothing more than scar tissue, and I was bleeding internally."
"Had to have emergency surgery."
"Doctors had previously insisted that there was nothing wrong with me, and I was just being hysterical or over dramatic."
"They all told me the pain was nothing to worry about."
~ TheBadKneesBandit
"Discrimination. Of any type."
"Disability, religion, sexism, racism, fatphobia, homophobia, anything."
"When you experience it the rage and the fact that it is systematic crushes your soul in a way no one can explain to you."
~ dawnofsea
Isolation
"There are lots of facets to this that I think aren't spoken about enough. When loneliness or isolation is mentioned, particularly on TV/posters it often focuses on the immediate obvious aspect of it (such as sitting alone in a quiet room)."
"That part is unpleasant but I think it's far from being the worst part of it. I've spent a long time with 0 support system & there are so many tiny things going on buzzing about like a thousand cuts."
"Have a question about something? No one to ask. Have a funny/philosophical/stupid thought? No one to share it with."
"Need someone to hold up a shelf while you nail it in? No one there. Need someone to witness you signing a will or other important document? Good luck."
"Read a book & want to discuss it with someone? Nah. Need a character witness for something? Proverbial lol."
"Break your leg & need a lift home from hospital? Yeah right. In an abusive relationship getting gaslit by your partner? No one is there to tell you that's what's happening."
"Want advice on your first tattoo? How about a blank wall. Want to watch a film with someone? No. The joy of shared experience is not something you can access."
"Want to play that board game you saw? Better get a single-player. Want to swap funny stories with people? Better just keep them to yourself."
"Get sick & can't get to the post office to send important documents? No one will believe you when you say you've no one to do it for you."
"Regarding the last one I know that people don't understand what isolation is like because I've tried in very plain language to say 'I do not have anyone who can do this for me' & they always act as if I'm just not looking hard enough & if I just looked again I'd find 3 people hidden under the carpet."
"Having 0 outside perspectives is actually quite serious too. Maybe living in a bubble with no one to challenge anything sounds good on paper but in reality it's horrible. Perspective & relativity keeps us grounded, keeps us in check, keeps us healthy."
"For example if you experience something but have no one to talk to about it, it can be hard to know if you're under-reacting or overreacting which can have all sorts of different ramifications on a spectrum where one end is being taken advantage of & the other end is radicalisation."
"Being isolated warps everything. Enough of it can affect you in the same way physical pain does. Your tolerance for dealing with tough situations will diminish because the only energy you have is yours."
"Having a support system is like an exchange of energy & we have a lot more energy when we have people to trade it with. We can do more things, see different avenues we'd not have noticed, deal with more obstacles & people don't even notice how much this silent exchange is carrying them through life until they don't have it anymore."
"It's not simply sitting alone in a room feeling sad, it's thousands & thousands of tiny things that wear you down over time."
"There is a reason 'exile/shunning' is akin to capital punishment in some cultures."
~ CommanderFuzzy
"Pretty much anything."
"If you have a modicum of empathy, you can imagine, probably inaccurately, but I don't think you can truly grasp what it's like to experience anything until you have."
~ RetroactiveRecursion
Some experiences really can'tbe adequately explained to others.
But with empathy and compassion full understanding isn't necessary.