Medicine is a difficult profession. Thanks to the wonder that is human nature, healthcare workers are subjected to incredible Darwin-award-winning scenarios daily, so it's no wonder that many of them feel the need to go home and scream into their pillows at night. From self-inflicted injuries to dangerous prescription misuses, these Redditors revealed the most facepalm-worthy patients they've ever encountered.
But be warned: They'll all leave you wondering how we've survived this long as a species.
Reddit user primeiro23 asked: 'What are the craziest ways you've heard of people making money?'
When I was in seventh grade, I had aspirations to be a poet. I made a Mother's Day card for my mom with a cute (but now, cringe-worthy) poem inside, and a hand-drawn picture of a rose that took me hours to perfect.
A friend saw the card and said they wished they could do the same. Then suddenly, she asked if she could buy the card from me. I said no, since I needed to give it to my own mother, but I said I could make her a copy. From there, my friend got the idea for me to make copies of the card to sell. I went along with it, mostly because I didn't think it would actually work.
Turns out, it did. After making sure people would actually be interested, we went to the library after school and made several color copies of my card for 10 cents each. The next day, we sold each card for $1. Not only did we make enough money so that my friend and I could both afford to get our moms an actual present in addition to the card, but we had enough leftover to put us over the top for the money we needed to buy the matching faux leather jackets we'd been wanting all year.
The next year, many people who bought cards asked me to do it again, so I did. Once again, we made a killing. We didn't try to do it again once we got to high school, but it was definitely fun while it lasted.
When we tell people this story, they think it's a pretty crazy money-making scheme. Maybe it is, but we're not the only ones who ever did anything like this. Redditors know all about crazy money-making schemes, and are eager to share their own stories.
It all started when Redditor primeiro23 asked:
"What are the craziest ways you've heard of people making money?"
Tumble Into Business
"In college, I take a class on how to start & run a small business. Prof tells us to think of ridiculous business models for our fictitious businesses as we will get more out of the class that way. Stupid ideas ensue. Selling paperclips door to door, refilling car gasoline tanks in people's driveways, service to read & summarize the newspaper to executives etc."
"One classmate decides he is going to sell tumbleweed."
"Guess who quits college and started a successful business? Tumbleweed guy. Takes a van to the desert, collects tumbleweed and sells them to Hollywood movie & TV studios who need them. Keeps the tumbleweed in a warehouse and since they never spoil, his only costs are gasoline, storage & a website. He eventually becomes the number one tumbleweed provider to studios around the world, shipping tumbleweed globally."
"Made a heap of money selling what millions of people drive by and ignore every year."
– Accomplished-Fig745
Synopses
"I did have a job reading and summarizing newspaper articles to the boss. Literally only task I was hired for."
– Draigdwi
"An actual union job in the film industry is reading scripts and summarizing them in short mean book reports."
– Trixiebees
Jump!
"Heard of crazier, but a guy I know, friend of my mother's, went to Texas 30+ years ago. (we are from Norway), and he noticed every single garden had a trampoline. And it was almost always "jump king" - the circular with blue mat ones."

"So he went to the HQ, bought 10 and took back to Norway. Within days they were sold, and he ordered 50 more, same thing. So he became the only importer and has God knows how many millions to his name today."
– alexdaland
"This IS wild. I went to Norway recently and one of the first things I noticed was that almost EVERY yard had a trampoline in it."
– TrulyMadlyCheaply
Working For A Home
"Back when Dogecoin took off I wrote a guide on recovering old lost wallets and it got so popular I was flooded with requests for further help. Some corrupted wallet files, some lost passwords, etc."
"I have a background in computer science and experience in data retrieval and password cracking, so I started helping people in exchange for a percentage cut (industry standard for wallet recovery). All above board with a contract and everything."
"For a while I was getting new clients every week and making hundreds up to thousands of dollars on every successful recovery (with a fairly good rate of success). The biggest one I ever recovered was a 19 letter long password someone had lost. The work dried up when the price of doge dropped but it got me the down-payment on a house."
– internetpillows
Horsing Around
"A cabbie in Dublin once told me a story about one of his fares who had a brilliant hustle."
"The guy was a sculptor. He would watch horse races, then when a horse won, he'd use social media to contact the owner directly with a digital mockup of a life-sized sculpture of the winning horse. Now, the people who own winning racehorses tend to be very rich - we're talking sheikhs, oligarchs, billionaires. Every now and again, one of these owners would bite, and spend €100,000 euros or so on a statue commemorating their animal's win."
"Dude only did a couple a year, and spent the rest of the time living the good life."
– escoterica
Sweet!
"Richest guy in a rich town near us makes enormous amounts of money buying Hershey bars and rewrapping them with customised retirement celebration designs or corporate logos to be given away at events. Literally just rewraps them in pieces of paper and doubles or triples his money."
"Every time I try to start a company or invent a better product or something, I ask myself why I'm not just rewrapping candy bars."
– perchance2cream
"F**k man, I think I found my new niche."
– LibertyPrimeIsASage
Slightly Used
"I went to college in a capitol C college town. A friend of mine bought an old school bus, fixed it up and took out all the seats."
"At the end of every semester she would drive around the neighborhood that was the fancier side of off campus living and collect whatever the rich kids were throwing out before they moved / went home for the summer. Flat screen TVs, couches, computers, tables, it was wild to see what people would chuck out and replace the next semester rather than having to deal with getting a storage unit or moving themselves."
"Sold it all on Craigslist over the summer or the beginning of the next semester and made a killing."
– sam_neil
Credit Where Credit Is Undue
"When I worked in a really busy, upscale restaurant my coworker would put all of his cash-paying customer's bills on his credit card and keep the cash which he used to promptly pay off his credit card."
"He did this all day, every day for quite a while and the points started to add up and he was getting free airfare, etc."
"Worked great for a while until management notice a rise in credit card processing fees with an emphasis on one employee and they shut him down real quick."
– blinkysmurf
We Found Gold!
"My buddy worked his way through college by panning for gold. This was in 2009 in California. Most days he made nothing, occasionally he would come home with a couple hundred bucks worth and I think once he found a night worth over $1k."
– discostud1515
"My cousin had a metal detector when he was in HS. He would go every weekend down to the lake and take it with him on vacation. He found all kinds of things. He did find gold jewelry and would sell it online. He made so much money he bought his own car."
– Content_Pool_1391
Sleeping For The Job
"I knew a woman whose job was literally to sleep."
"A local office building owner wanted somebody on-site 24/7 to be the point of contact with first responders if they ever needed to be called. So they hired her to come in to the building in the evening when the maintenance crew was finishing their work. And she would settle up to sleep for the night in a bedroom they'd set aside for her. In the morning she'd hand the building back over to the office employees and go on about her day."
"No first responders were ever called. It's about the least stressful legitimate job I could ever imagine."
– CaptainTime5556
The Secret
"Back in the 90s, I knew a guy who put an ad in the classified section of the newspaper which read something along the lines of, "For $10, I'll tell you my secret to making easy money. Send $10 cash to (address) to find out how." People would send him $10 & he would then instruct them to put a classified ad in the newspaper telling people to send $10 & how to make money."
– freudianfalls
Accident Payment
"I was pushed down the stairs by a teen girl who told me to "pay attention and get out of her way" i ripped my dress during the fall and was getting back up when some guy rushed up to me, apologized for his daughter and handed me $500 as compensation."
– thebrilliantcounc
"LOL - years back, I was in a parking lot during a snowstorm. A guy was trying to pull around me, slid on the snow/ice and hit into my passenger side door. It really and truly was an accident. He was all apologies. We exchanged info - he said to get a quote and he would pay for the damage."
"Well, the car I was driving at the time was a crappy old Ford worth maybe $500. But, I went to a body shop, got a quote on the repair and it was $900. I faxed it to him (this was back in the 90's, LOL) thinking he'd tell me to go through the insurance company and just have the car totaled out."
"To my surprise, I had a bank check for $900 from him in my mailbox three days later. Now, I already owned another car, so I pocketed the $900, sold the smashed car for parts for $300 and ended up with $1200 on a car that was worth only $500 before the accident. I was very glad that he ran into me!"
– Deleted User
Only Feet
"I have a friend who sells pictures of her feet. In heels. Barefoot squishing cake. In mud. She charges extra for special requests. Has strict 'no go' rules. Never shows anything above the calf so she can't be identified (no tats). All proceeds go to her kid's college fund. Has made enough to fund a PhD."
– NotACrazyCatLadyx2
The things people do for money! But, I guess it works for her!
No matter how good it might be, no relationship is 100% perfect 100% of the time.
On the contrary, there are some relationships that seem pretty doomed to fail, and it's disheartening how many signs we can spot of the relationship coming apart, perhaps even before the couple themselves is aware of it.
But as clear as a sign of trouble might be, it can feel impossible to talk to a loved one about it when it's about their relationship.
Redditor AnitaDeckenme123 asked:
"What are some signs that your married friend doesn't have a good marriage?"
All Joking Aside
"Talking s**t about their spouse, even if it's in a joking way, is a clear sign to me. I went to a bachelor party with a bunch of guys I didn't know and they spent the entire time b***hing about their wives, and they all sounded miserable."
- FunctionBuilt
Desperate to Hide the Truth
"They are withdrawn or secretive. If your friend is suddenly withdrawn or secretive, it may be a sign that they are having problems in their marriage."
- LiaRipsx
Weird Gestures to "Mark Their Territory"
"His hang glider now has a full-sized graphic of his spouse holding the cat on it. And he wasn't asked beforehand."
- BarcodeNinja
Hypothetical Divorces
"They talk about divorce hypothetically."
- LaximumEffort
"Okay, but what if, say, I am watching a lot of true crime murder shows, and he tells me we can just get a divorce instead of me killing him? Does that count? Lol (laughing out loud)."
- HopefulKitty
Detached Relationship
"When they don't care what the other person is doing or where they are. Basically, two people who live separate lives and live like roommates."
- Lucyinthesky
"My friend never says anything bad about her husband, but she also doesn't speak about him much at all. They've been married less than a year, but she's said things like not caring what he's up to a couple of times, and it made me wonder if that was normal in marriage. It feels wrong."
- happinessinasong88
Fighting in Public
"I've known two different couples that off and on fought a lot around me at certain points, which isn't obviously a great sign."
"The fighting stopped, but what I realized after a while that may be worse is that they didn't interact at all unless absolutely necessary."
"I'm mostly oblivious, so it took my wife pointing it out to notice that both of these couples never really talk to each other besides mandatory stuff like plans or the kids."
"No casual conversations, no eye contact, no touching each other; literally no interaction that's not necessary for the family to function."
"I suppose it's better than fighting in public, but it's kind of weird once you notice it."
- non_clever_username
Social Media Cover Stories
"If they're plastering social media with how HAPPY they are, and they're SO IN LOVE, and THEY'RE GOING TO BE TOGETHER FOREVER, that's a sure sign that things are in the process of going sideways."
- wilderlowerwolves
"This confuses me SO much. I have two close friends (women) who have been texting me nonstop about how s**tty their significant others are, like going OFF about them, long voice messages, etc."
"Then between messages, I will open Facebook and see they just made a post about how much they love their partner with a cute picture and tons of hearts and s**t."
"Like... WHAT. I have never called them out, but what the h**l?"
- perfectdrug659
"Gah, my BIL (Brother-in-Law) divorced after a short two-year marriage, and this was the prime indicator of knowing that they were doomed."
"They did this kissy cutesy schmoopy lovey-dovey thing in public, and the worse their relationship got, the more publicly showy they were about showing how in love they were. It was horrific to watch unfold."
- abqkat
Controlling and Jealous Behavior
"In my experience, going out with my old homie that was married, I couldn't ever post us out at the bar or anything. If his wife saw it, she'd blow her top apparently."
"We went out for my 23rd birthday a couple of years ago and merely his elbow was in the video of me sipping on whatever drink I had. In a panic, he urged that I delete it before his wife saw it for whatever reason."
"They're divorced now."
- jailbreakthetesla_
Mean to Their Partner
"When their identity is the 'person who is mean to their spouse.'"
"I was at a party this weekend and there was a woman who just bad-mouthed her husband and talked about how nice it was to be away from him and the kids for the night. That's like her shtick… she talks about how her kids and husband are s**tty. It's such a gross personality, and it's relatively common. It shouldn't be common at all."
- SpacemanPete
Flirting Elsewhere
"They flirt a lot. A lot of unhappily married people I know are quick to flirt with anyone who seems interested because they want to feel that spark again."
- FlatulentDwarf
Constant Check-Ins
"When one of them is out and their spouse does not stop calling them."
- BansheeShriek
"I can't imagine living like that. I took a 10-day road trip to the beach alone, and all my husband asked of me was to keep my location turned on in case of an accident, and text a few times a day so he knew I was alive. That's trust."
- HopefulKitty
The Depression or Glow Up Era
"If they suddenly seem really down on themselves or stop taking care of themselves for seemingly no reason, If their outlook on relationships and/or marriage had changed since getting married, If they have nothing good to say about their partner or just don't talk about them..."
"The list goes on."
- Misspent_interlude
"Or reverse, they start glowing up. They lose weight, focus on appearance more, it means they're getting ready to split."
- Alternative-Post-937
Wishful Widows
"When my husband died, some friends admitted that they were a little jealous."
- emmymcd
"My ex-husband responded, 'One can only hope,' and looked at me when he heard someone's wife died."
- foldinthecheese89
"I would never say this to someone, but I understand the sentiment. I absolutely wished my ex-husband dead a handful of times. It's one of those things where you can't leave because I had very little money of my own and staying meant living with abuse."
- IsThatBlueSoup
Jealous of Working Relationships
"It's bad when you avoid or feel guilty talking about how happy you are or about the nice and thoughtful things that your partner does because you know your friend can't relate."
- anemic_girlfriend
"Yikes. This is how I am with a friend group of mine. They're always complaining about their husbands, and I stay silent. I don't want to rub it in that I love my husband and he's mostly awesome. In the past two years, one has gotten divorced and another is on her way there."
- Nonny70
"It gets weird for me when people are like, 'Must be nice to get away from the wife' if I'm on a work trip or something."
"I don't understand. I sleep better when my wife's next to me, I feel better about the day when I get to see her and talk to her, she makes me smile all the damn time."
"Everybody on the planet is a very distant second on my list of people I want to be around, and even though we do plenty of things separately I don't see time apart as some sort of reprieve from her presence."
- HereToTheSquatch
Wishing They Were Out
"I got married young and a lot of older guys gave me s**t for it, like they resented their wives for settling down too soon. It upsets me when men talk s**t about their wives. If you hate your wife, then leave, she's probably better off without you."
"My wife is my best friend. Seven years later, our relationship only grows stronger over time. If you love someone and they love you back, be grateful for that and show it!"
- Apprehensive-Hall254
There are many ways to tell that a relationship is in a downward spiral, especially when the relationship is not our own.
But these accounts were intense and ones that we can only hope are less common.
When giving a speech and making an argument, the most effective way to reach other people or get your point across is to speak with conviction.
However, speaking with conviction doesn't always mean people are speaking the truth... or even coherently.
Redditor MonkeyGentleman420 was curious to hear more stories of ludicrous things people said with unwavering conviction, leading them to ask:
"What is the stupidest thing someone has told you with complete conviction?"
We Know How Often Birds Check Clocks...

'That we set the clocks forwards and backwards so the birds don't get confused with their migration patterns."- alliecita410
Speaking From Experience?
"'Two people can breathe underwater forever if they have a hose'."
"The first person breathes in while the second breathes out, then the first person breathes out and the second person breathes in etc'."- PahoojyMan
Dream On...

"She said:'
"'If you are dream about falling and you hit the ground in your sleep you'll actually die'."
"'It's been proven'."
"I said 'If you die in your sleep, how can anyone know what you were dreaming?'"
"Ruined a favorite story of hers."
"Sorry."- FrankieMint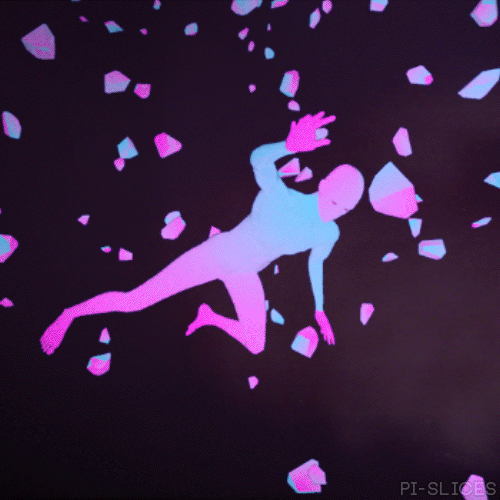 falling GIF
Giphy
Because ALL Cops Ask For Your SSN Before Cuffing You...
"From a coworker: 'If you don't have a social security number then the government can't do anything to you'."
"I asked if that meant, if I didn't have an SSN then I could just go kill someone on the street and the government couldn't arrest me."
"'Yep', he said, 'if you don't have an SSN then they can't enforce any laws on you'."- AllAboutThePotatoes
Keep Them Away From Needles...
"A former coworker insisted that the body believes the ears are injuries, and we are all constantly trying to heal our own ears closed."
"The only thing keeping them open, you ask?"
"Ear wax."
"We worked in healthcare."- Reflection_Secure
Credit To the Visual Effects Designer
"A girl I worked with was convinced that every single mythological creature was real."
"I'll never forget one of her claims."
"Think about it, every movie you done seen all those creatures and aliens and sh*t, all that's real."
"Someone has to have actually seen it to come up with that!"
"Apparently there's no such thing as the human imagination to her."
"So yes, transformers are real, Godzilla is real, Independence Day is real."
"This was a 20-year-old that said all of this."- Dragonborn83196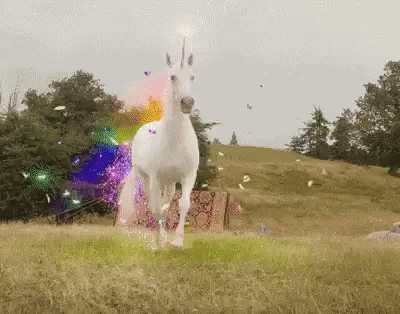 Unicorn GIF by MOODMAN
Giphy
In Theory... Still Wrong!

"That the speed of light wasn't like an actual number, it was just a figure of speech."- sunbearimon·
Check The Date...
"Sunburn is not caused by the sun, it is actually caused by sunblock."
"If you don't use sunblock then you will never be burned."
"Sunburn was created by the sun cream industry to sell their products."
"Seems easily testable, why not lie on the beach all day in one position with no sun block and see what happens?"
"Make sure you fall asleep for maximum effect."
"You go bright red and then blister to the point that you get taken to hospital for a combination of sunstroke and the beginning of shock then spend the rest of the holiday indoors face down with regular application of creams and replacement paraffin patches on the burns."
"It puts a bit of a dampener on your 2 week break."
"Sunburn is mentioned in Livy's history of the second Punic war and others over 2000 years ago which is solid proof that the 'Big Sunscreen' claim is ridiculous."
"However it would be hand-waved away by a True Believer of big Sunscreen."- Magnus_40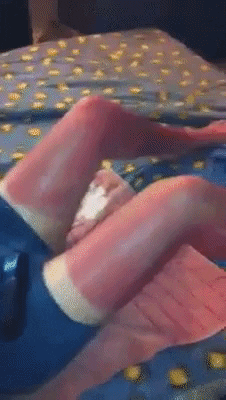 Sonne Sunburn GIF by Mitteldeutscher Rundfunk
Giphy
Ignorance Is Not Always Bliss...

"A distant relative, recently retired, once told me that he was going to hire a gardener and a housekeeper because 'the government will give you a grant to pay for them now'."
"This was a few minutes after a lengthy rant about how the welfare state should be scrapped because only lazy people lose their jobs and need to claim benefits."
"The same relative, some years ago, also announced with absolute conviction that he was going to hire a neighbor as a cleaner because 'she won't have anything to do now her kids are grown up'."- Plantagenesta
The Price Of Never Looking Up!

"Pineapples aren't real."
"They're entirely manmade and do not exist in nature."- tricksterloki
ALWAYS CONSULT YOUR DOCTOR!!!
"My dad was experiencing end stage renal failure (was on dialysis at the time and has since had a transplant)."
"My best friend's boyfriend at the time looked at me dead in the eye and said he could reverse his condition with a vegan diet and that the only important organ in the body was the skin, so as long as you take good care of your skin, your other organs will function properly."
"Mind you, by the time my dad got on dialysis his kidneys were functioning at 11% and his SKIN WAS JUST FINE."- lyingintheleaves
But What Causes Cavities?

"I'm a dental hygienist."
"We had a patient come in with terrible teeth."
"They thought toothpaste caused cancer."- dilapidatedfungus
If Only...

"That women don't burp or fart, because only men have (the ability to pass) gas."
"Spoiler alert: he was horrified when I burped in front of him."- sequoia_summers
Guilt Is Easier When You Know It's Coming.

"First girlfriend was religious, and apparently it was okay that we had sex 'as long as she feels bad about it after'."
"Pre-planning regret was her loophole to do what she wanted."- Lone_Buck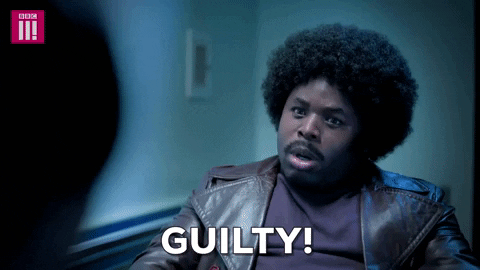 season 2 famalam GIF by BBC Three
Giphy
When people do speak with conviction, more often than not they firmly believed what they say.
So much so, that they have trouble believing the person brave enough to correct them.
In spite of the concrete evidence thrown in front of them...
When you're in a relationship, it's important to stay alert.
Yes, you of course want to give in to love.
But when you start seeing red flags, be vigilant.
You're gut always knows more than you give it credit for.
Sometimes those flags are a sign that it's time to jump ship.
if you see them... run.
Redditor Shinfekta wanted to compare notes on why people would immediately end a relationship, so they asked:
"What red flag is an instant break up reason for you?"
The signs are always there, but I tend to put on blinders.
I need to do better.
A Big Deal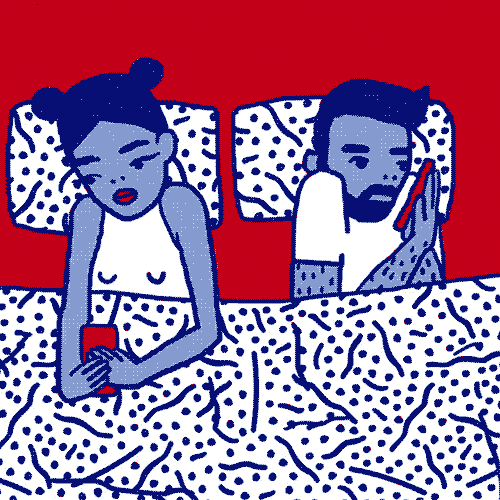 Illustration Text GIF by Jacqueline Jing Lin
Giphy
"Someone that casually says they've cheated. There's no way around that for me."
Kitchen-Bid-8235
"Or worse when they treat cheating as somehow noble."
2diceMisplaced
Hear Me!
"Wanting and demanding my attention but not reciprocating whatsoever."
Cranky_Windlass
"My ex. She would get pissed when she would talk to me about something while I was working and I wasn't giving her my full attention. But every time I wanted to tell her something while she was doing nothing, she would get 'ADHD distracted' and completely ignore me or interrupt me to say something completely irrelevant."
ModestMustang
"I had a friend like this! he literally completely ignored me for 6 months and then blew up at me for not responding to him within an hour. Very strange."
KindBrilliant7879
Wronged
"Never admitting a mistake."

Curious-Force5819
"I know a total hottie that is notoriously known for not being able to admit he's wrong, sucks because he's a gem outside of this. Don't get me wrong, he's a fair and responsible person in general… but he 100% can't admit he was wrong in banter or a light argument even when he realizes he realizes he's wrong hahaha lost confidence in him ASAP."
Zomgirlxoxo
"This is a big one, even when these types of people apologize they still pass the blame. 'I'm sorry for my behavior but you made me really angry.'"
space_being135513
Never Again
"Unmanaged mental illness. Never again."
RuggedHamster
"I was with a girl that had that and I helped her through all of it and it was so hard to deal with it all but somehow I managed but when she felt better she just left me for her best friend's ex and I was left with all that trauma because I loved her with all my heart and soul but she was just using me to feel better… and when she broke up with her best friend's ex she came crawling back begging me to be with her again but it was too late.. the damage has already been done and I can't do that again even though I still love her but I can't tell her that... sorry for venting."
d7oomy998899
Afterthought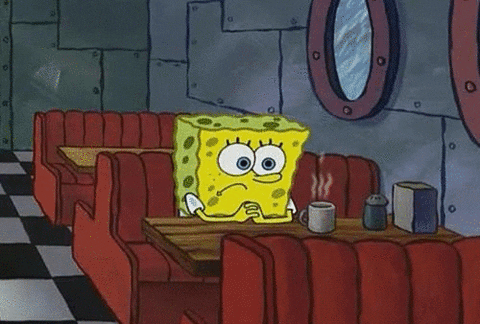 Sad Sponge Bob GIF by SpongeBob SquarePants
Giphy
"If someone makes you feel alone, that you don't matter, or if you are a second choice on most of the occasions, you need to leave."
​Mycatsnameislegolas
Always know when to acknowledge your feelings.
And know when to depart.
Behavior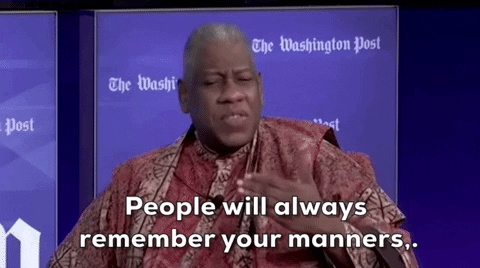 Andre Leon Talley Manners GIF by GIPHY News
Giphy
"How they treat animals, children, elderly, handicapped, and service workers."
REDDIT
"A wise man once said: judge a person not by how they treat their equals, but by how they treat their inferiors."
Major-Ad148
Just Kidding
"Being mean as their 'thing' or 'just a joke.'"
netsbr
"'I'm just sassy!'" No, you're a bi*ch."
BansheeShriek
"I'm going to be honest, with certain friends I am absolutely ruthlessly mean, to the point that people are actually concerned it's just bullying."

"However with strangers, I'm nothing like that. And the friends that I am meant to, they do the exact same thing back to me. We also know that if we need each other, then the meanness is dropped instantly, and it's nothing but support and love."
5tr4nGe
​Well-Meaning
"Zero accountability for anything. Everything they do is absolutely justifiable because, well, they mean well."
Throw_thethrowaway
"Yeah, I was looking for this answer! And it's true outside of romantic relationships also! I had to end a friendship over this exact behavior- it was never her fault, always the victim, and her hurtful behavior shouldn't be addressed because she 'meant well…' but my feelings are still hurt so why don't I matter?!"
helibear90
"This. Can't stand people who always play the victim or blame everyone else and never take accountability for what they do."
_5minutesalone
Boundaries
"This one may take a while, but I would break up if I notice them creeping over personal boundaries, and not stopping when I tell them about it."
"People cross each others' boundaries all the time. I'm happy to give the benefit of the doubt until it becomes apparent that they have no intention to respect me."
"For example, if I don't like tickles or being startled, don't do that. It's not about the tickling, it's about them respecting me. And if there's no respect, there's no relationship."
Ptatofrenchfry
Talk to Me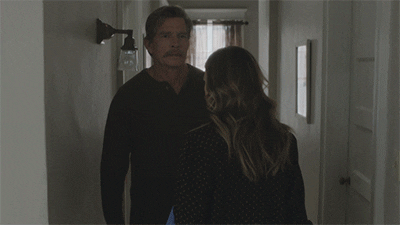 Sarah Jessica Parker Hbo GIF by Divorce
Giphy
"If I'm hearing about a problem in our relationship from someone else rather than the partner. It shows huge trust issues."
"I've seen three divorces in my life, and they all were the result of the girl venting to her mother and her friends about issues she should have discussed with her husband."
michajlo
Communication is key.
If you're not talking to you're partner, why are they you're partner?