Medicine is a difficult profession. Thanks to the wonder that is human nature, healthcare workers are subjected to incredible Darwin-award-winning scenarios daily, so it's no wonder that many of them feel the need to go home and scream into their pillows at night. From self-inflicted injuries to dangerous prescription misuses, these Redditors revealed the most facepalm-worthy patients they've ever encountered.
But be warned: They'll all leave you wondering how we've survived this long as a species.
Reddit user tylo144 asked: 'For those who have careers that keep them out at sea for long periods of time, what is the creepiest thing you've seen out in the water?'
Those who work in different fields all have their respective anecdotes that are sure to keep listeners engaged.
But certain jobs that keep employees away from land are sure to have the most intriguing stories to share.
Seafarers shared their unique experiences bordering on hair-raising phenomena when Redditor tylo144 asked:

"For those who have careers that keep them out at sea for long periods of time, what is the creepiest thing you've seen out in the water?"
Mariners shared their wildest stories from their time out at sea.
Fierce Gale
"Not so much what I saw but what I experienced. I was once underway in the Gulf of Alaska during a November gale. Waves were up to 35 feet with some rollers hitting 45. An uncommon occurrence on the diesel electric ship I was on was a cyclo-converter tripping. When this happened the ship would temporarily completely lose power and propulsion until some electricians could reset everything. This happened during that gale. I simply can't explain how strange it is for the boat you're on to all of a sudden go so quiet, that you can clearly hear waves slapping the ship and metal bending and flexing. Knowing you're completely at the mercy of the sea. Knowing that if the ship lost its bearing and went beam to there was a real possibility of capsizing. It's easy to forget when you're at sea that the only thing keeping you alive is a bunch of steel welded together. At that moment I was fully aware and it humbled me. Thankfully we trained frequently for this and had everything fired back up relatively quickly."
"Another time I recall was when the ship took a rogue wave. They are absolutely real and I believe they account for a massive number of shipwrecks. It was late at night and I was on the bridge. We were passing through a storm and we're taking the waves off the bow with no visibility. As the ship moves there's normally a pretty standard pattern. You ride up a wave for a bit and then you fall down the wave for a bit. Well we started riding up a wave and got to the point where we should have been starting or ride down…but we just kept climbing and climbing. And then it happened. We started our ride down the back of this massive wave. All of us braced ourselves and tried to find something to hold on to but we all fell to the deck any way. Anything that wasn't secured for sea fell down all around us. Manuals, tables, computers, printers, you name it. Our captain who was sleeping called up to the bridge asking if we hit something. It woke the entire crew up. Rogue waves are real, and they're terrifying. I can't imagine being in a smaller boat or taking one of them broadside."
– red_pimp69
Series Of Bizarre Events
"I was in the US Navy for about 10 years, and have 10s of thousands of miles at sea in an aircraft carrier. Countless nights on the flight deck in the middle of the night and middle of the ocean..."
"Creepiest: A HUGE patch of the ocean glowing. Like nuclear waste in the Simpsons glowing. I've seen bioluminescent algae of a few kinds and this was nothing like it. I've never seen anything like it before or since."
"Weirdest thing: hundreds of mile out to sea from land and there was a MASSIVE fire on the water. It was like the top of a gas refinery, but on the water with nothing under it but water. Flame going a few stories into the air."
"Funniest: 2 flying fish collide mid-air. I was smoking when we were in the Persian Gulf and saw the fish fly from a pretty far distance towards each other. I remember thinking 'there's no f'kin way they're going to hit' them SPLAT SPLASH! I was in tears laughing but no one saw it. Everyone just thought I was a weirdo, but I got to see a miracle of nature lol"
– BBQQA

Lone Yacht
"Some 20 years ago..."
"On the MV Explorer (since sunk) down near the Antarctic circle, sailing around the 'bergs and occasionally making landfall..."
"We rounded into a small bay area, and there, amongst the ice and coast was an unmarked sailing yacht. Which is odd as generally yachts have some identifying markings on them."
"To add to it, they didn't respond to any radio contact, and whilst I wasn't privy to the conversation (and it was a long time ago), some crew went across via Zodiac and were refused boarding."
"So basically a yacht, not a particularly large one, that was unmarked was hanging around in the inhospitable waters of the Antarctic and didn't want any help or contact."
"Proper weird."
– ThanklessTask

These Redditors have fearlessly plunged into darkness.
Dark Dive
"I used to be an oilfield diver in the Gulf of Mexico. I'd say about 80% of the dives I logged were at night. Mostly 500 ft and under DSV's."
"It's very eerie feeling sitting on the downline doing in water decompression in the middle of night. I'd always ask topside to turn off my headlight."
"Like a worm on a hook. Just bobbing in the darkness."
– Comrade_Fuzzybottoms
A Dark Calm
"Not even nearly as extreme as your story but it evoked a memory, I did a scuba diving open water course and then did the advanced course which included a night dive in a freshwater lake."
"I was only 5m underwater, pitch black darkness with two other guys, we were on a platform and we could either face the dam wall or the open water, and I turned to the open water while the other guys were behind me, I turned off my light (we did have little lights on our backs)"
"Just the deepest, calmest dark I've ever felt and seen. Not a single source of light anywhere, just immense darkness. Still remember that feeling and it was like 15 years ago"
– circleinsidecircle

Things get more interesting.
Water Glow
"The bioluminescent animals (or whatever they are) in the water is pretty amazing. Our toilet would fill up with seawater and if you took a piss in it in the middle of the night it would agitate the water and it would glow sometimes."
– Tub-a-guts

"Ominous Red Snow Angel"

"Always love the bio-luminescence flickering around the hull at night. They're almost like a cushion of little stars guiding you safely along. On those really dark, moonless nights, I'd almost beg for them to arrive."
"I sailed 70ft yacht around the world a few years back. Southern Ocean, Cape Horn, Good Hope, Roaring Forties, Furious Fifties, two equatorial crossings; the full deal. Plenty of terrifying moments, boring moments, funny moments and beautiful moments."
"A creepy moment that is burned into my memory involved a near catastrophe halfway between NZ and Cape Horn. We ended up hitting really bad weather and absolutely huge seas - 50ft swells with massive troughs in between. We were running with the swells for days as they grew, skidding down them like a bloated surfboard, always worrying that the next wave would break behind us and roll us over."
"At night it's pitch black down there in bad weather - the sky and sea just form a huge black mass. The most terrifying thing is the sound of an invisible wave breaking behind you. At night, you run red light to preserve night vision, so there's basically just an eerie red glow emanating from below deck."
"At about two in the morning, I was at the helm when a monster wave broke directly over the back of us without a seconds warning. Time slowed down like it does in those moments, and the last thing I saw was my own silhouette in the wall of water, lit up like an ominous red snow angel - and then nothing but cold blackness as the boat sunk into the sea."
"Fortunately, she popped straight back up like a cork after a few eternal seconds - almost like a submarine surfacing - and we were still in one piece. Still cant forget that glowing red apparition of myself though. The memory of it has woken me up in a cold sweat more than once."
– Le_Rat_Mort
Coming Up For Air
"Somewhere in the Atlantic, nice cold as f**k night, decided to step out and look at stars. About ten minutes on and a boats mast pops up, sits there a few minutes and then back under. No alarms, nothing. Just some sub boys getting a bit of late night o2 in the middle of nowhere next to some friends."
– MyMomsSecondSon

When I worked on cruise ships, I was always captivated by the green flash on the horizon.
The optical phenomenon occurs just as the sun goes down or before sunrise, with the tip of the sun barely visible.
It emits a flash of green light that I found absolutely thrilling to witness every time.
It's not necessarily creepy, but still a wonder for sure.

No matter how long ago we saw it, there are some scenes or images from movies that still send shivers down our spine or keep us awake at night to this very day.
Pennywise appearing in the sewer in It, Janet Leigh surprised in the shower in Psycho, Freddy Kreuger's tongue popping out of the telephone in A Nightmare on Elm Street.
Of course, some of the scariest, most disturbing, or most emotionally traumatizing scenes from films might have been featured in films outside of the horror genre.
Even more shockingly, some of these films were primarily marketed towards children!
Redditor alina_love was curious to hear which non-horror films the Reddit community saw as children still send shivers down their spines today, leading them to ask:

"What's a non horror movie that traumatized you as a kid?"
It Was Tim Burton, After All...

"'Pee Wee's big adventure'."
"Large Marge scared the crap out of little me."
"I was even scared of the fortune teller."- BlueStarrSilver·
With A Title Like "Temple Of Doom"...
"'Indiana Jones and the Temple of Doom'."
"The scene where the guy gets his heart ripped out traumatized me for years."- Pbhf
That Funeral Scene Though...
"'My Girl'."
"Fear of death, fear of losing a friend, fear of bees, fear of puberty."- heidismiles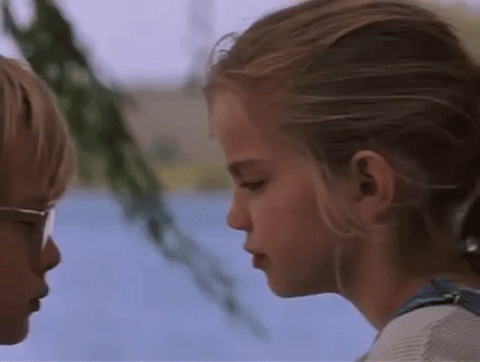 macaulay culkin kiss GIF
Giphy
Jurassic Park's Got Nothing On This...

"'The Land Before Time'."
"Watching Little Foot's mother die was awful."- HourglassSass
He'll Always Regret Not Bringing Her To The Museum...

"'Bridge to Terabithia'."- jumpstart-the-end
"Everything goes so well and it falls apart SO FAST and your left absolutely traumatized."- VortexDestroyer99
The Reason People Hold On To Their Appliances For As Long As They Do...
"The Brave Little Toaster'."- Catgurl
"The junkyard scene alone was responsible for so many nightmares."- ManChildMusician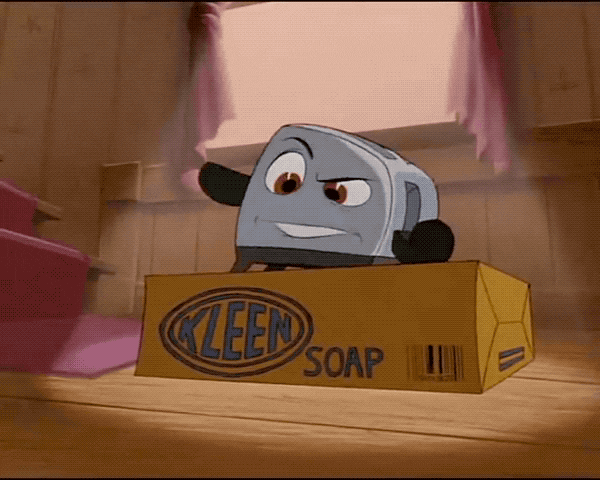 brave little toaster animation GIF by Coolidge Corner Theatre
Giphy
And Let's Not Forget The Coachman's Smile...
"Disney's version of 'Pinocchio'."
"The scene where kids are turned into donkeys and kept on the island and then resold was f*cking weird."
"You felt bad for that bully kid after he looked sad and nobody understood what he said because he was a donkey."- earnestlikehemingway
Few Things More Sad And Scary Than Deforestation
"'Ferngully: The Last Rainforest'."
"That evil tree scared me so bad."- slutsdotnet
Anything But "Truly Scrumptious"...
"The 'Chitty Chitty Bang Bang' Childcatcher guy!"
"I'm still scared of him!"- Jet_Maypen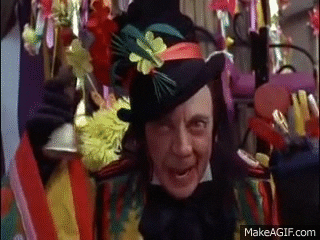 child GIF
Giphy
Offing Children One By One...In A Children's Movie!
"'Willy Wonka and the Chocolate Factory' boat scene."
"Honorable mention of claustrophobia when Augustus gets stuck in the chocolate tube."
"UGH!"- looseseal-bluth
At Least We Know He Had A "Sole"...
"Who Framed Roger Rabbit."
"That poor shoe….."- dalalice5555
At Least The Song Is Catchy...
"Neverending Story."
"Not even Artax, which was awful, but the Rockbiter and his good strong hands."- marxychick1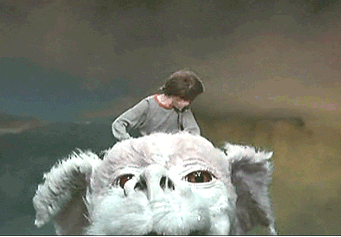 Neverending Story 80S GIF
Giphy
Dorothy Gettying Electro Shock Therapy Says it All...

"Return to Oz."- Jeff_Steelflexx
"Horrifying! What about the animated wig heads?"- weensfordayz
The Reigning King Of Childhood Trauma
"Old Yeller."- IceTech59
"I remember watching this on TV during, I think, Wonderful World of Disney (Sunday nights were Disney night on TV)."
"Cried and cried and cried."
"I've never been able to watch it again and I've never shown it to my kids!"- crowwitch
Not All Friendships Are Tenable... A Terrifying Thought
"'The Fox and the Hound'."
"Still makes me incredibly sad, lol."- mental_reincarnation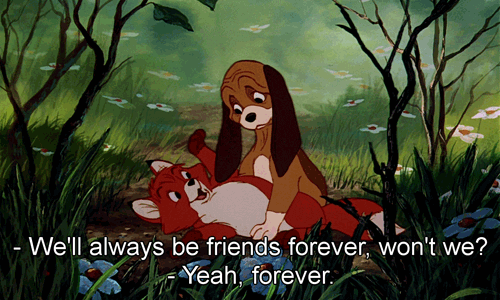 best friends friendship GIF
Giphy
Sometimes, writers and filmmakers simply overestimate what might go over a child's head.
Or, for that matter, they might underestimate their emotional capacity.
Regardless, ask any of Fairuza Balk's fans which is scarier, Return to Oz or The Craft, and their answer will be immediate...
(... and it won't be The Craft...)
Sometimes it's fun to toy with someone.
Especially if it's an enemy or a loved one who simply deserves a good ribbing.
Some cryptic sentences can send anyone into a tailspin.
And oh the fun that can be had.
You have to be as vague as possible and as sincere.
You have to sell the sincerity. That's vital!
And then just watch them implode.
Redditor theary18 wanted to hear about the most creative ways to throw somebody off their game, so they asked:
"What is the best thing to say to someone to subtly f**k with their head?"
I love to come up behind someone and say "I can't believe they would treat you this way. I got you girl!"
Then I scurry away.
Tee-hee...
It's YOU!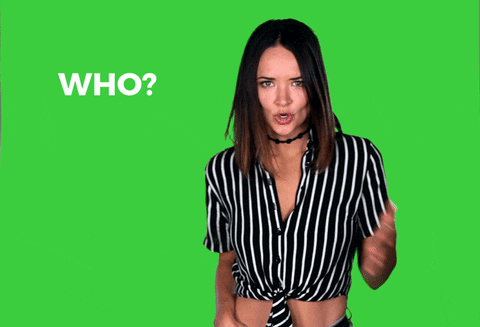 For Me GIF by Liz Huett
Giphy
"Just tack on the phrase 'given your history' to any question you ask someone."
"Are you sure you want another drink? Given your history?"
"Do you mind driving? Given your history?"
hamletreset
Mean Kids...
"I moved to my elementary school in the 5th grade. Mid-year, a boy came up to me and said, 'I really thought you were gonna be somebody.' I'm now 45 and I'm still like, what the f**k was he talking about?"
NicklePlatedSkull
"Likely something they heard a parent say to someone. Kids love to repeat the dumb stuff you say the next day at school."
itsallgoodman2002
"All jokes aside he probably thought you were someone else. I've done the same things countless times and it's happened to me a few."
Download_more_ramram
"I would interpret this as this kid hearing there's gonna be a 'new kid' and then their imagination ran wild as to who this new star is going to be, that it will be like in some kid movie or something, but you turned out to be just another kid student."
i_was_planned
I Like You
"I don't get why other people don't like you."
Dependent_Main2643
"Another variant is..."
"I don't care what everyone else is saying. I think you're great!"
"They'll take it as a compliment at first but then they'll think about it and it'll eat away at them."
Oh-Cool-Story-Bro
"A guy I work with says this time to me every time I help him 'I don't care what everyone else says about you you're alright. Literally everyone else. We did a poll.' XD guy says some crazy s**t. When he started he tried to convince us he was a flat earther. He just likes fucking with people."
ThreeBeatles
Rumors
"'I heard about you.'"
ignorantpigeon
"Whenever I hear this I always respond with 'if it's all good, it's all lies.' Usually shows my sense of humor and if it is bad things they heard it usually lightens the mood."
ElApolloLoco
"Years ago I worked at a cafe and function venue which was sold after a few years to a new catering company. The first time I met the new restaurant manager I introduced myself and she exclaimed 'Oh, you're winoforever!' and I was a bit weirded out. Then not long later I met the new owner and she also said 'Oh, you're winoforever!' I still wonder twenty years later what they'd both heard about me."
winoforever_slurp_
Problems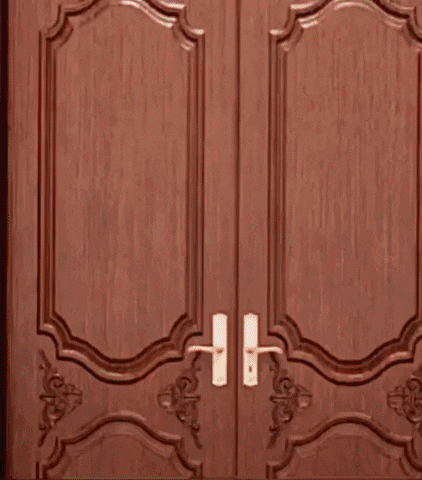 Drunk Party Girl GIF
Giphy
"Go up to someone at a party and say: 'I just want you to know that personally, I have no problem with you being here.'"
LuketheMook
"I once got drunk and effectively said that to a girl at a wedding. 'I don't care what everyone else thinks, I always liked you' or something like that."
Supersnazz
Parties are the perfect setting for these shenanigans.
Especially with the drinkers.
But get them at least semi-sober.
I got You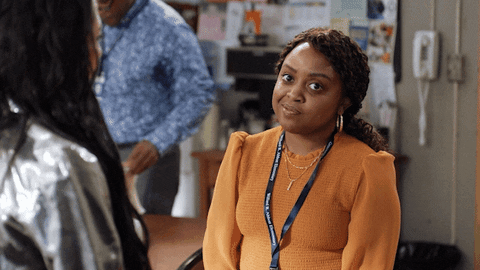 Okaay What GIF by ABC Network
Giphy
"If you are chatting with someone and another person walks up look at them and say 'I just want you to know that I was defending you' then turn and walk off. It's a good 2fer."
could_use_a_snack
Hush
"'We know, but don't worry, we'll keep it a secret.'"
ch3rrycsmos_
"A friend in high school (actually still a current friend) said something similar to me and it definitely f**ked with my head. 'You know you're not fooling anyone, right?' He wouldn't elaborate and it took me the rest of the day to figure out he was f**king with me. As a guy with imposter syndrome, especially as a teen, that had me turned for a bit."
ablackcloudupahead
You Again
"If it's someone you interact with repeatedly, always introduce yourself as if you've never met before."
Stillwater215
"I keep doing this to a guy I see very occasionally. He's a friend of my sister-in-law, but I've introduced myself to him at least four times. Right now, I'm trying to picture his face and I totally can't, so if I see him again, I'll introduce myself again. He remembers me though. And I don't have this issue with anyone else, I just can't remember this guy's face for some reason."
KrtekJim
Big Mouth
"You really need to brush your teeth."
setthepinnacle
"Somebody jokingly left a message on the 'tip' line that said 'Take a breath mint.'"
"I'm like 90% sure it was just the first thing that came to his head but it f**ked with me for weeks. I was self-conscious when talking to people, being close to them with my mouth open, and I'd constantly be brushing longer/harder taking mouthwash a couple extra times a day, and using mints."
ToFaceA_god
Head Issues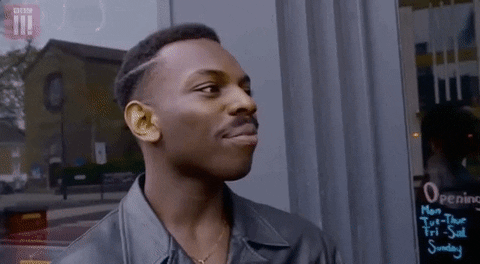 Think About It GIF by Identity
Giphy
"Give all your friends a few dollars to compliment their hat if they're not wearing one. When 50 people insist you're wearing a hat, you start to think you're wearing a hat. It will drive them insane."
Stillwater215
Hats off for that last one. That's harmless but devious.
Do you have any tips to add? Let us know in the comments below.
Societal pressures shape how people act most of the time, but every now and then someone comes along who doesn't care what other people think.
They do what they want, when they want without guilt or remorse.
According to President Theodore Roosevelt:
"Far better it is to dare mighty things, to win glorious triumphs, even though checkered by failure, than to take rank with those poor spirits who neither enjoy much nor suffer much, because they live in the gray twilight that knows neither victory nor defeat."
Much less rare are the times when otherwise conscientious people decide to throw caution to the wind. Almost everyone had at least one moment in life when they decide to go for it.
Damn the torpedoes, full steam ahead, right?
How things turn out after such a decision can make for some interesting stories.
Reddit user Alone-and-affraid asked:
"People who just said 'F*ck it' and did the thing, how did it turn out?"
Noping Out
"I quit my factory job of 2.5 years during the 2020 events to go work at a slaughterhouse. I had nothing to fall back on besides this job."
"I did training there for a week before they decided I was ready to go work on a line."
"I was at the line for an hour, just watching the other guys work and I knew immediately that this wasn't something I could do; it was far too fast paced, far too much to remember and with the job involving razor sharp knives, I feared for my safety."
"I walked out of the job during my first break and didn't return. Went to Staples, printed out some resumes and dropped off about 20 of them before walking into a rebar manufacturing place that hired me on the spot without an interview."
"The rebar job was fun as hell, my coworkers were fantastic, and it paid $3 an hour more than the slaughterhouse. 11/10 decision, there."
~ TTungsteNN
No Business Like Show Business
"Was working a job that paid little and was hazardous due to chemicals and bad health and safety. Wanted to stick it out cause it was a skill I wanted to get good at and also being able to buy food is nice."
"But the general work environment was sh*t."
"One day at work I got a text from a random number asking if I wanted a job on a film, where I'd be basically painting costume items. They didn't give me any information about it at all."
"But I said f*ck it, and quit my job with my sights set on the big screen."
"Now I work in the film industry pretty much full time where my job involves painting and making weird sh*t all day with cool people. More stress and way longer hours, but way more enjoyable and fulfilling."
"And now I have money to buy my self cool sh*t whenever I want it."
~ edakit
Take This Job And...
"After a major falling out with my bosses I stormed out of my job with zero notice. Left the company car keys at reception and went."
"Zero plans, zero transport home."
"On my long walk home I hatched a plan to become a freelance developer and I have now been doing it for 20 years."
~ SickPuppy01
Up, Up and Away
"Changed careers from IT to Aviation (Pilot).
"Took the $130,000 loan out, and said 'Fuck It'. I am about to get my PPL, from there its IFR certification, then Commerical, and then my CFI so I can get my hours and get paid (little but its still making money and obtaining hours)."
~ Spartan0536
"My friend's husband switched from dental hygienist to pilot and he was in his late 30s. He started with zero hours and worked his way up through the various stages.
"He's a first officer at one of the major US airlines now and loves it."
"His wife's salary kept the family afloat during his slave wage years."
~ rabidstoat
Taking a Leap of Faith
"My work is very niche, so niche we were less than 20 to do it at a professional/commercial level in a city like Chicago."
"After the facility I ran a crew at closed, I spent a bit over a year looking for a similar job anywhere in the US and Canada without success."
"I did get a decent amount of interviews just to get ghosted every single time, no one would hire me due to my disability (Crohn's and Ostomy bag, which prevents me from doing a small part of the job and can be worked around without issues)."
"After all that time all I could find was a 2-days a week part time job, working under the first person I mentored."
"Did that for a few months and struggled financially until I saw a job posting for something in Singapore."
"I said why the hell not, sent my application through email and got an interview set up for the next day and within 90min of that interview they were ready to send me a contract."
"7 weeks later I was on the plane with 3 suitcases, moving across the world to a place (and continent) I've never been to."
"I'm 2 months into the job and already feel like I have a purpose again, the job is pretty damn chill, the pay is real good. The company is also really happy with my work so far and their decision of bringing me in."
"That's just the job part, the city/country is amazing (besides for the constant heat but that's just a small detail)."
"Zero f*cking regrets."
~ azgrows
Work From Home
"For years prior to the pandemic I'd heard about Work From Home scams. It had always been a dream of mine as someone that had suffered insane commutes to work from home."
"During the pandemic I figured f*ck it I'll see what's out there. Found an old employer of mine was hiring for WFH."
"I applied, got the job and have been with them now for a little over 2 years. A year or so of that time as the night shift lead."
"It's amazing. I have no commute. My workload is relatively light. I spend most of my work hours waiting for work so I listen to music, read books, watch TV etc..."
"Unless I finally go back to school and get my degree this is the closest I'll get to retired."
"With my current schedule I only work 3 nights a week."
~ jackfaire
Alls Not Well That Ended Unwell
"I had worked at a company for almost 10 years. I never got promoted and had hit the salary cap for my position so I could not get a raise."
"I tried for promotions, but they made you take a personality test for higher level positions, and I 'wasn't the right fit'. They then had some budget cuts and couldn't justify my salary so I was let go."
"A friend of mine had been planning for years to open a business, but didn't have the capital or time to get it off the ground. He was very convincing and confident, so I invested everything into it."
"I thought that since we were both 'smart' and knowledgeable about the product we could make it work without experience, but I was wrong."
"My friend was the product guy and I was 'the face' as the business had a huge social aspect."
"Within 3 months I realized that my friend's product knowledge was just based on what he liked, and not any real research. It fell apart pretty quick.
"I tried to salvage it but the initial product mistakes were too much. I tried to take control and right the ship but I got blamed for all the failure."
"I should've tried to collaborate but I was angry, and then I went to the only person that was on my side, my business partner's ex. It was wrong but I was losing everything and needed something."
"So I lost my condo, my life savings, and all of my friends. The business partner's ex then left me after the business collapsed because I was broke."
"It got worse from there. Let's just say that saying f*ck it can ruin everything."
~ CarboniteCopy
Moving On Up
"In my young age I walked out of my job as a programming analyst at a large multi billion $ company because I felt undervalued everyday of my job by my direct supervisor/manager."
"But I landed in another large multi billion dollar company as senior developer after 3 rounds of interviews—with 40% raise within 2 weeks."
"I was called back by previous employer after around 3 months giving me a 100% raise because they realized that I was providing them everyday solutions in their technical operations that ended up not solvable by even external consultants who were paid 300-400$ per hour."
"I rejected the offer but showed the offer to current employer who happily matched the salary after seeing my work for 3 months and promoted me to lead developer. Stayed there for 8 years before switching—this was in early 2000."
~ notyourregularninja
Change Of Scenery
"Seventeen years ago the wife and I lived in Japan, and had been there for almost 9 years. Our daughter started getting death threats in school when she moved to middle school; different kids than elementary, where the parents were really nice to us."
"Anyway, when we talked to her teacher about it, she pretty much said 'It's her fault for being loud and wearing earrings' (my daughter is half Hungarian, and babies get earrings here; it's a cultural thing)."
"We told her this and she said it attracts too much attention."
"Also, she told us to dye her hair black (it's brown) so she'd fit in better. We noped out, and moved to Hungary (at a time when Hungary was not even slightly in good financial shape, and about to be IMF-loaned).
"My parents thought we were crazy; my dad even told me I'd made a mistake."

"Things turned out very well. Daughter got stable again after some terrible thoughts because of what kids did to her in Japan."
"I found a decent job and after a LOT of weirdness ended up at a good workplace; wife runs our little company now, which is okay-ish (though current inflation, man...)."
"We actually own our own home, which felt impossible in Japan."
~ inostranetsember
Switching Things Up
"I changed careers on nothing more than a suggestion from a friend."
"It worked out amazingly."
~ CoffeeAndBrass
Heaven on Earth
"Two years ago, I walked out my job, broke my lease, shoved as much of my belongings into a badly malfunctioning car and drove across the Rocky Mountains to find the sea."
"I didn't have a plan, I didn't know if the car would survive (it broke down within weeks after the trip was done and I sold it for scrap)."
"I honestly didn't care if I had a place to live... I needed to see the ocean, to smell it, to dip my toes in the brine and feel small again."
"And if I had nowhere to go and no way to survive once I got there, I had every intention of weighing down my pockets with stones and just walking into the water to end it all."
"I was not in a good place, mentally or emotionally. You don't walk out on your life like that if you have anything to live for."
"But I connected with estranged family here, and they gave me shelter until I found work and a new home."
"I'm happy now, really truly steadily happy, fulfilled, proud of myself and what I'm doing, more so than I've ever felt in my entire life."
"The air is cleaner here, I wake up every morning and, rain or shine, I take a bike ride through rolling hills of emerald farm fields and deep whispering pine trees."
"I'm greeted in the mornings by wild robins, and I fall asleep at night to the music of rain dancing through the boughs of the trees and a chorus of singing frogs."
"I find myself standing outside, staring at the vast river of stars in the unpolluted and sacred darkness of the night sky, and I watch the beautiful pink and orange waves of the rising sun cresting over the mountains."
"I have found a Heaven on Earth, and I am thankful, every minute of every day, for this wild place I call home and the wonderful people who picked me up when I had fallen down."
"I don't recommend anyone else do something as stupid and impulsive, or self-destructive as I did, but it wound up being the best decision I have ever made."
~ JodyJamesBrenton
Have you ever just said to heck with what anyone else thinks?
How did things turn out?
Share your story in the comments.