People Divulge The Exact Reason Why They Have Trust Issues
Trust is hard. At a certain age it becomes near impossible to give it or to "trust" it. Not to be macabre but honestly, life breaks us and can destroy our ability to believe in the goodness of others.
It's unfortunate that so many people are willing to treat others like trash. That kind of behavior leaves scars and that kind of pain never really goes away. Mistrust manifests in ways that can hinder life.
I try my best to believe in everyone but after the things I've seen, that sounds naive. And then that belief makes me depressed. I don't want to believe the worst, it's just that I, and many of us, have been subjected to so much of it.
Redditoru/Billabongo12wanted to see who would discuss their emotional scars by asking:
What is the story behind your trust issues?
---
Every morning I wake up and I decide that I will do my best to trust in people on the regular. But often by lunch I surrender. We have to keep trying though. Let's see who can empathize...
Blame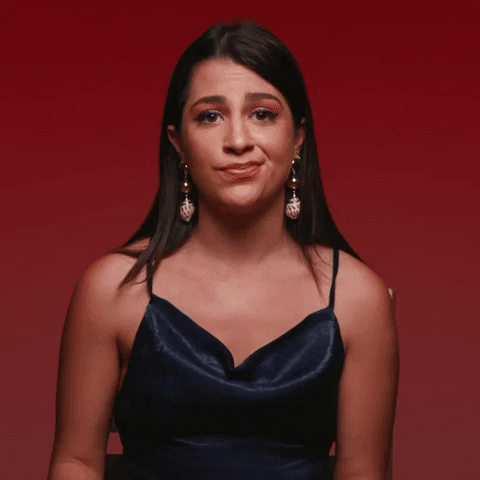 It Is What It Is Dont Care GIF by AwesomenessTV
Giphy
"Parents never really believed me about anything even when I had an alibi. The worse part is them telling me I will not get in trouble if I tell them the truth which I was. My ex cheating on me and blaming me for it."
- SnooDoughnuts231
Drop Her
"My wife has been screwing another guy for several weeks. We have been married for 6 months. She didn't even tell me on her own, I had to initiate the conversation first. She didn't even end the cheating completely because she is "unsure about her feelings." We also have a three year old son. The conversation was last week. Guys, this is the crap that completely destroys you emotionally. I've never been so hopeless."
- No_Bumblebee7558
Human Relations
"I've been betrayed, cheated on, stolen from, used and abused, and a lot of other stuff but I still give people a measure of trust. I don't trust people with my life but I do trust them to a degree. It mostly backfires but not all the time. I can't imagine completely isolating myself because of the crappy variety of humans."
"I see human relations as a sifting process so it absolutely hurts when trusting someone backfires but I am at a place where I know what category to put them. Conversely, it's absolutely magical to find a person or two who are just so consistent and human but as good to you as can be expected."
"It makes up for all the trashy humans you had to process through your filtering system. Don't give up on finding a handful of people who will be sincerely good to you over the course of your lifetime. They do exist and you can be one to them as well. I hate it when the trash takes your hope over and above everything else it's don't and taken from you."
- NamasteVibes
Gaslighter
"My ex-husband made me think I was crazy and couldn't trust my own judgement, it took a long time to come back from that and I still have moments in my current relationship where I ask myself if I could be wrong.. if I should prepare for things to go wrong even if there's no indication of a problem. That's hard to get over."
- Deezus1229
From Behind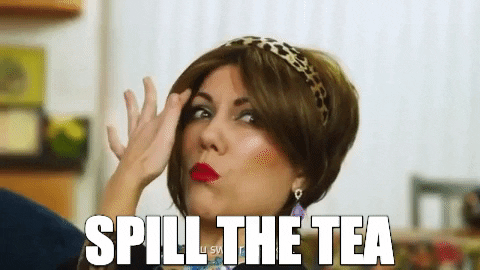 Latina Tell GIF by Jenny Lorenzo
Giphy
"Enough people talking behind your back, making fun of you, and then turning around and pretending they have a heart of gold will do that."
- how-sad-for-you
Gaslighters, gossips, abusers and liars. Life really is a "Dynasty" episode on steroids. So many villains, so little time. We just all have to learn to survive.
Broken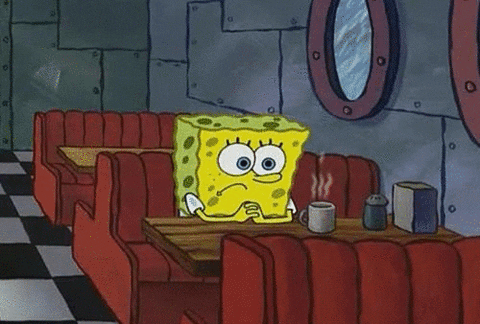 Sad Talk To Me GIF by SpongeBob SquarePants
Giphy
"Too much broken trust and heartbreak when it comes to relationships, people taking me for granted, emotional abuse, gaslighting, & partners cheating on me."
- Ghoulthrower676
The Twin
"As a kid 90% of my friends were nice to me, but really hated me. Only reason I knew was because my twin sister told me they went to her to complain about me. I learned from them to see when someone was holding back from me. Turns out my whole family has similar signs. They still hide stuff from me, but they fill me in on their thoughts after the fact now. Still, it did a number on me. Still don't know why those kids disliked me so much."
- ugg_monster
I Got Me
"Being a child who was constantly shown that the people in positions of power over them, that were supposed to trust and care for them, would actually always choose to use that power to abuse, manipulate, and control. You then grow up feeling like you can only rely on you and anyone who seems trustworthy is actually dangerous. And that's on therapy lmao."
- ruffianpenguin
The Dork
"In high school, found out from someone leaving their Facebook open that my friends just felt obligated to hang out with me and wished they didn't have to. I was a giant dork who probably embarrassed them, so it's understandable to some extent, still wish they had gone about it a different way, or I had found out a different way. It's still hard to keep thoughts of "my friends secretly hate me" away sometimes."
- cummb
A Mess
"Trust issues with parents verbal abusive by them I may have bipolar not sure which kind but it will mess with me occasionally and I hate my life been treated like crap."
- Guilty_gun
A-Ha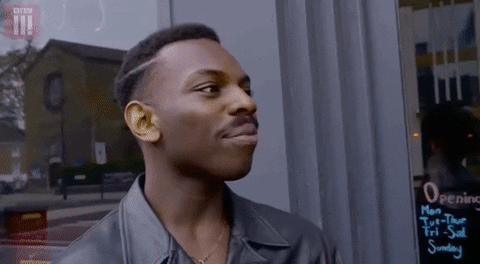 GIF by Identity
Giphy
"Like I'd tell a stranger on the internet. Fool me once..."
- jeremyroastscoffee
Psycho
"My ex tied me to a chair and said we were going to have some fun. She then has her ex come into the room, made me watch her have sex with him. That and a few months later, she broke my hand with a hammer. I am perfectly fine now, really. It all happened 25 years ago. Thank you all for the kindness just the same."
kilo_1_1
Cheater
"Dated this girl I always caught red handed cheating and she would flat out deny it ever happened days later. That crap messed me up. Funny part was down the line when she would say things like, 'The problem is you don't trust me, that's why we always fighting.' Never trusted a girl ever again."
"Ohhh it gets better... afterwards she lied to me that she was going into another country for a job and lied she was going to live with her mom's sister whilst she was going to live there with her friend and then she got pregnant by a married man and now she is a single mom struggling to make ends meet."
decapitare95
The Cost
"I don't know if it's trust issues, per se, but I am very hard-nosed about not taking crap from anybody. I had a physically abusive first husband and an emotionally abusive second husband and I simply will not lay down and take any kind of abuse from anyone any more. This has cost me a friendship or two but frankly, if that is how they are going to be, they aren't my friends after all."
eatyourdamndinner
"safe one"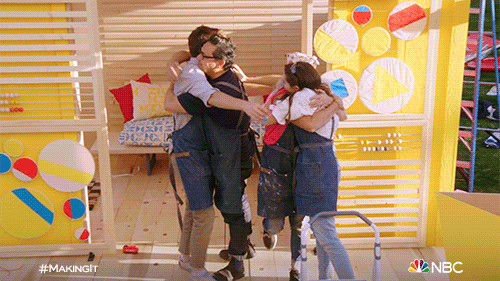 Group Hug GIF by NBC
Giphy
"Foster care Lmao."
crispypotleaf
"This breaks my heart. My girlfriend and I want to be foster parents and be the house that the kids always remember as the 'safe one,' where they're welcomed back at any time."
MidKnightDreary
The Leftover
"I was the odd one out through elementary and most of middle school. Then when I finally made some friends, my best friend abandoned me out of the blue and one of my other close friends turned out to be a liar and enjoyed toying with my emotions."
Ostmitch
"best friends"
"Every woman I've ever been close to has hurt me badly. My mom destroyed my self esteem, my aunts and grandma on her side of the family weren't any better, and I had a series of toxic 'best friends' that treated me like shit one way or another. Now I'm terrified to form a close friendship with a woman and will run screaming when one tries."
HighAsAngelTits
let me drown...
"Only person I've ever dated was mentally and physically abusive, she also tried to drown me. Everyone I start to slightly trust goes away, I just show a slight bit of my mind, and they go away. So, I don't trust anyone, it's probably better for them, people probably don't want to know how dark my mind can get, and I don't have to take a chance of getting f**ked over."
BananaKbone
Don't Watch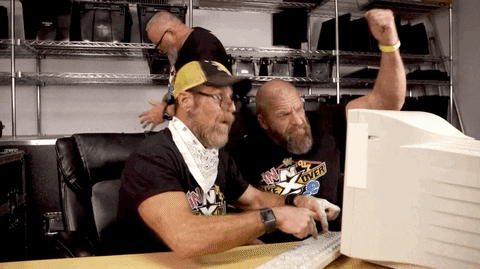 Triple H Reaction GIF by WWE
Giphy
"I automatically assume the worst in everyone because of the messed up things I've seen on the internet."
shadowssx
Erasure
"Slowly having my trust erased throughout my life by friends, family members, colleagues. I absolutely don't trust anybody. And it hurts, because I love my husband dearly but sometimes it feels like he takes advantage of my good nature. He absolutely doesn't, it's just my past problems projecting onto our relationship. I'm also paranoid AF due to mental health problems."
Retrosonic82
People suck. Hard, cold facts. So what do we do? Therapy. Therapy. THERAPY! And meds, with the occasional vodka/soda. Half the reason life is so arduous is the distrust brought about by others.
Want to "know" more?
Sign up for the Knowable newsletter here.
Never miss another big, odd, funny, or heartbreaking moment again.
Reddit user j-rock292 asked: 'What is the dumbest thing a customer has gotten mad at you about that was not your fault?'
Like many people, I spent my time in retail. Customers were by far the hardest part of the job.
In college, I worked as a "bookseller"—our official title—in a mall for a national chain of bookstores. Without fail, every shift one or more customers would ask for something like "that book, the red one, by the guy."
When we'd ask for more information—like genre or if it was new or where they saw it—they'd just repeat, "red book, guy, you know which one I mean."
We most definitely didn't know which one they meant, but customers thought if we worked in a bookstore we should know every book in print from even the vaguest of descriptions. And they'd get mad when we didn't.
Anyone who has worked with customers has war stories.
Reddit user j-rock292 asked:
"What is the dumbest thing a customer has gotten mad at you about that was not your fault?"
Were they blind?
"They asked me to cut a blind."
"When I asked for the dimension they wanted it cut to, it was larger than the original blind length."
"Said I can't make it longer, only shorter and she lost her sh*t."
~ LatishaASpray
Tag, you're it.
"Back when I worked at Target, some guy came in about 30 minutes before we closed, and wanted to buy a laptop."
"He wanted to run some obscure software on it for his laser ttagarena and got really nettled when I told him I was unfamiliar with the software and so I couldn't give a definitive answer."
"Then he started going on about how much he made in a week compared to my paycheck."
"So I told him something along the lines of, 'Well then buy this laptop and if it works, it works. If it doesn't, it won't hurt your wallet'."
"He really didn't like that and after some colorful language, was escorted out of the store."
"In an odd twist of fate a few months later the mother of one of my best friends bought his laser tag arena because he ran it into the ground."
~ gradualpotato
Credit where credit is due.
"Not me but a friend of mine worked customer service for a credit card company."
"She said a young guy called and asked why he couldn't use his card. She told him because he had exceeded his $15K limit."
"Dude was like 'yeah but that was for last month. Don't I get another $15K limit this month?'."
~ _eviehalboro
Can you hear me now?
"Customer got mad at me because I could barely hear her over a bad connection."
"I was on a landline, she was not."
"After disconnecting the call because it was going nowhere, she immediately called back and complained to me about the a**hole she'd just been talking to, saying, 'He said I was bad at making connections. Why the f**k was he talking about my love life?! You are much more helpful, though'."
~ Dapper_Interest_8914
No, I can't help you.
"I wasn't even working at this shop, I was just another customer. I didn't even wear a shirt similar to an employee's."
"A woman comes up to me and says, 'Excuse me, do you work here?' But before I can say no, she asks where something is."
"She sounded polite enough so I responded just as politely, 'Sorry, I don't work here. The people with the blue shirts do'."
"She got slightly upset and said someone else had pointed at me when she asked for a worker."
"I look to my side, and literally less than a couple feet away, there was an actual worker. I told her 'I think they meant that guy right there'."
"She then completely lost her cool, screaming various things at me and calling me all sorts of names."
"The employee tried to intervene but she just kept screaming. She eventually stops with, 'I want to see your manager!'."
I told her to f'k off. The employee laughed and she stomped off, then I just went back to shopping.
"Didn't see her again."
~ FearMeImmortals
Maybe if you hum a few bars?
"I worked at a Music Store in a mall around Christmas."
"A lady came in and wanted to get the album of whatever was playing at the store she was in earlier."
"She got mad when I didn't know what music they played in other stores."
~ MelScarn
Full service doesn't include time travel.
"In the '60s I worked at a gas station that also did repairs."
"A customer drove in with a flat right rear tire and no spare. I pulled out the nail and plugged it."
"She was good to go and left happy."
"She drove in about 2 months later with a flat left front tire."
"I pulled out a screw and plugged it while she screamed that I should have checked it last time she was there."
~ VosTutZich
"She has every right to be mad."
"You're obviously a terrible tech because you didn't make a time machine to go into the future and prevent her from getting another flat."
"You must feel terrible that she takes her car somewhere else now."
~ 1questions
The call is coming from inside the house.
"A long time ago I serviced someone's Internet connection at their house."
"When I left, my supervisor called to let me know that I had been accused of theft at this house."
"This crazy lady thought I stole a handset for her landline phone, not even the base with it, just the handset."
"She called later to report she found it in between her couch cushions."
~Reddit
I control the weather, but work here for minimum wage.
"Got yelled at for ruining his family's vacation at Disney world because the rides shut down due to the storm."
~ conker1264
"The summer right out of high school I worked at an amusement park."
"We had a massive severe thunderstorm ( heavy rain, lots of lightning, 50+mph winds, whole deal) one day, because giant metal structures and lightning dont mix we had to shut down all of our rides."
"Well this dipshit accused ME of starting this storm just to ruin his day."
~ j-rock292
Maybe she didn't want to wash it.
"I was refusing her a refund on a kids' duvet set."
"This woman threatened my colleague, so I (manager) stepped in."
"Protocol states we had to check and repack before giving a refund, so I took it to the stock room only to find that she had folded it back into the packaging, complete with the vomit chunks!"
~ Outrageous_Zombie945
Florida is hot in May
"So, I worked at a chocolate shop in Boston MA."
"Someone called to place an order, for shipment, to Florida."
"I said, 'okay, we do require next day shipping and an ice pack on shipments to Florida, so the chocolates don't melt. The shipping Will be $30 and the ice pack and insulated packaging will be an additional $8'."
"It's my standard spiel."
"The person's like 'the chocolate is only $22. No. I'll pay for the shipping but not the ice pack. It will be fine'."
"'Yadda Yadda warning. Yadda Yadda. When it shows up melted it won't be our fault I'm noting it in the system'."
"So, what phone call does my manager get 2 days later?"
"Oh? Person got melted chocolate? Oh it's our fault is it?"
"But look? There's a note in the system they refused to pay for an icepack."
"WOMP WOMP."
"Did I warn them the chocolate would melt? Yes I did."
"Do they now have nothing for mothers day? No they dooooon't."
"Poor them."
~ biddily
I also sold mattresses and appliances. Maybe because they were a major investment, I had far fewer bad experiences with those customers.
My worst experiences were working a customer service phone line for a Department of Defense agency.
People were almost always angry before they picked up the phone.
Have you had a customer go off on you? Share your experience in the comments.
Medicine is a difficult profession. Thanks to the wonder that is human nature, healthcare workers are subjected to incredible Darwin-award-winning scenarios daily, so it's no wonder that many of them feel the need to go home and scream into their pillows at night. From self-inflicted injuries to dangerous prescription misuses, these Redditors revealed the most facepalm-worthy patients they've ever encountered.
But be warned: They'll all leave you wondering how we've survived this long as a species.
In almost every interaction with a Karen, there will come a point where she (or he) will ask to speak to the manager. They seem to think that if they over others and just act a fool, they can get what they want—but the following managers REFUSED to let these Karens get away with their inconsiderate antics.
In the United States, it's no secret that sex education for minors is inconsistent at best.
But some people learned very unexpected stories about how babies were made, and those stories had a way of making a lasting impression.
Curious about other's stories, Redditor ILoveYourCat asked:
"How did you think babies were made when you were little?"
One Time's the Charm
​"I knew babies came from sex as a fairly young child. My parents never sugar-coated that. But for some reason, as a kid, I thought you only had to have sex once to have multiple pregnancies. I seriously didn't fix that misunderstanding until early middle school."
- Crazey1988
"At some point, when I finally accepted that you had to have sex to have a baby, I thought the only time people have sex was to make a baby, and it only took one time to get the job done."
"Then when I figured out teenagers were having sex, I thought you had to be married and have sex to make a baby, but then when my unmarried cousin got pregnant, I was just confused."
"But I was sure my parents only had sex four times, and then when my mom got pregnant with number five, I thought, 'Wow, they did it again.'"
- Raw_Combination_438
Stealing Storks
"A stork delivered them, of course. What the f**k, lol (laughing out loud)."
- Dells51
"Storks... I thought people trained them to steal babies from a factory and you would leave special treats on your doorstep as payment and encouragement for the stork to steal one for you."
"I was scared to death of birds for the longest time and would have a tantrum at the zoo when I saw a flamingo."
- No_Finish_3144
Young Conspiracy Theorist
"The government. I used to think that we lived in a totalitarian society and that the government was in complete control of everything."
- bebotak**t
"I thought the President sent people their babies when asked by mail."
- GustavoAlex7789
Scheduled Baby Delivery
"The women in my family explained to me at the age of six that a doctor calls you sometime after reaching adulthood at the age of 18 to schedule a baby delivery date."
"The husband either pays to schedule the appointment or the government does after verifying that you have been married and financially stable for quite some time."
- Lokikat00
Marital Kissing
"When two people kissed."
- Short-Reality7353
"I thought the same thing, but I understood that when my mom gave me a kiss, there was no risk. Being someone raised in a very Christian background, I assumed that when you got married, God made kissing a reproductive act."
"Since I made this assumption, I remember questioning why teenage pregnancy could possibly be an issue."
- meuserj
The Ultimate Christmas Gift
​"I thought Santa was bringing them."
- NorskoTheScorpion
"He was. I mean, Christmas comes but once a year..."
- Nouveauuuu
"I MAY NEVER ENJOY CHRISTMAS AGAIN."
- NorskoTheScorpion
A New Meaning to 'Forest Friends'
"When I used to ask my dad where I came from, he'd say he found me under a rock in the forest. Of course, I would go look for babies under rocks, too, but all I ever saw was dirt and those rolly-polly pill bug thingies."
"It was so gross thinking babies were just found THERE that I was actually relieved to find out how they were actually made!"
- melodie-artist
Pregnant By Proximity
"I thought women got pregnant by just being around a man, and I was always confused about what would happen if a woman still lived with her parents or dad after she's an adult."
- ILoveYourCat
Coming of Age Story
"I thought it was a 'just happens once you reach a certain age' sorta thing. As a woman, I was terrified because pregnancy sounds like the most awful thing, lol (laughing out loud)."
"(I know the end result is worth it but even as a 31-year-old, I'm like, nope.)"
- BansheeShriek
Sounds Plant-Based
"I thought they grew like a seed inside the mother's belly."
- maclaglen
"Technically, that's true."
- ManagementFresh4960
"Watermelon seeds."
- bravovice
"Well, not like that."
- ManagementFresh4960
The Power of Marriage
"My mum told me you couldn't have a baby if you weren't married. Note that she said 'couldn't', not 'shouldn't'."
"When my unmarried cousin was sleeping a lot my mum told my aunt 'she's having a baby'. I thought 'she can't be having a baby, she isn't married.'"
"A couple of weeks later she had an engagement party, quickly followed by a registry office wedding. She had a baby a few months later."
- MolassesInevitable53
Baby Trees
"I thought they grew on trees. True story."
- 8inchsalvatorre
"Baby trees, lol (laughing out loud)."
- ILoveYourCat
"I was surprised when I learned how it really happened, lol. I was like, 'You mean there are no trees?' And Mom just shook her head."
- 8inchsalvatorre
They Were Just There
"I don't recall a time where I gave the matter any thought without knowing the reality of it."
"Like, literally, until the day I was first introduced to the concept of birth, I don't think I cared where babies came from."
- N_Who
"Right, the little guys just EXISTED."
- Mizar97
Educated Is Best
"I asked my mom and she told me the truth."
"Educate your kids, folks. They can handle it."
- Bite_Me_23
Spontaneous Babies
"I didn't... They just showed up, honestly."
- badguywindow
"That's what I thought. I was terrified as a little kid that I'd wind up being a teenage mother because I thought it just happened spontaneously."
- dinosore
"Exactly what I thought would happen. Like one day you were just, boom, six months pregnant."
- badguywindow
While these responses might be funny, it's an important reminder of an area in the educational system that's often lacking.
But in the meantime, while the system's curriculum is getting sorted out, at least we can take comfort in the fact that we weren't alone in believing these tall tales.