Running an escape room can sometimes feel like parenting. You're blessed with these slightly ignorant beings, coming to you for advice. While you can't tell them everything, you need to give them just enough to be able to succeed without your guiding hand there every step of the way. Then, finally, you let them go out on their own...
...Only for them to start peeing on everything and jamming things in electrical sockets.

---
Reddit user, u/Shuena08, wanted the people who run the living puzzle box to open up when they said:
Escape room employees, what's the stupidest thing you've seen someone do to try and get out?
Starting Off On The Wrong Foot Entirely
Some dude tried to jam a small iron bar into an electrical socket.
Not sure if he was trying to escape the room, or life in general.
My collegue [sic] managed to get to the main electrical switch before the idiot could elektrocute [sic] himself.
The Answers Were GIVEN TO THEM
Once a group disassembled a portable AC unit hoping to find a key. There wasn't any key. From that moment screwdriver were forbidden.

But the best team I remember was the first team that ever played. We made a big, enormous, GIGANTIC mistake: we forgot the entire detailed instructions inside the room, right at the entrance on a table. They found it immediately, they started reading it, they clearly saw that every combination, every puzzle, every piece of history and every piece of furniture but they didn't realize it was the complete walkthrough, and in some unknown way they failed to escape.
You Don't Always Need To Break The Furniture
My wife likes to tell a story on how a previous male friend of hers was introduced to escape rooms; however, someone, either a friend or the employee, failed to explain that "not all things in the room are meant to be taken apart/broken to receive a clue/key."
As soon as the employee started the clock, the friend, thinking a wicker chair had a clue, walked over and stomped his foot right through the seat--like a foot falling through a thin sheet of ice.
Immediately, the employee on the intercom stutters: "Uh... umm... yo- you didn't have to break the chair. Props shouldn't need to be broken to get a clue."
My wife mentions this story every now and then and I still get a kick out of the thought of someone just shoving their foot through someone's old wicker chair.
Just In Case??
The room had electronic components, so there were electric wires that were tied down but looped around the room. One Friday night, someone tried licking them, just in case.
When You Gotta Go, DON'T GO IN THE BUCKET
An employee of an escape room told me this one.
The room was in English, but one of the guys was Italian and for some unknown reason couldn't communicate that he wanted to go to the toilet beforehand. So they go into the room, there is a bucket there that is supposed to be used as a clue, but this madman waits while the lights are still off (horror based room) and PEES IN THE BUCKET! And because the bucket was in a camera dead-zone and there was a sponge in it, they found out after the room was over.
Sensing A LOT Of Electrical Problems Here....
There is a note in one of our rooms that specifies that teams cant put anything electrical on a hook.
This group came in and rewired one of the RFID sensors (which was hidden underneath a painting which is SCREWED to the WALL) because "the note mentioned something about Electrical stuff and it was hanging off".
Thankfully it wasnt hard to fix but goddamn that was stupid
Guys, Just...Just No...
"alright!! we found the number, its 3+4. Thats 11!!"" none of his 3 teamates questioned him, they kept trying the wrong number, i even teased them repeating it back to them. I love my job.
At Least You Can Admit You Were The Problem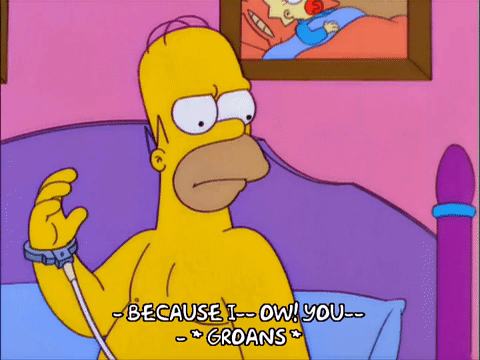 Giphy
Something my group did. The scenario of the room was we were captured and they had us all handcuffed to a cot in the room. We could move around a little bit with the chain attached to the cuffs and since it was a small room with a light on the desk we could grab most of the puzzles and bring it to the cot. We solved a lot of the puzzles still not finding the key to the cuffs to get free. With only a small desk lamp for light it was hard to see most of the writing but we made do and continued to solve things.

About 20 minutes of solving things still cuffed to the cot the GM sends us a message saying "You know you can turn on the lights" next to the door was a light switch and after turning on the room lights on the black wall right next to us was a black key hanging on a nail...the key to the cuffs. We escaped the room shortly after that
Threatening The Worst Outcome Possible
I'm not an employee but my friend is. One time a he was complaining that guy pulled his pants down and screamed "LET ME OUT OF HERE OR ILL C-M ON EVERYTHING"
Haven't been to an escape room since.