EMTs Dispel Dangerous Misconceptions About Emergency Medical Care
Working in emergency medicine, you're bound to see some terrible things. But you're also pretty likely to see patterns happening in the community that you really wish you didn't. Sometimes you know exactly where the misinformation comes from - like the adrenaline to the heart scene in that one Travolta/Thurman film.
Sometimes it's just bad intel that gets passed around. Either way, EMTs absolutely see some dangerous trends. Now, thanks to Reddit, they have their opportunity to shout from the rooftops and tell us all to CUT IT OUT.
---
One Reddit user asked:
EMTs of reddit, what are some dangerous misconceptions about emergency medical care you wish could be dispelled?
Some of the answers seemed kind of nuts - like people actually do that? But others really made us rethink the things we think we know. Here are a few answers, edited for clarity and language where needed.

H/T: Reddit
Reddit user Caseated_Omentum asked: 'What's the biggest misconception you had about adulthood?'
When we were kids, we could not wait to grow up. We had big dreams about what we were going to do and who we were going to be, and we could not wait to get started.
But there were some things we were expecting that were totally off the mark, too.
Redditor Caseated_Omentum asked:
"What's the biggest misconception you had about adulthood?"
Staying Up Late
"I thought that I could stay up as late as I wanted. I envisioned myself adventuring all over town until the wee hours, meeting interesting people and experiencing life."
"Turns out 'as late as I wanted' is about 8:00 PM after a quiet night in with my girlfriend and a cup of tea."
- Calm-Ad6493
Going By Too Fast
"Time. It turns out adulthood is stuck on fast forward."
- VegetableTears
"Boy! Is this ever true! A week used to crawl by and now you blink your eyes and it's, 'Is it (choose a day) again already?'"
"Summers were almost never ending and now they are over in a blink of the eye!"
- miffsc
Lots of Guesswork Included
"I always thought that adults knew what they were doing."
- sorengray
"We're all winging it. Most of us are competent at certain s**t and can function day to day. I've been in my field for nearly five years now and work with people in my field that have been in it for nearly forty years. I'm not bad at what I do and they're great at it."
"We still end up scratching our heads, wondering what the h**l we should do next on a project, because that s**t's just weird."
- thewaterglizzy
Forever High School
"I thought graduating high school meant I'd be out of high school. It turns out that all of life is high school. I'm still dealing with the exact same problems except even fewer people care."
- Individual_Speech_10
"That was the biggest disappointment of my life. As a kid growing up, I absolutely hated most other kids for all the bulls**t mind games, bullying, playing favorites, etc. I couldn't wait to be an adult where that all stopped, life was fair, and bad people were brought to justice."
"Holy f**k was I ever wrong. As you said, adults are just kids in grown-up bodies as nothing else has changed."
- ZiggerTheNaut
Full-Circle Moment
"I was always a little salty that my dad was kind of a goofball. He'd play pranks and s**t and you couldn't confide anything seriously in him like you had a crush on a girl or something, because he'd make fun of you."
"I wanted a dad like in the movies where they put you up on their lap and say, 'Now listen here sport...+ and go into some kind of sage-like monologue on how to handle life's problems."
"Then I got to be an adult and I'm EXACTLY like my dad. And so is every other adult male I know."
- SweetCosmicPope
So Much Free Time!
"You could do anything you wanted, whenever you wanted."
"I never have the time between working full time and being exhausted the rest of the time, lol (laughing out loud)."
- ravynmaxx
Owning a Home
"Homeownership apparently, lol (laughing out loud)."
- Gentleman_T-Bone
"I came here to say this! Embarrassing, I even thought I'd have like a beach house as well. I was so dumb."
- PumpkinPieIsGreat
"Growing up, I was told I may inherit my parent's house one day. I was grateful but wasn't that excited because it was a small house on a small property and I always wanted a nice piece of land."
"Now home prices in that area are creeping into the high six-figure range and I'd be over the moon to have it."
- slinkocat
Hard Work Means Success
"If you work hard and give everything you got, then you'll succeed and get what you worked so hard for."
- Useful_Dane_319
"As someone who works in finance, the most valuable lesson I've learned is that money doesn't come from hard work, it comes from the presence of existing money."
"Wall Street bros who make seven figures don't work any harder than your average teacher or public servant busting their butt making 50 thousand a year at best."
- AdmiralPlant
A Living Wage
"I thought that most jobs actually paid a living wage. When I was a pre-teen, I thought that all you had to do was show up to basically any job clean, polite (and don't be a total id**t obviously, but you don't have to be Einstein either), and work 40 hours a week, and you would have everything you need."
- True-Sound-9240
Easier After Graduation
"I was under the false impression that having a job would be less stressful than going through school."
- Friendly_Neighbor12
"Well, it depends. Until I was 14, I used to go to school from 7:30 AM to 4:30 PM with an hour to get lunch. When I got home, I still had to do homework or study for tests. Now I work the same amount of hours but when I finish working, I'm free to do whatever I want. So I would say at least in my case that school was way more stressful."
- CollapseIntoNow
Happily Ever After
"I thought you'd always have a relationship and money and you lived happily ever after."
- llcucf80
Chronic Illness
"I thought that your body would remain healthy. I got chronically sick in my late 20s (27+). I'm 33 now, and I hate it. Docs still don't know what's up. SMH (Shaking my head)."
- xAdrtxx
Natural Obstacles
"I believed quicksand would be a real concern."
- Euclid_Interloper
"I thought being on fire would be a more common occurrence, what with how often we were taught about stop, drop, and roll."
- anonymousbach
​Professionally Independent 
"I used to think adults had autonomy in their jobs. Like, as a professional who went to college, your expertise and knowledge would be sought after and people would treat you with respect. But no, we're just capitalist pawns."
- Majestic_Heart_9271
Actually Much Better Than Expected
"That it would be zero fun and all bills."
"This is way better and more carefree than childhood! No one controls me and I don't have to babysit anyone if I don't want to! No one yells at me and I can 'talk back' if I want to!"
"I can just… be. I don't have to beg and plead to leave the house and see friends."
- Dom-Franson
"I think this ALL the time. I'll be having the time of my life just... I don't know, WEARING SHORTS IN PUBLIC, or HANGING OUT WITH SOMEONE THAT ISN'T A FAMILY MEMBER, or something absolutely crazy like that, at almost 30 years old, and think, 'Wait, why were all the adults in my life when I was little telling me adulthood would suck so much because I would have to figure everything out for myself?'"
"That's the part I love the most about adulthood. No controlling, narcissistic, emotionally abusive a**holes around to dictate my every move and tell me I'm a worthless female. H**l, I don't even have to speak to them as an adult!"
- thatonespicegirl
For most, adulthood fell far short of what their childhood dreams called for.
But a few loved the independence that came with adulthood after having traumatic childhoods.
This is one of those concepts that is all about perspective, and all we can really do is try to make the best of it.
Few things are as complex and interesting to us as our own bodies. Hundreds of thousands of years of evolution have served to make us one of the true marvels of nature. And yet most of us spend so little time thinking about it. It takes intricate cooperation between thousands of working parts just to keep us alive. Understanding those pieces that make us who we are and how they work together is both fascinating and important. Here are our favorite facts about the human body!
1. Getting Skinnier
Humans shed about 600,000 particles of skin every hour. That adds up to about 1.5 pounds every year.
In fact, most of the dust underneath your bed is probably your own dead skin.
2. Baby Bones
A human baby has 99 more bones than an adult.
A baby's skeleton is mostly made up of cartilage. As a person grows up, most of this cartilage turns into adult bone through a process called ossification. This process results in the fusing of certain bones. Consequently, newborn babies have around 305 bones, while an adult has just 206 bones.
3. A Few Small Pieces
An adult human being is made of approximately 7,000,000,000,000,000,000,000,000,000 atoms. (For reference, that's 7 Octillion, or more than 7 trillion trillion.)
Obviously, this varies based on the size of the person and their body composition.
4. Born To Be Astronauts
We've all seen the movies: if you're ever thrown out into the vacuum of space, you can basically expect to disintegrate, right? Or your blood will boil, or something.
Not true! Turns out, we're made of tougher stuff than Hollywood seems to think. For example, although many liquids do boil in open space, our blood is kept in check by our circulatory system and would, therefore, be OK. Freezing isn't a concern either, as a vacuum actually acts as a pretty good insulator.
It's not all good news though: your death would still be pretty gruesome. The lack of air will render you unconscious in about 15 seconds... before you asphyxiate and die in about a minute. Then your body would float alone through the vast emptiness of space until... Look, it gets ugly. That's all we'll say about that.
5. Noses > Eyes
Researchers estimate that the average human being can distinguish between 1 trillion different odors. This is much more acute than the human eye, which can distinguish only about 10 million different colors.
Noses truly are the vanilla of the human body: wildly underappreciated, and they smell great.
6. Humans Are Gross
Ready to get grossed out?
In a lifetime, an average person produces about 25,000 quarts of saliva—enough to fill two swimming pools. We also produce about a liter of mucus per day.
Interestingly enough, though, all that saliva plays an absolutely crucial role in keeping us clean. Consequently, people who have low levels of saliva are far more vulnerable to oral infections and cavities.
7. Mining The Body
Your body has enough iron in it to forge a metal nail that is 3-inches long. But that's not all. You also have enough sulfur to kill all the fleas on an average dog, enough carbon to make 900 pencils, enough potassium to fire a toy cannon, enough fat to make 7 bars of soap, enough phosphorous to make 2,200 match heads, and enough water to fill a ten-gallon tank.
8. Close Your Eyes
We all have tiny mites living in our eyelashes. These little mites actually aren't too choosey; they'll live anywhere as long as they have access hair follicles. They're found on other parts of the body and on a host of other mammals.
9. The Strongest Muscle In The Body
Pound for pound, the strongest muscle in the human body is the masseter (jaw muscle). It can clamp your chompers shut with 55 pounds of force on the incisors and 200 pounds of force on the molars.
10. Evolution Stinks!
One prevailing theory as to why butt hair exists is that there's simply no significant evolutionary pressure against butt hair. I.e. it doesn't affect our ability to mate, so the random mutations that caused butt hair persisted.
Other theories take a smellier view of things, suggesting that butt hair helps scent communication. We have body hair in the same areas where we produce odors. The hair is there to hold onto oily secretions that have their own smell and are consumed by bacteria that produces even more smells. Early human ancestors used their personal smell to actually help them with everything from broadcasting territorial rights to attracting mates.
11. Growing Strong
Your ears and nose will never stop growing until the day you die.
In fact, your earlobes will also elongate from gravity.
12. Careful What You Lick
Similar to fingerprints, everyone also has a unique tongue print. It may be some time before your local police station starts taking tongue prints, but research on the required 3-D imaging technology is already being developed and tested.
Remember: if you're ever going to get involved in a million-dollar art heist, or some kind of grisly murder, absolutely do not lick the crime scene.
13. Steel Bones
Ounce for ounce, human bones are stronger than steel. A cubic inch of bone can bear a load of 19,000 lbs.—roughly the weight of five pickup trucks.
Reminder: this is not a dare. Do not (for example) ask your friends to drive 5 loaded pickup trucks over your forearm. It won't end well.
14. Booze and Blue
People with blue eyes have a higher alcohol tolerance. Interestingly, they also have higher rates of alcohol abuse and dependency.
15. Humans 1, Robots 0
If the human eye was a digital camera it would have 576 megapixels. Currently, the most expensive digital camera in the world has 200 megapixels.
Take that technology! The robot uprising might be inevitable but it's going to be so blurry.
16. Bacteria: Man's Best Friend
All of the bacteria in our body collectively weighs about 4 pounds. That's enough to fill a gigantic bowl of (truly disgusting) soup.
In fact, there are more bacteria in your mouth than there are people in the world.
17. Music And The Body
In some cardiovascular units, slow and quiet music is used to relax the patients and lower their blood pressure and heart rate.
This new frontier in medical science actually harkens back to some of our most ancient ancestors. The Ancient Greeks, for example, liked to use music as a method of calming a patient and soothing pain. Native Africans and Native Americans also used chanting and singing as part of their healing rituals.
Once again, science is proving the logic behind some seemingly superstituous human behavior. Fasctinating stuff.
18. Brain Power
Your brain accounts for only 2% of your body weight, yet it uses 20% of the total oxygen and blood in your body.
It's fascinating. That little grey blob weighs just about 4 pounds, and yet is quite possibly responsible for essentially all of our success as a species.
This also shows that, at least when it comes to brain power, bigger is not always better. Cows, whales, and elephants (in addition to many other creatures) all have much bigger brains than we do. And yet we eat steak like it's no big deal. Guess we're winning, right?
19. Deoxyribonucleic Acid (DNA)
If uncoiled, the DNA in all of your body's cells would stretch 10 billion miles.
That's long enough to reach from here to Pluto... and back!
20. The Ultimate Betrayal
Within three days of death, the enzymes that once digested your dinner begin to eat you. Ruptured cells will become food for the bacteria in your gut, which will release enough noxious gas to bloat your body and force your eyes to bulge outward.
Whatever happened to loyalty?
21. Super Storage
In a lifetime, your brain's long-term memory can hold up to 1 quadrillion (1 million billion) bits of information.
And for such a powerful computer, it's also incredibly efficient. The entire apparatus of your brain is operated by roughly the same amount of power as a 10-Watt lightbulb.
22. The Hot Dog's Journey
The gastrointestinal tract is a 30-foot tube that runs from your mouth to your anus.
There's a few moving parts, but a long story short is that food comes in and poop goes out. There you go, now you're an expert on human digestion.
23. Not-So Hairless Apes
It might not seem like it when you look around, but human beings actually have just as many hair follicles as a chimpanzee.
Here's the catch: our hairs are, for the most part, incredibly fine and light-colored. No one is quite sure why we lost our impressive fur coats, though. Some think it was an adaption to help us sweat more effeciently. Others say it was a method for avoiding fleas and ticks.
Whatever the reason, it's a fun thought.
24. The Electric Heart
Your heart has its own electrical impulse. This means that as long as it has an oxygen supply, your heart can keep beating even if it's separated from the body.
Your heart will also pump about 1.5 million barrels of blood during your lifetime. That's enough to fill 200 train tank cars.
25. Brain Age
Your brain keeps developing until your late 40s.
26. Sweet Cilia
Our lungs and nasal passages have exquisitely tiny hairs called cilia that can "taste" bitter flavors. They also serve to remove dust and foreign particles from the respiratory tract.
24. You Feel Me?
Human fingers can feel objects as small as 13 nanometers. This means that if your finger was the size of the Earth, you would feel the difference between houses and cars.
28. Hot Body
The highest recorded body temperature in a human being was a fever of 115.7°F. A fever over 107.5°F is enough to damage the brain and, if untreated, cause death.
29. Touch Your Heart
The human heart is not on the left-hand side of the body. It's in middle of your chest, in between your right and left lung. It is, however, tilted very slightly to the left.
30. Brain Genes
Half of your genes describe the complex design of your brain, with the other half describing the organization of the other 98% of your body.
31. Human Cell Replacement
Your taste buds are replaced every 10 days. Conversely, the average age of a human fat cell is 10 years.
32. To Shave or Not to Shave?
There is no scientific evidence that shaving or waxing will make your hair come back thicker. There are believed to be two reasons that the myth continues to flourish. First, humans just aren't the best observers. Second, hair often does grow back thicker when people first start to shave, but this isn't caused by shaving.
When an adolescent boy shaves his mustache for the first time, it's likely to grow back thicker. This isn't because shaving caused this; it's because the hormonal changes in his body (which occur regardless of shaving) are encouraging new and thicker facial hair growth.
33. Human Differences
1 in 10,000 people has their internal organs reversed or "mirrored" from their normal positions. The condition is called situs inversus.
1 person out of every 200 people has an extra rib.
34. The Pinky Is The Powerhouse Of The Hand
Without your pinky finger, you would lose about 50% of your hand strength. While the index and middle fingers function with the thumb in pinching and grabbing, it's the pinkie that teams up with the ring finger to provide grip power.
35. Keeping Cool Down There
Men's testicles hang between the legs to keep cool because sperm dies at body temperature. Keeping those baby-makers cool is a top priority, so make sure to keep your laptop off those bad boys!
36. Underappreciated
You've probably heard that the appendix is essentially a waste of space. Just a leftover from our earliet, less-evolved ancestors... right?
That's turned out not to be the case. Scientists have discovered it had an essential evolutionary function: the appendix functions as a "safe house" for the beneficial bacteria that live in the human gut. Bacteria which, by the way, scientists are beginning to believe has an unbelievably positive influence on physical and mental health.
Thanks appendix... sorry for the bad rap.
37. Well...
Your mouth is made of the same skin cells as a vagina. Flattened epithelial cells are well suited to areas in the body subject to constant abrasion, as layers can be sloughed off and replaced before quickly.
38. Cute Little Muscles
Muscle comes from the Latin "musculus." Musculus means "little mouse," and this was used to describe muscles because biceps were thought to look like mice.
39. Liar, Liar
Are you surrounded by pathalogical liars? Here's how to find out...
While a person is telling a lie, they tend to blink far less frequently than normal. Think of a TV murderer with a shark-like stare.
Later, though, after the lie is told, a person will immediately make up for all that staring by blinking about 8 times faster than normal.
Clearly our eyelids are incredibly honest, and are doing everything in their power to signal the truth—whether we want to or not.
40. Who Said That?
More than 3% of people are born with phonagnosia: they can't recognize the voices of familiar people. People suffering from phonagnosia do not suffer from aphasia (an inability to comprehend and formulate language), which suggests that separate areas of the brain govern linguistic comprehension and voice recognition.
41. Annoying? Yes. Unhealthy? Maybe Not
A scientist cracked his knuckles on one hand for over 50 years to prove it did not cause Arthritis. After 50 years, he concluded that there was no arthritis in either hand, and no apparent differences between the two hands. This is, of course, a rather small data set, but it's interesting none the less!
Hats off to the brave man who risked arthritis (as well as dirty looks from all his friends) in the name of science.
42. Starting Your Morning Off Right
You can burn 20% more fat by exercising in the morning on an empty stomach. Sex burns 3.6 calories a minute, so fifteen minutes of morning sex should burn off 130 calories.
43. Genes: They're Complicated
Humans have no more genes than worms. We have less genes than a tomato. How could this be, given that the all-powerful homo sapiens are clearly a more complex species? We're not sure, but scientist have noted that the number of genes in the genome may be less linked to complexity than we thought.
44. Coughing At The Speed Of Sound
A strong cough forces air out of the airways at speeds up to 620 mph, which is almost as fast as the speed of sound.
45. Hear That?
Hearing is the fastest human sense.
Your brain can recognize a sound 10 times faster than the blink of an eye. That's as little as 0.05 seconds.
You heard it here first: the most effecient way to get someone's attention from across the room is not to wave at them— it's to scream at the top of your lungs.
46. Controversial Bras
Bras make breasts sag. They also do not reduce back pain.
A leading study found that women who never wore bras had nipples an average of seven millimeters higher each year than regular bra users. Before you go throwing away your bras, note that the benefits of not wearing a bra will only be seen in younger women who are not obese, according to those managing the study.
47. Recovering From The Miracle Of Birth
After child birth, a woman's vaginal muscles can take up to 6 months to get back to their normal shape and size.
48. A Green Diet
We can't digest grass because our bodies don't have what it takes to break down the cellulose found in the plant. Grass also contains a lot of silica, an abrasive that quickly wears down teeth, so your dentist wouldn't be thrilled about a grass diet. Grazing animals have teeth that continually grow to replace worn tooth surfaces.
49. Weight-Bearing Toe
Your big toe carries more weight than any other toe, bearing about 40% of your body weight. To enlist in the United States army, you need to have all ten toes intact.
50. Stinky Humans
Sweat itself is odorless. It's the bacteria on the skin that mingles with it and produces body odor. Bacteria that are naturally present on our skin thrive in sweaty regions.
Hungry customers could think of plenty of reasons to try out a new restaurant.
It could be good word of mouth found on Yelp reviews, a personal recommendation, or just plain curiosity in the spirit of adventure.
And while diners can be influenced and easily persuaded to walk into an eatery they haven't tried before, customers are not without the certain criteria they're entitled to.
Curious to hear from strangers who may have reservations about making a reservation, Redditor TREE__FR0G asked:

"What's an immediate 'no' that makes you not want to eat at a restaurant?"
The smell from inside a restaurant should draw potential customers in, not repulse them.
Unpleasant Odor

"The smell. General cleanliness but most importantly, is the bathroom clean?"
– ibetyouranerd
"Years ago I walked into a local restaurant and the smell killed my appetite. It reeked of cigarette smoke and mold. The restaurant was sold and the new owner abolished smoking and throughly cleaned the place. He said the hood in the kitchen had so much grease and crud it that it looked it had never been cleaned. Now, the place is spotless and is a great place to eat at."
– phred_666

An Establishment's Short Lifespan
"Yeah there was a new restaurant that opened about 10 years ago, the smell the moment you walked into the door was raw sewage, they said it's a plumbing issue, we lost our appetite and left. That place closed in a month."
– Omegaprimus
Exterminators Have Good Scents
"Exterminators know a certain smell that's an immediate no-go. Roaches in abundance give off a sweet type of smell and I will literally turn right around and leave."
– otterplus

Dirty tables are an instant customer-deterrent.
Sour Rags
"Ugh, yeah and when they wipe down your table (with some dirty old snot rag that's probably never been cleaned, it even rinsed out) and the smell fills your nose after the murky brown drops pool on the table where you are now expected to eat."
"That's after the waiter smears around the jelly from the previous customer and pushes all the table crumbs onto your lap."
"Pro tip: you are supposed to cup your hand as you wipe so the crumbs accumulate in the palm of your hand. You start on one straight edge and wipe from one corner along the edge to the other. Then you turn your cupped hand, ready to begin the next pass and so you kind of catch the crumbs."
"No one likes someone else's crumbs brushed onto their lap!!"
– Th3_Last_FartBender
Unsanitary Cleaning Supplies

"Sticky tables. Tells me they reuse their dirty wash rags and don't change out the sanitizer water they use in the buckets and nothing is clean or sanitized in there. Oh and spots on cups and utensils."
– Known-Pop-8355

For some, ambiance is everything.
Conversation Drowner
"Loud sh**ty music."
– porpoisebay
"A small band or single person on a keyboard crammed onto a makeshift 'stage area' with a poorly balanced slightly sh**ty sound system so that you can neither hear nor enjoy hanging out with the person you're a foot and a half away from."
– PillsburyDohMeeple

No Audio Control
"You ever been in a car where the musics too loud and you can't hear what the person next to you is saying? Imagine that but you can't turn it down."
– Northern_boah
Off-Key Performer
"We went to a family style seafood restaurant about a month ago on vacation. It had been a large fish-camp style eatery for years, at least since the 80s, with lots of tables with holes in them for the oyster and clam shells from roasts. Big with retirees and young families."
"The restaurant is shaped like a large rectangle. They had taken the middle of the back wall and turned it into a stage- where, that night, a man was playing a guitar and singing, 4 octaves off and the speakers cranked to 11. It was 6 pm. We asked how much longer he would be playing. 2 hours."
"We left."
"Old on top, new on bottom. https://ibb.co/LnXXd3r"
– GetYerThumOutMeArse

These observations are very telling.
Desperate Cry For Help
"A sign complaining about how short-staffed they are because 'no one wants to work.'"
"I'm out."
– TheVoicesOfBrian
"I stopped patronizing a small local tavern for this reason. I liked going for a few cold ones and lunch on the weekends. Owner was a royal douche. Food quality went downhill. And then he'd complain online about no help. I'm like dude, I wouldn't work for you either."
– mistlet0ad

Disgruntled Staff
"If most or all of the employees are visibly unhappy. I don't want to do business with a place that doesn't respect their employees or our community."
– deathByAlgebra
Absent Pricing
"Prices not on menu... and refusing to answer when asked what they are."
"This happened to me a couple of months ago."
– cheesewiz_man
"'Market price' equals 'you pay what we tell you to pay. Cause I don't see anyone else selling fish at this restaurant.'"
– bigno53

I have a sensitive sense of smell, so all it takes for me to nope my way out of patronizing an establishment is a foul odor.
The source could come from mold or reused mop water or who knows what.

I don't care how good the food is. If businesses can't keep a properly clean restaurant, who's to say they don't have a sanitized kitchen as well.
Any couple who comes to a mutual understanding that there is no future and/or chemistry in their relationship should consider themselves lucky.
After all, when one half of a couple surprises the other with their desire to break up, it's never a pretty scene
Largely owing to the fact that the one being dumped often wants a reason "why."
While some people use that age-old, eternally unsatisfying excuse "it's not you, it's me", others can be a little more specific.
Lack of chemistry, not enough in common, wanting different things, lives going in different directions.
In some cases, the reason people decide to end their relationships might be a little more specific, and incredibly strange to boot.
Redditor dintempest was eager to hear the strangest and most unusual reasons people called it quits on their partners, leading them to ask:
"What's the weirdest reason you've broken up with someone?"
Shiver Me Timbers!
"In the early 2010ish era I was in college and went out for Halloween."
"And met a guy dressed as a pirate that looked like Johnny Depp dressed as a pirate, it was the era of those movies."

"We started dating and I realized he looked like a pirate 24/7/365 and I couldn't handle it."- toreadorable
Bird Watching Isn't For Everyone...
"We saw an owl while driving in a road and I thought it was so cool to see it fly over us and land in a nearby tree."
"She thought I was crazy."
"I mean…it's an owl."
"How can it not be cool?"- SlytherinWario
No Soup For Them!
"She smelled like soup."- Scottyflamingo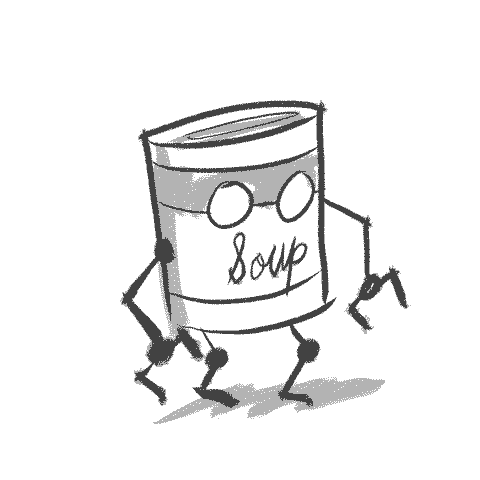 soup GIF by Nate
Giphy
No One Likes A Cheater
"She thought she got the answer to the crossword, when it was actually me."- IsolatedPSup
Compromise Is Key

"Never wanted to get tacos."- Mcshiggs
Loud And Clear

"He talked so fast that I often couldn't understand him."
"When I would ask him to please talk slower, he would talk LOUDER."
"But just as fast."- SouthSideSurvivor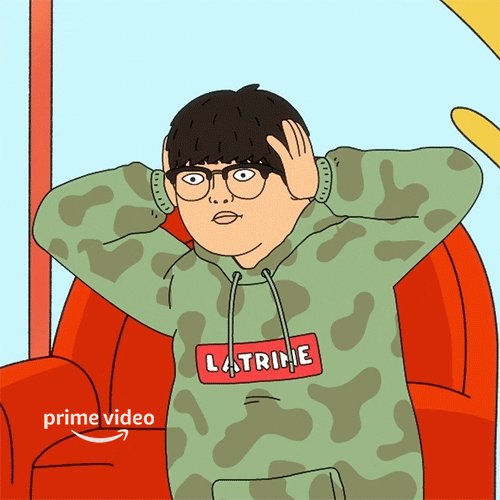 Season 2 Fairfax GIF by Amazon Prime Video
Giphy
At Least Pancakes Are Round...
"We had an argument about the way the world works.'
"I thought it worked as a globe he thought it worked as a pancake."- Minix22·
Not Cool

"She threw garbage out my truck window while driving down the road."
"First date-last date."- paintman01
Pee-Ew!
"His feet smelled."
"I mean so bad."
"They were so bad one night I thought he sh*t the bed."
"Wasn't going to go the long haul with that."- hunnyjo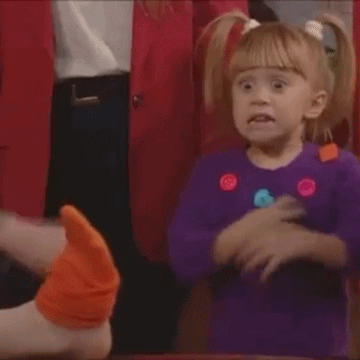 Disgusted Full House GIF by absurdnoise
Giphy
Elle Ne Comprend Pas...

"She would speak French to herself in the mirror at home, and then she would do it at restaurants thinking it made her sound sexy, I guess?"
'I don't know."
'Here's the thing."
"She knew not one word of French."
"She had no desire to learn a single word of French."
"She just spoke gibberish that sounded VAGUELY like French."
"She was a full grown woman in her late 20s."
"College degree and a job."
"She started doing it around the second month into our relationship."
"That sh*t embarrassed the hell out of me."
"I know a few words and even offered to teach her - foreign student taught me how to say, 'I love a lobster' and other weird sh*t that we both thought was hilarious while getting baked."
'She said she didn't want to learn."
'She just wanted to act like she was speaking French."- LookMaNoPride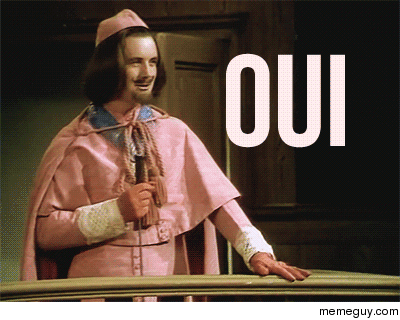 french yes GIF
Giphy
Dog Gone It...

"Her dog was teaching my dog to howl at sirens."- Wake95
Some Might Find This an "Eeeeexcellent" trait...

"He had posture & hands like Mr. Burns from 'The Simpsons'."- Natural-Ad2924
Moving Too Fast...

"She added me to her family's group chat after a week of dating."
"I was about 16 at that time and felt much pressure."- SirLaw___

Im Watching You GIF
Giphy
If a relationship has no future, there's no point in staying in it.
And sometimes, you don't even need to dig for an excuse as to why things need to come to an end.
Or, as the French would say: "Escargots, Brie, Formidable"...
(Sacré Bleu!)