All good things must come to an end. Why something good has to end... we'll never know. It seems unfair. Good things can be few and far in between. But alas, 'tis life. So much in retail is about closing and reinventing. Retail is having a difficult time staying relevant thanks to Amazon and Google and such. So many people have had to bid farewell to many jobs.
Redditor u/Dr_C_ wanted to hear closing day stories when one is prepping to bid farewell to a job by asking.... Redditors who worked at defunct stores (Blockbuster, Circuit City, etc.), when did you realize they were done for?
---
Closed Circuit.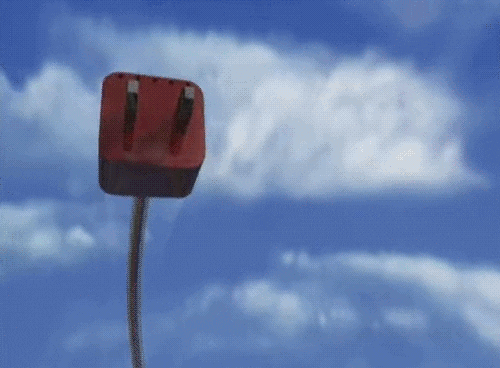 Giphy
When my boss started loading large Tv's into his car and told us to grab what we can. I worked at circuit city. toastingz
I sure wish that happened at my store. The liquidators were toxic as hell. Made a show out of walking people out the door to set examples. SkydroLnMEyeball
Discovery. 
I worked at the Discovery Channel store in a mall around 2007. Had huge 30-40k sales days during the holidays, then come January some days were less than $500. I read an article that the then new CEO of Discovery communications was considering ending retail sales.
Found an new job shortly thereafter, and about a month later heard from some co workers that they were shutting down. It was a fun place to work, and they had a few cool products, but most was overpriced garbage, and certainly not a sustainable business. eelzeBob44
Comped. 
Former CompUSA employee. The speed at which they started changing the slogan increased, they introduced and rescinded a rewards/loyalty program inside of six months, and they started pushing bait and switch selling tactics in our monthly store meetings. I handed in my resignation the day before they announced the company closing. instantrice
The Last 10. 
Worked at a Hollywood video. when there was a solid week with less than 10 customers, I knew it wasn't going to last. luckily it was just my job for while I was in college. Makabajones
Hollywood video may have fallen to time and progress but nothing will ever match the high that I would get coming out of that place as a kid on a Friday night with two movies and a pack of Twizzlers. ilovegaming10
Walden....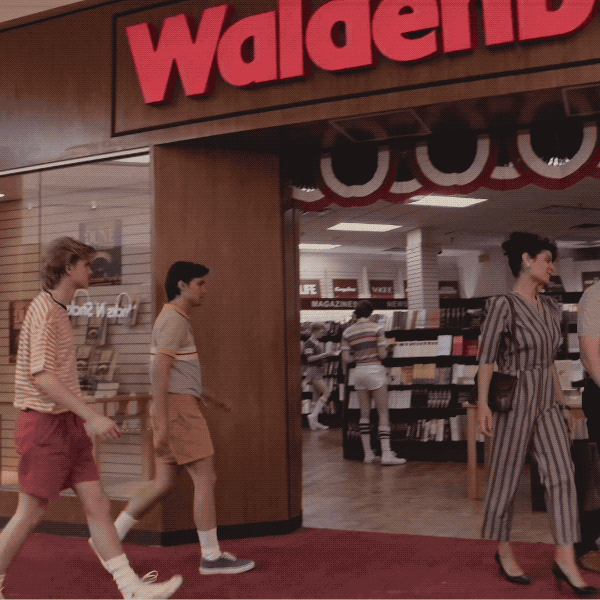 Giphy
Waldenbooks. When one of two registers caught fire. The fire department put it out but rather than pay to haul it away the company left it, a hulk of melted plastic where it was at the checkout. The store closed two weeks later. renwoman1127
Bye bye Videos....
I worked at Blockbuster. I was there when they started Blockbuster Total access to compete with Netflix. You add movies to your account, they mail the DVDs to you. You can return the DVDs to any blockbuster, as soon as they scan them in you'll get the next movies on your list sent out so you didn't have to wait as long for turnaround. Even better, you were able to rent a movie at the Blockbuster for free that you turned it in at.
It was actually a great service, you could get tons of movies and it was really easy to get people interested in signing up for it. Foot traffic in stores increases, the amount of candy and snacks we sold increased, we even had an uptick in paid movie rentals for non-new releases cause parents would exchange their movie for a new release and get a couple for the kids as well.
Then they started to change it. Restricted the amount of movies you can exchange each month. Different plans had different restrictions on what movies you could get, how many new releases, etc. It became really difficult to explain to customers because there were so many restrictions in place. After a bit you couldn't exchange a movie in store at all. Foot traffic died again and the chain along with it. Bunnyhat
'restructuring'
I worked for Borders from 2000-2008. When I was laid off I was working what had originally been 3 job descriptions. They decided to eliminate that position too and dump all the work on my already overworked boss. Called it 'restructuring' and other corporate weasel-words, but I could see the ship was sinking. Still miss that place. Gloria-to-Nowhere
Oh Baby. 
I worked at Babies R Us for 3 years. For part-timers, our hours would fluctuate based on sales from the previous weeks. If we had a bad week, as much as 75% of us would get called off future shifts. It was so random. I could have 10 hours one week and 34 hours the next. It felt like the employees were not the only ones living paycheck to paycheck. sweets7887
Running on Empty....
I worked in the warehouse at Sears in college until 2007 when I graduated. We were regularly running out of inventory and everything seemed like it had to be ordered in on a case by case basis. I was the person in the back that loaded the tool boxes, treadmills, snowblowers, etc into vehicles.
When you're running out constantly of your top revenue generating pieces, something isn't right. Also, they didn't even bother updating inventory. I had a friend there that walked off with a couple of big screens and nobody ever even noticed. TheOfficialNSA
Spruce it Up.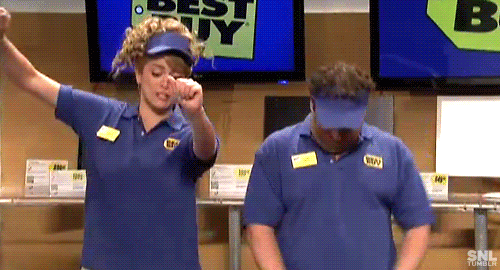 Giphy
Worked at Best Buy for a while, got fired and then went to work at Circuit City. I knew it the second I walked into that store. 6 months later we were told it was closing.
Best Buy constantly updated fixtures and layouts/designs. Everything was bright and new. I imagine that Circuit City looked exactly like it did when it first opened. MSport