Emergency Responders Break Down The Dumbest Decisions They've Seen People Make
Being an emergency responder is a high-stress job.
It's a career with long, laborious hours.
There is always a hint of danger. And death is always around the corner.
So we as a society could try to help these people out and not put ourselves in unnecessary danger.
Redditor Diligent-Log6805wanted the rescue workers out there to tell us about the times they rescued people. They asked:

"Emergency responders of reddit, what are some dumb things that have lead to an emergency situation?"
---
These workers and the world already has enough trouble without my stupid.
"So... was she impressed?"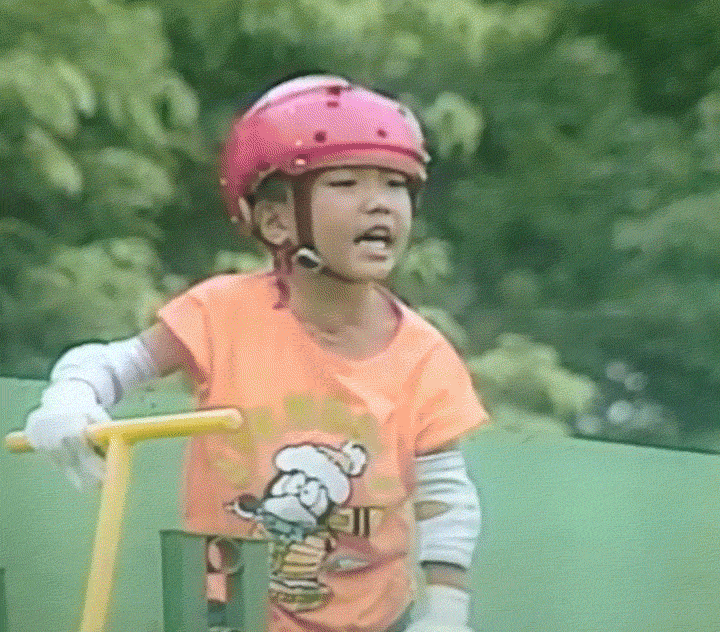 Idiot Reaction GIF
Giphy
"Kid driving his new truck down a residential street, wet from a recent rain, lost control and hit a parked car, overcorrected and rolled it once back onto its wheels up onto a lawn. He told the fire chief he had gunned it to impress his girlfriend and the chief just looked at him and asked 'So... was she impressed?'"
AntiMacro
Ricky
"I had a client once who was basically Ricky from Trailer Park Boys, loud, obnoxious, hilarious and every second word was some Maritime slang or a derivative of 'f**k.' He has been on daily eye drops for decades for dry eyes, sure ok cool. I hear screaming down the hall and run in and he's wedged against the wall and the bed just screaming 'I f**ked up boys, I dunno what the f**k is f**king happening but It's f**ked."
"Turns out he mistakenly put Jublia which is an antifungal ointment for toenails in his eye thinking it was his eye drops. The strangest part was the bottle has this miniature sponge at the end so you soak the sponge then paint it on like a gel...he painted this antifungal ointment onto his eye which immediately went red and angry then proceeded to do the other one."
"So he's at the eyewash station and I'm talking to poison control and they are pretty stunned because they have zero data on what happens to a human eyeball when it's painted in antifungal. I can hear the staff at the other end kind of snickering under her breath and she asks can you compare and contrast the eyes? Well... he put it in both eyes. The line goes silent because I can tell she is howling. Guy was totally fine but it was a standout for sure."
krzysztoflee
Will they show?
"Responded to a call of two minors being kidnapped and their parents being beaten in front of them and then taken someplace else. One was around three years and the other one was six. They were held captive in an apartment out of hundreds of residential apartments which not easy to locate, upon reaching there we found out that the boy six was just playin' with us to see if we would actually respond. Their parents were so embarrassed by all of that and vowed to not give them mobile until they are adults."
erectilereptilelol
Bowled Over
"When I was an EMT in NYC years ago we had a call for a man 'unresponsive.' We entered an upscale apartment that was a hoard: floor to ceiling newspapers and magazines, just a mess. The woman who called said her brother was in his bedroom sick."
"We entered his room and it was pretty obvious that he had already passed away. She had placed a bowl under his mouth because he had hemorrhaged which had coagulated the day before it was crazy. We asked her why she hadn't called sooner and she said thought he'd get better?!"
"The joke around the house was 'if you have to put a bowl under a relative who is bleeding from the mouth, call 911. Don't wait.' Never thought we'd have to advise anyone to do that. But there ya go. Also, it was Thanksgiving. Didn't eat any cranberry sauce that year."
Sufficient-Swim-9843
God Only Knows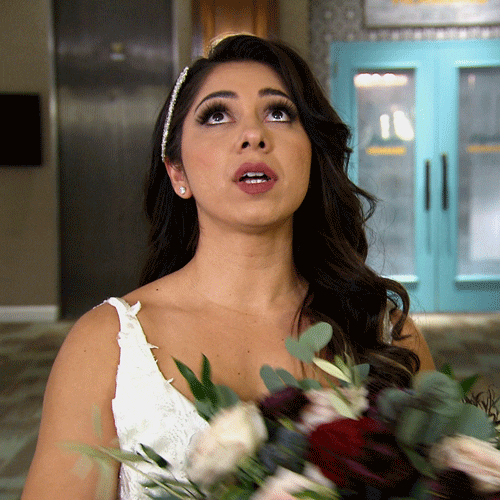 Married At First Sight Lol GIF by Lifetime
Giphy
"Had a guy call because he had the cure to Covid and needed a ride to the local education hospital so he could share it. Dude was so high on meth He ended up having 4 or 5 binders worth of scientific looking notes. God only knows what was actually in them."
Flame5135
Wow, people really need to get a grip. Of their minds.
"Sparky"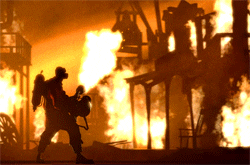 on fire GIF
Giphy
"One of my old bosses once built a new shed in his back yard, to replace his old, worn-out one. He moved everything from the old one to the new one, then decided that the best way to remove the old one was by burning it down. He ended up with no sheds and the nickname 'Sparky.'"
Wadsworth_McStumpy
Dead in the living room...
"Paramedic here. We responded to this 54 year old having chest pain. Man was having a heart attack. Dude didn't want to go to the hospital because it too early in the day. That's it. We tried to convince him to go. Got the ER doc to talk to him and he wouldn't budge. He signed a Refusal. Later that same night, his family found him. Dead in the living room. We got to him and started CPR, meds, everything. Dude didn't make it. When we advise you to go to the hospital, go."
Chaprito
Bad Ideas
"Got called to a shooting. A guy says he received a text message from an anonymous number saying his brother has been shot. He checks all the hospitals with no luck. He goes to his brother's apartment but gets no response at his door but sees his car and can hear the TV on. We get there, attempt to get an answer at the door."
"Eventually we kick the door in to make sure he wasn't dying in his apartment. We boot the door, announce police, and find him asleep in his bed. The guy tells us that he got a new phone number and decided to mess with his brother by texting him he had been shot. He then fell asleep and forgot about the text and was woken up by us. So many wasted resources on his idiotic prank."
TheDOC816
The Swimmer
"Got called to a priority job. The caller was kayaking in a lake and said that there was an unresponsive male in the water. So off we went, lights and sirens. We requested paramedics and fire to attend as well for the rescue operation. There were about 6 emergency vehicles attending including a rescue boat. We got there within minutes and met the caller who showed us where the guy was."
"He was just swimming, minding his own business. The caller said he was unresponsive, but really he was just ignoring her. Had a chat with the guy, he seemed alright, said he swims here every day and likes the quiet. No issues. Would have been nice if the caller told the operator that he was still conscious and swimming rather than 'unresponsive.'"
amazingbecauseitis
Chew Slowly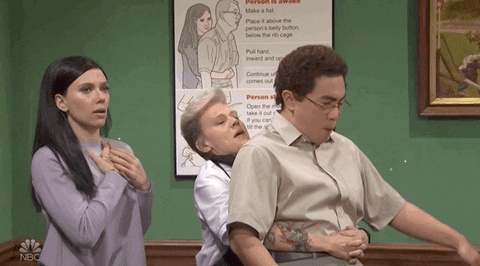 Snl GIF by Saturday Night Live
Giphy
"Well, I was taking a lady home from dialysis and she decided to eat a snickers in the back of the ambulance, and she started choking. Had to do the heimlich, and tell her to finish her food at home."
HotSoupInYourA**
If it's not a true emergency dial 311. Please.
Medicine is a difficult profession. Thanks to the wonder that is human nature, healthcare workers are subjected to incredible Darwin-award-winning scenarios daily, so it's no wonder that many of them feel the need to go home and scream into their pillows at night. From self-inflicted injuries to dangerous prescription misuses, these Redditors revealed the most facepalm-worthy patients they've ever encountered.
But be warned: They'll all leave you wondering how we've survived this long as a species.
In almost every interaction with a Karen, there will come a point where she (or he) will ask to speak to the manager. They seem to think that if they over others and just act a fool, they can get what they want—but the following managers REFUSED to let these Karens get away with their inconsiderate antics.
In the United States, it's no secret that sex education for minors is inconsistent at best.
But some people learned very unexpected stories about how babies were made, and those stories had a way of making a lasting impression.
Curious about other's stories, Redditor ILoveYourCat asked:
"How did you think babies were made when you were little?"
One Time's the Charm
​"I knew babies came from sex as a fairly young child. My parents never sugar-coated that. But for some reason, as a kid, I thought you only had to have sex once to have multiple pregnancies. I seriously didn't fix that misunderstanding until early middle school."
- Crazey1988
"At some point, when I finally accepted that you had to have sex to have a baby, I thought the only time people have sex was to make a baby, and it only took one time to get the job done."
"Then when I figured out teenagers were having sex, I thought you had to be married and have sex to make a baby, but then when my unmarried cousin got pregnant, I was just confused."
"But I was sure my parents only had sex four times, and then when my mom got pregnant with number five, I thought, 'Wow, they did it again.'"
- Raw_Combination_438
Stealing Storks
"A stork delivered them, of course. What the f**k, lol (laughing out loud)."
- Dells51
"Storks... I thought people trained them to steal babies from a factory and you would leave special treats on your doorstep as payment and encouragement for the stork to steal one for you."
"I was scared to death of birds for the longest time and would have a tantrum at the zoo when I saw a flamingo."
- No_Finish_3144
Young Conspiracy Theorist
"The government. I used to think that we lived in a totalitarian society and that the government was in complete control of everything."
- bebotak**t
"I thought the President sent people their babies when asked by mail."
- GustavoAlex7789
Scheduled Baby Delivery
"The women in my family explained to me at the age of six that a doctor calls you sometime after reaching adulthood at the age of 18 to schedule a baby delivery date."
"The husband either pays to schedule the appointment or the government does after verifying that you have been married and financially stable for quite some time."
- Lokikat00
Marital Kissing
"When two people kissed."
- Short-Reality7353
"I thought the same thing, but I understood that when my mom gave me a kiss, there was no risk. Being someone raised in a very Christian background, I assumed that when you got married, God made kissing a reproductive act."
"Since I made this assumption, I remember questioning why teenage pregnancy could possibly be an issue."
- meuserj
The Ultimate Christmas Gift
​"I thought Santa was bringing them."
- NorskoTheScorpion
"He was. I mean, Christmas comes but once a year..."
- Nouveauuuu
"I MAY NEVER ENJOY CHRISTMAS AGAIN."
- NorskoTheScorpion
A New Meaning to 'Forest Friends'
"When I used to ask my dad where I came from, he'd say he found me under a rock in the forest. Of course, I would go look for babies under rocks, too, but all I ever saw was dirt and those rolly-polly pill bug thingies."
"It was so gross thinking babies were just found THERE that I was actually relieved to find out how they were actually made!"
- melodie-artist
Pregnant By Proximity
"I thought women got pregnant by just being around a man, and I was always confused about what would happen if a woman still lived with her parents or dad after she's an adult."
- ILoveYourCat
Coming of Age Story
"I thought it was a 'just happens once you reach a certain age' sorta thing. As a woman, I was terrified because pregnancy sounds like the most awful thing, lol (laughing out loud)."
"(I know the end result is worth it but even as a 31-year-old, I'm like, nope.)"
- BansheeShriek
Sounds Plant-Based
"I thought they grew like a seed inside the mother's belly."
- maclaglen
"Technically, that's true."
- ManagementFresh4960
"Watermelon seeds."
- bravovice
"Well, not like that."
- ManagementFresh4960
The Power of Marriage
"My mum told me you couldn't have a baby if you weren't married. Note that she said 'couldn't', not 'shouldn't'."
"When my unmarried cousin was sleeping a lot my mum told my aunt 'she's having a baby'. I thought 'she can't be having a baby, she isn't married.'"
"A couple of weeks later she had an engagement party, quickly followed by a registry office wedding. She had a baby a few months later."
- MolassesInevitable53
Baby Trees
"I thought they grew on trees. True story."
- 8inchsalvatorre
"Baby trees, lol (laughing out loud)."
- ILoveYourCat
"I was surprised when I learned how it really happened, lol. I was like, 'You mean there are no trees?' And Mom just shook her head."
- 8inchsalvatorre
They Were Just There
"I don't recall a time where I gave the matter any thought without knowing the reality of it."
"Like, literally, until the day I was first introduced to the concept of birth, I don't think I cared where babies came from."
- N_Who
"Right, the little guys just EXISTED."
- Mizar97
Educated Is Best
"I asked my mom and she told me the truth."
"Educate your kids, folks. They can handle it."
- Bite_Me_23
Spontaneous Babies
"I didn't... They just showed up, honestly."
- badguywindow
"That's what I thought. I was terrified as a little kid that I'd wind up being a teenage mother because I thought it just happened spontaneously."
- dinosore
"Exactly what I thought would happen. Like one day you were just, boom, six months pregnant."
- badguywindow
While these responses might be funny, it's an important reminder of an area in the educational system that's often lacking.
But in the meantime, while the system's curriculum is getting sorted out, at least we can take comfort in the fact that we weren't alone in believing these tall tales.
What is it that makes people confess their deepest, darkest sins to millions of strangers on Reddit? While we may not know the answer, we do know that the following confessions run the gamut from funny to salacious to nasty nightmare fuel. In fact, you might want an Ouija board to send some of these skeletons back to the closets from whence they came.