A flight from Mumbai to Jaipu had to turn back after takeoff due to loss of cabin pressure.
---
Pilot error caused the Jet Airways flight 9W 697 to lose cabin pressure. An official of the Directorate General of Civil Aviation told reporters the cabin crew failed to flip a switch.
The plane landed safely and passengers, many of whom were suffering from bleeding ears and noses, were treated. Videos emerged online showing passengers wearing oxygen masks.
A statement from Jet Airways read, in part:
The B737 aircraft, with 166 guests and 5 crew landed normally in Mumbai. All guests were deplaned safely and taken to the terminal. First aid was administered to few guests who complained of ear pain, bleeding nose etc.
The airline said it was co-operating fully with the DGCA investigation. At least five passengers are being treated at Mumbai hospital.
According to Rajendra Patankar, COO at Dr Balabhai Nanavati hospital:
The patients are being evaluated by our ear, nose and throat consultant. They have suffered barotrauma of ears due to change in air pressure.
Panic situation due to technical fault in @jetairways 9W 0697 going from Mumbai to Jaipur. Flt return back to Mumb… https://t.co/UpuylLfUID

— Darshak Hathi (@Darshak Hathi)1537407353.0
Just in from DGCA - Passengers had w/ bleeding nose and ears today on @JetAirways flight 9W 697 Mumbai-Jaipur - Du… https://t.co/IvFWTtQjrU

— Tarun Shukla (@Tarun Shukla)1537414263.0
Hi @jetairways Mumbai. Your flight number 9W069WK to Jaipur this morning took off and then returned due to inabilit… https://t.co/CmjAjbEm9R

— Havovi (@Havovi)1537410249.0
@jetairways 9W 697 Mumbai to Jaipur #emergency #landing https://t.co/YH0ArHsWlf

— Prashant Sharma (@Prashant Sharma)1537407490.0
A Jet Airways Mumbai-Jaipur flight was turned back to Mumbai mid-air today as, during the climb, crew forgot to sel… https://t.co/sgf8UuRsP0

— ANI (@ANI)1537414370.0
- Out of 166 passengers, 30 had bleeding others with headaches as per early reports - The aircraft was doing an air turn-back

— Tarun Shukla (@Tarun Shukla)1537414664.0
Jet Airways Mumbai-Jaipur flight today made an air turn back due to loss in cabin pressure. The aircraft, with 166… https://t.co/kODH4Ck7Ct

— ANI (@ANI)1537416347.0
The flight's cockpit crew has been taken off scheduled duties pending investigation. The airline is making alternat… https://t.co/LqJtwZwu94

— ANI (@ANI)1537416347.0
Jet Airways statement on flight 9W 697 of 20th September 2018. https://t.co/D99vyFFIv2

— Jet Airways (@Jet Airways)1537443862.0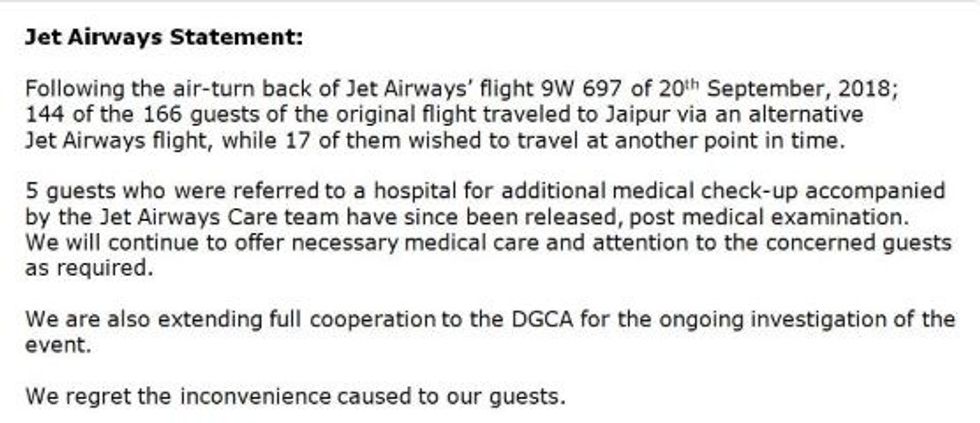 Twitter Jet Airways
Many people thought the statement was a bit flippant.
@jetairways This is a poorly worded, and dis-empathetic statement. Inability to breathe, nose-bleeds are hardly an… https://t.co/eed5hvSUhH

— Ashish Chandra (@Ashish Chandra)1537458156.0
@jetairways Inconvenience is very casual word... Sheer neglegence....

— Krunal Kansara (@Krunal Kansara)1537460467.0
@jetairways Jet airways should be fined for such negligence and the on-board passsengers should sue the airline. Th… https://t.co/2agUxRKJQm

— Anindya Chakraborty (@Anindya Chakraborty)1537464657.0
@jetairways Assault your passengers with your incompetence, then call it an "inconvenience". Nice.

— Greg Fields (@Greg Fields)1537471546.0
@jetairways That's all what one can expect from a cash stripped air line. Will think twice before traveling Jet Air… https://t.co/36gQL6NM1m

— Dipanshu Rp (@Dipanshu Rp)1537447177.0
@jetairways Just "regret the inconvenience" i would cancel my jet privilege membership and will never travel by jet airways ever again!

— Niket (@Niket)1537451579.0
Maybe they should rethink the statement. Whatever the case, they simply must do better.
H/T: BBC, The Guardian