Doctors Divulge The Biggest Lies Their Patients Have Ever Told Them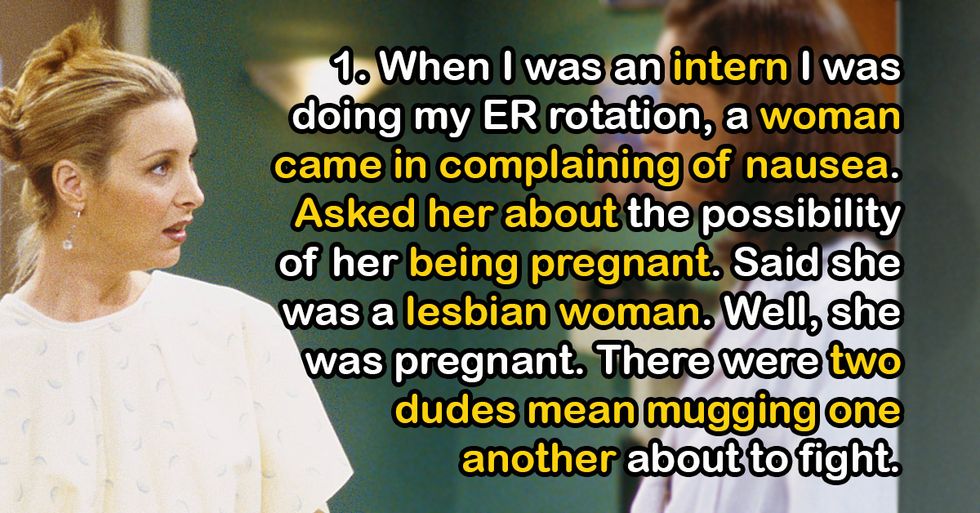 Doctors Divulge The Biggest Lies Their Patients Have Ever Told Them
[rebelmouse-image 18348140 is_animated_gif=
dam=1 expand=1]

_PEOPLE! No matter how scary it is you must, MUST be honest with your medical professionals. It serves no purpose to lie to a doctor. It doesn't save you from your condition. Lying only impedes the process and your recovery. Don't worry, it'll all be fine. I guarantee you God is already judging you for far worse then why you're at the doctor's. _

Reddior _\CrayCon _**wanted some medical truth by asking... **Doctors of Reddit, what is the biggest lie your patient has ever told you? Maybe also see a therapist upon release as well.

LAZARUS!!!!

EMT, Not the patient. But, the wife.

Was getting the patient to take him to the doctor. I asked him if he could stand. The wife told me he hasn't walked in 30 years. The dude stands up unassisted and walks to the stretcher.

I've been in this work a long time and simply don't give a damn about a lot of stuff.

So. I just blurt out "HOLY CRAP ITS A MIRACLE!!" I was prepared to get in trouble....never happened...
PAGING DR. MAURY!!!
[rebelmouse-image 18348141 is_animated_gif=
dam=1 expand=1]

When I was an intern I was doing my ER rotation and a woman in her late 30's or so came in complaining of nausea and lower abdominal discomfort for the last few days. I did the dillegent history taking and of course, asked her about the possibility of her being pregnant.

She lost her s**t and went off on me... said she was a lesbian woman and had not been with a man for 10 plus years. Yelled at me to get my boss and let an "adult" treat her.

I reported back to my attending and delineated the tests I wanted done. He was like..."I didn't hear a plan for a pregnancy test." and I was like: "I don't think that's needed...she's a lesbian and hasn't been with a man in 10 years." My attending smiled and said: "Humor me."

She was pregnant. Went back to her room and there were two dudes mean mugging one another about to fight. She couldn't even look me in the eye.
FOLLOW THE TRACKS...
[rebelmouse-image 18348142 is_animated_gif=
dam=1 expand=1]

Patient presented with unrelated complaints but on the standard intake for our clinic we were to ask whether the patient had used any injected drugs in the last month. He was wearing a short sleeved shirt. As I asked he looked down at his arms, exposing his numerous, or syringe puncture wounds on his arms.

He then looked up at me, crossed his arms obscuring many of the track marks, and proudly stated: "Nope, never."
ARE YOU A CHIMNEY?
[rebelmouse-image 18348144 is_animated_gif=
dam=1 expand=1]

My dad laughs at this all the time but my mom is nurse at an urgent care. Anyway, we have a neighbor who is constantly smoking. Like every time we drive by their house to pull into our drive way this lady is smoking. She comes in one day for something and my mom asks her standard questions. One is if she smokes. She says no. Unbelievable.
YUCK!
[rebelmouse-image 18348145 is_animated_gif=
dam=1 expand=1]

I work in an ER, had someone come in and was acting erratically from the get go, went back into his bay and he was with his lady friend and they were looking at mosquito bites along their arms and legs, he went on to tell me about how they go hiking every sunday and get torn up by bugs but every single bite on both of them was scabbed and along a vein.
JUST THE FACTS PLEASE...
[rebelmouse-image 18977819 is_animated_gif=
dam=1 expand=1]

I had a lady in the hospital who was several days post op, and had met all criteria for discharge. This can be a somewhat difficult situation, because you want to maintain a good relationship with your patient, but at the same time can't inappropriately use hospital resources. I told her that if there's no medical necessity, insurance could deny payment for the extra night in the hospital, to which she said:"Oh, my health insurance agent was just up here and he said I should stay another day." I just stared at her for a minute since I have never seen an insurance representative in the hospital, and don't even know if health insurance agents exist. She then admitted that she just made that up.
DO I SMELL....
[rebelmouse-image 18977820 is_animated_gif=
dam=1 expand=1]

Me : Do you smoke?

Pt: I'm afraid so, doc (looks sheepish)

Me: Do you smoke anything other than tobacco? (then explaining to medical student how cannabis is associated with certain conditions)

Pt (shocked and virtuous) Oh no, doctor! (the very idea!)

5 minutes later...

Me: Mr Pt, when i asked you to get undressed I meant that I would need your T-shirt off

Pt (channels 5 year old child, looking at the floor and mumbling), takes shirt off... to reveal a MASSIVE cannabis leaf tattoo on his chest.
I SEE YOU SIR! I SEE YOU!
[rebelmouse-image 18977821 is_animated_gif=
dam=1 expand=1]

A few years ago, a man came in complaining of a terrible cough, chest pain, and fatigue. I asked him if he had a history of smoking. Naturally he said no. Around an hour later, on my way home, I stopped to get some food and there he was, smoking outside McDonalds.
I NEED A XANAX JUST HEARING THIS!
[rebelmouse-image 18977823 is_animated_gif=
dam=1 expand=1]

Not a doctor but I was an ER scribe. I would follow the doctors around with a laptop and do all of their electronic charting, ordering tests, note taking and stuff like that.

Had a patient, probably around 18-20 year old male. Complaining of a foreign object in his... male organ. He had a set of iPhone headphones stuck up his urethra. And when I say stuck up there, I mean all the way to where the single cord splits in two for the two earbuds. Out of precaution we did an x-ray and sure enough, you could see the knotted up cord in his lower abdomen and it was going to require surgery to remove due to it being tangled.

He said that he was at a party with some friends and that he got drunk and passed out and his friends shoved it up there as a joke while he was passed out. Luckily the doctor I was working with had seen this guy for the same thing not long ago except before it was a wire coat hanger. She recognized there was a bigger issue and convinced him to have an inpatient psych consult in the ER after surgery so they could get him the help he needed.

Not a single person in that exam room bought his story that his friends did it to him though.
NO PILLS FOR YOU!!
[rebelmouse-image 18349684 is_animated_gif=
dam=1 expand=1]

Only a medical student but a patient I took history from wanted Ativan for anxiety, she was telling me about how her panic attacks are so bad she gets into car accidents with casualties every week. I mean a lot of patients will tell lies or play coy to get controlled substances but she was the only one who admitted to multiple counts of vehicular manslaughter.

When I presented her case to my attending she showed me a note in the EMR from another doctor stating this was a regular tactic of her's as well as an extensive online list of every scrip different doctors had given her for controlled substances.

She didn't get an Ativan prescription that day.
I'M NOT STUPID SIR... YOU ARE!
[rebelmouse-image 18977824 is_animated_gif=
dam=1 expand=1]

Patient came in breathing through his mouth. His mouth was as wide as he could stretch it. His breath sounded like sucking that last bit of liquid through a straw. He snorted 9 ounces of cinnamon when his mum's boyfriend dared him to. He then tried to snort water to wash it away. His mucus became like a biscuit. He had a cold too. Tried very hard not to insult their collective intellect.
SHADY, SHADY!
[rebelmouse-image 18977825 is_animated_gif=
dam=1 expand=1]

Nurse practitioner, I work with patients with substance use disorder, many of them must have their urine spiked by our staff, or someone slipped drugs in their food or drink.
METH IS THE DEVIL!
[rebelmouse-image 18977827 is_animated_gif=
dam=1 expand=1]

In my first crappy job I would take sickdays constantly. I learned how to fake certain symptoms, have a cracked voice and all that.

I always wondered if the doctor saw through me but did not want to call me out or just did not give a crap at all. Because one day I went to another doctor, he called me out and sent me to work. Funnily enough I actually became sick the very next day with flu, came back to the same doctor and he apologized that he never knows for sure and there are a lot of people faking symptoms to get things in flu medicines that you can make meth out of.
HOW ABOUT CUTTING BACK ON THE SNICKERS?
[rebelmouse-image 18977828 is_animated_gif=
dam=1 expand=1]

Pretty much every episode of 600 pound life: I'm tellin' you doctor, it's water weight.
GUILTY!
[rebelmouse-image 18977829 is_animated_gif=
dam=1 expand=1]

I tell my dentist that i floss regularly.
LIGHTS RISE...
[rebelmouse-image 18977830 is_animated_gif=
dam=1 expand=1]

Yikes I don't understand why people would lie to their doctor, at best it makes their job unnecessarily difficult and at worse the treatment could be wrong or dangerous.

I really did get a light bulb stuck up my butt from falling onto it though. I don't recall why I wasn't wearing any pants.
SOME PEOPLE SHOULDN'T BE ALLOWED TO PROCREATE...
[rebelmouse-image 18977689 is_animated_gif=
dam=1 expand=1]

Does Munchausen by proxy stories count ?

One of my father patient kept coming back with her daughter's mysterious illness. The kid was grey.... like from head to toe, her skin had a grey/ blue tint. Mother swore it happened overnight and nothing could explain it...

Yeah right...

My father recognized silver poisoning and had the kid tested. A few calls to his colleagues in the area confirmed that the woman had been touring doctors, disappearing every time argyrism was diagnosed. The mother was feeding silver powder to her kid for attention.
STOP GRINDING!
[rebelmouse-image 18977831 is_animated_gif=
dam=1 expand=1]

I was waiting at the dentist's (I arrived way too early) and a teen and his mom comes in. They talk to the dentist and his mom says he has been grinding his teeth. He acts like she attacked him and was like _"I do not, I never grind my teeth!!!!!" Then 10 minutes later the dentist comes back with the kid out to the waiting room and tells the mother there is severe grinding happening and he is at risk of getting severe cavities since all the enamel is gone and he is wearing into the teeth. The look on his face was priceless. He then said they would have to go upstairs to the orthodontist and get a mouth guard for sleeping and that the kid will always have to be vigilant that he isn't grinding for the rest of his life (or something like that).
ANIMALS ARE PEOPLE TOO!
[rebelmouse-image 18977834 is_animated_gif=
dam=1 expand=1]

I'm a veterinarian and people do the same stuff. Dog comes obviously intoxicated with something and you ask if he could have possibly consumed "x" drug (depending on the dogs symptoms) and people don't want to admit anything. I don't care wtf you do to yourself, have at it, but don't let the dog suffer by not being honest and therefor preventing or at the very least delaying appropriate treatment.
LETS STARVE YOU!!
[rebelmouse-image 18977835 is_animated_gif=
dam=1 expand=1]

"He only got sick yesterday" Haha no, he was probably like this for months, you just had time to come in today. At this point, there's really not much I can do.

Also, parents of SAM kiddies. Lol he really didn't get sick yesterday, you haven't been feeding the kid for months.
Reddit user under20letters asked: 'What is the worst thing a parent can say to their child?'
There is not one, correct way to parent.
After all, different children have different needs, and as a result some parents might need to adopt different methods so that their children can learn a lesson.
That being said, if there isn't one right way, there is definitely one wrong way, particularly regarding what some parents might say to their children.
Even though it might not seem like it at the time, all children take in and hear everything their parents tell them.
Some things parents say to their children might have lasting consequences, haunting them for the rest of their lives.
Redditor under20letters was curious to hear people considered the absolute worst thing parents could say to their children, leading them to ask:

Most Likely The Other Way Round
"I literally heard a mother say this to her child in the ER the other day."
"The kid was just talking to his mother about the usual stupid kid sh*t and she shouted 'YOURE RUINING MY LIFE! YOU OPENING YOUR MOUTH RIGHT NOW IS RUINING MY LIFE'."
"He put his head down and said sorry."
"My mom had her bad days but she never said sh*t like that to me."- PearlJamDudeVoice
Makes You Wonder Why They Did In The First Place

"If I could do my life over I'd never have had children."- FrogGob
Hurtful At Any Age
"'I feel like I have to love you because you're my child, but I don't like you at all'."
"My mom said this to me when I was 10 years old."- ATrulyTerriblePerson
So, So Wrong

"Saying that something is wrong with your brain."- Fit-Caterpillar-9729
It's What They Don't Say...

"Nothing, blaming them, not saying I'm proud of your or I love you."- FM_Apollyon
"Absolutely nothing."
"If you don't communicate, ask about their day, if you genuinely do not care about who they are as a person, it's just as damaging as saying the most hurtful things."
"So, if you really want to hurt someone, don't acknowledge them as a human being."- EeerrEeer
"Giving them the silent treatment over some offense (real or imagined)."- kenaisourdough
So Much For It Being The Thought That Counts
"Mine said to me when I was six years old: thanks for the [in school handmade diy] Christmas gift."
"'But you know we never use xyz, so this is useless'."
"'Why would you make that?'"
"Because I didn't have a choice, and the teacher told us to?!"
"Can't remember what it was, but this stuck with me."
"Been anxious about gifting them anything ever since."- SnicketyLemon875
As If They Know What That Is
"'Why can't you be normal?'"- Tail_Nom
Words Of Encouragement Are Not So Difficult
"'You just ruin everything'."
"'I hope you never find happiness'."
"'Hope your in-laws make you suffer'."
"'Hope your husband cheats on you'."- Kindly-Try-7223
Where To Even Begin
"Take your pick, I heard all of these at various points during my childhood:"
"'I put my life on hold for (insert child's age) years for you/so you could exist'."
"From mom when she wanted something from me and I didn't immediately drop everything and come running."
"You don't live in a democracy, you live in a dictatorship, so you don't get a vote'."
"From mom at a young enough age that school hadn't gone over democracies and dicatorships yet, i was probably just trying to share an idea for plans or something."
"'You'd better quit backtalking me/being disrespectful'."
"When in the right during a disagreement with either."
"'Alright, put em up then' and 'you wanna take this outside?'"
"From dad who thinks challenging his 12-13 year old son to a fistfight is the way to deal with anger."
"I'm sure there's more that i haven't unrepressed yet."- kbyyru
And That Falls On Them...
"My parents had this saying: 'children are like pancakes the first one always fails'."
"I'm the oldest of 2."
"At first I thought they meant it as a joke but after hearing that almost weekly for the past 18 years, I think they actually mean it."- thoyo3
And They're Probably Exhausted Of Not Being Loved.
"I'm so tired of pretending to love you."
"Not mine, read it in a similar post a while back but it stuck with me."
"I can't imagine the trust issues a kid would have hearing that said to them."- nenev
Blaming Them For Everything

"My mum said so much filth to me as a kid, as well as literally making me live in it."
"For better or for worse, til about age 11, I remember hardly anything, my brain has just completely deleted it all."
"But I'll always remember when she told me that she'll die soon from me and the stress I bring her."
"When she said this to me, I was already living my dad full time and only saw her one day a week after school and went home to my dad again in the evening."
"I wasn't even a bad kid, I was so quiet and could entertain myself."
"Little me didn't deserve to hear that."- THEgingerONEhasRISEN
Make no mistake, sometimes children need discipline and need to be spoken to sternly.
But scolding only works if it comes from a place of love.
As long as there's love, children will thrive, and any child who doesn't get the love they deserve is a deprived child.
You can choose your spouse, but unfortunately, you can't choose your spouse's family. From mothers, fathers, sisters, and brothers-in-law, we've rounded up the wildest in-law experiences the unluckiest people of the internet have to offer. These stories prove that in-laws can become outlaws in a snap.
The great thing about foreign languages is that each language has its own expressions and words that don't necessarily have translations in other languages.
My mother tongue is an Indian language called Telugu.
In Telugu, we have several words and phrases that don't exist in English, even though I wish they did.
One example is the word 'gaadida guddu.' Literally, it means 'a donkey's egg,' but the word is usually used to denote nonsense.
Essentially, when someone says, 'gaadida guddu,' they are saying something is 'as believable as a donkey's egg' (which means it's unbelievable since donkeys don't lay eggs)!
Redditors know lots of words and phrases in foreign languages that don't exist in English and are eager to share.
It all started when Redditor Don_Pickleball asked:
"What is a word that exists in your native language that is sorely missed in English?"
A Feeling
"In German we have the word 'Geborgenheit' which describes a very specific feeling of feeling cozy and safe and protected. Like you would feel when you're around loved ones sitting around a fire or when the person you love holds you under the warm covers when it's raining outside. I tried to explain this to someone the other day and when we googled the translation- it came up with 'cozyness' which really doesn't pay justice to what it actually means."
– Else1
""Saudade" it has a similar meaning to "miss you" but we have a direct translation for that "senti sua falta", saudade has more of an emotional feel to it, it's really hard to explain, it's deeper than simply missing someone Btw I'm Brazilian so the language is Portuguese"
– peddy_D
"Gigil? It's when something's so cute you get this sort of feeling of violence? I don't think I'm explaining it right. Kilig is also a similar feeling, but that one is for love; something's so romantic it gives you goosebumps? Or makes you giddy."
– ClickGrayson
Expanding My Vocabulary
"And we have "verschlimmbessern" if you try to fix something but actually make it worse than it was before."
– Chili919
"I need this word in my life."
"Send help...."
– elmonstro12345
Categories
"I miss roles in friendship distinguished in Polish. "Kolega" is a friend who you like spending time with. Partying or chilling. You socialise and have a good time. "Przyjaciel" is a friend whom you don't need to keep in touch or have a good time. But when some bad thing is happening, you know you can call him."
– CodNo503
Similar Words, Different Meanings
"I remember being in Prague and seeing something along the lines of "Pozor, Polizia voruye" which meant 'attention, the police is looking' but in Russian/Ukrainian it sounds exactly like you'd say 'Shame, the police is stealing'"
– SignificantAssociate
""Bom dia" means good morning in your language."
""Bom dia" means bomb him in mine."
"We are not the same."
– borazine
A Beautiful Sight
"There is a Japanese term "Komorebi", for which no English translation exists. It roughly translates as "the scattered light that filters through when sunlight shines through trees.""
"I love how some languages are able to describe such beautiful moments in life."
– tipsy_jana
​Grateful For Existence
"Backpfeifengesicht. "A face in need of a fist""
"I'm not a violent person but I appreciate that this word exists."
– No_Tamanegi
I've Felt That!
"Definitely not my native language, but I love --"
""Kuchisabishii" is a Japanese term which directly translates to 'lonely mouth; when you're not hungry, but you eat because your mouth is lonely."
– MOS95B
The Right Clothes
"Kalsarikännit in Finnish. Literally "underwear drunk" , or more spesifically, "long john drunk.""
"Meaning deliberately getting drunk alone at home in your underpants with zero plans of meeting anyone or going out. I think other nations do this as well, but don't have a word for it."

"Delightfully relaxing and therapeutic at times, slightly concerning if done excessively."
"At best a wonderful opportunity to touch base with your self, your life and your deepest thoughts and feelings. And/or watch that one cheesy comedy from 1992 you love but can't get any of your friends to watch with you because they have standards."
"At worst you wake up to an unholy mess accompanied by a killer headache, cheese all over the bed, cryptic messages on ripped up pieces of pizza box cardboard written by you to you all over the kitchen, and have nobody to blame than yourself."
"I've seen it translated somewhere as "pants drunk", but actual pants are much too fancy attire for this. For full experience you need to wear your most comfortable, decades old long johns that have holes and a weird stain that somehow never comes off in the wash."
– Fit_Share_6147
I Want To Say It!
"My native language is a Native American language called Comanche and isn't a written language but the word sounds like "chaw-tamaw-tey-quat" and it basically is a socially acceptable way to say "I'm done speaking.""
– SCP-33005
"That's fantastic, I'd get so much use out of that."
– HeidiKrups
Baby Bear
"Lagom (swedish)"
"It means not bad, and not too good. Just an average between. A very neutral word."
"For example, when you wash your hands, the water should be lagom hot. Not cold, not scalding hot. Just lagom."
– Live_Rock3302
Who Doesn't Do This?
"Japanese has loads of words that require entire sentences to explain in English. My favorite of all time is tachiyomi, which means "standing at a newsstand reading something without any intention of paying for it.""
– the2belo
I do this all the time, with novels at the bookstore.
Nice to know there's a word for it in some language!
Blending families is always a roll of the dice.
Sometimes people get lucky... because their in-laws are dead.
I jest.
Sometimes lovers and in-laws get along famously.
But a lot of the time significant others have to deal with in-laws that can be a lot.
Just because someone has become instant family doesn't mean you have to adore them.
They can still be horrible people, that you learn to live with.
Chosing a partner comes with strings.
And some of those strings are chains.
You have figure out how much you can bare.
Redditor fuzzyloulou wanted to see who was brave enough to call out what they despise about their in-laws, so they asked:
"Married people of Reddit, what's something you just hate about your in-laws?"
I've never had in-laws.
And I have a feeling, that was a blessing.
The Horror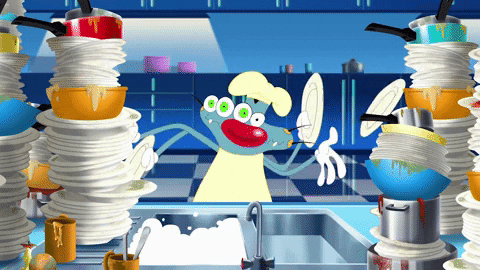 never ending wash GIF by Oggy and the Cockroaches
Giphy
"My in-laws are nearly perfect. But if my MIL comes over and there are clean dishes in the sink drying, she will dry them and put them away. Even if she doesn't know where it goes, she will just guess. My life is horrible."
meyerjaw
Family Matters
"My FIL called my wife and her 3 sisters wh*res all while standing I'm MY house. The reason you ask? They all got married outside of the Catholic faith. We haven't spoken in 6 years. Best 6 years of my life."
Patrick2337
"I could have had things turn wrong the moment I handed back the baptism contract to my mil and told her I wouldn't sign it."
"She asked why and I proceeded to tell her about how and why I dropped out of college. I took business and accounting, I don't f**k around with contracts or numbers. Then I told her about my Catholic upbringing. Changed her mind real quick. It pains me to know that my time is now limited with this woman."
KnowItOrBlowIt
Not into you...
"My MIL isn't too nice to the kids. Granted, she has 15 grandkids, you can tell which ones she likes more. And less. My kids are in the middle."
wclure
"That sucks. I was one of those kids the grandparents liked less too. If it's any consolation, I wasn't too upset it just meant we weren't as close so when they died I wasn't super torn up."
whitepangolin
Overloaded
"The way they travel. The constant need to overpack, shop for s**t to take home, etc always results in like half a dozen overweight suitcases and carryons that they then ALWAYS have to re-organize to handle the weight and they ALWAYS expect everyone in the group to pack light to accommodate in case they have to dump s**t on you. I hate it and it pisses me off every time."
Sorry-birthday1
Not Real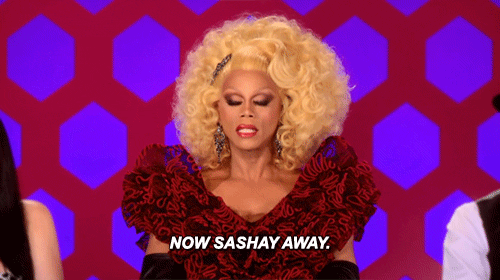 Sashay Away GIF
Giphy
"How fake they are. They just care about their image and how they appear to others, very little, if anything, is genuine about them."
Unhygienictree
Why don't fake people know we see the fake?
No matter if they're strangers or family... the transparency is real.
Be Quiet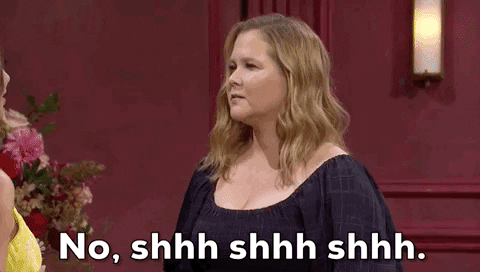 Amy Schumer No GIF by Saturday Night Live
Giphy
"I absolutely love my inlaws, but compared to my family they are REALLY loud. Like instead of taking turns talking they just talk louder over each other until someone listens. I leave with a headache, and that's including times I sneak to an empty room for peace."
kannakantplay
Just About Everything
My MIL? Love her, she's great. My FIL? Cheated on my MIL with her sister, and still sees said sister on a weekly basis while somehow still remaining married to my MIL. Bought himself and the sister a new car while my MIL drives a 20-year-old F-150. When he is home all he does is drink Budweiser from 11 am on while watching TV. And complains about everyone else in the family."
"Doesn't come to his grandkids' birthday parties and just hands us some cash to go buy something and to say it's from him. On several occasions, he's been at nice dinners and gets drunk and belligerent to the point of embarrassing everyone with him. So when it comes to my FIL, to answer the question... just about everything."
Tiberius_Jim
This Christmas Sucks!
​"Oh God, do I have stories? My MIL is one of the cheapest people I have ever met and a hoarder. For my son's first birthday, she gave him a roll of paper towels because... 'Look! He loves it, doesn't even know whether it is a toy or not!' At age 3 for Christmas, she gave him some random toiletries and cleaning supplies she bought at the dollar store, wrapped them, and everything. Now I have to give my boy credit on those... after he opened them he said 'This Christmas Sucks!' which caused major drama for my wife and I."
who519
Vampires
"Oh man, how much time do you have? The number one thing is that they are drama vampires. They can't live without it. Everything is about them, and if it isn't, it will be soon. They are cartoonishly childish and it's as ridiculous as it is sad. I feel terrible for my spouse and her siblings. Every family get-together is a sh**show. Number two is that they can't make a plan without overcomplicating the ever-loving sh*t out of it, which my wife has inherited."
Studlum
Toxic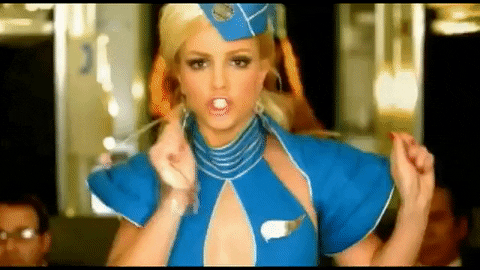 music video britney spears toxic GIF
Giphy
"My sister-in-law is one of the most toxic people I know. Total narcissist. Everything must be all about her at all times. And her husband is a codependent simp who enables her behavior. The rest of my in-laws are cool though."
celiacsunshine
Well if there was any reason to stay single, all of this it!
In-laws sound like a lot.