People Divulge Their Favorite 'Rich Person Hobbies'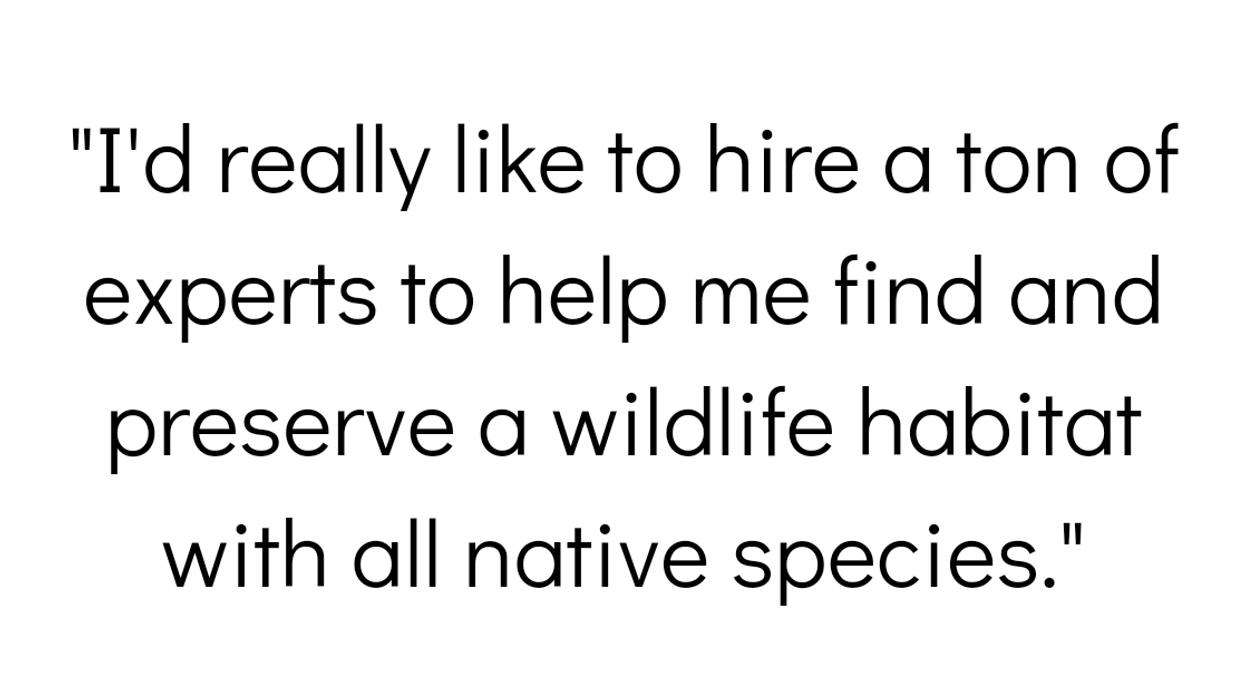 We've all played the "What I would do if I was rich" game.
Admit it.
You've imagined a trillion scenarios for what you would do (after you paid off your debt, of course) with wads of cash. In your imagination, you've given money to friends, started charities or businesses, and probably bought your fair share of imaginary real estate.
And that's all just the basics. We haven't even gotten into all the rich-people hobbies you could take up like SCUBA golfing, sailboat customization, or learning how to melt down antique jewelry to make gem-encrusted bongs for yoga Wednesdays at the gym-slash-coffeehaus.
---
Reddit user BabySuperfreak asked:
"What's your fantasy 'rich person hobby'?"
Reddit is absolutely right there with you, folks.
Carpentry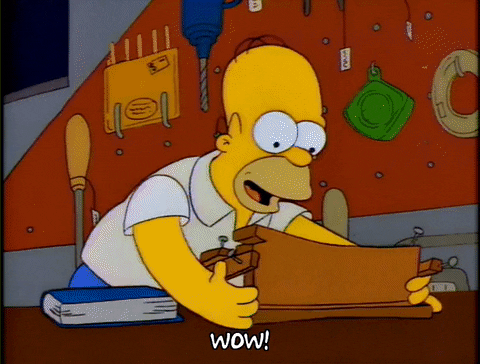 Season 4 Wow GIF by The Simpsons
Giphy
"Woodworking, which I already enjoy. But I'd have a huge workshop with all of the expensive tools."
- AMeatPopsicleIAm
"It's fun to figure out how you could spend increasingly large amounts of money on a hobby."
"$10k? Sweet garage shop."
"$100k? Build a huge shop and tweak it out. Loan it out to people who don't have access to shops."
"$1M? I have no idea. Train under the best woodworkers in the world? Visit exotic locales to see how materials/supplies are produced?"
- RedSpikeyThing
"I just want my own bandsaw and I'll be happy, but yeah it's my dream to have my own little shop in a quaint little building in my backyard. It would be the cutest girliest little grandma-core workshop out of a fairytale picture book."
"I'd have little organized stations for everything and it would be so satisfying!"
- BetterRemember
"I've built a pretty decent 'shop' through marketplace and estate sales. Taken a while but I have most of the major tools I need. Affording wood is another story"
- allf8ed
Want To Grab Lunch?
"I want to be a 'lady who lunches'."
- suzy7517
"You could even step up your game and do 'Brunch' on Sunday! They would say 'wow she is so rich'."
- Ok-Suggestion-7965
"Word. Except I think I would hate those people and just lunch w people who are self-employed artists and/or homeless."
- MidLifeHalfHouse
"Those are the only two groups you'd eat lunch with?"
- wandering_ones
​Miniatures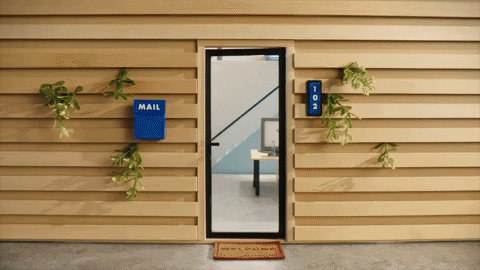 Startup Miniatures GIF by Mighty Oak
Giphy
"I love building miniatures. I helped my dad build a few models as a kid. Then I stumbled onto those miniature rooms you can buy on Amazon. Surprisingly cheap for the decent quality. I've done about 10 of them and have another 20 on my wishlist."
"I went to a hobby store the other day in search of a material for a custom mini, and my friend brought to me a giant box of a model of the Enterprise. For $1200. 3 months' rent."
"I know my first stop after winning the lottery"
- samtheflamingo
"As a gamesworkshop fan I feel you. I've got a wishlist too."
- LordHamu
"Being rich, you could build 1:1 scale miniatures."
- d!ck_schidt
Sailing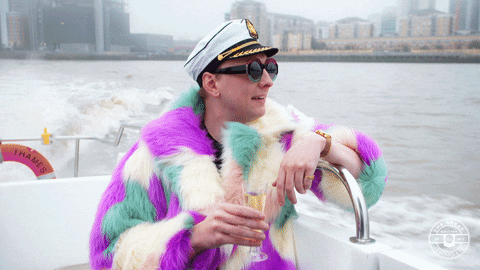 Sewing Bee Hello GIF by The Great British Sewing Bee
Giphy
"Sailing sounds fun as hell"
- WorkingContext
"Sailing is fun as hell. I've been crewing now for about 7 years."
"Sailing is cheap. It is owning a boat that's expensive. I pay $350 a year for access to my local club's boats if I do want to go take a boat out myself."
"Boat owners frequently spend $350 on parts for a single event, and people always need dependable and reliable crew."
"I've even gotten flown out to tropical places and had my accommodations paid for at bigger events! I don't even own a boat, just pull lines!"
"If you live near a racing community, you can get into sailing at the cost of maybe some sandwiches for the team, or occasionally replacing sunglasses you drop in the drink, you just need the right attitude."
- lifeinexile42069
"I agree, but only during the day as the ocean according to videos seems pretty terrifying looking at night"
- 2020-RedditUser
"Sailing is it for me too, particularly cruising. I'd like a nice, 45 ft catamaran that I could cruise around on with the family."
"I have more immediate ambitions to get a little beach cat (Hobie cat, etc) or a dinghy and improve my sailing skills."
"My local 'yacht club' has a learn to sail class that's pretty affordable for a two day introductory class and going out sailing twice (~$100). I did it last year, but I'm considering doing it again as I didn't exactly consolidate my skillet with practice in between."
- TryingSquirrel
Traveling
"Traveling. I know it isn't much of a hobby, but traveling can be very expensive, and I've always wanted to travel the world."
- Im_a_noodle_101
"Beside the cost, getting time off from your full time job can be very hard. I want to spend the summer traveling in XYZ, not fly in, have a couple of days looking around then fly back to work. There's no time to really relax and enjoy the experience"
- PecanSama
"Be one of those people perpetually on vacation."
- wazzle13
"I'm with you on that. I see all the wonderful places to travel and will never be able to go to them. At least many are on streaming channels now."
- Laura9624
"Traveling without budget or ANY money worries. I'd like that. No more sh*tty third-grade hotels and public transportation *joys* and just enjoying the trip."
- Khalae
"I'd travel the world till I physically can't lol that sounds fun"
- Several-Orchid9640
​Esthetic Farming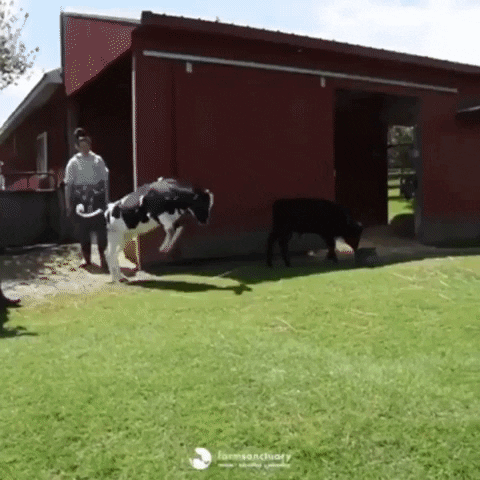 calfs GIF
Giphy
"Owning a hobby farm/garden with *small breeds of farm animals (mini cheviot sheep, serama chickens, bantam call ducks, miniature jersey cows) *lush vegetation (english garden/new cottage style landscaping) *an orchard with a huge range of different kinds of each fruit and climate controlled greenhouses for plants that wouldn't grow in my region"
- RK_Killer
"Would they be miniature fruit trees? I want the small animals walking amongst the small trees with small fruit."
- phobosmarsdeimos
"I would love it to have ducks, cats, dogs, rabbits anything to be honest and just watch them enjoy their time and play around. A small pond for the animals to cool down, big trees for nice cool shadows and also some fruits that drop for them etc."
- Bfnti
Prehistoric Collection
"I'd like to have a large collection of really cool fossils. The really neat ones are expensive."
- revtim
"Oooh, good thought. You know there's a tech billionaire somewhere (I'm blanking on which one) that got really into collecting gemstones after he got swindled into buying some fakes."
"He found the geology of them fascinating and now he has the biggest jewel collection outside of a royal family and was in a documentary talking about them."
"I think pure geekery unfettered by financial restraints may my favorite use of a large fortune."
- gonegonegoneaway211
"Like a complete T-Rex skeleton and a complete Triceratops skeleton and make them fight like action figures... I'm not going to judge."
- phobosmarsdeimos
Preservation Of Wildlife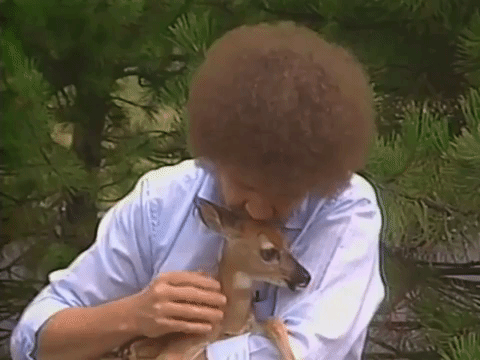 Happy Feel Good GIF
Giphy
"I'd really like to hire a ton of experts to help me find and preserve a wildlife habitat with all native species."
"Get rid of all the invasive plants and whatnot and make it how it was before we got here. I'd be the anti gardener."
- AmericanGoose23
"Same goals club! I've got a good 100 acres chugging away just woods. Have had several offers to buy it but they're gonna have to wait til I'm dead."
"Last guy asked me why I wouldn't sell. 'Because somebody already lives there sir.' Him-' but your house is way up there.' Me- 'yea but the birds and bugs live here.' Also learned that old people get pissed off when young people own land and don't develop it into housing editions. 'People could live here!' People could live somewhere else too."
- Abrahamlinkenssphere
"Mine is similar: I want to make a huge bee sanctuary filled with all sorts of wildflowers and plants, with an absolute ton of pollinators like bees, butterflies and moths."
"Also all sorts of other interesting plants like oak trees and wild grass."
- -Reddit_Account-
"Yours is my favorite I think :)"
- gonegonegoneaway211
​'Paying' It Forward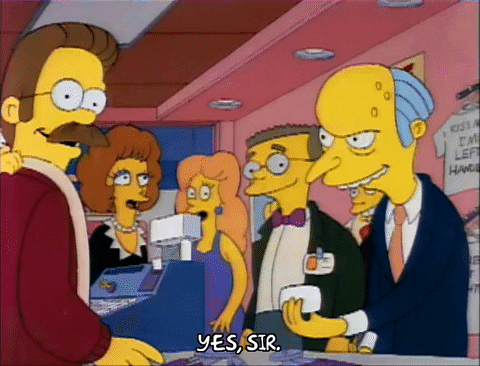 Talking Season 3 GIF by The Simpsons
Giphy
"Anonymously paying debts or giving things to people in need."
- DarkleCCMan
"Robin Hood, that you?"
- Numerous-Rough-827
"I'd help with that if I could!"
- Several-Orchid9640
"I think it would feel pretty amazing to sit in a bankruptcy court and pay off a defendant's judgment. Idk how it works, though, like whether you can make a payment anonymously on someone else's behalf."
- LevelPerception4
"I wouldn't pay off debts (other than to immediate family members), but I like the idea of randomly paying for groceries or gas for strangers."
"Especially at the last week or so of each month. Have some type of set up so I could have an arrangement with a store's manager to call down to the cashier to just tell the customer after they scan everything, 'It's your lucky day! You don't have to pay!'."
- OhiobornCAraised
Community Spaces
"Operating a maker space that enriches the community and enables everyone to have access to tools and space to create anything they need / want."
- Ximidar
"oh yeah my husband and I have talked about doing this"
- seven_seacat
"I'd love to have this for music. Like a rehearsal complex for certain younger artists I see potential in."
"Also have a recording studio nearby as well. Just try to develop some sort of niche community of musicians that focus on certain aspects of music"
"Have all the stuff like drumkits, guitar amps, all that in each room already (kind of like a normal rehearsal space you pay for). Maybe even some cheaper guitars so that even if you don't have money you can use them"
"Maybe do some community events with all the people, and who knows. Maybe some amazing bands or groups could come from it."
- appleparkfive
Alright bougie broke friends, it's your turn at the mic.
We know what Reddit would do for hobbies if they got rich, but what about you?
Anybody suddenly feel like funding a documentary into Tevin Campbell's life, music, and how homophobia robbed him of a bigger career and the community of a cornerstone personality?
No? Just me and my love for Mr. Campbell acting up again?
Reddit user /IAmAsianHearMeRoar asked: 'What did you see happen in the hospital waiting room?'
When we're in pain or scared, we're not on our best behavior.
We've got more important things on our minds than proper etiquette.
Couple our lowered inhibitions with the bizarre amalgam that is the human body and weirdness is bound to happen in hospital waiting rooms.
Reddit user IAmAsianHearMeRoar asked:
"What did you see happen in the hospital waiting room?"
Feline Friend
"A cat walked in once."
"Shamelessly caught everyone's attention."
"Maybe due to how long we were kept waiting, but a few of us jumped at the chance to grab the cats' attention."
~ Reddit
"I'm excited to see a cat every time I see a cat."
"I own three cats. Or they own me, whatever."
~ Accomplished-Fee3846
"I've worked in the vet field 3 years, have my own cat and I'm always excited to see a cat. I love cats!"
~ kxiyaz
YTA, Dude
"Watched a guy fake passing out so he didn't have to wait, since there were a lot of people waiting."
"A**hole winked at me as he was wheeled back on a gurney."
~ Tangboy50000
Don't Do This
"I once saw a guy cut himself with a piece of broken glass just to be seen sooner by the nurses during triage."
~ Shamanofthealike1
Going Up
"I had taken the elevator down from an appointment at one of the hospital's smaller buildings, my young children in tow."
"When the elevator reached the bottom floor, I realized immediately that there was a very purple elderly man lying between us and the exit, surrounded by medical professionals performing CPR on him."
"I closed the elevator door and rode back up before the kids noticed anything and we hung out in the waiting room until the ambulance had pulled away. Got my first CPR certification a few weeks later."
~ merganzer
Look Away
"I was in the emergency waiting room with my Mom."
"I was the one with an emergency and was drowsy the whole time, but I remember that at some point a man was wheeled into the room while making throat noises (think The Grudge) and my Mom took my face in her hands and told me, very calmy and without an inch of panic in her voice, to look through the window and tell her what that weird tree was because she'd never seen one like that (she definitely had)."
"I had no idea what was going on so I kept staring at that tree, and then it was my turn so we left the waiting room."
"Days later she told me that the man who was wheeled into the room had one of his legs hanging on for dear life and that there was blood everywhere on his pants, but also on his clothes."
"He was drunk so he probably had a fight. I hope he's okay now."
"My Mom is the best. She was worried and didn't want me to see this. So she took in the sight but protected me from it. Sometimes, I think we don't deserve Moms."
~ Magomaeva
HIPAA!
"My doctor hired her son to be a receptionist."
"He announced a woman's STD tests in the lobby."
"He didn't work there long."
~ gothiclg
Brains...
"I was sitting in the ER waiting room and this young couple comes in. The man pushing his girlfriend in a wheelchair."
"She's barely conscious, slumped over and pale."
"As the boyfriend is checking her in, she wakes ups and Exorcist-style projectile vomits onto the floor. Nurses rush her back."
"The boyfriend then sits down and not a minute passes before out of nowhere he does the same!"
"Everyone waiting slapped masks on real quick once that happened."
~ Silent_Push_1413
"This is how zombie apocalypses always start."
~ Maxwyfe
An All Beet Diet?
"I went to the ER with a kidney stone and there was an old couple sitting across from me probably in their 60's or 70's."
"The lady was bickering to the man complaining about how long they've been there. The only thing is that this woman was completely purple."
"Like all of her face and head was this dark purple. She didn't appear to be in any pain but my f*ck was she ever purple."
~ PewpyDewpdyPantz
The Circle of Life
"Like 20 years ago waiting in the ER I see a guy dressed up as a full monkey being wheeled on a stretcher past a large doorway and then 3 other monkeys following him."
"They were performers from the live Lion King show at Disney Animal Kingdom."
~ FLcitizen
Holiday Cheers 🍻
"I work as a nurse in the emergency, I've seen some crazy things."
"Once while security was busy doing two separate take downs, an old guy dressed up like Santa unzipped his backpack and started handing out beers to everyone in the waiting room."
~ Best_Lead_632
"So what you're telling me is Santa's real???"
~ aggressively_baked
DIY
"Once upon a time I was waiting on news of a friend who'd been in an accident."
"I saw a guy (about early twenties) come in with him mom because he'd fallen off of his roof and dislocated his shoulder. After about an hour of waiting his mom just says 'F*ck it! This is taking too long!' and legit began to Google how to reset a shoulder."
"After about 5 mins of research, she took off her belt, folded it up and told him to bite down on it. She then proceeded to violently shove her son's shoulder back into the socket while he naturally screamed in agony."
"Security and nurses rush over to see what the commotion is and more or less need to pull her off of him. Security sits her down and the nurses take the poor kid and get him treated."
~ August-Dawn
Our Robot Overlords
"I watched a robot filing cabinet press the elevator button and guide itself to a different area of the hospital."
~ jessieisokay
"We have these at my hospital. They even dress them up. Handy little robots help us transport non-emergent meds, lab samples, and equipment."
~ mrsfisk
"I wish our robots could do that."
"Instead, we have 4 delivery robots that all need a person to follow them and put them on and take them off of the elevators."
"Or we could just, y'know, hand the meds to the person and not take 38 minutes to get it there."
~ aurelius92a
True (Toxic) Love
"Girl trying to get admitted to the mental health unit, turns out her boyfriend was a patient. She didn't get admitted, she wasn't happy about it but she left."
"Next thing we know there's a car doing donuts just outside of the ER entrance, she was throwing things out the window and screaming 'Am I crazy enough now?'."
"She ends up driving around to the other side of the hospital and driving right through some sliding glass doors."
"She's lucky she didn't kill someone—another 10 feet and she would have crashed over a railing and into the cafeteria below, where staff was napping on a couch."
"Definitely got carted away, but not to where she wanted to go."
"Thing is her boyfriend wasn't even in that hospital; there's a small mental health inpatient unit, but her boyfriend was in a completely separate mental health facility about 15 km away."
"This was right in the heart of the pandemic, when building materials were really hard to come by, and so the entrance that she drove through ended up being closed for about 6 months."
~ beachmonkeysmom
People going to the hospital are in crisis most of the time.
It's to be expected that the unexpected is bound to happen.
No matter how good it might be, no relationship is 100% perfect 100% of the time.
On the contrary, there are some relationships that seem pretty doomed to fail, and it's disheartening how many signs we can spot of the relationship coming apart, perhaps even before the couple themselves is aware of it.
But as clear as a sign of trouble might be, it can feel impossible to talk to a loved one about it when it's about their relationship.
Redditor AnitaDeckenme123 asked:
"What are some signs that your married friend doesn't have a good marriage?"
All Joking Aside
"Talking s**t about their spouse, even if it's in a joking way, is a clear sign to me. I went to a bachelor party with a bunch of guys I didn't know and they spent the entire time b***hing about their wives, and they all sounded miserable."
- FunctionBuilt
Desperate to Hide the Truth
"They are withdrawn or secretive. If your friend is suddenly withdrawn or secretive, it may be a sign that they are having problems in their marriage."
- LiaRipsx
Weird Gestures to "Mark Their Territory"
"His hang glider now has a full-sized graphic of his spouse holding the cat on it. And he wasn't asked beforehand."
- BarcodeNinja
Hypothetical Divorces
"They talk about divorce hypothetically."
- LaximumEffort
"Okay, but what if, say, I am watching a lot of true crime murder shows, and he tells me we can just get a divorce instead of me killing him? Does that count? Lol (laughing out loud)."
- HopefulKitty
Detached Relationship
"When they don't care what the other person is doing or where they are. Basically, two people who live separate lives and live like roommates."
- Lucyinthesky
"My friend never says anything bad about her husband, but she also doesn't speak about him much at all. They've been married less than a year, but she's said things like not caring what he's up to a couple of times, and it made me wonder if that was normal in marriage. It feels wrong."
- happinessinasong88
Fighting in Public
"I've known two different couples that off and on fought a lot around me at certain points, which isn't obviously a great sign."
"The fighting stopped, but what I realized after a while that may be worse is that they didn't interact at all unless absolutely necessary."
"I'm mostly oblivious, so it took my wife pointing it out to notice that both of these couples never really talk to each other besides mandatory stuff like plans or the kids."
"No casual conversations, no eye contact, no touching each other; literally no interaction that's not necessary for the family to function."
"I suppose it's better than fighting in public, but it's kind of weird once you notice it."
- non_clever_username
Social Media Cover Stories
"If they're plastering social media with how HAPPY they are, and they're SO IN LOVE, and THEY'RE GOING TO BE TOGETHER FOREVER, that's a sure sign that things are in the process of going sideways."
- wilderlowerwolves
"This confuses me SO much. I have two close friends (women) who have been texting me nonstop about how s**tty their significant others are, like going OFF about them, long voice messages, etc."
"Then between messages, I will open Facebook and see they just made a post about how much they love their partner with a cute picture and tons of hearts and s**t."
"Like... WHAT. I have never called them out, but what the h**l?"
- perfectdrug659
"Gah, my BIL (Brother-in-Law) divorced after a short two-year marriage, and this was the prime indicator of knowing that they were doomed."
"They did this kissy cutesy schmoopy lovey-dovey thing in public, and the worse their relationship got, the more publicly showy they were about showing how in love they were. It was horrific to watch unfold."
- abqkat
Controlling and Jealous Behavior
"In my experience, going out with my old homie that was married, I couldn't ever post us out at the bar or anything. If his wife saw it, she'd blow her top apparently."
"We went out for my 23rd birthday a couple of years ago and merely his elbow was in the video of me sipping on whatever drink I had. In a panic, he urged that I delete it before his wife saw it for whatever reason."
"They're divorced now."
- jailbreakthetesla_
Mean to Their Partner
"When their identity is the 'person who is mean to their spouse.'"
"I was at a party this weekend and there was a woman who just bad-mouthed her husband and talked about how nice it was to be away from him and the kids for the night. That's like her shtick… she talks about how her kids and husband are s**tty. It's such a gross personality, and it's relatively common. It shouldn't be common at all."
- SpacemanPete
Flirting Elsewhere
"They flirt a lot. A lot of unhappily married people I know are quick to flirt with anyone who seems interested because they want to feel that spark again."
- FlatulentDwarf
Constant Check-Ins
"When one of them is out and their spouse does not stop calling them."
- BansheeShriek
"I can't imagine living like that. I took a 10-day road trip to the beach alone, and all my husband asked of me was to keep my location turned on in case of an accident, and text a few times a day so he knew I was alive. That's trust."
- HopefulKitty
The Depression or Glow Up Era
"If they suddenly seem really down on themselves or stop taking care of themselves for seemingly no reason, If their outlook on relationships and/or marriage had changed since getting married, If they have nothing good to say about their partner or just don't talk about them..."
"The list goes on."
- Misspent_interlude
"Or reverse, they start glowing up. They lose weight, focus on appearance more, it means they're getting ready to split."
- Alternative-Post-937
Wishful Widows
"When my husband died, some friends admitted that they were a little jealous."
- emmymcd
"My ex-husband responded, 'One can only hope,' and looked at me when he heard someone's wife died."
- foldinthecheese89
"I would never say this to someone, but I understand the sentiment. I absolutely wished my ex-husband dead a handful of times. It's one of those things where you can't leave because I had very little money of my own and staying meant living with abuse."
- IsThatBlueSoup
Jealous of Working Relationships
"It's bad when you avoid or feel guilty talking about how happy you are or about the nice and thoughtful things that your partner does because you know your friend can't relate."
- anemic_girlfriend
"Yikes. This is how I am with a friend group of mine. They're always complaining about their husbands, and I stay silent. I don't want to rub it in that I love my husband and he's mostly awesome. In the past two years, one has gotten divorced and another is on her way there."
- Nonny70
"It gets weird for me when people are like, 'Must be nice to get away from the wife' if I'm on a work trip or something."
"I don't understand. I sleep better when my wife's next to me, I feel better about the day when I get to see her and talk to her, she makes me smile all the damn time."
"Everybody on the planet is a very distant second on my list of people I want to be around, and even though we do plenty of things separately I don't see time apart as some sort of reprieve from her presence."
- HereToTheSquatch
Wishing They Were Out
"I got married young and a lot of older guys gave me s**t for it, like they resented their wives for settling down too soon. It upsets me when men talk s**t about their wives. If you hate your wife, then leave, she's probably better off without you."
"My wife is my best friend. Seven years later, our relationship only grows stronger over time. If you love someone and they love you back, be grateful for that and show it!"
- Apprehensive-Hall254
There are many ways to tell that a relationship is in a downward spiral, especially when the relationship is not our own.
But these accounts were intense and ones that we can only hope are less common.
Whenever we feel like something isn't right about our bodies or we're suffering from some kind of medical issues, we want them taken care of straight away.
The problem with that is, that depending on whom we're getting information from, we tend to believe in the initial diagnosis or remedy because we trust the professional sources and we want quick solutions.
But do doctors and health specialists always know what they're talking about?
Unfortunately, that is not always the case.

Strangers online shared their medical horror stories when Redditor Ohyo_Ohyo_Ohyo_Ohyo asked:

"What is the worst health advice you've been given?"
Not doing further research into something that raises eyebrows can be a fatal mistake.
Turns Out It Was Brain Cancer
"i went cross eyed and my primary said 'could be a sinus thing, get some mucinex.'"
"turns out it was glioblastoma."
– Guy_Faux
"Wow, that's an absurdly sh**ty doctor. The same thing happened to my mother and it was quickly determined that it was stage 4 lung cancer. She made it about 3 months after that. She was 48 and I was 18 so the idea that any doctor would ignore that is infuriating to me."
– Frisky_Picker

Second Opinion Saves Lives
"My primary doctor kept telling me that nothing was wrong with my thyroid, and I was a hypochondriac."
"I had been told at 12 years old that I had thyroid issues and she told me that doctor was wrong. I had to see a whole other doctor to get a referral to the endocrinologist because she literally refused to refer me to one."
"The endocrinologist said, I had scarring all over my thyroid, I had Hashimoto's, and my levels were horrible, and she didn't know what the doctor was talking about. She said she was glad I advocated for myself."
– littlemybb
Tiny Grandchild
"I was not the recipient of this 'advice' but I had a coworker proudly say how small her new grandchild was when they were born and that her daughter smoked her whole pregnancy to try and have a smaller baby. This was in like 2010, not the 1960s for reference."
"ETA: smoked cigarettes. clarified since that can mean more than one thing."
– Emkems

Unforeseen Ailment​
"Was sick for a year in my late teens. Saw multiple specialists to find the cause. Experimented with diet. Saw a naturopath that did some 'electric pulse test' thing that apparently gave indicators of organ health. After a few visits, and months of eating the weirdest sh*t, the test said things were improving (including my gallbladder). Months went on but I was still quite sick. I eventually ended up in hospital and one of my specialists decided to take my appendix out on a whim to see if it might help. Turns out I had something called a 'grumbling appendix' and it completely fixed me. Funny thing is, while they were in there, they discovered I was born without a gallbladder."
– Ok_Ear_8848
These are not appropriate remedies.
That's Not How That Works
"When I had an urinary tract infection someone told me to wash my vagina with vinegar..."
– _Puke_Bucket_
"And maybe add some diced onions and tomatoes to make a refreshing Mediterranean salad."
– Bos_lost_ton

Pushing Through
"Just push through whenever you're sick. If you can get to a doctor's office for a doctor's certificate you can get to school/college/work."
– BoyMonday
"My childhood pediatrician told my parents that 'A sick child never smiles.'"
"I tend to laugh/smile when I'm nervous or uncomfortable to self regulate."
– pinotproblems
"A doctor once told my parents that a child who isn't crying can't really be hurt. Because of that, it took me days to convince my parents to take me to the doctor after I fell on my arm because I wasn't crying. It turns out it was broken."
– slowsunslumber

"Ignoring" The Problem Isn't A Solution
"A friend of mine was in horrible pain, and was repeatedly told (by multiple doctors) that she should stop complaining and just get used to it because periods are painful and that's the way it is."
"After being blown off for years, she finally got a doctor to take her pain seriously- and it turned out she had severe endometriosis. The surgeon said it was the worst case he had ever seen in his career, and was horrified that it had gotten so advanced with no one listening to her."
– sapphireblossoms

Choking On Blood
"The school nurse telling me to tilt my head back for a bloody nose. That was an awful experience."
– hypo-osmotic
"I do like doing this because when I cough up the blood I can pretend I'm in a period drama and I have tuberculosis."
– OrangeTree81
These Redditors discovered that all pain is not necessarily "normal."

The C-Word
"Doctor said certain pain is normal as you get older. Turns out it was cancer."
– REDDIT
"That's a fibrous strip of breast tissue, you're too young to have breast cancer."
"Delayed diagnosis by 6 months. I was 31."
– juniper_max

Thinking Twice About Back Pain
"I got from a doctor, 'everyone has back pain. There's nothing wrong with you, just use a heating pad.' It was kidney stones."
– 5hrs4hrs3hrs2hrs1mor
"Yikes, I am so sorry."
"I had a kinda similar experience. I went to the doctor for a morning appointment to get some persistent, worsening back pain checked out. Doc asked me where my back pain was, looked me in the eyes and told me I was fine and must have just slept wrong. He shut me down when I tried to advocate for myself."
"That night, I was admitted to the ER due to the crippling pain I was in. Turns out I had a serious kidney infection that was turning septic."

"One of the ER staff who helped me told me if I had waited another 24 hours, my kidneys would have shut down and I very likely would have died from organ failure?!"

"I've been dismissed by doctors over and over again in my personal health journey, and it is so frustrating and scary, as they've dismissed me for 'being dramatic' when there's actually something very serious going on with my body."
– Yarr0wFeather

Vitamin D Overdose
"If you have pale skin, get just a little sunburnt every day so that your skin will 'learn' to get a tan. That's how everyone else does it."
"My Solar Keratosis skin cancers would beg to disagree."
– comfortablynumb15

As much as we want to believe our doctors when they give us a health assessment and assure us we're "fine," you should never ignore your inner voice telling you that something is not right.
Your conscience is there for a reason.
Even if a doctor tells you it's okay to ignore the problem, you should think twice about ignoring your gut feelings.

When giving a speech and making an argument, the most effective way to reach other people or get your point across is to speak with conviction.
However, speaking with conviction doesn't always mean people are speaking the truth... or even coherently.
Redditor MonkeyGentleman420 was curious to hear more stories of ludicrous things people said with unwavering conviction, leading them to ask:
"What is the stupidest thing someone has told you with complete conviction?"
We Know How Often Birds Check Clocks...

'That we set the clocks forwards and backwards so the birds don't get confused with their migration patterns."- alliecita410
Speaking From Experience?
"'Two people can breathe underwater forever if they have a hose'."
"The first person breathes in while the second breathes out, then the first person breathes out and the second person breathes in etc'."- PahoojyMan
Dream On...

"She said:'
"'If you are dream about falling and you hit the ground in your sleep you'll actually die'."
"'It's been proven'."
"I said 'If you die in your sleep, how can anyone know what you were dreaming?'"
"Ruined a favorite story of hers."
"Sorry."- FrankieMint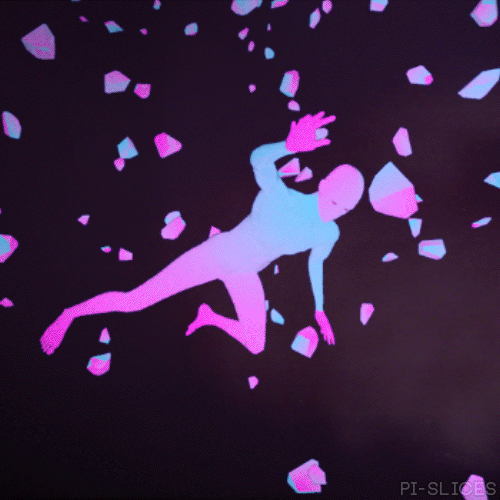 falling GIF
Giphy
Because ALL Cops Ask For Your SSN Before Cuffing You...
"From a coworker: 'If you don't have a social security number then the government can't do anything to you'."
"I asked if that meant, if I didn't have an SSN then I could just go kill someone on the street and the government couldn't arrest me."
"'Yep', he said, 'if you don't have an SSN then they can't enforce any laws on you'."- AllAboutThePotatoes
Keep Them Away From Needles...
"A former coworker insisted that the body believes the ears are injuries, and we are all constantly trying to heal our own ears closed."
"The only thing keeping them open, you ask?"
"Ear wax."
"We worked in healthcare."- Reflection_Secure
Credit To the Visual Effects Designer
"A girl I worked with was convinced that every single mythological creature was real."
"I'll never forget one of her claims."
"Think about it, every movie you done seen all those creatures and aliens and sh*t, all that's real."
"Someone has to have actually seen it to come up with that!"
"Apparently there's no such thing as the human imagination to her."
"So yes, transformers are real, Godzilla is real, Independence Day is real."
"This was a 20-year-old that said all of this."- Dragonborn83196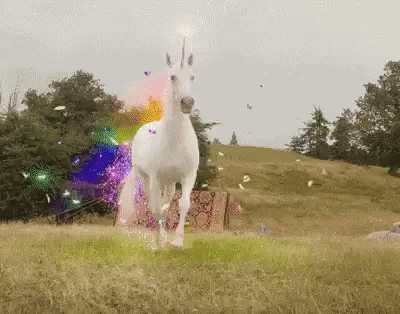 Unicorn GIF by MOODMAN
Giphy
In Theory... Still Wrong!

"That the speed of light wasn't like an actual number, it was just a figure of speech."- sunbearimon·
Check The Date...
"Sunburn is not caused by the sun, it is actually caused by sunblock."
"If you don't use sunblock then you will never be burned."
"Sunburn was created by the sun cream industry to sell their products."
"Seems easily testable, why not lie on the beach all day in one position with no sun block and see what happens?"
"Make sure you fall asleep for maximum effect."
"You go bright red and then blister to the point that you get taken to hospital for a combination of sunstroke and the beginning of shock then spend the rest of the holiday indoors face down with regular application of creams and replacement paraffin patches on the burns."
"It puts a bit of a dampener on your 2 week break."
"Sunburn is mentioned in Livy's history of the second Punic war and others over 2000 years ago which is solid proof that the 'Big Sunscreen' claim is ridiculous."
"However it would be hand-waved away by a True Believer of big Sunscreen."- Magnus_40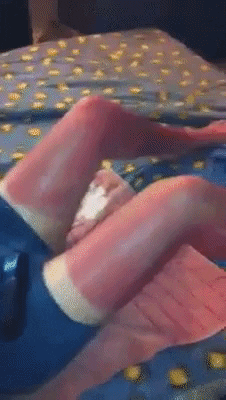 Sonne Sunburn GIF by Mitteldeutscher Rundfunk
Giphy
Ignorance Is Not Always Bliss...

"A distant relative, recently retired, once told me that he was going to hire a gardener and a housekeeper because 'the government will give you a grant to pay for them now'."
"This was a few minutes after a lengthy rant about how the welfare state should be scrapped because only lazy people lose their jobs and need to claim benefits."
"The same relative, some years ago, also announced with absolute conviction that he was going to hire a neighbor as a cleaner because 'she won't have anything to do now her kids are grown up'."- Plantagenesta
The Price Of Never Looking Up!

"Pineapples aren't real."
"They're entirely manmade and do not exist in nature."- tricksterloki
ALWAYS CONSULT YOUR DOCTOR!!!
"My dad was experiencing end stage renal failure (was on dialysis at the time and has since had a transplant)."
"My best friend's boyfriend at the time looked at me dead in the eye and said he could reverse his condition with a vegan diet and that the only important organ in the body was the skin, so as long as you take good care of your skin, your other organs will function properly."
"Mind you, by the time my dad got on dialysis his kidneys were functioning at 11% and his SKIN WAS JUST FINE."- lyingintheleaves
But What Causes Cavities?

"I'm a dental hygienist."
"We had a patient come in with terrible teeth."
"They thought toothpaste caused cancer."- dilapidatedfungus
If Only...

"That women don't burp or fart, because only men have (the ability to pass) gas."
"Spoiler alert: he was horrified when I burped in front of him."- sequoia_summers
Guilt Is Easier When You Know It's Coming.

"First girlfriend was religious, and apparently it was okay that we had sex 'as long as she feels bad about it after'."
"Pre-planning regret was her loophole to do what she wanted."- Lone_Buck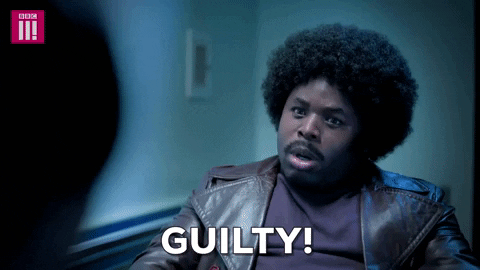 season 2 famalam GIF by BBC Three
Giphy
When people do speak with conviction, more often than not they firmly believed what they say.
So much so, that they have trouble believing the person brave enough to correct them.
In spite of the concrete evidence thrown in front of them...