Disappointed People Share What Didn't Live Up To The Hype Of Its Nostalgia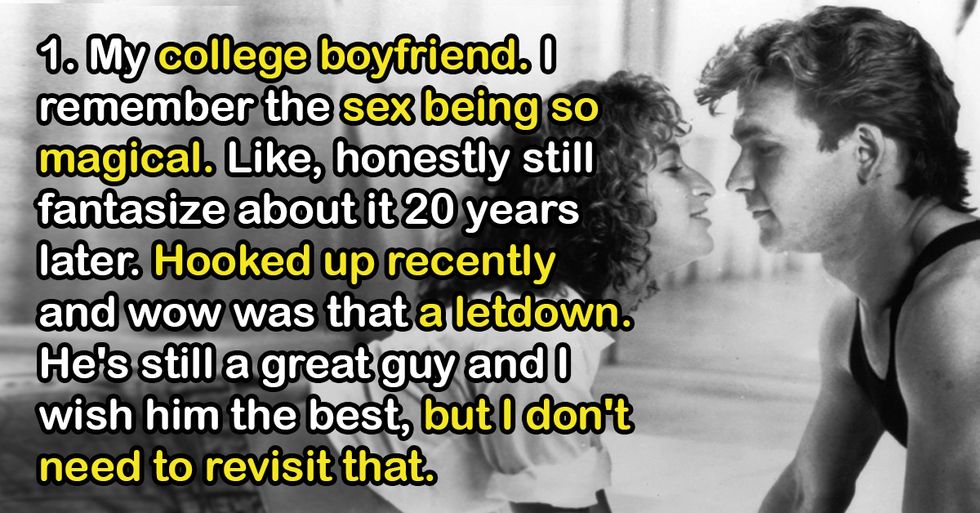 Disappointed People Share What Didn't Live Up To The Hype Of Its Nostalgia
[rebelmouse-image 18347971 is_animated_gif=
dam=1 expand=1]

Happy, nostalgic, childhood memories are sacred and pure mostly because they're just that - childhood. The newness of things kind of gave you the world through rose colored lenses. The same thing can happen with new jobs, relationships, friendships, etc. It can be a real shock to the system when we revisit the things we used to love and realize maybe they weren't so great.

One Reddit user asked: What, upon revisiting, did not live up to your nostalgia?

Some of the stories are sad, but there's at least one victory in here. One person finally realized they had been wrong, and Small World was not, in fact, the greatest ride at Magic Kingdom. So, hooray for that!
The Miracle
[rebelmouse-image 18347972 is_animated_gif=
dam=1 expand=1]

When I was a little kid at summer camp, I witnessed a miracle. A friend of mine and I were going down this insanely long and high slide at this massive park they'd taken us to on a field trip.

My friend fell from the top of the slide and as soon as he did I knew it was bad. No one could survive a fall that far. But miraculously he did survive!

I went back to that park as an adult. It was like a 6 foot slide.
Beaver Creek
[rebelmouse-image 18347973 is_animated_gif=
dam=1 expand=1]

Growing up, I had a friend with a big creek back behind his house, like a mile back into the woods. We aptly named it "Beaver Creek" because there was a family of beavers who lived in a den there. I remember before graduating high school, we sat at the creek saying how this is one moment we would never forget because in a few weeks "everything is going to change".

We graduate. I move away. I drove through the area four years later, and decide to make the trek to Beaver Creek. That was our spot and it'd be great to see it again. I trek the mile into the woods and arrive at--- a creek that has eroded away very quickly. This creek went from being ten feet across to maybe a mere two feet across. The Beaver House was LONG gone. Instead of fast water it was moving slow with a lot of foam built up around caught branches and rocks, and smelled horrible.

Made me real depressed. I'm sad thinking about it.
Just The Human Condition
[rebelmouse-image 18347975 is_animated_gif=
dam=1 expand=1]

As you get older you will find that driving past just about anything from your younger years is painful. I'm in my 50's now and now rarely visit the city I spent the first half my life in. Maybe it is just the human condition but I think as we move on in life we somehow expect all that things in our past to remain the same. They don't. The local pub I spent way too much time in is now torn down. The strip mall with the pizzeria that had the best pizza in the world is now a car dealership and the small bungalow where I was raised is now some grotesque two story monolith. They say you can't go back, and truly it is true.
4 Year-Old Me Was On Acid
[rebelmouse-image 18347976 is_animated_gif=
dam=1 expand=1]

The "It's a small world after all" ride in Disney World, FL. Had this memory of going on it when I was like 4 where I swore the little car you ride in was like floating through space while various Disney characters would fly by and say stuff. Did it again when I was like 14 and found out that 4 year old me was on acid.
The Story Was Still Good
[rebelmouse-image 18347977 is_animated_gif=
dam=1 expand=1]

I'm ready for the hate but...GTA: San Andreas.

I was 10 when it came out and I absolutely adored it. For the time, it was definitely fantastic. However, a few weeks ago, I went back and replayed it as I was dying to show my SO the great story.

Oh...my...God. The gameplay dragged so much for me and felt so awkward and clunky. The missions felt boring to me. The story was still good but I just couldn't bring myself to finish it. Age has definitely not been as kind to San Andreas as it has to other games from the same era.
Props To The Illustrator
[rebelmouse-image 18347978 is_animated_gif=
dam=1 expand=1]

Scary Stories To Tell In The Dark. I read them religiously as a kid, and I remember just being absolutely terrified after each story. About 13 years go by, I'm 21 now, and I found the books in my brother's closet. The stories were NOT as I remember, they were very short and most of them were just downright silly. However, I still give the illustrator props. The imagery in that book is still pretty haunting.
A Menace To The Series
[rebelmouse-image 18347980 is_animated_gif=
dam=1 expand=1]

The Phantom Menace. As a kid I genuinely enjoyed the movie and had no idea why the prequels got so much hate. Rewatched it 7 years later...hoo boy. The actor who plays Anakin is just so bad. I literally cringed when he shouted "YIPEEEEEEEEEE". NO ONE ACTUALLY SAYS THAT GEORGE.
The Blisters Were Insane
[rebelmouse-image 18347982 is_animated_gif=
dam=1 expand=1]

Jelly shoes - they are not as comfortable or as cool as I remember. I bought a pair online that i was going to wear during the summer. i wore them once and the blisters were insane. not as fun as when I was a kid.
A Heartbreaking Loss
[rebelmouse-image 18347983 is_animated_gif=
dam=1 expand=1]

The Animaniacs, which was heartbreaking.

Keep in mind, I don't hate it now, but it just doesn't tickle 30-yo me as much as it did 10-yo me.
Christmas
[rebelmouse-image 18347984 is_animated_gif=
dam=1 expand=1]

Christmas for me. I have great memories of it from when I was a kid, but now I just sit there on edge waiting for my dad to be an ahole about something or for someone to get pissed off about some stupid sh!t. I hate it now.
Wow, That Was A Letdown
[rebelmouse-image 18347985 is_animated_gif=
dam=1 expand=1]

My college boyfriend. I remember the sex being so magical. Like, honestly still fantasize about it 20 years later. Hooked up recently and wow was that a letdown. He's still a great guy and I wish him the best, but I don't need to revisit that.
The Christmas Tree
[rebelmouse-image 18347986 is_animated_gif=
dam=1 expand=1]

Not sure if this counts but I remember every year growing up the Christmas tree got smaller and smaller. When I was about 10 I complained to my mum that it was a bit rubbish that the Christmas tree was smaller every year.

It wasn't smaller , it was the same tree each year(plastic), I was getting bigger
Stop Whining, Simba
[rebelmouse-image 18347987 is_animated_gif=
dam=1 expand=1]

The Lion King. There I said it. I understand the message of it, but when I watched it again I just couldn't get over the way Simba was so whiny. I understand this sounds petty and people disagree but dang I just didn't enjoy watching it like I did when I was a kid.
Barely Tolerable To Go Back To
[rebelmouse-image 18347988 is_animated_gif=
dam=1 expand=1]

SpongeBob Squarepants - even the "classic" episodes are barely tolerable to go back to at this point. Fortunately, Rocko's Modern Life has held up significantly better.
Lion-O Ruins Everything
[rebelmouse-image 18347989 is_animated_gif=
dam=1 expand=1]

Thundercats 80s episodes. Virtually every situation that called for the team to fight for their lives is because Lion-O would consistently mess up simple tasks.

I get that he was a kid in a mans body. His lack of basic common sense was infuriating.
Church Was Unsettling
[rebelmouse-image 18347991 is_animated_gif=
dam=1 expand=1]

My childhood church. Man, its was unsettling.

I grew up going to a medium-sized United Methodist church. There was a strong congregation, very few empty seats in the pews each Sunday, plenty of organizations and programs. The greatest marvel was this huge stained-glass mosaic behind the altar, the size of the entire wall. There were amazing depictions of all the rockstars from the Bible, each standing ten feet tall, backlit by the rising sun each Sunday morning. We left to join a Presbyterian church when I was in middle school, due to conflicts with the new (widely-despised) pastor.

I went back as an adult for an Xmas Eve service, because my grandparents still attended. I had outgrown my faith. Even at a "busy" service, now only half the pews held parishioners, and even these were half-empty. I recognized all the old faces, but now they were really old. Former couples came in singles, because Mrs. Aaron's husband and Mr. Gerhard's wife had long since died. My childhood babysitter/crush had grown into a beautiful woman with a daughter and a crisply-dressed husband, and crow's feet at her eyes. Her rascally little brother looked like a young man with a drinking problem whose parents had bought him a nice suit for Christmas. The worst part was the service itself. All of the hymns and congregational prayers just sounded like empty voices reciting some hollow chant. At the pulpit, I remembered bold, lion-hearted men who had firm but soothing voices. They were years gone, replaced by a kind, barefoot lesbian who had a roving mic and wandered the aisles while she led the service. She was actually an improvement, I enjoyed the energy she brought, but she was not the authoritative figure that had first taught me that you MUST love Jesus.

And the mosaic was dark, because it was evening. All those thousands of pieces of broken glass, so carefully arranged, just looked like shattered images. Moses still raised the tablets over his head, breaking them angrily. But now he just looked like another old man whom I recognized from my childhood, someone I'd pretend not to notice when I'd see him at the grocery store. I held my grandma's hand as we walked out. It felt like sticks wrapped in paper.
Don't Ruin The Memory
[rebelmouse-image 18347992 is_animated_gif=
dam=1 expand=1]

Billy Madison. As a kid it was hilarious. As an adult I low key cringed and had to turn it off as to not ruin my memory of it.
The Smurfs
[rebelmouse-image 18347993 is_animated_gif=
dam=1 expand=1]

The Smurfs

Children of the 80's, do you remember? It was the first cartoon of Saturday morning. You'd better be in front of the tube with your bowl of cereal by the time those opening credits stopped. It was the launching point of a morning of cartoons capped by an hour of Looney Tunes before you headed out into the neighborhood for the day. I remember loving the Smurfs.

And then as an adult, I caught an episode one day. And that is the most boring thing ever. "Hi Papa Smurf, are you feeling smurftastic today? I've picked some smurfberries for the smurfpies for dessert at the smurfestival this evening. It's sure to be a smurfy good time"

Apparently I was easily entertained as a child.
Chef Boyardee
[rebelmouse-image 18347994 is_animated_gif=
dam=1 expand=1]

Ever since I became vegetarian at 12 years old, I've missed Chef Boyardee Raviolis. I'm 25 now and work in a mental hospital where this is occasionally something they'll feed the patients, staff are allowed the same meal trays for free. A co-worker was eating her tray of the Chef Boyardee Raviolis and asked me if I wanted to have some. Just the smell was already ringing some nostalgic bells. I peeled of the noodle part and ate it, expecting it to be blasted back to my youth and reminded of how much I missed it. No. It tasted like salted asphalt. Not awesome. Glad to be rid of the option.

H/T: Reddit
Reddit user sludge_factory_777 asked: 'Who is the scariest person you have ever met?'
Content Warning: True Crime Topics
It's hard to know what's going on in someone's head without having their mind ourselves, but we can make assumptions based on how they behave.
Some people have a serious vibe about them that other people know better than to mess with, with some of those vibes downright terrifying.
Redditor sludge_factory_777 asked:
"Who is the scariest person you have ever met?"
Jail Besties
"I got a DUI back in 2009 and was taken to the Placer County drunk tank. A guy with tattoos all over his face approached me..."
"He wanted to offer me his roll of toilet paper for a pillow. He introduced himself as the 'Sac City Psycho,' and he told me he would watch over me to make sure nobody f**ked with me, because he could tell I did not have much experience in jail."
"Now looking back on it, I guess for a few hours there, I was his b***h."
"Super nice guy, though. I 10 out of 10 would be his b***h again."
- NagoGmo
Innocent Until Feeling the Vibes
"I did an internship at a jail and met a dude awaiting trial on a triple homicide."
"The guy just had that vibe around him that just made you feel uncomfortable. Just being in his presence, you could feel the air change around you."
"Everyone in that room felt and respected it."
- throughthequad
The Magnetic Personality Type
"I once did one of those corporate mock jury panels. The little scientist analytics guy came out halfway through to shoot the breeze and holy h**l, I never understood what people meant by having a magnetic personality until then."
"We were clamoring over this dude. It was completely involuntary. He asked me a question and it was an out-of-body experience watching myself act like a golden retriever."
"I was so freaked out that I avoided him like the plague the rest of the panel. Nice dude. Seemed chill, but he could have started a cult with a snap of his fingers. Absolutely terrifying."
- Bridge-etti
Top-Notch Security
"I once as a medical student was doing a rotation in the state mental prison. We had to do a basic physical on this guy."
"There was a chair in the middle of the room, bolted to the floor. He had cuffs on his wrists and feet secured to the chair. Nine guards were in the room surrounding us, not more than five feet from the chair in a circle."
"He was off, just not there, and didn't want to cooperate. He looked at me, saw my coat, and said, 'That guy is from the university. I want to talk to him.'"
"I still don't know what he had done, but after a few months of the rotation, no one else had that degree of security for medical visits. No one else was even close."
- rykh7
Biker Aesthetic
"My cousin. He's a high-ranking member of a pretty well-known one-percent motorcycle club. The dude stands maybe five feet, seven inches tall, and he is of average build. He has no visible tattoos and is super soft-spoken."
"Everything about him says he should be a banker, not a biker. I have never seen him even raise his voice once but that dude scares the absolute s**t out of me. He gives off strong psycho energy."
- SignificantFix8218
Scary Dude with a Big Heart
"I live in New Mexico and met 'Big Dragon' from 'Beyond Scared Straight.' He does outreach like that with troubled kids."
"I was working as a teacher at YDDC, and they brought him down. The dude is no joke."
"I shook his hand, and you could just tell, the only reason he was not killing people was he didn't want to, because if he did, the guards would have not been able to do anything about it."
- Soundwave-1976
Murderous Besties
"I got arrested for public intoxication in the mid-to-late 90's and was put in a normal cell because the drunk tank was full. About ten minutes later, I was woken up and hastily moved to an adjoining cell."
"I visited with the guy in the first cell I was in for a few hours. When I was bailed out, I bumped knuckles with Gary, the guy in the second cell, and left."
"I later found out he was Gary Kleypas, and he was being held on first-degree murder... of a college student."
- TheJonnieP
Completely Out of Place
​"I was working at a bar in a pretty small town when we had a drifter come in on a random midweek night. The second he walked through the door, everyone I worked with and was at the bar said they felt cold."
"The dude had incredibly sunken eyes, pale white skin, dingy dirty hair, and visibly sharp-looking teeth. If I were to explain what a mako shark as a human would be, that's this guy."
"He said he was passing through and was looking for 'stuff ordinary people can't find' and then proceeded to show photos on his phone of odd areas he had been to previously. Nothing was off about the photos, but everyone I saw gave me more chills."
"Nothing was happening, no one was there, but everything had this feeling of 'I'm not supposed to be here.'"
" The dude left and asked me to follow him on Instagram, which I did. He posted last a few years ago up in Jackson Hole and said he'd be staying off for a while. Odd dude. We all were quite relieved when his cab showed up."
- Expensive_Change_893
The Doll Whisperer
"My grandpa's second wife, Angie. She was a hateful woman. I don't believe in people being 100% anything, but she was pure evil."
"She had a collection of porcelain dolls in a corner of their house when I was very young, and she would always try to talk to me through them, giving each of them their own creepy voices. One time, I touched a Pillsbury dough boy figure on her shelf, and she swatted my hand with a metal ruler."
"She was in her 70s when I was a young kid, and I'm 30 now. I heard from my aunt that she's still alive somewhere near where she lived with my grandpa (which makes me believe she is some kind of hag witch) and that she's committed insurance fraud, like, a lot."
- LepreConArtist
Constant High-Alert
​"I was at a bar and this guy walked in and immediately it felt like I was on alert. My spine turned to ice when I saw his eyes look at me, they were almost sunken into his face as if he was peeking out from behind a portrait. He moved like a cat stalking prey."
"Over time, he made his way over to me and made polite conversation, but his words felt disjointed, almost like he was translating them before speaking them. There was nothing aggressive or insulting about anything he was doing."
"In fact, he was quite polite. but everything about this guy was setting off every nerve I had. He was even smiling through most of it, but it felt as if his lips were stapled back."
- Cyanora
Reverse 'Breaking Bad'
"When I was pretty young, I was hanging out with an older friend, and I found out one of her close friends from school became a high-ranking member of a cartel. He got cancer and was allowed to sort of 'retire' from the cartel to spend the last few years with his family."
"I met him at a party of hers...He was very polite, but I had no intention of spending more time around him!"
- xain_the_id**t
Soldier Vibes
"A dude who hung out with a friend of mine back in the 1980s was a Vietnam vet, one of the advance forces guys or whatever they called them."
"He looked like he could bite the top off of a fire hydrant."
- Earthling1a
A Good Egg. Or Rock.
​"A p**sed off Dwayne 'The Rock' Johnson."
"Let me explain A few years ago, I was part of a charity event with Power of Pain (a family friend who I call my aunt, Barby, owns the charity for neuropathy and other immune disorders), and funnily enough, we somehow got Dwayne Johnson as a guest (we had contacted him but didn't expect him to actually come)."
"He was a f**king great guy. Honestly, best f**king dude in the world."
"Anyway, after the event, a lot of us went to a Denny's down the road to celebrate, not expecting him to be there, though he was invited. He showed up like 20 minutes after we all got there and he was having a blast hanging out eating Pancakes."
"Unbeknownst to the rest of us, there was a domestic dispute across the Dennys, a couple who seemed like they were about to break up, but more like the guy was just an abusive a**hole screaming at his girlfriend the whole time and her just in tears."
"Dwayne caught wind of what was going on, stood up, put on his 'Rock' persona, and had a f**king screaming match with this guy. The guy was just receding further and further into his shell and eventually he just f**king left."
"Dwayne paid the girl's bill, helped her stop crying, and walked her out to her car. He then came back in with a smile and continued having a good night and finished his Pancakes."
"He's a beautiful, kind-hearted man, but if you p**s him off, he WILL make you s**t yourself. Remember, they call him 'The Rock' for a reason."
"Best night of my life. Moral of the story: Be nice to people, because if you're not, you may find yourself in a situation you just can't win."
- Ok_Experience_6877
It's easy to see how these are the people that Redditors viewed as the scariest and most intimidating people that they had met. Even if a person hasn't done terrible things, sometimes people just have a vibe about them that makes you think they have the potential, or at least the power.
Life can be viewed as a series of moments in quick succession each influenced by a preceding event.
At any given time, things can go awry, but somehow things manage to fall in line much like an elaborate maze of dominos.
But one misplaced domino can cause the whole rigorous set-up to come to an unsatisfying end–unless the faulty piece is corrected just in time before the domino in front of it squarely taps it.
If you've been lucky, a last-minute decision in your life has been properly adjusted to avoid catastrophe.

Curious to hear about close-call situations from strangers online, Redditor True_Egg_5685e_Egg_5685 asked:
"What split second decision have you made in your life, that if you hadn't made it you would have died?"
Life can be treacherous in the fast lane.
Unwarranted Lane Change
"Driving 80 miles per hour on a lonely interstate in the middle of the night. Decided to change lanes for no reason, and ended up missing a crumpled car in the middle of the lane I just left. It looked like a professionally crushed car that had fallen off of a truck. No light lenses or reflectors."
– Upper-Job5130

Unseen Obstacle
"I was driving through Dallas on I-20 at like 2am once and had a similar experience. No other cars, just me doing 80mph, and I just absentmindedly changed from the middle to the right lane for no real reason. Suddenly there's a blacked out sedan just parked in the middle lane, no lights on and no people in sight. I thought I was hallucinating, it happened so fast."
– glum_hedgehog
Why Coffee Is Essential
"Fell asleep at the wheel, woke up and corrected my steering without panicking."
"Drowsy driving is just as dangerous as drunk driving. Never again !"
– Nielas_Aran_76
T"his happened to me when I was in my late teens. I was burning both ends of the stick and was driving home from working and falling asleep. I remember it so clearly. Nodding off, waking and being thankful I didn't crash and then nodding right back off again. I'm amazed I didn't kill myself. I did eventually hit a divider and popped two tires. I must've been going very fast. I don't know why I'm not dead."
– boringcranberry

You never know when a pedestrian is where they shouldn't be. Or when a car is traveling where it shouldn't.
Wayward Wanderer
"I'm from Northern Ireland and my brother and I were coming home from a night out, he was the designated driver. We were doing 70mph on the motorway and he moved into the fast lane and missed a guy walking on the motorway, dressed in black, by about a foot. So scary 😰."
– garymason74

Reckless Driver
"Grabbing a middle schooler's backpack as she was about to cross without looking and staying on the sidewalk instead of crossing the road. (I was in high school at the time)"
"The reason?"
"The red car that had almost ran me over a few weeks before was barrelling down the street at high speed."
"Car zooms past at the moment the kid and myself would have been in the middle of the road."
"Same driver. I recognized the shade of blonde hair."
– MerryMelody-Symphony

These people survived a terrorist attack.
At The Time Of Signing

"Was in a bombing. Knelt down to sign something when the detonation happened. Glass shards were a hair away from killing me. The person who gave me the paper to sign technically saved me, they're fine too."
– PinkBedazzledLeotard

"Story time! My grandfathers family lived in Halifax at the time. My great uncle George was a newborn. They had him in his pram facing the window. For some reason my aunt went in and turned his pram around so it wasn't facing the window anymore, then she left the room. As she was leaving the room, the windows blew in. If she hadn't turned the pram he would have been shredded by glass."
– Lexifer31

These individuals continue counting their blessings.
Retrieving A Forgotten Item

"I went to ride my bike and almost forgot my helmet, I honestly debated grabbing it since I was only planning on doing a few miles; last minute I decided I might as well have it and then half a mile out I got hit by a car. Helmet was busted as hell but other than a concussion I was fine"
– SunfireElfAmaya

Narrow Missssssss
"Nowhere near as extreme as some of these, but I used to go for walks in a nature park right behind my neighborhood, usually with headphones. On one such walk, I happened to look down to see the foot I was currently stepping with was about 6 inches from coming down on a diamondback rattlesnake. It was arched back, ready to strike, rattle going, but I couldn't hear it over my music. Leapt back immediately and walked around it without issue, but holy crap, it gets my heart going just thinking about it."
– pownij
Life-Saving Maneuver
"I was caught in a bar brawl. Tumbled to the bottom of a crowd and was pressed to the floor when some psycho was on my back choking me. Couldn't move and couldn't breathe. I thought that was it. I was gonna die on the floor of a New Jersey nightclub. Suddenly I remembered a move my wrestling coach taught us to break grips. I found his thumb, folded it like a fist and squeezed as hard as I could. It cracked like a stick. I could hear him scream in my ear and he hopped off. I pushed up and swung my way out. I was choked so hard that both of my eyes were full blood red, no whites and I cracked a molar. That was a close one and who knows what would have happened if I didn't recall that one random move or if I never wrestled to begin with. Scary."
– Ghostface5000

A moment that still sends shivers down my spine was when I nearly avoided a head-on collision with an 18-wheeler that had been zig-zagging between the different sides of a busy street.
The presumably drunk driver was speeding and towards me and I had to decide whether to swerve into the parked cars on the street or steer the other way and risk driving into cars careening toward me.
I decided for the former and turned the steering wheel towards the parked cars, just as the truck clipped the back corner of my Nissan Maxima.
My vehicle spun 180, but thankfully, I managed to slam onto the curb where no cars were parked.
The semi-kept going. It was a hit-and-run. And I count my blessings that I live to tell about the fact that I didn't steer my wheel towards the left which would've had me on a collision course, head-on, into the semi.