Everything happens for a reason, right?
---
Director James Gunn was recently rehired to be at the helm of Guardians of the Galaxy 3, following the controversy surrounding his dismissal from the project.
However, Gunn cites the day he was fired as both the "worst" and "greatest" day of his life.
Gunn was fired from Guardians after a number of decade-old tweets by the director were discovered. The tweets consisted of jokes about pedophilia and rape, among other vile things.
Despite the fact that these tweets are ten years old, and Gunn had since apologized for writing and posting them, Disney still abruptly fired him.
Did not expect a response to this that was both genuinely self-critical and realized. A lot of "cancelled" folk dis… https://t.co/gG0O6jSHNg

— cam (@cam)1557941895.0
The concept of "cancel culture" is something that is very prevalent in our media these days, and it is always refreshing to see someone own up to their mistakes. That wasn't enough to keep Disney from very publicly letting him go.
Since then, Disney rehired Gunn, and he is back directing Guardians 3. In a recent interview with Deadline, the director spoke of the loss and gain of his career, and how he grew from that experience.
"I didn't want to look back and feel bitter, upset or angry."
"Of course all sorts of emotions are attached to it."
"But I just wanted to be comfortable saying goodbye and splitting up, and that's where my head was at, even in the very early meeting we had, a week or two weeks after it all happened."
the most important (and instructive) part of that James Gunn interview is this: "People have to be able to learn f… https://t.co/PYOs2nviQh

— britt hates (@britt hates)1557940706.0
Interesting interview. I was wondering when he'd get around to doing one. https://t.co/rmrjTSEbDE

— ZAK (@ZAK)1557940252.0
Gunn spoke openly about his mindset the day he was fired, saying that it was the most "intense" day of his entire life.
Though the good thing that came out of that was that he began to truly understand what it felt like to be devoted to his art.
"I think the one thing that is the most important for me from that day is this: I'm like a lot of people who come out here and want to be rich and famous, to have people love them."
"I am an artist first and foremost; I love telling stories, I love interacting with my characters, I love designing sets. But I'm also a guy who found what I thought was love, through people loving me, and through my work."
Hindsight is always 20/20, and it is possible for those who have been "cancelled" to grow into more self-aware human beings.
However not everyone agreed Gunn deserved another chance.
Re: James Gunn and his recent interview. When women and people of color talk about white men facing no consequences… https://t.co/9IC0mbV5II

— I lived Bitch!- 4/5 Starks (@I lived Bitch!- 4/5 Starks)1557954479.0
A wealthy white film writer/director/producer was inconvenienced for less than 48 hours and I'm meant to feel sympa… https://t.co/4SdP6IX3k9

— I lived Bitch!- 4/5 Starks (@I lived Bitch!- 4/5 Starks)1557954679.0
& for everyone who argued with your whole chest that those tweets were 10 years ago and not relevant, you are part… https://t.co/myvGuYB5Gb

— I lived Bitch!- 4/5 Starks (@I lived Bitch!- 4/5 Starks)1557954932.0
Girls are told to be mature and responsible the minute we can walk. POC are held responsible for how a white societ… https://t.co/gtdsdIGnmo

— I lived Bitch!- 4/5 Starks (@I lived Bitch!- 4/5 Starks)1557955140.0
I'm not accusing James Gunn of doing the heinous things he joked about. But the entire farce of consequences for hi… https://t.co/clqU0Wa468

— I lived Bitch!- 4/5 Starks (@I lived Bitch!- 4/5 Starks)1557955333.0
Gunn makes it a point in the interview to show that he had grown from the experience, and that's all we can hope for in situations like this.
He added:
"If we take away the possibility for someone to learn and become a better person."
"I'm not sure what we are left with. I've learned all kinds of things about myself through this process."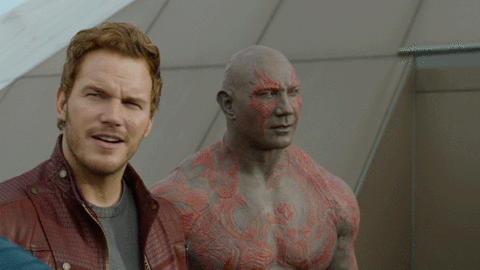 GIPHY