Dining and dashing is never OK but doing it and sticking a date with the bill? Really? That's a whole other level.
Multiply that by 20 and now you're looking at jail time.
Paul Guadalupe Gonzales went on dates with over 20 women who have come forward and accused him of skipping out on dinner, sticking them with the check. In Los Angeles, Gonzales became known as the Serial 'Dine-And-Dash Dater,' a reputation that didn't exactly help him when prosecutors began pressing charges.
Gonzales had an invariable M.O. He would meet women on dating apps, charm them, ask them to dinner at expensive restaurants, eat his food as quickly as possible (sometimes before they'd even arrive), then make an excuse to leave the table and never come back.
Now he's facing felony counts.
Los Angeles District Attorney Jackie Lacey's office issued a press release saying:
The defendant now faces a total of 11 felony counts of extortion, two felony counts of attempted extortion, two misdemeanor counts of defrauding an innkeeper by non-payment and one misdemeanor count of petty theft.

If convicted on all counts, Gonzales could see up to 16 years and 10 months in prison.

Inside Edition managed to track down Gonzales and confronted him in a Starbucks earlier this month.
True to form, Gonzales ran away, refusing to answer questions.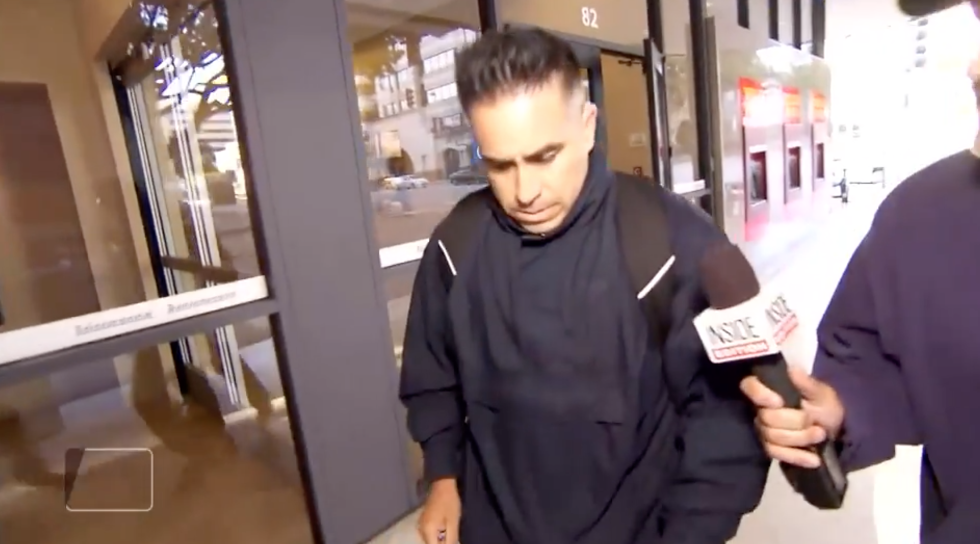 www.huffingtonpost.com
Some on Twitter were amused by the whole thing.
@washingtonpost Criminal foodie🤷🏻‍♂️

— Jeb44 (@Jeb44)1535554194.0
@washingtonpost I think I'd like my headstone to eventually read "Serial Dine-and-Dasher".

— Butter Emails (@Butter Emails)1535554182.0
@washingtonpost Eats away at me, this is so wrong

— John Nesselroade (@John Nesselroade)1535558397.0
But since this is 2018, some just had to make it political.
@FoxNews Type of guy that Trump would pardon!

— SafariCA. (@SafariCA.)1536545383.0
@FoxNews A rising star in today's GOP.

— manic monkey mind (@manic monkey mind)1536545364.0
@FoxNews Let someone else pay for it. Where's his Sanders button.

— James (@James)1536545459.0
PLOT TWIST: it turns out his dashing was not limited to just restaurants.
@calvinstowell @washingtonpost this bit gets me everything. god what a legend. https://t.co/xS269zV3N6

— Alexis "Bring Back Bunheads" Wilson (@Alexis "Bring Back Bunheads" Wilson)1535559021.0
Others were just happy to see justice being served!
@washingtonpost So long Mr. Dine Dash! Now have some prison delicacies, a cure for dine and dash disease 🤨🍴

— Annie Nevis (@Annie Nevis)1535556315.0
@FoxNews The cheat must be made an example for other cheaters and scammers like him . Absolutely, shameful behaviou… https://t.co/QV5ECT548l

— Wajahat Ullah Safi (@Wajahat Ullah Safi)1536547430.0
@FoxNews Good he better pay for ditching those dates and not paying for their dinner. Never heard of this before an… https://t.co/fYcsOKJlyd

— Chris Hodge (@Chris Hodge)1536546123.0
Gonzales's bail is set at $315,000, and, sadly, there was a large man named "The Baliff" who won't let him run out on the bill.

H/T - Huffpost, Washington Post