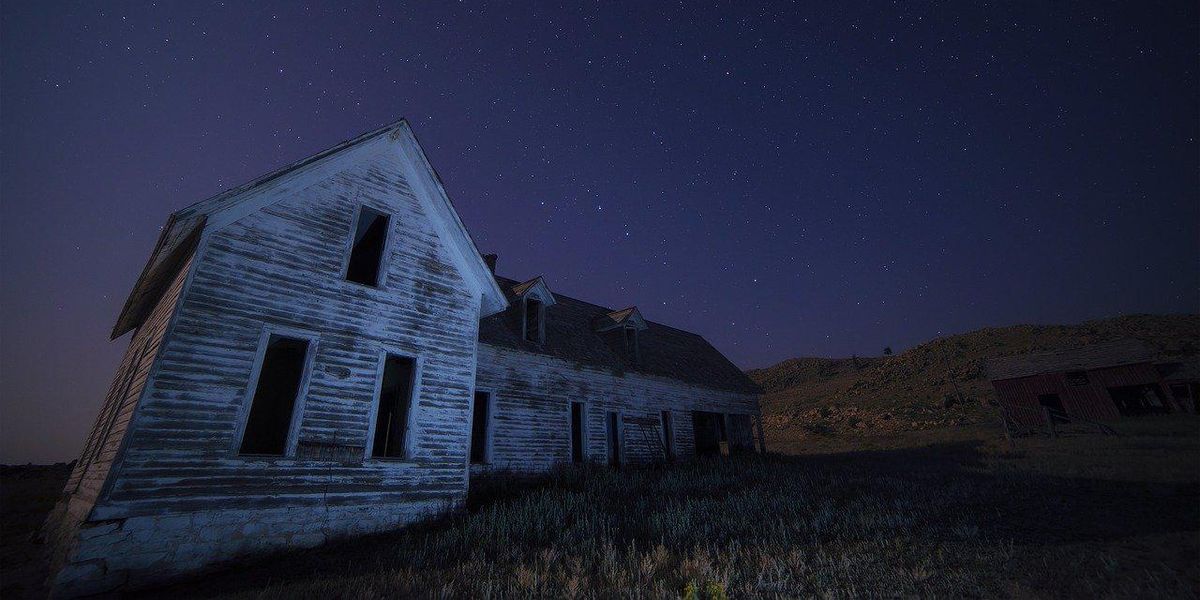 Image by Free-Photos from Pixabay
People are obsessed with hauntings and ghost stories.
Unexplainable phenomena remain a fascination for even for the timid. It's like driving by the scene of a traffic accident. As horrific as they are, people can't help but slow down and look.
---
This is why ghost hunting shows remain popular. Audiences in general like being freaked out.
But the real horrors that keep me up at night are the ones perpetrated by the living.

Curious to hear about hair-raising anecdotes, Redditor Napalm_Nancy_Yeet asked strangers online:

"What true, non-paranormal story gives you chills?"
No ghosts or murderers here, but these stories are creepy, nonetheless.
Incognito Photo-Bomber
"Seeing that photo of the guy hiding in the trees. The kid took a selfie on a mountain trail and sent the pic to his family then went missing. After closer inspection they noticed there was a guy crouching down hiding in the trees behind where the kid was.... On this trail that no one was supposed to be on..."
Undiscovered Body
"A guy was sleeping on top of fridges at a grocery store trying to hide from work. He fell between the wall and one, and died there. Nobody knew where he was until his rotting body stunk up the place."
These tragic stories are nightmare-inducing.
The Fight For Survival
"Alive. Bunch of kids survived a plane crash but couldn't get out of the mountains. Wound up cannibalizing each other. A few were eventually rescued, their stories are harrowing."
The Drowning Girl
"The story of Omayra Sanchez. Don't look it up if you are sensitive. She was a kid that got a feet trapped under debris during a flood and was imposible to rescue. They could interview her while was slowly dying of infection and hypothermia."
What criminals are capable of are far more haunting than any spooky specter.
Stalker
"The story of Daniel LaPlante. There's quite a bit of information so I'll try to sum up the creepiest bits."
"Daniel met a girl named Annie and took her on a date or two. They talk for a while but eventually, Annie found him to be a bit creepy and dumps him. He continues to stop by the house uninvited but quite sneaky about it. He'd tap on windows and stuff, get Annie and her sister riled up and scared. They'd try to convince their dad someone was out there but he was often working and didn't hear or see anything."
"So one night, the two sisters went to the basement to do a seance, trying to contact their mom who had died somewhat recently I believe. They hear tapping on the walls and run up stairs. All is well for a while, but the tapping and knocking continues. It comes from all over the house and they can't figure out why."
One night, dad finally heard the knocking and investigated. He opened a closet door to find Daniel standing there with a knife or machete. That's scary enough but Daniel was also wearing his late wife's wedding gown (I think make-up too but not sure). Dad fought him off and he was finally arrested. If that isn't weird enough, they found out he had been moving around, even spending the night INSIDE the walls of their house. That's how he'd watch them and it explains the constant knocking from all over.
Prior to this incident, he had assaulted and murdered a pregnant woman and drowned her two children.
I left out a fair bit of details and maybe the timeline is off but I'm telling this from memory.
The Bedroom Watcher
"A few years ago in Saratoga NY there was a guy who would break into people's houses just to watch them sleep. Never took anything, just watched people sleep. They caught him, but it apparently really messed with the minds of the victims. Saratoga Sleeper Creeper."
Laundry Man
"When I turned 18, I got my first apartment. I started using the laundry down the street. I noticed the owner would show up within 10 minutes of my arrival. Didnt matter what day or time. Always trying to chat me up, drive me home etc. Creeper dude. One day, a man I didnt even know was there and yelled at him for staring at my clothing in the dryer while touching his hand to the door. He was staring at my panties. It was so uncomfortable, I began to take my laundry back to my parents."
"About 10 years later, scrolling FB, i see an age progression for a teen girl who disappeared from that laundry, a week before I began going there. I never forgot how scary he was, and would have remembered any missing child posters or even newspaper articles because I was a daily reader then. Turns out, this guy is the only suspect, also lived across the street from me so it explains why he always arrived when I showed up. I had to walk past his place with my clothes."
"She's never been found."

The Paroled Rapist
"A paroled rapist and his wife abducted an 11 year old girl and assaulted her on a weekly basis, even forcing her to give birth to two children. All throughout this time he was being monitored by parole officers and psychiatrists who praised him for his supposed rehabilitation and even tried to have him taken off parole several times, unaware that he was holding three people captive under their noses."
"This went on for eighteen years until he was finally caught when he brought his daughters-by-rape to a campus and the police officers reported it to his parole officer."
The Netflix docuseries, Don't F**k With Cats, seriously kept me up at night.
Witnessing a twisted psychopath's gruesome torturing of animals ​was disturbing enough, but it turns out his social media stunts were only the beginning.
The three-part series, while being a well-produced show, wound up being the creepiest thing I have ever seen.