People Share The Craziest Thing Their Boss Has Ever Asked Them To Do
There is a fine line between doing your job and being asked to an accomplice.
I can't tell you how many times I've looked at a supervisor and thought... "Who did you sleep with for this job?"
Some bosses have no boundaries.
And what may sound like a simple favor or just part of your job description is actually nonsense.
Nonsense they gaslight you into doing.
I know we all have stories...
Redditor thekutsiwanted to hear about all the workplace lunacy a higher up has caused. They asked:
"What's the craziest thing your boss asked you to do?"
---
I wish some bosses could hear themselves when they speak. They'd be shocked.
Dumped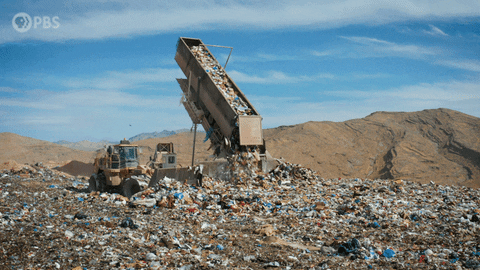 I Am Trash GIF by PBS Digital Studios
Giphy
"My old shop owner used to have us techs pour coolant down the toilet instead of disposing of it properly. After enough of us raised a fuss he started dumping it in the street himself."
Led_Halen
The Bell
"I used to work at Taco Bell and on the receipt there was a little online survey at the bottom. My manager told me to go through the trashes to find receipts that people had thrown out so that we could fill them out ourselves so our store would get a better rating. I was a stupid 17 year old so of course I did it. We used to give ourselves perfect reviews all the time actually."
ha1fway_decent
On Fire
"Used to deliver pizza for Domino's on an e-bike. The e-bikes we used had a bunch of wiring underneath the saddles. One day the wiring caught on fire while I was delivering an order, so the fire started burning underneath my bum (also obviously the batteries stopped working so it became very tough to ride the e-bike)."
"Asked the shift manager of that evening if I could get another e-bike to use for the rest of the evening. He told me 'as long as you're not on fire yourself you're using this e-bike.' Quit my job shortly after that."
NOOWOFFICIAL
Labor and Delivery
"At the beginning of Covid, most of our pregnant patients were staying at home and not coming to the hospital for minor things such as mild abd pain, UTI, STD checks, etc as they had before because they were scared to come to a hospital. Our census obviously dropped."
"To try to get the census back up, our managers told us that if a patient called asking whether they should come to the hospital or not, we were supposed to just tell them to come no matter what their complaint was, even if it was something that they absolutely did not need to come in for."
"I refused to do this so I'd just transfer any calls to my charge nurse and let them deal with it. Let's bring an already immunocompromised pregnant patient to the hospital in the very beginning of an unpredictable pandemic for something they don't really need to come in for, sure. Smh."
okitay
Minted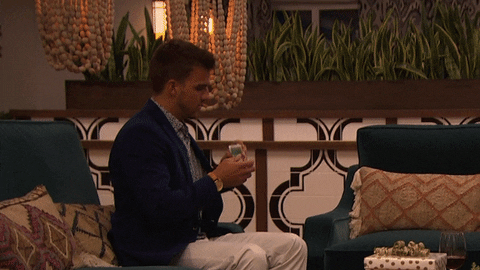 Eating Fast Tic Tac GIF by The Bachelorette
Giphy
"I had a boss at a fine dining restaurant that would check to see if all his staff had breath mints and then he would make us buy them and if we didn't, it would be deducted out of our paycheck."
Relative_Elderberry1
Hospitality bosses can be meglomaniacs. They are obsessed, it's unhealthy.
Not an ATM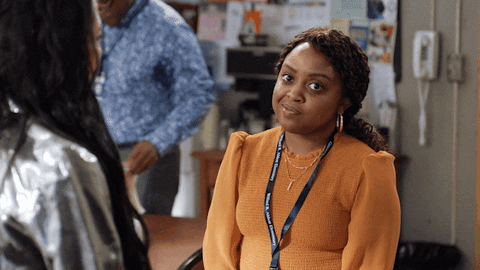 Okaay What GIF by ABC Network
Giphy
"Worked at a convenience store and my boss actually asked me if he could borrow $1000 to pay for part of the beer delivery because they wouldn't have enough. Quit not long after that."
baconpoutine89
Mighty Winds
"Used to deliver for Papa John's. One night the weather was cuh-razy, tornado warning and constant lightning/winds. They kept taking orders. The winds were so bad they kept pushing my car out of my lane. One driver was so close to a lightning strike that he was visibly shaken and disoriented when he somehow made it back. They let him sit and recuperate in the manager's office for awhile, but we still had to deliver orders."
No_Extension108
No Thanks...
"I was called to cover for a temp who quit on the spot off hours. I responded that I already was 2 whiskeys in and didn't want to get into my car to drive to the site. He responded that since I was coherent enough to have a conversation with him I was ok to make the 30 minute drive to the office. I told him I wasn't about to risk a DUI for him and hung up."
User Deleted
Hell No
"A long time ago I worked at a grocery store. They decided to no longer get the cleaners that came in with special gear to clean out the compactor, presumably to make extra money. The compactor began to stink to high heaven. I'm talking rotten meat, produce etc. So they asked me to climb inside and clean it. I laughed at them and said no."
"I told all my co-workers to say no. One did not listen and went in and cleaned it, he had to go home because he stunk so bad and reeked for days afterwards. There is a reason a specialist comes in to clean it, wears a Hazmat suit and has the machine disconnected with another person standing there making sure no one turns it on."
MorkSal
you'll figure it out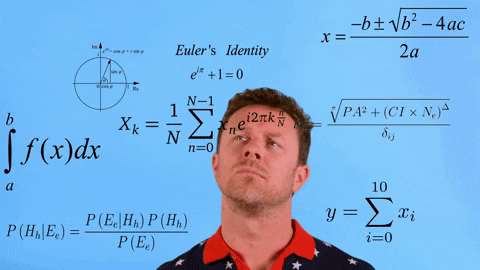 Looking Let Me Think GIF by TipsyElves.com
Giphy
"Run a nursing home laundry room with no experience and no training. I didn't even know how the machines worked. Industrial laundry machines are not like your home washing machine. The extent of my training was having an under qualified supervisor telling me 'you'll figure it out.'"
rosesforthemonsters
"clean up"
"Worked at a sh**ty college town pizza place that paid me $5/H plus tips under the table. It would get insanely busy on days when there were football games and boss required all hands on deck. 12+ hour days were not uncommon when there was a game."
"I got to the store at 10am (2 hours before opening) and worked until 3am the following day. By the time 2am rolls around and the crowds finally die down and we start closing shop and cleaning up, my boss pulls back the entire front counter (which was on wheels) to reveal dozens of little roaches scattering everywhere."
"He gave me a broom and told me to 'clean up' the roaches. I waited for him to go out back to smoke his cigarette, I took everything from the tip jar, and left. Never went back."
ArtFreek
Shark Bait
"My boss had me put together a remote control inflatable shark in a closet in secret. I work in a sales office with a pretty fun culture (well now I'm mostly remote and it's actually a lot less fun ). I have no idea where they sound this shark but he had me put it together in the marketing departments closet to surprise everyone."
"It actually was very hard to get together so the most ridiculous part was the amount of actual work I was missing. And had to grab my boss for a 2nd set of eyes like 3 or 4 times."
imlittleeric
Little Floofs...
"Ex boss. He asked me to kill a litter of kittens by throwing them over an embankment. I was driving the front end loader over to a pile of bark chips that we had covered up for quite some time. I pulled back the plastic cover and see a fuzzy grey pile. It turned out to be a fresh litter of kittens (eyes haven't even opened)."
"I phoned it in to my boss and he said that there was no time to help them, and to just toss them over the embankment because we had customers waiting. I scoffed, hung up the phone and immediately called my girlfriend to come pick up the little floofs to take them to the local shelter."
"He's an ex boss for a reason. Honestly I was not surprised that he asked me to do that. The dude was a complete f**king prick. He's confided so much nasty crap to me that I could write a book. I found a picture of the little ones that I took before they were rescued."
PopGunner
'on call'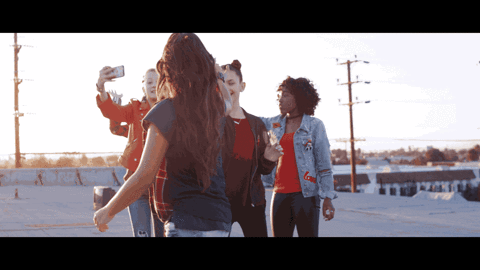 dance girls GIF by L2M
Giphy
"Would we like to go 'on call' (for free) if the one person scheduled for the Saturday shift needs help or calls in sick. A weekend away for a team building exercise paid for by ourselves, including travel, accommodation, food & expenses. In our own time. No thank you."
markste4321
4 big jugs...
"My boss at a grocery/retail store told me to pour 4 big jugs of this industrial glass cleaner down the sink drain in one of two public washrooms, they've been in the back so many years one chewed through the plastic and melted all the paint off the shelf, honestly don't know how I didn't damage my vision with the chemicals in the air, long story short I ended up with a few chemical burns on my arms and hands with not as little as an apology."
IMakeBrew
Keep it Running...
"Worked at Disney World at Space Mountain for 4 months on an internship. Long story short one day we found a LOT of human crap in the waiting line. After we made the appropriate calls to have it cleaned up the supervisor that was there told me not to stop the line and keep the ride running."
"After the supervisor left I immediately called the front of the line and told them to stop letting people in. Same supervisor also told me I 'should have kept the ride running' one day after I hit the e-stop in the unload area because I heard what only could be described as a tank of CO2 breaking open any time I sent a cart through."
Spoonerx2
"ghost"
"To jump into a cardboard compactor to un-jam it."
LoganEpp
"I had a manager who used make fun of me because I emphatically said no to doing this exact thing. Absolutely the f**k I will not. They went on about safe guards and how i wouldn't get hurt, or I was afraid of the 'ghost' in the compactor. No, but malfunctions do happen, all the goddamn time. No. I won't do it."
Overnights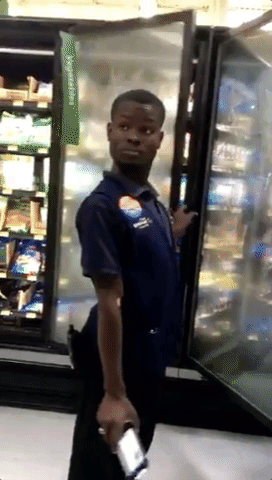 come again over it GIF
Giphy
"I stock overnight at Walmart. The average speed 1 pallet of goods takes to stock is roughly an hour and a half for the dairy section when you work on it by yourself. My boss asked for it to be done in 20 minutes."
XarumeR
Disgusting...
"I worked at an independent retailer. The owner pocketed a lot of money and never wanted to spend anything. We had a massive rat infestation. Instead of getting help my boss had me create a position just for wiping rat pee and crap off of beer six backs before being put out."
BusConfident1756
Mascots
"Dress up in an animal mascot costume and snowboard down a slope because the usual guy had got messed up drunk the night before and they were worried he was going to vomit inside the costume again. I'd never been on a snowboard in my life."
FormalMango
I hate bosses. Except the ones here on this website.
Want to "know" more?
Sign up for the Knowable newsletter here.
Never miss another big, odd, funny or heartbreaking moment again.

Reddit user Abby1006 asked: 'Have you ever "broken up" with a friend? Why, and what was the aftermath?'
Some people remain best friends with the same friends they made in preschool, or earlier.
Other friendships fade away, as people move on with their lives and lose touch.
But even if these people don't see each other as often as they once did, they would still likely consider themselves "friends", and would be happy should their paths ever cross again.
There are some friendships, however, which do not stand the test of time.
What's more, in some extreme cases, these friendships ended because of a very pointed decision by one or more people.
What some might even consider a "breakup."
Redditor Abby1006 was curious to learn why some people felt the need to break up with close friends, and what happened after, leading them to
ask
:
"Have you ever 'broken up' with a friend? Why, and what was the aftermath?"
Not The People They Once Were
"I stopped hanging out with all my friends because they all changed."
"They were nothing like how they were when I met them."
"I looked at them as my brothers but they've become what we all swore to never become and dragged me into it."
"Nothing but doing drugs, selling drugs, robbing people."
"I just decided to walk away before I became exactly like them and moved on with my life."
"I wish they could be how they once were but I know that isn't gonna happen."- SuddenCheesecake3273
Lack Of Reciprocity
"Yeah I realized my 'Treat others the way you want to be treated' approach was one-sided."
"I helped someone through some real rough patches, and when I went through some dark times they were nowhere to be seen."- fuifui_bradbrad
"Pretty much all of my high school friends and some other friends I met through work or mutual friends."
"I kept feeling like it was a 'one way' friendship."
"I would be the one texting them to hang out but I would never get texts from them to hang out."- GoldenGod48
Unervalued

"I recently cut off my childhood best friend because he views me as an ATM."
"I don't care about money."
"If I can help someone out, I will with 0 hesitation, but I refuse to be taken advantage of."
"My breaking point was when he was finalizing his wedding party and told me that I was a backup groomsmen in case anyone cancels."
"We've known each other since we were 10 years old and have always kept contact even when he moved away, but I'm not important enough to be one of the first people considered to be there."
"During that same conversation, he said that he'd still expect me to attend and hinted at wanting a cash gift from me."
"We haven't spoken in a couple of months, and I hope that trend continues for the foreseeable future."- morganfreenomorph
No Room For Negativity
"Had a buddy in school who was a really nice guy but the absolute most negative person ever."
"Everything was bad and awful, never ever stopped complaining."
"Walked into the library - too cold, walked outside, too hot, standing in the atrium - windows 15 feet up were dusty, lights inside were too blue but the wooden desks made things too yellow."
"Never stopped."
"School was stressful enough and eventually I changed my study group and location so I want around him and I just felt a whole lot better and light and happy."
"Sometimes you have to be selfish and say that if things/people aren't making your life better, cut them out."- Dr_D-R-E
Manipulative Influence

"Man I'd called my brother since we were 5 (we're 28 now)."
"He was one of the cool kids and stayed my friend (the socially awkward weird kid)."
"Joined the marines after school, came home, and met a girl who had a kid."
"We drifted apart here and there from 21-25 but still kept contact and hung out once in a blue moon."
"I asked him to be my best man."
"He obviously said yes."
"His S/O didn't like me."
"At the time, I didn't know why."
"My wedding starts to near, i text him telling him we REAAALLLY need to go get fitted for tuxes, get a text a day or so later essentially saying he was out because of xyz."
"This was very out of character for him."
"Time passes."
"My wife and I celebrated our 1st anniversary."
"I'm outside doing stuff in the driveway, a guy that i don't even recognize walks up."
"It's him."
"We talk for a minute, and he starts breaking down, grabbing him, and we go inside."
"We talked for a while. In short he was at a mental breaking point, constantly manipulated by his now fiancé, wont let him get a job because 'she needed him at home to help her anxiety'."
"I offered him an out, gave him a place to stay as long as he needed and gave him a vehicle to drive in the mean time."
"Offered to get him a job with a good friend of mine."
"He stayed with me for a couple of days, his SO shut his debit card off, shut his phone service off, etc."
"But she would turn his phone back on to torment him."
"He came and went from my place a couple of times over those next couple of months."
"But he was stuck in an abusive relationship."
"He kept going back to his abuser."
"Telling me shed claim I did all sorts of stuff."
"Then i came home, and he and his stuff were gone."
"I texted him a day or two later, just saying, 'You good buddy?'"
"Got a text back saying how 'he couldn't hang out with me anymore and didn't like how we talked about SO when we were together, and how awful it was that we would ever do that'."
"This was written by his SO without a shred of doubt."
"The last thing I texted him was 'I don't know if i believe all that based on our conversations, but like I've said 100 times, I just want you happy and healthy if thats what it takes, then thats what it takes, you know where I'm at if you need anything, love ya dude'."
"If you're out there brother, if you read this, I miss the f*ck out of you."
"I worry about you regularly."
"Stop by, please."
"F*ck you Kaitlyn, i wish nothing but the worst for you."
"You're a shrewd cold woman and do not deserve the man or the perfect life you plaster on social media."- Theebalz106
Who Was Bringing Who Down?
"Had a buddy who was hanging out with some guys at coffee shops and they'd discuss philosophy, poetry and current events (we were in our late 20s)."
'At any rate one day he gets a call from one of the guys and my buddy asks me to go with him and we'll grab a bite afterwards."
"So we walk in and the guy is seated in a chair facing the couch."
"I jokingly asked if this was an intervention."
"Guy proceeded to tell my friend that they could no longer be friends because he needs people who will elevate him."
"In the midst of this very snarky monologue my friend looks at me and smiles awkwardly and was like 'you hungry?'"
"We stand up and leave."
"My friend is a now a c-suite employee and that guy who 'broke up' with him is still working a min wage job, been married several times and is barely holding his life together."
"Was just so...random."
"I can still remember the room and what we were wearing and the look on my friend's face when he realized what was happening and we left."- Ok-Bus1716
Friend, Not Servant
"My dear friend dumped me because I couldn't do her anymore favors."
"She pushed off my visit a couple of times so I just quit trying."
"I almost lost my job because I had to pick up her daughter from school."
"I told her I couldn't do it anymore."
"Kind of relieved because I was tired of always doing favors."- GingerJanMarie
Sadly Inevitable
"I got into a fight (over text) with a friend whom I had been walking on eggshells around for years."
"Unfortunately my best was involved because she was a part of the group message."
"My best friend didn't talk to me for months."
"It broke my heart."
"The other friend as soon as I cussed her out and blocked her I felt a weight lift from my shoulders."
"My best friend eventually started talking to me again."
"So a happy ending."- Lazy_Enthusiasm25
"Best friends from elementary school through college (my college not hers)."
"Found out in college that she was lying about things to take advantage of me financially."
"My grandparents had left me some money that should have paid for my entire college including living expenses."
"Instead I worked through college and lived with my parents and also took out student loans."
"For instance I paid her rent for an entire year before she got evicted anyway because she was blowing the money I gave her on random stuff."
"While I was helping her clear her stuff out before they changed the locks I overheard her parents comment about how they had been paying her rent this entire time too."
"Or once she came to borrow money from me at work saying she bounced a check at her job and she was going to fired unless she paid it back."
"I got off work to a message from another mutual friend saying that they had gone to the movies and seen something we'd planned to watch together then clothes shopping but we could go see something else that weekend."
"She never did cover the bounced check and did lose her job and get a warrant out for her arrest."
"It wasn't just me it was everybody she did this to."
"Like at one point, she lived with her mom who was supporting her 3 siblings, and took the mom's car overnight and used an entire tank of gas to drive to another town to go clubbing, and the mother had to beg a neighbor for enough gas money to get to work."
"She also dropped out of college the first week of the first semester but never formally withdrew so her parents were still on the hook for the entire semester of fees, and she had a 0 GPA."
"I finally told her that I wouldn't give her any more money or pay for her when we went places."
"If she wanted to be friends, she needed to pull her own weight."
"Shortly before the fallout, I'd introduced her to my cousin who was bemoaning his religious gf's unwillingness to 'put out'."
"Within 2 weeks she slept with my cousin then told him she was pregnant and he needed to do the right thing and marry her."
"Once he told his parents they were engaged she told him that she lost the pregnancy but he couldn't call off the engagement without telling his super religious parents that the whole thing was because of a pregnancy scare."
"They did end up getting married."
"She talked him into enlisting in the military since she had previously commented about how unfair it is military wives don't have to work, that supporting their husbands is their only job."
"They've had 3 kids she does nothing for, her mother moved in to take care of them for her and his parents supplement his income so they can afford housing."
"She hasn't held a steady job since they've been together."
"So I've been avoiding him and her both for 15 years and get all the drama second hand from our mutual cousins (and his sister) who all hate her!"- misoranomegami
A friend is someone who is always there for you, and who you'll always be there for in return.
Any friend, however, who only brings you down is not a friend at all.
And sometimes, the only way to forgive and move on, is to let go.
Living with someone isn't always easy. It can take a fair amount of patience and consideration to get along with another person. However, there are some roommates and living situations that are so difficult—so toxic and bizarre—that the best thing to do is pack your bags and get out fast. Buckle up, these nightmare roomies are the absolute worst.
If you went to elementary school around the same time I did, you learned that there are nine planets in the solar system. Then, in 2006, it was decided Pluto did not fit the bill when it came to requirements for being a planet.
Suddenly, there were no longer nine planets in the solar system. There were only eight.
The solar system having nine planets is an outdated fact, since it used to be fact, but is no longer true. This happens quite often.
We learn something, accept it as fact, and then its disproven and becomes outdated.
A lot of what we learn in school are considered outdated facts. We learn a lot of things that aren't true, or were true at one point, but aren't anymore. Redditors know this all to well and are eager to share their stories.
It all started when Redditor BiAdventureTime asked:
"What's an outdated "fact" that you were taught in school that has since been disproven?"
The Perfect Diet
"The food pyramid"
– Froticlias
"I have a clear memory of a grade school health teacher telling us that we were only supposed to have 1 gram of fat per day. She held up a packet of 2 Reese's Peanut Butter Cups which has like 5 grams of fat in it, and we asked if we'd have to have 0 grams of fat for five days in order to have that, or just eat a sliver of one peanut butter cup."
"Super bogus stuff. I know it's not healthy to eat peanut butter cups all day, but your brain needs fats to live."
– weenertron
Bird's Eye View
"You can see The Great Wall of China from space (ISS)"
– azazeLiSback
"This was always a weird one. The Great Wall of China is long but it's not that wide. If you could see it from space surely you'd be able to see roads and smallish buildings so it wouldn't be that impressive."
– AP246
"I didnt believe you. Googled it. You were right. This should be the top comment. That lie has been so ingrained into my brain. Wow."
– Boomshockalocka007
Crack, Crack
"Cracking your knuckles causes arthritis"
– MosesOnAcid
"This is a reminder that your knuckles are reloaded, feel free to crack them now."
– Crisis06
"I've always liked the story of Donald Unger, a doctor who cracked each knuckle on his left hand (but not his right) for 60 years to see if it contributed to arthritis (it didn't)."
"He won an Ig Nobel prize for it:"
– JinimyCritic
Before Smartphones
"You won't always have a calculator in your pocket"
– bread_makes_u_fatt
"That's actually true. Sometimes it's in my hands"
– dfreshcia
Bitter, Salty, Sour, Sweet, Savory
"Tastebud zones on the tongue."
– GrilledStuffedDragon
"I argued with my science teacher in 4th grade about this. Even to a 9/10 year old, this made no sense. She went to cafeteria and got some salt packets and sugar packets. We did a blind taste testing experiment. In the end, she had us draw an X through the picture in our science books. I have SOOOO much respect for teachers that can admit they are wrong. All people really, but especially teachers"
– whovian5690
Revolution!
"I was taught that Mercury was the hottest planet. A student corrected them on a national level and they changed how it was taught."
– KaJashey
Just Say No
"They told us that smoking one "marijuana cigarette" was equivalent to smoking 20 cigarettes and was 10X more carcinogenic."
– Jeramy_Jones
"We were also told that if we tried weed, we'd also want to try other drugs."
– Sadimal
"This is a hot frying pan. This is an egg. This is your brain on drugs.. sizzle, sizzle, sizzle."
"Holy crap, I was immediately convinced. /s"
– MsMisty888
Centimeters, Not Inches
"The US will be using the metric system in 10 years."
– Merrybee16
"I can remember being in 2nd grade, and one day the teacher stopped class for us to listen to the principal read this very serious speech over the PA system announcing that the metric system was coming. For some reason we all thought it was changing that day, and that there was a test after. Seriously, some kids cried. This was in the 70's…lol."
– Speakinmymind96
"The reality is that the US will be using the metric system in 12 and 5/8 years."
– ClownfishSoup
Blue Bloods
"Blood is blue in your veins, but turns red when it hits oxygen. Idk if it was really a fact then or been disproven but I've learned it's not true."
"8th grade health class teacher taught us that."
– ninreznorgirl2
"Such a weird myth. It seemed fishy to me even when the teacher was telling us this is in second grade."
"Seems like a logical leap someone made because they looked at their arm and saw blue veins"
– mothwhimsy
"Our veins are blue simply because of the light spectrum."
"I can't remember the exact reasons, but it's something to do with blue being one of the colours that isn't filtered by our skin as well."
– Drakeskulled_Reaper
"This is one my mom told me my whole childhod and I didn't question. I believed it until as late as the 9th grade. There, in basic biology class, my teacher stated like it was sooo obvious that everyone knew blue blood was just a myth, and she was like "Nobody here thought that right?" I didn't raise my hand. I just stayed silent."
– RamenTheory
Cause and Effect
"Growing up, I was literally led to believe (and definitely not the only Black person), that Eli Whitney, inventor of the cotton gin, was Black."
– yhpargotohpts
"Not to mention, his invention of the cotton gin reinvigorated the cotton industry, which in turn reinvigorated slavery, which was starting to fade a bit because the labor of cotton wasn't worth it. With the cotton gin, they could process a lot more cotton, and slavery became worth it financially again."
– VillageSmithyCellar
"I was taught this as well. The Cotton Gin helped rid the US of slaves because they no longer needed to pick out those pesky seeds by hand."
"Nope. Made slavery more profitable. Larger profit margins = more slaves."
– Hoopajoops
Hand Me The Screwdriver
"The difference between man and animals is that animals don't use tools."
"Myth busted."
– tikivic
"Chimpanzees have entered the chat. And capuchin monkeys. And crows. And octopus. And sea otters. And..."
– Agreeable-Damage9119
20/20
"Carrots help vision. "
– waconaty4eva
"Carrots do technically have some things on that your eyes need. But they do not improve your vision. I believe it was a rumour started by Britain so the Germans didn't realise we had radar."
– Donut_Klutzy
Rarely True
"I before e except after c"
– Horrorbmoviepunk
"Unless your feisty beige foreign neighbor invites you on a heist."
"Edit, missed one......invites you on a sleigh heist."
– NetDork
"…except sounding like "a" as in "neighbor" or "weigh," except for eight exceptions including weird."

– spiderwebs86
Steer Correctly
"I was taught that you put your hands on the steering wheel at 10 and 2. My teen daughter learned this summer to put her hands at 9 and 3 in Drivers Ed. Apparently it's safer if/when air bags are deployed."
– TraaashTVaddict
"A lot of drivers education programs are starting to teach 8 and 4 now."
– AgentOOX
"Can't wait until they finally get to my preferred "one on six, the other f**king with my radio.""
– Dogstile
The world is always evolving and changing, so education must too.
Are there any "facts" you'd like to debunk? Let us know in the comments below!