Couples Reveal How They Overcome Awkward Obstacles In Their Relationships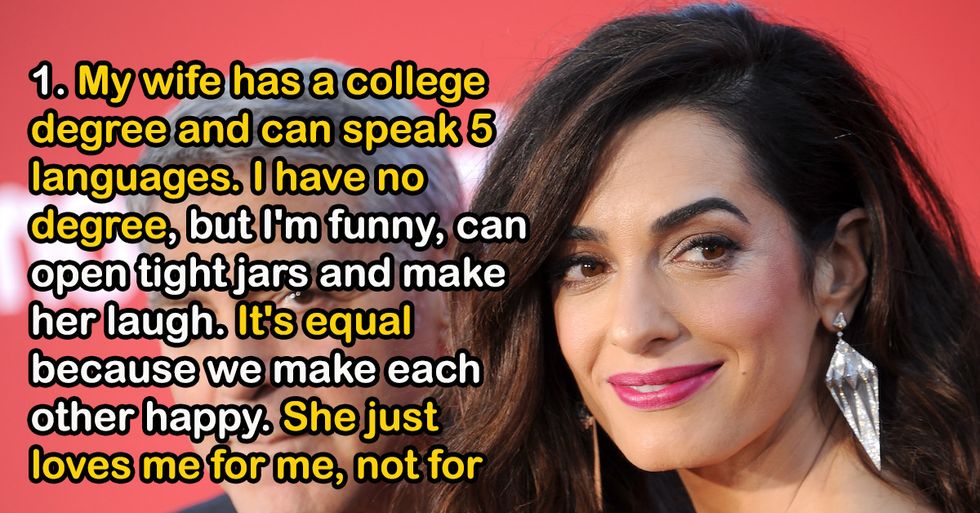 Team Players
[rebelmouse-image 18347565 is_animated_gif=
dam=1 expand=1]

I have 2 degrees and work as a lawyer. My husband never finished uni but has a job that he loves. He's a great father and husband. It doesn't really matter that I earn more than him because it's all just family money. We're both working hard and supporting each other and our kids.

Finding someone that you respect as a person is way more important than the status bullsh-t of degrees and cash. I'd take my husband over a hundred high earners. Just because he didn't get a piece of paper doesn't mean that he's not intelligent, and just because he doesn't earn as much doesn't mean he's not successful. Without his support I'm sure I wouldn't be where I am.

Just find someone who wants to be in your team. Forget keeping score.
The Shared Plan
[rebelmouse-image 18347566 is_animated_gif=
dam=1 expand=1]

I think being fair and honest with each other and taking care of which areas of the relationship you are better suited/equipped to do. The whole idea of a relationship to me is that you're better off combined than as individuals.

For example: in our relationship I work in IT and she's a teacher. I make four times what she does so we split all bills etc. by that ratio. She contributes in a meaningful but manageable way. I pay for most of the "extra" expenses (e.g. holidays) and I bought her a laptop, but she doesn't feel like a kid as she's still involved in the majority of "living expenses" expenditure (and it's not my home, it's ours).

Alternatively, she's at least 374 times smarter than I am and far better educated (bilingual with a top-tier Uni education). She makes the decisions around things like housing (her dad's an architect so she knows what's what) plus things like education for our future kids, as that's obviously an area she knows far more about than me.

The guilt of me knowing she works longer hours and is smarter but makes way less than me is a bit hard to stomach sometimes. I was lucky to fall into an industry which is in demand and has good rewards. We were both pretty poor when we met, so that helps.

Overall though, we have a shared long-term plan - the details of how we get there are less important. My success is her success, and vice versa.
Mutual Respect
[rebelmouse-image 18347567 is_animated_gif=
dam=1 expand=1]

I have a doctorate in my field and make almost 200k more than my husband yearly. He helped me get through school and pretty much raised our children on his own while I climbed up the ladder. It wasn't just my achievement, it was ours. I don't know many men that would have sacrificed as much as he did. Our marriage is strong because of mutual respect and admiration. If that doesn't exist, I don't see how the relationship can work.
Achievement Is Not A Factor
[rebelmouse-image 18347568 is_animated_gif=
dam=1 expand=1]

She has a very technical degree in a small field, and so she makes approximately twofold as much as I do. Fortunately, all that means is we, as a couple, do alright. Personal achievement isn't a defining factor in our relationship. What we do at work, what we did during school, personally, wasn't really a part of who we are. It's actually kind of weird to think that other people might view that as 'alien'.
Treat Them Like Your Equal
[rebelmouse-image 18347569 is_animated_gif=
dam=1 expand=1]

I make 2x what she makes. She refuses to let me pay her half of stuff so I'm basically just saving half of what I make because doing stuff alone is boring and I have to fit her budget. Lucky for her I love her so she is just saving for retirement by making me save. (She loves her job so I'll probably retire at 60 and do my own projects while she keeps working.)
Find Common Ground
[rebelmouse-image 18347571 is_animated_gif=
dam=1 expand=1]

I'm a cook. She's a doctor. We are both intelligent, share the same interests and love each other as people. Also, there's honestly more in common between the ER folks and Kitchen folks then I would have ever imagined. Both professions drink and smoke too much, cuss too much and generally f-cking hate people.
Complements
[rebelmouse-image 18347573 is_animated_gif=
dam=1 expand=1]

It's a partnership as much as a relationship. Love can't keep you together, but honest, kind, communication can. Part of being a partner is absorbing your partners bad days, and helping celebrate success.

My wife has a Phd. I have a high school diploma. She works for a really great job. I'm a stay at home dad. She's always out earned me (rightfully so. I'd be upset for her if I were making more in retail than she is with a phd).

I never put much thought to it. In her field she knows her sh-t inside and out, as you'd expect. But she can't cook, clean, or do yard work for sh-t. To the point I can't wrap my head around it. How you do char boiled eggs? Our talents and success are ours, but they complement each other. Even if we weren't married, we would be a good team.

Honesty it's only as hard as maintaining a happy marriage. Not that it's easy, but you use the same tools.

If you do feel resentment, you're gonna have to learn to let it go. Do that by finding out why you have resentment. Once you find out why, you may find out you can't ever change it and the opportunity you're pining for is gone forever. Gotta let it go. Whatever the problem is, you're gonna have to let it go. You can't live in resentment forever, and it'll fester and infect the rest of the relationship. Let it go.
It's A Partnership
[rebelmouse-image 18347575 is_animated_gif=
dam=1 expand=1]

I spent 30 years doing computer systems work and had some pretty high paying positions, as well as achieving a pretty high degree of personal and professional success.

My wife mostly babysat during the time our kids were growing up then had a pretty good career with the government although she never got very high, not starting till she was over 40.

She did express some jealousy on occasion at how "smart" I was and how well I was doing but I never, ever made that an issue. We're a team, she took care of the kids, I brought in the moola.

I've heard of people who think marriages are supposed to be 50/50 but that is so much bullsh-t, it's not even technically possible. Marriage is no a contest, like I said, it's a partnership, two people working toward a common goal. Sometimes you give more, something they give more, it's not worth worrying about.
We Love Each Other For More Than Our Gaps
[rebelmouse-image 18347579 is_animated_gif=
dam=1 expand=1]

We love each for other reasons than the key gap. So in the end we get past this.

Gap - she has an MSc Management - I have no degree and did not go to university.

Gap 2 - she is a lady of leisure - I work and earn a lot of money with no degree.

The only time it becomes an issue is talking about future child's education. She is adamant that we force our kid into university. I am against the forcing - if kid wants university great. If kid would rather do a private professional qualification/ apprenticeship then ok.

I am only going to stop my child from "doing nothing that could better their life".

Wife hates that, I think she sees it as a dig at her saying her degree is not worth anything. She is not from the UK so can't understand even after marrying me how a lot of people can excel in the UK without degrees.

So we either argue about it infrequently or do not talk about it. Tbh there is no point in talking about it until we have a sense of what child and their abilities they have.

Apart from that - we enjoy lots of the same things and share the same views and have the same life goals - our own home, a child, a pet, travelling to see the world a new place each year, taking care of Our families.
The Importance Of The Work
[rebelmouse-image 18345701 is_animated_gif=
dam=1 expand=1]

I have a Master's degree and make more than $80,000 in the Public Relations field.

My wife has no degrees - just a certificate from a community college and makes about $20,000 a year working part time.

But that certificate is in nursing, and she works in home hospice -- providing comfort to people as they die, helping their family members through the grieving process, etc all in the comfort of the dying person's home.

So while I make a lot more money, her work is inifinitely more important than mine is.
Always The Money
[rebelmouse-image 18347580 is_animated_gif=
dam=1 expand=1]

My wife currently makes a lot more money than me. I make some, but she does pretty well. She is also about to get her PhD and I didn't even finish college.

However, I work extremely hard at what I do, and I am getting better, and I know it will really pay off in the end. She sees that too and supports me. I support her in every other imaginable way. She is very type A and can get stressed, emotional, and overwhelmed, and sometimes just needs me to sit there and let her vent or hold her. We have become best friends, and as cliche as it may sound, we do complete each other in many ways.

On top of that, we share some things in common: we both love running, and we love our dogs to death (we met in a dog park). Good food and whiskey, lounging around reading, and hanging out with friends. I really don't know how I got such an incredibly beautiful and intelligent woman to marry me, but I will do all I can to support her and do my own thing so we can share a wonderful life.
Hard Work
[rebelmouse-image 18347581 is_animated_gif=
dam=1 expand=1]

I am 38 and my wife is 31. She has 3 graduate degrees in the STEM fields, 2 from ivy league type schools. She is now working on her 4th graduate degree in some type of computer science I do not understand. I never attended high school, and had to lie and make a fake high school transcript to get into college, where I have never completed even one full year. Mostly because I can not pass a math course which is 2 of my wife's degrees. We now have a kid, and have been married 7 years July 2017. We are very completely different people in completely different worlds.

I am not sure how we have made it work. She is somewhere on the autistic scale and I am very outgoing and social. I think we understand our own and each others limitations, and are understanding those boundaries more and more every day. She is a college professor and doing well at it, while I stay at home and play a support role. I never had a career or a future, so nothing really there to give up or miss. The best job I ever had was working construction for a low voltage company. 60+ hard hours every week with shitty pay and no benefits. Being a dad and a loving husband has given my life purpose I thought I would never have. I am pretty sure she feels and understands that she would not be able to work as hard and achieve what she has while having a family with out someone like me at her side.

Some tips; find something you both really really enjoy and force yourself to do it together on a very regular basis. For us it was video and table top gaming. We both love it, and play very differently so it makes for some interesting and heated gaming.

Use sex as a tool for bonding. Having a good line of communication is difficult for us, being so different. We have found for us that sex can be a good place for us to enjoy each other being each other. Levels of education or experience or history seems to melt away when passion rises.

The last one I can think of is listen and try and understand. Nothing makes my wife happier than when I make an effort to try and understand what shes talking about. There is also the extra bonus of over the decade or so of knowing her, I have learned quite a bit more than I thought I ever would about the STEM fields.

Now the bad. We do feel like aliens sometimes. We see things differently, and recently discovering how differently we parent. We do fight, maybe more than some. There are going to be things that will always be an issue, like having proper communication and understanding. Every relationship has to be built on compromise and hard work to make it last.
Gaps In Knowledge
[rebelmouse-image 18347080 is_animated_gif=
dam=1 expand=1]

My boyfriend is in a full time job in the type of work he studied for. I am finishing my degree, still.

It definitely becomes difficult with three major factors: Time management, money and maturity.

Time is uncomfortable because I feel like I have so much more free time than him, but then to counter that I work a part time job that takes all of my Sunday. This just needs to be organized around, and I think it's important for the person who's working full time to never assume the other is less busy just because they are not physically clocking in and out at the end of the day.

Money is self-explanatory. He makes money, I hemorrhage it out of my broke, broke pockets. For this I think there needs to be a balance of a show of self-sufficiency on my part, and a show of both generosity but also full belief I can do it "on my own" on his part. Talking openly about financial differences is good, and I personally appreciate when it's acknowledged that he lives a much less anxiety-driven life because money is not an immediate concern for him. This dynamic would change if I were to move in with him, but it would still be about willing to spend a "percentage of what we have" to make things work.

Finally, maturity. Sometimes I feel like I sound like a child when I talk to him about my university shit while he's out there actually being a person and having a job, and the only way this can be cured is understanding that your partner, well, loves you. They would not be dating you if they did not think you were a strong, capable person, especially if they are from a position with a lot more status/power/authority/what have you.

This is a valid question, and I have definitely struggled with it a lot in my own time.
Kindness Over Talent
[rebelmouse-image 18347582 is_animated_gif=
dam=1 expand=1]

My dad was a working-class genius. He didn't have any advantages in life (like the ones I have an frankly squander) but he quite literally is a hero, he overcame them and did some great things.

My mom is the most wonderful loving woman in the world, but on occasion not that bright. I don't think she ever made more than maybe 15 dollars an hour in her life slaving away in a job she hated, different kind of hero.

The difference between them was/is huge. But you wouldn't know it really, unless you got to know my dad.

Once my mom said something really stupid, and I was about the stupid age of 12 or 13 where I knew she was wrong, and I was arrogant enough to think it was cool to call her out on it. My dad heard me sort of arguing with her. He came in, asked what was going on, and then he said something like, "Bill just leave it alone." and he kissed my mom and gave me this look and a sort of head motion like "you better come with me or you're f-cked" so I did.

He told me something like, "Son, your mom is a good woman, I know she isn't the smartest woman but she's one of the best. Let her be happy. You have no idea how lucky you are to have someone who really loves you. Don't f-ck that up by arguing about shit that doesn't matter."
Adore
[rebelmouse-image 18347583 is_animated_gif=
dam=1 expand=1]

My husband is really really smart, and I'm not. He grew up with a very upperclass family, and I grew up under the bluest of collars and the strappiest of boots.

Over time we've had to have a lot of conversations, as I have felt insecure about my intelligence and class around his family in the past.

BUT! THEN I realized that I know how to change a tire, change our own oil, fix the lawn care equipment, clean every mess, and I'm generally a more organized person. I know how to put the work in until something is completed. So I stopped worrying so much, because my husband sure wasn't worried about it.

It's led to some stressful situations with my in-laws before, but at the end of the day, all you can say is f*** it. Plus, for some reason, my husband adores blue collar life way more.

It's give and take.
Again, Being Equals
[rebelmouse-image 18347584 is_animated_gif=
dam=1 expand=1]

I was a high school teacher and now I'm a SAHM. My husband is an environmental engineer who makes (low) six figures. When I was teaching, I brought home ~20k. We pooled all of our money and didn't differentiate. Even now when I'm not working, we have an equal amount of weekly "personal spending" money we don't have to explain or account for in our budget. I absolutely would not have agreed to stay home if my husband and I didn't share these beliefs about finances.

He values the domestic work I do as much as a monetary contribution to the household. The work I do at home during the week (cleaning, largely, but errands and cooking and so on as well) means that our evenings and weekends are straight-up leisure time for our family. When I was working, we often spent weekends playing catch-up on chores and errands (and grading!) instead of relaxing.

I'll go back to work when the baby is a few years old, but we both really value a few years of parent-controlled education and discipline in the home (vs. daycare or a relative providing child care).

Ultimately, it comes down to mutual values and a shared vision for our lifestyle, and understanding that our roles are very different and symbiotic. Moreover, though, he respects, appreciates, and admires my work as equal to his.
This Sounds Familiar
[rebelmouse-image 18347585 is_animated_gif=
dam=1 expand=1]

She is an immigrant aspiring model and I am a celebrity billionaire who is also the president of the United States of America. We don't always see eye to eye, but luckily she is always able to stay in our New York skyscraper. Also she wouldn't divorce me no matter what I did because when she looks at me she essentially sees a giant orange old gremlin standing in the way of her billions of dollars - and I'll be dead pretty soon.

It's a good system.
Make Someone Happy
[rebelmouse-image 18346617 is_animated_gif=
dam=1 expand=1]

My wife has a college degree and can speak 5 languages with actual fluency. She gets every job she applies for and tries to get.

I have no degree, speak English only with fluency, have struggled to find work. However, I'm funny, computer savvy, can open tight jars, I make her laugh and happy. It's equal because we make each other happy and i'm starting to work now and it's good pay and I'm doing very well. She just loves me for me. Not my resume.
Communication
[rebelmouse-image 18347586 is_animated_gif=
dam=1 expand=1]

My fiancé and I have lived together for a year now. We are very similar intellectually, but he's going into a scientific research field and is in grad school on his way to a PhD while I am doing my best to make it as a music teacher.

So we know finances are going to be very different in the future as it won't be practical for me to pursue a second degree for awhile. We knew this was going to happen, though, and we constantly communicate to check in about how we're feeling, if we are in need of more help, if I can do anything around the house to help with his long hours in the lab, etc.

As usual, communication is key. It's not perfect, and I'm self-conscious about my situation sometimes, but I have to consistently remind myself that a lot of the problems that I face with my career path are not my fault and I'm doing the best I can, and my fiancé is right there for me.
Amazing
[rebelmouse-image 18347587 is_animated_gif=
dam=1 expand=1]

Doesn't matter. My wife has art degree in photography and a PhD in microbiology but was making barely like $40k in acedamia. I have a HS diploma and dropped out of college. I've been doing backup and storage support for 15+ years and bring home $100k+. She's left academia and went into government contracting and is almost up to where I'm at now. While she was in academia she was doing the good work and I would happily have continued to support the household if she wanted to continue. She didn't and I'm happy that she's enjoying her new work and success. My willingness to contribute everything is the same as it always has been.
There are thousands of interesting conversations happening every day behind closed doors, but some of those doors may not be as firmly closed as people would hope. These Redditors share their stories of when they heard something that was absolutely not meant for them, whether they wanted to hear it or not.
A lot has been written about birth order among siblings and how it affects personality.
Not that everyone agrees on the effects.
Some say the oldest is the family rebel, while others say they're the ultimate conformist and rule follower.
Others assign those roles to the middle child.
But pretty much everyone agrees the youngest child is spoiled.
So does that mean an only child takes all those dynamics to form their personality?
The folks of Reddit sure has some thoughts on the matter.
Reddit user imlovegina asked:
"What is a dead giveaway that someone is an only child?"
Trust
"I told my boyfriend to close his eyes and open his mouth (I was surprising him with candy) and he just did it with no suspicion at all."
"People with siblings can't trust like that."
- cowsofoblivion
Limited Pop Culture
"I'm an only child. One huge difference I see time and time again with those who have siblings—they had much more exposure to a longer timespan of media/music/games growing up. My idea of nostalgia consists of my specific timeline of media growing up, but those with siblings were able to watch tv shows their older brother watched, or knows about that game their little sister played."
- DopeYeti
"Yeah, the media you get is what your parents get for you. So PS2 was my only console since I requested one for my birthday and that's really it. Bigger families might have older siblings have older consoles, media, movies etc."
- Top_Lengthy
No "I'm Going to the Bathroom"
"I heard once only children are less likely to announce where they are going when they leave a room. Right away I realised I do that, but my partner who grew up with 2 sisters tells me where he's about to go when he moves, even if it's to the bathroom."
- NucularOrchid
"Now that im in my 30s I've trained myself to say where I'm going when I leave a room but it STILL feels so awkward when I do it."
"I also distinctly remember being confused in my first few relationships when people told me they were going to the restroom (okay?) and irritated when I would get up to go and they'd ask me where I'm going (like, we're in a 1 b/r apartment and I'm not walking out the door, there are only so many options.)"
- Reddit
Anger is Fleeting
"My bf is an only child and it was his confusion at how I can be mad at my sister (who is also my roommate) one minute and turn around and get ice cream or go see a movie together."
He grew up with a bunch of cousins around his age, but it was the quick turnaround of 'I'm so mad at you' to 'I wanna hang out, let's do something.'"
- sister-christian69
"Hypothesis: I think we don't have practice of dealing with conflict. I had an argument with someone a few years back and I fully expected it to be awkward between us when we saw each other the next day, but she (not an only child) started chatting with me like everything was fine. I was taken aback and thought this would have lasted for much longer."
- RaspberryTurtle987
My Food is Mine
"My husband HATES sharing food! He is also very good at keeping himself entertained and busy- this was very evident during Covid when I was soooo bored and lost because all my previous hobbies and pastimes were outside the home and/or social activities, however, he just kept going and picked up so many new little hobbies that were independent"
- badjmsbe
"I have a brother and I hate sharing food as well. Some people say that having siblings can teach you to share things but, if anything, having a brother made me extra selfish."
- reforged-demon-blade
"I don't hate sharing food…but I order food for me + me later fully expecting what I ordered to be there and my gf usually takes some. Drives me insane lol, and she knows if f**ks with my ADHD bc I will stare at the fridge thinking wait, when did I eat that?! Her after wondering what Im looking for: Sorry babe, I ate it."
- huhteeee
Siblings ≠ Friends
"Thinking friendship is like having siblings. It's not. I would never smash a toy on my friend's head and expect them to speak to me after."
- Useful_Jello2910
"I wouldn't have teamed up with my best friends against their parents or refused to listen to their parents… but me and my sister? Like a two-man army in us vs. our parents battle"
- aw-f*ck
"Yep. Whenever my siblings and I would unionize, we were unstoppable."
- KitchenSwillForPigs
Not Expecting Snack Theft
"From personal experience, food habits. Like buying snacks to store at home and fully expecting them to not have been touched when you're gone, or eating slower at the dinner table because you're not fighting over the good food."
"As a teen, on the rare occasion my dad would steal a snack I got for myself I'd freak out, whereas my friends with siblings just resigned themselves to the fate of snacks inevitably disappearing. My mom eats super fast at meals, and she attributes it largely to growing up with siblings."
- HornedTwiddle
"I think this is why I get so peeved when my 14 year old eats all of something I specifically bought because I wanted it. I'll share with him, but he's a garbage disposal and will pound an entire bag/box/pack of something in no time, and I get so annoyed. My husband thinks I'm ridiculous but I never had to share or worry about someone else eating my things growing up haha"
- pizzainertia
Doesn't Automatically Shield Face
"No tales of sibling violence"
- ButterEmails54
"Doesn't flinch when someone makes a fist quickly"
- islandsimian
"Yesssss my boyfriend doesn't understand (not that he makes fist at me!!! Just that I flinch a lot.). Also don't throw things at me expecting me to catch it - my instinct is to shield my face."
- Bacon_Bitz
"Oh my god yes. Youngest child here, I also have twelve older cousins, and the amount of things I got thrown at me when I was too little to catch them."
- Dependent_Shower_584
Good At Self Entertaining
"Pretty good at keeping ourselves entertained or doing things alone/being independent."
- stefeezy
"And I find that most of us need alone time. I can be pretty sociable but it can get overwhelming quick. I need alone time every day or my stress levels rise to a point where I can't handle it. Even in a relationship, if we spend all day home, I must be able to do my thing while he does his thing. This has caused me issues in the past, as if I didn't care to be around my partner."
- thinksotoo
"Yup, this is one of the main ones. We are not lonely either, we enjoy our solitude (at least I do)"
- AlwaysSunnyDragRace
Better With Adults
"I can't tell for adults, but when it's one of my kids' friends, the kid who ends up trying to hang out with the adults and gets overwhelmed by being in a group of kids has been an only child 100% of the time in my experience."
- ifnotmewh0
"Yes! I teach middle school, and I can usually spot the only kids by seeing which students gravitate towards chatting with me rather than their peers during downtime. They seem more comfortable and confident just hanging out with the older person in the room."
- catsandcabsav
"I was one of these kids. I knew the adults didn't want me around. I had to choose between two uncomfortable situations, and I could handle being in the way more than the chaos with the other kids."
- needhelpweverything
Less Lonely
"From my own experience, not being as prone to loneliness. The only time I really feel lonely is when I'm around people I'd rather not be with."
- DeathSpiral321
"You can very quickly detect when you don't fit in or are a third wheel too. Kind of sucks but it means you don't waste your time with people either."
- Grimvold
"Exactly. My GF and I are only children. We both need a few nights a week on our own which is why we don't live together. Even when we're together we can sit quietly doing our own thing for considerable periods of time until we have something important to discuss."
- bjb13
Make Their Own Decisions
"I am an only child… I've noticed I tend to make a lot of life choices on my own and don't seek out a lot of advice or ask for help when I could definitely use it. In fact, I've been pretty deep in tough situations when I finally have the realization that there are people and resources I can utilize. It's not so much I'm worried about asking for help, more like it doesn't even register in my brain that there is help outside of myself."
- Jaded_Syrup2454
"The inherent guilt of troubling people and asking for help."
- Lycan_Trophy
"I feel called out lol. Only child and this is such a common complaint I receive from my friends and partners, them saying I should ask for help for often. My logic is, well I have to learn it alone anyway. Their logic is, you don't have to right now."
"It's not something I can just turn off ... but I'm working on it. Some times. When I feel safe being vulnerable lol"
- MoodyBootyBoots
Choose Relationships Carefully
"They are very deliberate in their chosen relationships, e.g. friendships, partners, and are usually extremely independent, at least in my experience."
- ffffffffck
"As an only child I have to agree with the deliberation in my relationships."
"I've never used the term "friend" lightly like many people seem to. I see people all the time call others friends when they don't know much about the person and are just friendLY with them. I don't consider someone a friend until we've grown closer and I feel I can genuinely trust them and we can go to each other for help"

- Skeletor118
Quiet Roommates
"They're very quiet roommates in my experience. Sometimes don't even know when they're home. I hypothesize that they're just used to quiet spaces and might feel uncomfortable when their surroundings get loud or chaotic. People with siblings are used to other people clanging around and making noise."
- IcyConsideration4714
"Yeah I'm an only child of a single mom and spend enormous amounts of time home alone as a child. Can confirm, I'm extremely quiet."
- Yak-F*cker-5000
Unique Parent Relationships
"Really unique relationships with parents. They usually have a very rigid idea and perception their parents. For example, I have to call my mom every day or else she'll worry, or my dad is always right about _____. I guess when you have siblings there's more diversity in how you perceive your parents and their actions. But with only children they seem to lack that holistic perspective."
- ninaw11
"My ex was was exactly like the first example! She'd call her mom every morning and would talk a lot every day. It was pretty wholesome to me."
- RaimiKu
"This specifically. I live in a different continent than my parents and we talk every single day. They still ask for my opinion on every decision we take as a family and that has been my family dynamics as long as I can remember."
- Reddit
What trends have you noticed among the only-children you know?
Confidentiality and extreme secrecy are both expected of people bound to non-disclosure agreements. Thankfully, NDAs tend to expire eventually. From celebrity gossip to company information, draw back the curtain and follow along as these Redditors reveal the juiciest details about everything they were never meant to say.
We've all heard of love at first sight.
Hate at first sight is less common, but it does happen (though it's not always described that way).
Sometimes, two people don't mesh well. They could never get along, even if they were the last two people on Earth, and its usually because one of them said or did something during their first interaction that rubbed the other person the complete wrong way.

Redditors know this all to well and are ready to share their stories.
It all started when Redditor dirty_maria asked:
"Have you ever listened to someone talk for less than a minute and immediately felt like you wouldn't get along with them? What did they say?"
Too Young, Too Dumb
"I heard a 20 year old girl at my job trying to talk down to another guy because he's in his 40s with no kids."

""You're 40 with no kids! What do you know about the world?" in the most hateful tone. I've never spoken to her before and never will."
– tiamat-45
"I really wish that having kids made people smarter!"
– Witty_Commentator
Not Funny
"I'm Asian and upon meeting me, for some reason a lot of people like to open up with a racist Asian joke and tell me that their Asian friend thinks the joke is hilarious. I have never ended up getting along with those people."
– prolixity
I'll Choose My Own Food, Thanks
""I already decided what to order, and sorry not sorry if you're offended, but we're gonna eat what I'm ordering. You'll thank me for it.""
"This was a person I was meeting for the first time"
– FlagshipHuman
"That basically ruins my opinion of the person AND the food."
– Cjhwahaha
Don't Tell Me What I Love
"A friend introduced me to a stranger at a party and said we should get along great since we were both into music. The stranger was in a band and I used to work as a sound/lighting tech. He asked why I quit music and I told him I got sick of working every single weekend and making garbage pay. I enjoy shows far more as an attendant than a worker."

"He responds: "oh, you don't love music. Which is ok, it's just that if you really loved music you would have stuck it out. For me I couldn't live without music, it's just different.""
"It took about 15 seconds of conversation to realize the dude was f**king insufferable"
– skazai
From Bad To Worse
"I was on a date once and she just started negging* me from the get go. I mistakenly picked her up and had to just listen to her talk about herself, any time I'd get a word in she'd neg."
"About lost it when I was feeling a good cheese slice at the niche New York style pizza place we went to. She said I had bad taste in pizza and actually needed to start going to XYZ."
"Started talking about the beer I chose and then joked to the waitress about me. Then asked me if I wanted to move in as her roommate was moving soon and she was joking but not joking."
– UncoolSlicedBread
Liar, Liar
"She was in a writers group. The comment was made that Finnegans Wake by James Joyce is a classically difficult book to get through."
"She opened with, actually she found it very easy in fact, a friend of hers was a lecturer in (nearby famous university) and he often came to her for insights into Joyce's work."

"I suspected immediately a narcissist, pathological liar. I was right. She earned the nickname amongst the group of "11", as in, if you said you'd been to Tenerife, she would say she had been to Elevenarife."
– jrf_1973
Some People Should Not Be Teachers
"My old French teacher in I think 8th grade. It took her not even 5 minutes for us to hate her. "I dont like any of you, I'm not your friend but a teacher to annoying brats. You'll do as I say when I say it and complainers get a 6 (Equivalent to an F) for this class." Her husband was a pretty cool guy though."
– FanStrong3311
Nepotism Makes The World Go Round
"Foremans nephew/ owners son (exchangeable for anyone who uses family ties to get a promotion)"

"I'm in the union so you have to technically work your way up as a laborer no matter what because raises come fron hours worked along with courses completed."
"Anyways i was a lead on a large college campus for the State and we have this lil chubby 19 year old laborer with a bad attitude start at the site one day so i get him what he needs tool wise and tell him that material needs to be cleaned on the 9th floor using buggies. He immediately launches into this " yeah well my dad is the foreman of this job and youre just a lead so ill just go to him so i dont have to do (xyz) job""
"After staring at him until he started to get noticably uncomfortable i asked him if this was his first day doing this? He replied "yeah why?""
"I told him he can go on and get the f**k home until hes ready to be a team player. Ive worked with his dad for many years and knowing his work ethics and moral compass for leadership he would understand my decision. His son calls him down on the radio with a smirk on his face thinking that i just made the worst career move of my life."

"When his dad arrives he asks what happened, i explain curtly exactly as it happened and he immediately turns to his boy and said " well ....why the f**k are you still standing here? He told you to go home, if you dont want to listen you can't be on the team. Dad isnt going to save you""
"Last i heard he gave up his dreams of being a foreman and works for Tesla now"
– GazeOG
Woe Is She
"After Hurricane Sandy I spent a lot of weekends cleaning out houses. It is difficult and backbreaking work, but also terribly sad. Because we just bring snow shovels into houses and throw everything away. What used to be someone's home, their whole life is now stinking moldy garbage."
"I was talking to a woman at a Christmas party about how difficult Hurricane Sandy was and she said. "I don't feel like I have had enough recognition for how I suffered! I called the mayor, I called the governor, and no one cares about my suffering." So I thought I would talk to her about it."
""Was your home flooded" -No"
""Did you have a generator" -Yes, two"
""Was it really difficult to get gas for them?" -No, my husband is a first responder so we were able to jump the lines"
""It must have been hard though, to have lost power." -So hard that after 2 days I went and stayed with family at a hotel."'
"So this woman lost nothing, didn't have to wait in the hours long line for fuel and spent most of the time in a hotel. And was pissed because the governor didn't acknowledge personally her suffering."
– RoyGBiv1488
Place Items Gently On The Conveyer Belt
"I can tell almost immediately by the way a customer walks up to the register whether or not they're going to be an a**hole."
– tubular1845
"Yep. I'm a cashier too. They don't even have to speak. When they toss their items on the counter, that tells me everything I need to know. It takes everything I have some days not to toss their money right back at them. The customers that face all the barcodes up make up for those AH's."
– Relative-Read-2937
The Company Man
"I don't like Company Men, or people who defend the company and higher ups to no end. For example, in a meeting one time an experienced Company Man starting ripping into someone who works in another department in front of everyone over a trivial thing that has no effect on Company Man."
"After the meeting I expressed an opinion that the person was being rude, condescending, an unprofessional to a couple of coworkers that were in the room. They started defending said behavior. Instantly turned me off."
"Turns out corporate agreed with me and that person has since "retired.""
– jcm8002204
Keeps Your Eyes On Your Own Table
""I believe that I have a much more developed palate than most people", said in a very condescending, loud voice at a restaurant."
"From the guy who was at the next table when I said that oysters aren't my cup of tea."
– Nearby-Ear-883
""You seem to also have a much more developed ability to stick your nose where it doesn't belong""
– thedoobalooba
Will You Carry On My Bloodline?
"I knew a lady who, upon meeting her, told me that she was related to two people who signed the Declaration of Independence, which meant she had an important bloodline that she couldn't let die out."
"I knew she was an idiot at that point, but she then went on to say that because her autistic brother died, she had to be the one to carry on the bloodline and give them her last name, and said she'd use a surrogate if her major birth defects wouldn't let her conceive, staring hard at me with a weird smile on her face."
"Yes, she lore dumped her life and wanted me to carry her hypothetical heir in the two minutes after we met."
– Ravenamore
Yikes! I can't even believe this happened!