The holidays are a hectic time of year.
We're trying to put on the best show, present our best selves, and ensure we have our best end to the year.
---
Gifts are a common tradition, but man, wrapping them is so hard.
How do you make sure it always looks great? What do you do if you cut the paper a little too short?
Luckily, the internet was recently blown away by a wrapping hack that's as simple as it is brilliant.
The video uploaded to Blossom on Facebook, depicts a series of hacks to make your gift wrapping a little easier. With everything from making gift bags out of wrapping, or adding a built-in pocket for a card, the video has a lot of tricks.

But the one that caught the internet by storm is what to do if you cut the paper just a little too short. The answer is a simple tilt.
Yes.
It's that simple.

Facebook.com

Facebook.com

Facebook.com

Facebook.com
The Blossom video is the source of the clip, but it gained a lot more attention after being shared on Twitter by user Waterstones.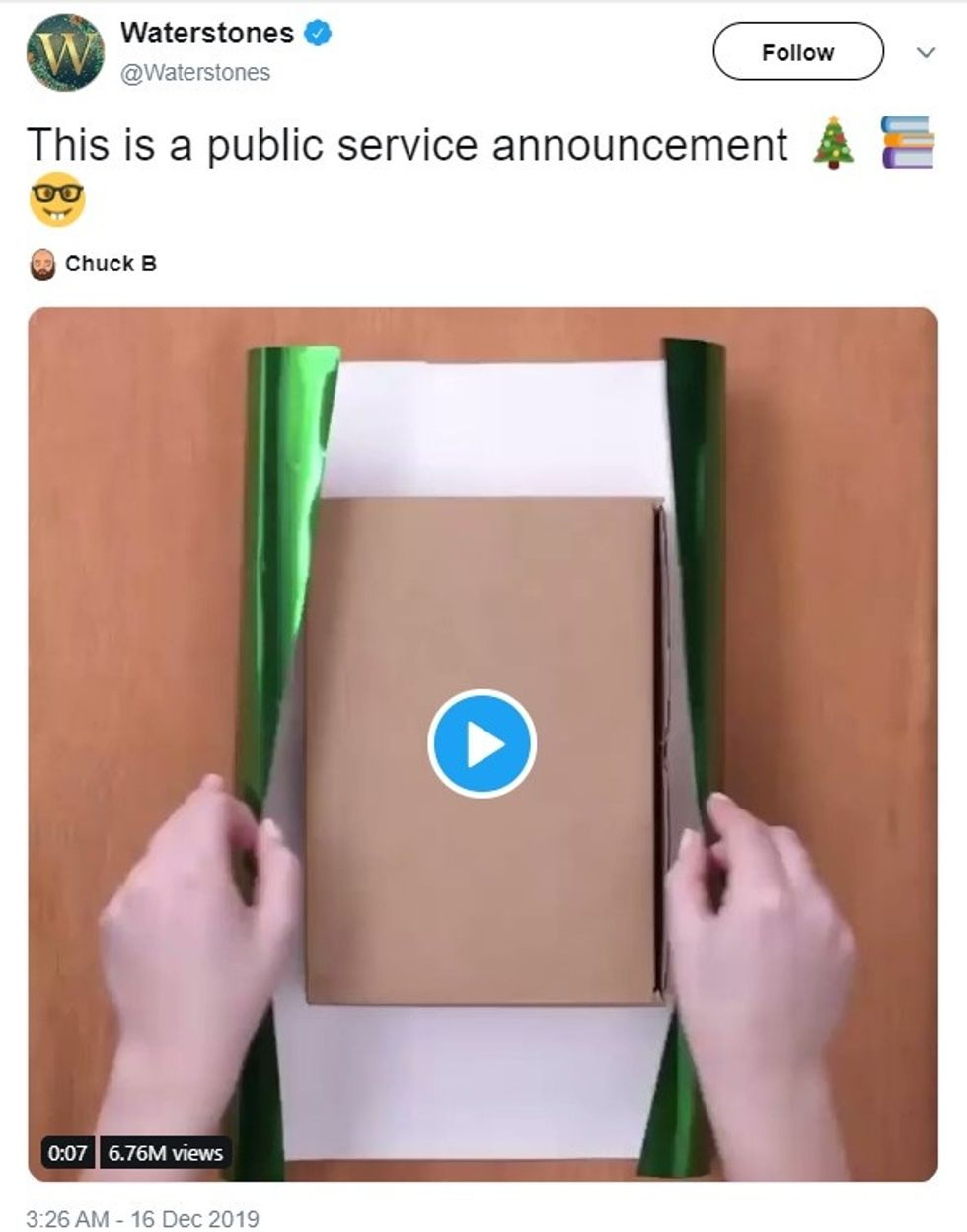 Waterstones / Twitter
Unfortunately, it has since been removed, due to a copyright claim.

Still, Twitter is where the internet had their minds blown.
@Waterstones What kind of sorcery is this? And why did no one tell me sooner? (All those years of wasted wrapping… https://t.co/q7PM5v2t5Y

— Don'tMakeMeStopThisCar (@Don'tMakeMeStopThisCar)1576512918.0
@Waterstones I was a bookseller for 3 years, wrapped about a million books, and I did not know this. I feel embarrassed and ashamed.

— Sam Copeland (@Sam Copeland)1576499230.0
@Waterstones I spent the last hour and some change crumpling up & taping down some gift wrap when it's been this si… https://t.co/RdaqMAQS5T

— TheMelanatedIntrovert (@TheMelanatedIntrovert)1576556930.0
@Waterstones @Hippiepig https://t.co/LgHtU0tViS

— Richard Stone (@Richard Stone)1576500019.0
Maybe if you understood geometry, this hack was already your choice of wrapping.
The rest of us are just excited to have an answer when we make a mistake.

Then again, some math people didn't get it right away either.
@andrewhuang @Waterstones That explains why this never occurred to me.

— FlyingSock〽️onkey (@FlyingSock〽️onkey)1576521734.0
@FrenchBiche @Waterstones I think, you have just forgotten to rotate diagonally. https://t.co/Hy0RDJyLNM

— dbg (@dbg)1576603112.0
@CucamongaDuke @Waterstones i don't have ocd but it really bothered me so i was scrolling through the comments to s… https://t.co/uplZL9mtlo

— ジョセリン.愛♡ (@ジョセリン.愛♡)1576563119.0
@Waterstones https://t.co/hpqe88poAO

— Irfon Williams (@Irfon Williams)1576495982.0
Maybe this hack is too-little-too-late for you this year, but keep this article bookmarked.
Who knows?
You might find it helpful for a birthday party.

And a hanging caddy like the Primode Hanging Gift Wrap Storage Bag with Detachable Accessory Tote, available here, for all of your wrapping needs could make Christmas clean-up or keeping that all occasion paper handy for the rest of the year simpler too.