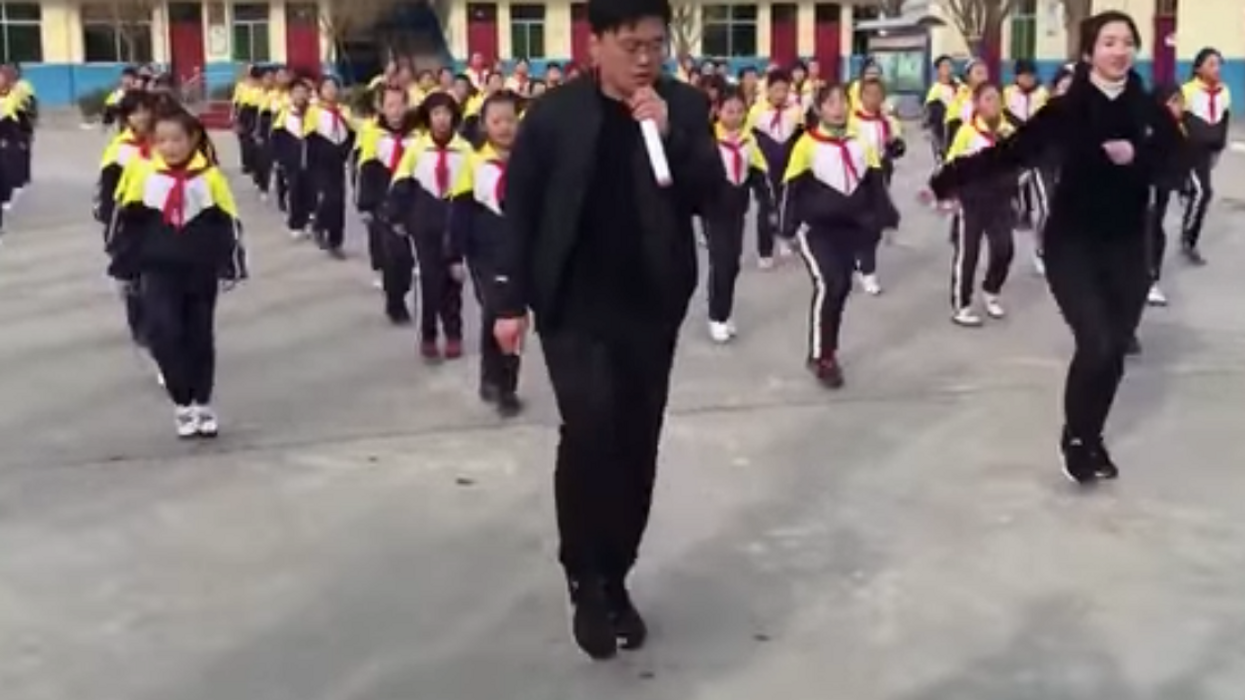 Photo via South China Morning Post/YouTube
Did you ever wish your principal would engage with you more?
Zhang Pengfei, principal of Xi Guan Primary School in Northern China, has come up with a way to engage his students on a daily basis and get them moving to start their day.
---
The 40-year-old and his 700 students take 30 minutes at the start of every day to get their groove on.
Chinese school principal teaches students shuffle dance during breakyoutu.be
The dance is called the "guibu," which translates roughly to "ghost steps," for the lightness of foot it requires to retain its smooth quality across the student body.
The routine, while unusual, is in keeping with Chinese school exercise standards.
According to Insider:
"Since 1951, primary, middle, and high schools in China have been required to ensure pupils undertake a strict 'broadcast calisthenics' workout every day, which is based on exercises performed by soldiers during World War Two and inspired by routines used in the former Soviet Union."
Zhang's take on these "broadcast calisthenics" is bringing the world's attention to him.
Zhang decided to change it up "because the students and [teachers] had no interest at all in the broadcast callisthenics."
"I thought the dance would be great for kids. The music is full of energy and it really gets the happy feeling flowing."
The video has gotten over 250 million views and gone completely viral across the world, to Zhang's surprise.
Zhang said:
"This is just a small activity at our school — I just wanted to offer a different way to exercise during the class break."
And the routine has had unexpected benefits.
"Now the students aren't constantly on their phones," Zhang shared. And when they are, he notes, "I sometimes catch them watching different dance routine videos and learning new moves."
With the video getting so much international attention, hopefully principals worldwide will be inspired to find new and interesting ways to engage their student body.