Here's something you didn't know would disturb you: temporary flesh-colored skin "implants" that many celebrities are modeling on social media.
---
Kim Kardashian posted pictures of herself on social media "wearing" a choker...of sorts.
Chrissy Teigen posted an even more extreme photo, sporting a strange series of feathers growing out of her chest.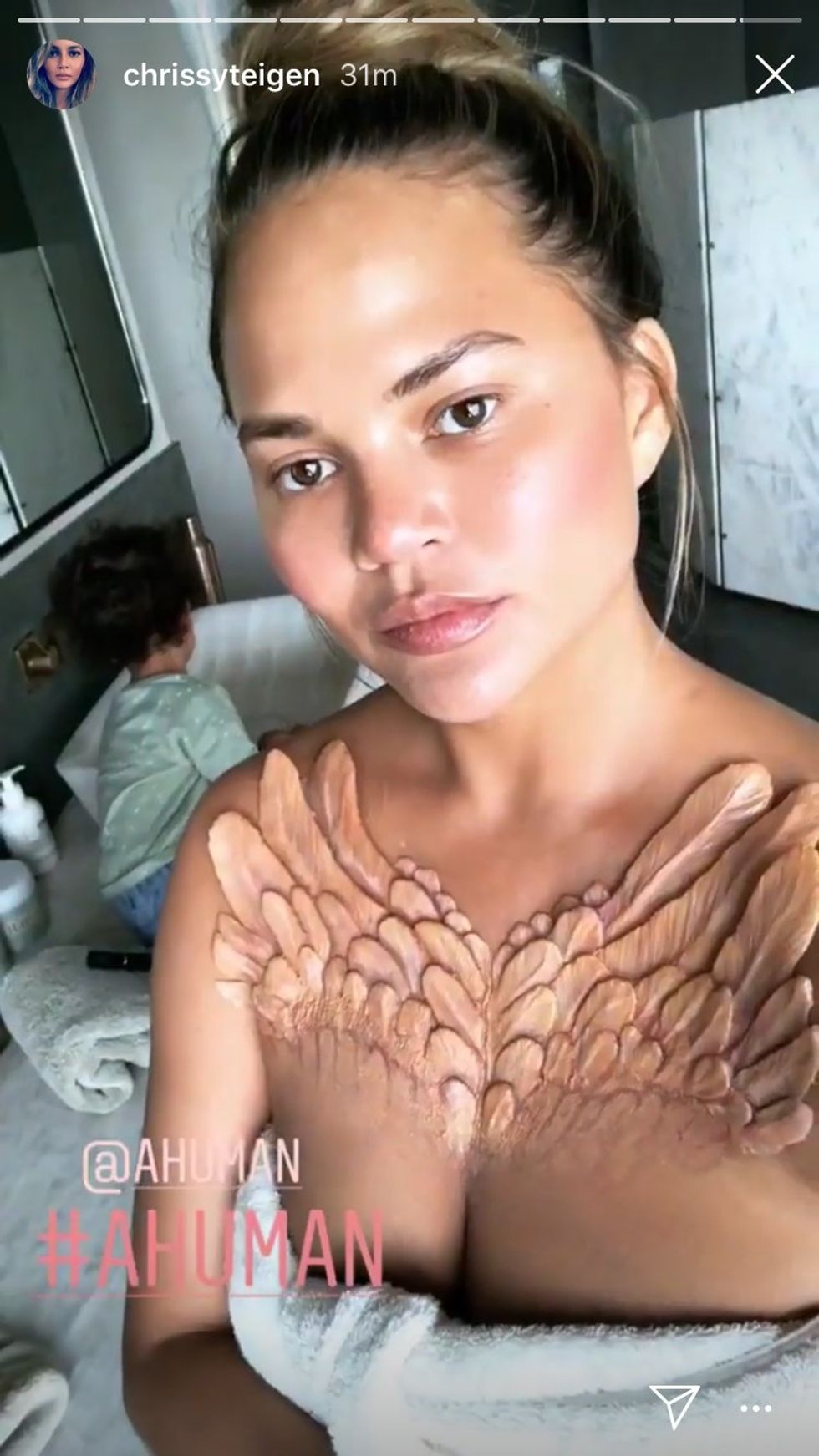 chrissyteigen/Instagram
It turns out these celebrities are all wearing the "implants" to promote "A. Human, an experimental immersive theatrical experience," which is opening in New York City on September 5.
Creator Simon Huck told VOGUE these body modifications are part of his vision of the future humans inhabit in the show:
We didn't want to root any of our modifications on the idea of existing insecurities or discomforts. A. Human is about the freedom to explore this world and live in this world in any way you choose.
And though some may find them freaky, Huck doesn't believe the "implants" are necessarily a bad thing in the world of his show:
When you think of the future, you think dark, dystopian—there are all these images that come to mind. I didn't want to create a utopian world, but I definitely wanted to create a world that was optimistic or, at the bare minimum, neutral.
Many on the internet, inspired by the celebrities' new "style" are modeling their own implants.
These people have some serious make-up skills!
Unfortunately, without a lot of context as to why they're wearing the implants, the internet has been pretty merciless in its disgust at the strange fashion.
Are the implants really that disturbing? We'll all have to see A. Human to find out.
@KimKardashian @ahuman People in 1980: In 2018 they'll have the cure for cancer 2018 Actually:

— TAXO (@TAXO)1535391701.0
@KimKardashian @ahuman Thank You but no Thank You, humans resemble robots enough already, always walking around wit… https://t.co/ArY08FjGzR

— KrOn7th (@KrOn7th)1535420893.0
But if so many celebs are into it, why not give A. Human a chance?

H/T - Bored Panda, The Independent