Captain Marvel has been a highly anticipated action film primarily because of Marvel's first female-led protagonist in the franchise's history, starring Academy Award-winner Brie Larson as the titular hero.
The trailer is already packing quite a punch ahead of the film's March 19, 2019 release with fans already going bonkers over a particular moment from the preview.
---
In case you've missed the Captain Marvel trailer, see if you can pinpoint the exact moment that ignited the meme mania.
The scene in which our heroine hurls her fist at an old lady for no apparent reason on a bus is catching everyone's attention.

While we don't endorse violence towards an elderly person, we're sure that a hero has her legitimate reasons.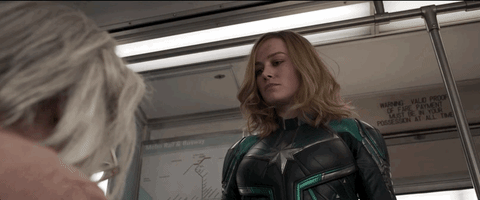 That packed a whollop.
People were shocked over the unladylike act of violence.
Chances are, Captain Marvel is delivering the blow at a deserving and villainous shapeshifter known as a Skrull.

Fans are having a heyday with endless memes to justify for the geriatric punching bag action.

It's a battle of generations.
Star Wars and Marvel worlds collide. Hey, they're both under the Disney umbrella anyway, right?

This reaction is the result of someone being held in captivity for years, like in Room – a role for which Larson won the Oscar for Best Actress.

A wake-up call for those adamant about this popular but ridiculous theory.
The trailer is definitely hitting fans with excitement.
Larson portrays Carol Danvers, a U.S. Air Force fighter pilot, in the 21st film from the Marvel Cinematic Universe.
The film takes place in the 90s, depicting Danver's transition into a superhero during a time when the Earth is caught in the middle of an intergalactic battle between two alien worlds.
Based on the trailer, the action film is poised to become a big hit at the box office.