Here's an act of kindness none of us will forget.
---
Azrael Robinson, a 15-year-old student at LaVergne High School in La Vergne, Tennessee, was moved to tears after his classmates surprised him with a new pair of sneakers and clothes. Robinson's classmates had simply decided to cheer him up.
In a video shared on social media, two classmates, Kerolos Girgis and Dylan Norton, present Robinson with the items.
"We got you some stuff because of how generous you are and everything you do," Girgis tells him.
When Robinson begins to cry, Girgis says:
"This is nothing Azie. All the stuff you've done for everyone in the class, you deserve way more than this."
A video of the moment was posted to social media, where it soon went viral.
The video was posted by Stephanie V. Myers, a LaVergne High School alumna, with the following caption:

Today, my little sister sent me a video of what they did for one of their classmates, that's having a hard time. They all got together and bought him some shoes, and also donated clothes to this kid.

This video is so emotional & filled with love. You just never know what kids go through, but it's kids like them, that gives us hope.
According to Sonji Newman, a biology teacher at the school, Robinson, who has been the victim of bullying, often goes out of his way to help his fellow classmates:


"If they don't understand something, he's the first one to help. If anything is dropped in the classroom, he's the first one to pick it up. If a student is down, he's the first one to say everything is going to be okay."
Newman says two students approached her last week about doing something nice for Robinson. With her help, "students collected a brand-new pair of sneakers, new clothes, and a little bit of money to give to their friend. They hid their surprise in the classroom's supply closet before giving it to Robinson," according to one report.
Myers later clarified that Robinson's family was not in need of financial help and that the students did this out of the kindness of their hearts.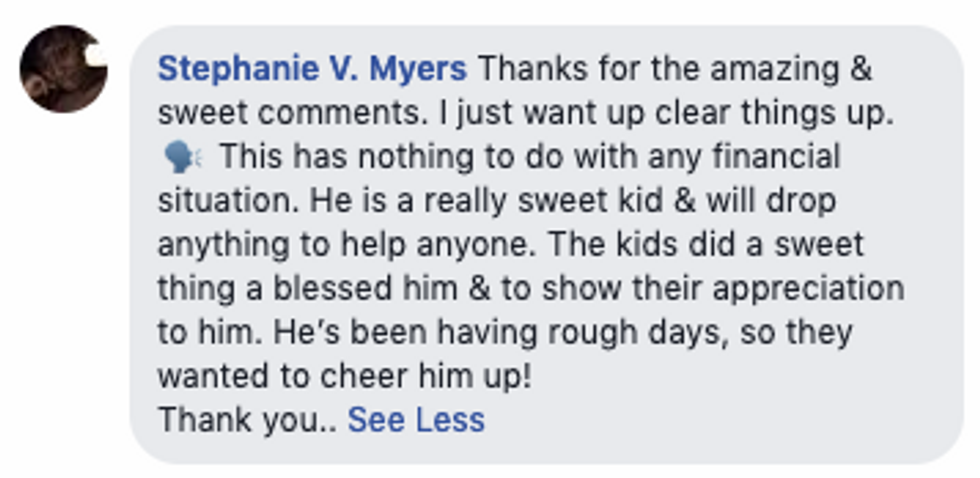 Newman concurred:
"They just wanted to give to him to make him feel better about himself. [Robinson] was so grateful and so full of love. He just appreciated it so much."
The video also struck a chord with many who valued the kindness of Robinson's classmates.






High school can be a tough time for anyone. We're pleased to see Robinson's classmates have got his back.