Bradley Cooper has been working steadily in television and film for the better part of the 21st century.
After graduating with his MFA in Acting in 2000 from the Actors Studio at the New School in New York City, his career has been steadily on the rise. But it hasn't been all sunshine and daisies.
---
Any actor knows that auditions either go really well or not well at all. Bradley Cooper is not exempt from that rule, no matter how dreamy his eyes are...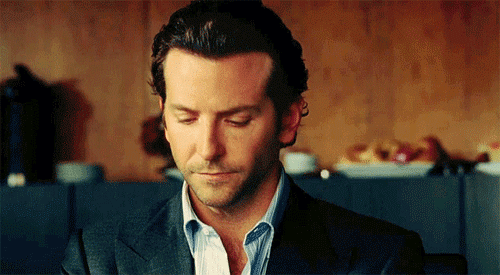 Giphy
And they are QUITE dreamy.
Onstage at the Directors Guild Awards, Cooper (who made his directorial debut with the critically acclaimed re-imagining of A Star Is Born, starring Lady Gaga and Cooper himself) revealed that he'd auditioned for fellow director Spike Lee, and Lee rejected him.
Bradley Cooper just revealed to a shocked Spike Lee that ten years ago, he auditioned for one of Spike's films and… https://t.co/HzKQ1HmDul

— Kyle Buchanan (@Kyle Buchanan)1549136861.0
Lee didn't remember the event, but Cooper clearly did.
"You get a chance to read for Spike Lee, you're never going to forget that," Cooper said. "You said 'Hello, how are you,' you asked me about Philly, you did the thing and you got me out quick. You were going hard. You're a very present human being."
"you got me out quick!" I GUFFAWED https://t.co/LYIvAr1JIh

— jada | RELAX, DON'T DO IT (@jada | RELAX, DON'T DO IT)1549154885.0
Amazing moment at #DGA #MeetTheNominees when Bradley Cooper reveals he once auditioned for Spike Lee... And Lee Tur… https://t.co/YJOjFoMSW2

— Julie Cohen (@Julie Cohen)1549136939.0
Bradley Cooper recalls auditioning for Spike Lee 10 years ago for a small part and says Lee was very kind and very… https://t.co/5nqrhYa4JN

— Dave McNary (@Dave McNary)1549137110.0
@SamCoffey72 So much fun. Love it

— Michael Kamens (@Michael Kamens)1549138241.0
Lee's first directing credit came in 1983 with Joe's Bed-Stuy Barbershop: We Cut Heads,
MORE STUFF . LIKE THIS DURING AWARD SEASON MY GOD https://t.co/HdJqEHJ4sZ

— Sam Coffey (@Sam Coffey)1549137229.0
Spike's reaction is so perfect. https://t.co/oeCtSrbac9

— Matty (@Matty)1549137062.0
his little run man I love the two of them https://t.co/b6Y3avA7of

— alex (@alex)1549137190.0
According to Variety, other panelists included "Adam McKay for Vice, Peter Farrelly for Green Book and Alfonso Cuaron for Roma."
Cuaron commented on the topic as well, saying that great actors exist before a director "discovers" anybody--two great minds just come together in one process.
Best part of this panel, besides Cuaron saying he doesn't "discover" his actors, that they exist before him and the… https://t.co/tFJQB7Vf1C

— Molly McGlynn (@Molly McGlynn)1549146125.0
@therealmollymcg that is really beautiful :)

— Chandler Levack (@Chandler Levack)1549146561.0
@clevack Yeah, I agree. He also reminded the audience that it's like "the same way Columbus did not discover America."

— Molly McGlynn (@Molly McGlynn)1549146663.0
Lee is nominated for his direction of BlackkKlansman.
The film itself is up for six academy awards, including Best Supporting Actor for actor Adam Driver and Best Picture.
A Star Is Born is up for eight academy awards, but Cooper himself is not nominated.

Spike Lee doesn't remember that Bradley Cooper ever auditioned for him https://t.co/OaGszO4yp4 https://t.co/ObUkH7XvNZ

— Variety (@Variety)1549161082.0
Good time to mention that despite the fun directors roundtable memes that went around, Spike is a Star fan and love… https://t.co/TPHvRSmsQo

— Kristopher Tapley (@Kristopher Tapley)1549136949.0
this is so cute https://t.co/1BdzhfObn4

— j*les (@j*les)1549137287.0
Bradley Cooper on auditioning for Spike Lee: 'Never going to forget that.' https://t.co/w9jtybEUHL https://t.co/W9GEdbLlxV

— Complex Pop Culture (@Complex Pop Culture)1549161733.0
The 91st Annual Academy Awards will air on Sunday, February 24th at 8 PM EST.
We can't wait to tune in and see how these amazing directors make out.