People Share Their Best 'Stupidity Has No Limits' Experiences
Reddit user Joker101001 asked: 'Albert Einstein once said "The difference between genius and stupidity is that genius has its limits." What are some examples of this that you have experienced?'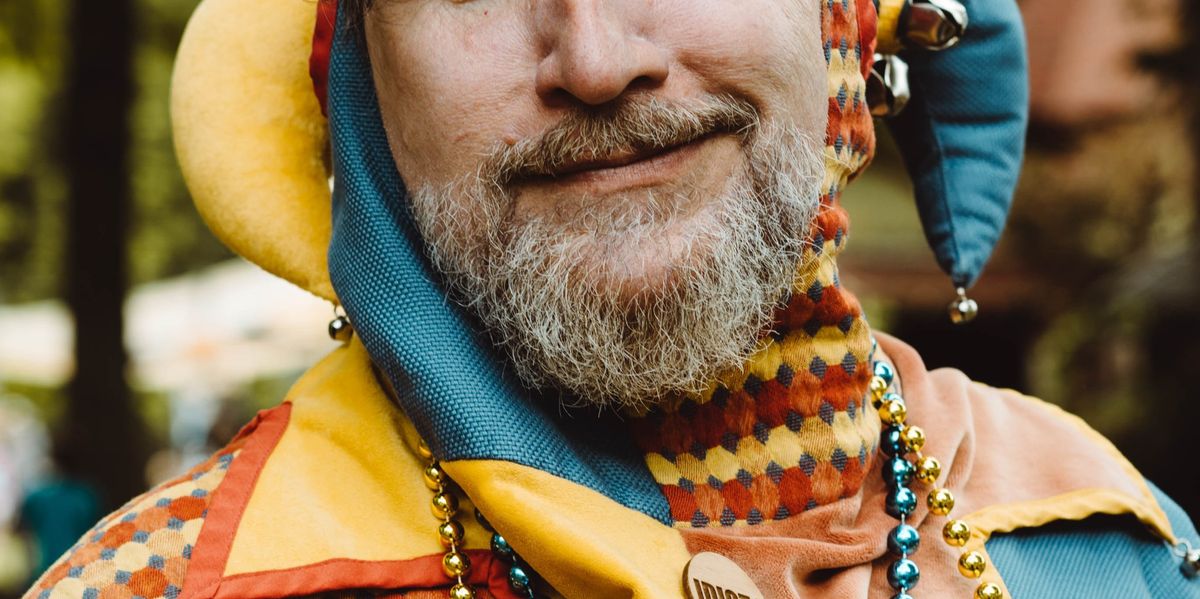 The human race is supposedly touted as a superior species compared to other lifeforms on Earth.
Sadly, the generalization does not apply to everyone.
And while the notion that "nobody is perfect" is perpetually expressed to console those who've made regretful mistakes, that is not entirely true.
We see them in the news all the time.
Dimwits–which may include those with no social graces or lack of basic life skills in order to survive adulting through life–are among us.

Curious to those who've face-palmed in response to an individual's intelligence level, Redditor Joker101001 asked:

"Albert Einstein once said 'The difference between genius and stupidity is that genius has its limits.' What are some examples of this that you have experienced?"
People shared their observations about our intellect..or lack thereof.
Touché
"You shouldn't believe every quote you read on the internet. — Abraham Lincoln."
– _PM_ME_PANGOLINS_
"I think he was re-quoting Julius Caesar who made this comment the morning he was warned not to go out that day."
– Emergency-Ad-7002

Humbling Realization
"I think the more educated we become, the more we know how little we actually know, and it's humbling, but ignorant people really have no idea what they don't know, leading them to be confident about their ignorant stances."
– PuzzleHeadedNinny
Reaching Limitations
"Physics has kind of reached a point where we realized we don't know how anything works at a fundamental level. Every theory breaks down at tiny or gigantic scales. There is a crisis in cosmology, spinning glaxies have either disproven gravity or proven undetected dark matter, and the vast majority of matter and energy is undetectably dark. We don't know why matter exists (as opposed to antimatter, given their symmetries). We don't know how time and space work inside black holes, how many dimensions there really are, or whether space and time are quantized. We've kinda figured out ordinary matter at human scales, but that's it."
– turbotong
The Thing About Doubt
"There are limitations to human knowledge and our understanding of things. Rather than acknowledging these limitations, people fill them in with supernatural explanations. When you express uncertainty or doubt, you are mocked or they ascribe to a lack of self confidence."
"Doubt is the beginning of wisdom, not the end of it."
– RecalcitrantMonk

Knowledge Vs. Intelligence
"Knowledge is knowing a tomato is a fruit."
"Intelligence is combining the tomato with other ingredients to make something better."
"Knowledge is what we learn, intelligence is what we do with what we have learned."
https://pubmed.ncbi.nlm.nih.gov/7183572/
"Charisma is the exact opposite of what I just did - citing an academic paper on reddit."
– egregori3

People shared their most dullest interactions.
Dumbfounding Stupidity
"Oh boy. I once met a guy who was so stupid that he thought the ocean was alive and waves was it breathing. I remember one time in school he was doing homework for another class and asked the teacher "Where were the Canaanites from?" She jokingly said Nova Scotia. He asked how to spell it. This guy thought Beauty and the Beast was based on a true story about a girl and a bear. He would constantly make bets that he lost and never learned his lesson. He didn't know that chicken the food came from chicken the animal. I have met a lot of stupid people in my life but I have never met anyone quite so bafflingly stupid that I had to wonder if they, in high school, could even read."
– Not-sure-wtf-I-am

"A friend of mine once met a young woman who thought that fluttering leaves caused the wind to blow."
– Ancguy
"A former classmate of mine (in college, mind you) once said the sky was blue because it reflected the ocean."
"She thought the sky was blue everywhere, even hundreds or thousands of miles inland, because of the ocean."
– CrypticBalcony
Scam Fail
"I worked at an embassy. One day a guy came to me, completely explained a scam he did. It had failed and he wanted to know how I could help him "as we are countrymen".
"Called my colleagues at home and set them on his a** too."
– Dependent-Cress-948

Expected Expectations
"As a high school math teacher, I cringe when students hand in a test and say 'I think I aced it.' It's almost always an F."
– kasgar77
"One time I left a stats exam in college and texted my friend, "if I knew a test was going to kill me and I went anyway, is that suicide?" She said "I think it's more like when you walk through a bad part of town alone at night and get shot. It's not really your fault."
– FlockofDramaLamas

Kiwi Get A Clarification?
"When I was in middle school I convinced a girl that the kiwi birds laid the kiwi fruit as food for their babies. It wasn't that hard to convince her."
– ChaoticCauldron
Conspiracy Theorists
"Flat eathers. It is difficult to find more dumb."
– DrowningInMyFandoms
"These days, there's quite a bit of overlap there. Flat earthers tend to be very anti-establishment, but because they also tend to be very religious and Trump is supported by many fundies, there's a definite connection there. Plus, his support of conspiracies makes him seem like 'one of them'; some flat earthers thought Trump would be the one to expose NASA and the fake ISS, but that never happened."
– SyntheticGod8
I think COVID pulled back the curtain on the lack of intelligence on display.
Irrational mob mentality prevented US citizens from critical thinking and drawing irrational and false conclusions from sheer panic.
Remember the toilet paper shortage and the anti-vaxxer movement?
I was more terrified of our lack of humanity and compassion than the virus that was being allowed to spread thanks to ignorance.

Related Articles Around the Web
Reddit user Ohyo_Ohyo_Ohyo_Ohyo asked: 'What is the worst health advice you've been given?'
Whenever we feel like something isn't right about our bodies or we're suffering from some kind of medical issues, we want them taken care of straight away.
The problem with that is, that depending on whom we're getting information from, we tend to believe in the initial diagnosis or remedy because we trust the professional sources and we want quick solutions.
But do doctors and health specialists always know what they're talking about?
Unfortunately, that is not always the case.

Strangers online shared their medical horror stories when Redditor Ohyo_Ohyo_Ohyo_Ohyo asked:

"What is the worst health advice you've been given?"
Not doing further research into something that raises eyebrows can be a fatal mistake.
Turns Out It Was Brain Cancer
"i went cross eyed and my primary said 'could be a sinus thing, get some mucinex.'"
"turns out it was glioblastoma."
– Guy_Faux
"Wow, that's an absurdly sh**ty doctor. The same thing happened to my mother and it was quickly determined that it was stage 4 lung cancer. She made it about 3 months after that. She was 48 and I was 18 so the idea that any doctor would ignore that is infuriating to me."
– Frisky_Picker

Second Opinion Saves Lives
"My primary doctor kept telling me that nothing was wrong with my thyroid, and I was a hypochondriac."
"I had been told at 12 years old that I had thyroid issues and she told me that doctor was wrong. I had to see a whole other doctor to get a referral to the endocrinologist because she literally refused to refer me to one."
"The endocrinologist said, I had scarring all over my thyroid, I had Hashimoto's, and my levels were horrible, and she didn't know what the doctor was talking about. She said she was glad I advocated for myself."
– littlemybb
Tiny Grandchild
"I was not the recipient of this 'advice' but I had a coworker proudly say how small her new grandchild was when they were born and that her daughter smoked her whole pregnancy to try and have a smaller baby. This was in like 2010, not the 1960s for reference."
"ETA: smoked cigarettes. clarified since that can mean more than one thing."
– Emkems

Unforeseen Ailment​
"Was sick for a year in my late teens. Saw multiple specialists to find the cause. Experimented with diet. Saw a naturopath that did some 'electric pulse test' thing that apparently gave indicators of organ health. After a few visits, and months of eating the weirdest sh*t, the test said things were improving (including my gallbladder). Months went on but I was still quite sick. I eventually ended up in hospital and one of my specialists decided to take my appendix out on a whim to see if it might help. Turns out I had something called a 'grumbling appendix' and it completely fixed me. Funny thing is, while they were in there, they discovered I was born without a gallbladder."
– Ok_Ear_8848
These are not appropriate remedies.
That's Not How That Works
"When I had an urinary tract infection someone told me to wash my vagina with vinegar..."
– _Puke_Bucket_
"And maybe add some diced onions and tomatoes to make a refreshing Mediterranean salad."
– Bos_lost_ton

Pushing Through
"Just push through whenever you're sick. If you can get to a doctor's office for a doctor's certificate you can get to school/college/work."
– BoyMonday
"My childhood pediatrician told my parents that 'A sick child never smiles.'"
"I tend to laugh/smile when I'm nervous or uncomfortable to self regulate."
– pinotproblems
"A doctor once told my parents that a child who isn't crying can't really be hurt. Because of that, it took me days to convince my parents to take me to the doctor after I fell on my arm because I wasn't crying. It turns out it was broken."
– slowsunslumber

"Ignoring" The Problem Isn't A Solution
"A friend of mine was in horrible pain, and was repeatedly told (by multiple doctors) that she should stop complaining and just get used to it because periods are painful and that's the way it is."
"After being blown off for years, she finally got a doctor to take her pain seriously- and it turned out she had severe endometriosis. The surgeon said it was the worst case he had ever seen in his career, and was horrified that it had gotten so advanced with no one listening to her."
– sapphireblossoms

Choking On Blood
"The school nurse telling me to tilt my head back for a bloody nose. That was an awful experience."
– hypo-osmotic
"I do like doing this because when I cough up the blood I can pretend I'm in a period drama and I have tuberculosis."
– OrangeTree81
These Redditors discovered that all pain is not necessarily "normal."

The C-Word
"Doctor said certain pain is normal as you get older. Turns out it was cancer."
– REDDIT
"That's a fibrous strip of breast tissue, you're too young to have breast cancer."
"Delayed diagnosis by 6 months. I was 31."
– juniper_max

Thinking Twice About Back Pain
"I got from a doctor, 'everyone has back pain. There's nothing wrong with you, just use a heating pad.' It was kidney stones."
– 5hrs4hrs3hrs2hrs1mor
"Yikes, I am so sorry."
"I had a kinda similar experience. I went to the doctor for a morning appointment to get some persistent, worsening back pain checked out. Doc asked me where my back pain was, looked me in the eyes and told me I was fine and must have just slept wrong. He shut me down when I tried to advocate for myself."
"That night, I was admitted to the ER due to the crippling pain I was in. Turns out I had a serious kidney infection that was turning septic."

"One of the ER staff who helped me told me if I had waited another 24 hours, my kidneys would have shut down and I very likely would have died from organ failure?!"

"I've been dismissed by doctors over and over again in my personal health journey, and it is so frustrating and scary, as they've dismissed me for 'being dramatic' when there's actually something very serious going on with my body."
– Yarr0wFeather

Vitamin D Overdose
"If you have pale skin, get just a little sunburnt every day so that your skin will 'learn' to get a tan. That's how everyone else does it."
"My Solar Keratosis skin cancers would beg to disagree."
– comfortablynumb15

As much as we want to believe our doctors when they give us a health assessment and assure us we're "fine," you should never ignore your inner voice telling you that something is not right.
Your conscience is there for a reason.
Even if a doctor tells you it's okay to ignore the problem, you should think twice about ignoring your gut feelings.

When you're in a relationship, it's important to stay alert.
Yes, you of course want to give in to love.
But when you start seeing red flags, be vigilant.
You're gut always knows more than you give it credit for.
Sometimes those flags are a sign that it's time to jump ship.
if you see them... run.
Redditor Shinfekta wanted to compare notes on why people would immediately end a relationship, so they asked:
"What red flag is an instant break up reason for you?"
The signs are always there, but I tend to put on blinders.
I need to do better.
A Big Deal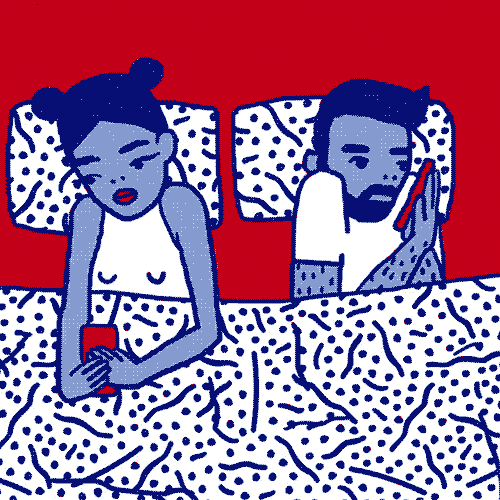 Illustration Text GIF by Jacqueline Jing Lin
Giphy
"Someone that casually says they've cheated. There's no way around that for me."
Kitchen-Bid-8235
"Or worse when they treat cheating as somehow noble."
2diceMisplaced
Hear Me!
"Wanting and demanding my attention but not reciprocating whatsoever."
Cranky_Windlass
"My ex. She would get pissed when she would talk to me about something while I was working and I wasn't giving her my full attention. But every time I wanted to tell her something while she was doing nothing, she would get 'ADHD distracted' and completely ignore me or interrupt me to say something completely irrelevant."
ModestMustang
"I had a friend like this! he literally completely ignored me for 6 months and then blew up at me for not responding to him within an hour. Very strange."
KindBrilliant7879
Wronged
"Never admitting a mistake."

Curious-Force5819
"I know a total hottie that is notoriously known for not being able to admit he's wrong, sucks because he's a gem outside of this. Don't get me wrong, he's a fair and responsible person in general… but he 100% can't admit he was wrong in banter or a light argument even when he realizes he realizes he's wrong hahaha lost confidence in him ASAP."
Zomgirlxoxo
"This is a big one, even when these types of people apologize they still pass the blame. 'I'm sorry for my behavior but you made me really angry.'"
space_being135513
Never Again
"Unmanaged mental illness. Never again."
RuggedHamster
"I was with a girl that had that and I helped her through all of it and it was so hard to deal with it all but somehow I managed but when she felt better she just left me for her best friend's ex and I was left with all that trauma because I loved her with all my heart and soul but she was just using me to feel better… and when she broke up with her best friend's ex she came crawling back begging me to be with her again but it was too late.. the damage has already been done and I can't do that again even though I still love her but I can't tell her that... sorry for venting."
d7oomy998899
Afterthought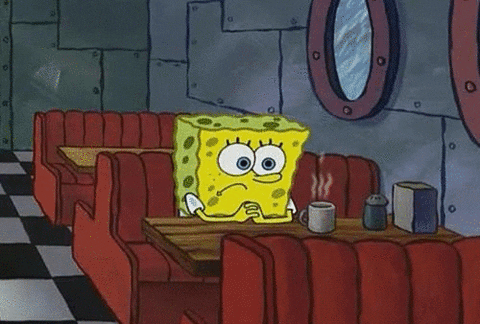 Sad Sponge Bob GIF by SpongeBob SquarePants
Giphy
"If someone makes you feel alone, that you don't matter, or if you are a second choice on most of the occasions, you need to leave."
​Mycatsnameislegolas
Always know when to acknowledge your feelings.
And know when to depart.
Behavior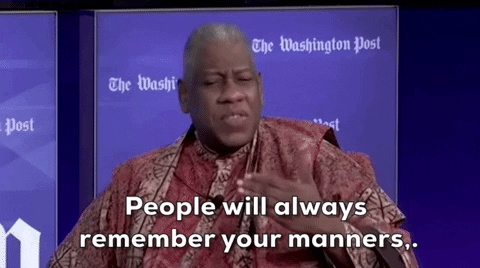 Andre Leon Talley Manners GIF by GIPHY News
Giphy
"How they treat animals, children, elderly, handicapped, and service workers."
REDDIT
"A wise man once said: judge a person not by how they treat their equals, but by how they treat their inferiors."
Major-Ad148
Just Kidding
"Being mean as their 'thing' or 'just a joke.'"
netsbr
"'I'm just sassy!'" No, you're a bi*ch."
BansheeShriek
"I'm going to be honest, with certain friends I am absolutely ruthlessly mean, to the point that people are actually concerned it's just bullying."

"However with strangers, I'm nothing like that. And the friends that I am meant to, they do the exact same thing back to me. We also know that if we need each other, then the meanness is dropped instantly, and it's nothing but support and love."
5tr4nGe
​Well-Meaning
"Zero accountability for anything. Everything they do is absolutely justifiable because, well, they mean well."
Throw_thethrowaway
"Yeah, I was looking for this answer! And it's true outside of romantic relationships also! I had to end a friendship over this exact behavior- it was never her fault, always the victim, and her hurtful behavior shouldn't be addressed because she 'meant well…' but my feelings are still hurt so why don't I matter?!"
helibear90
"This. Can't stand people who always play the victim or blame everyone else and never take accountability for what they do."
_5minutesalone
Boundaries
"This one may take a while, but I would break up if I notice them creeping over personal boundaries, and not stopping when I tell them about it."
"People cross each others' boundaries all the time. I'm happy to give the benefit of the doubt until it becomes apparent that they have no intention to respect me."
"For example, if I don't like tickles or being startled, don't do that. It's not about the tickling, it's about them respecting me. And if there's no respect, there's no relationship."
Ptatofrenchfry
Talk to Me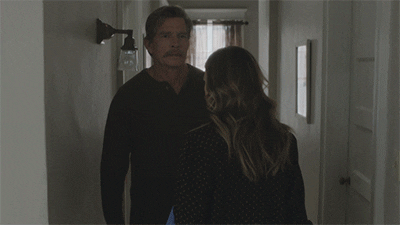 Sarah Jessica Parker Hbo GIF by Divorce
Giphy
"If I'm hearing about a problem in our relationship from someone else rather than the partner. It shows huge trust issues."
"I've seen three divorces in my life, and they all were the result of the girl venting to her mother and her friends about issues she should have discussed with her husband."
michajlo
Communication is key.
If you're not talking to you're partner, why are they you're partner?
People accumulate facts throughout life on a wide variety of subjects.
Some are mundane while others are weird, wild or wonderful.
One subject a lot of people focus on is animals. Most people have a favorite animal that fascinates them that they want to know all about.
Reddit user FunChemical3182 asked:
"What is the weirdest animal fact you know?"
Like Perry
"Platypus glow blueish green under ultraviolet light."
"They also don't have nipples, they just exude milk from glands under the skin and the baby's lap it up."
~ WakingOwl1
"They have electrolocation in their bills that lets them detect their food under water."
~ DrPlatypus1
"And they lay eggs."
"The more I find out about them the more I understand why people first thought they were fake."
~ Reidroshdy
"After seeing all these platypus facts I am convinced these things are aliens that have been abandoned on Earth."
~ SeattleOne206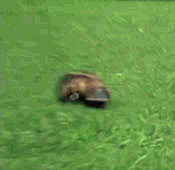 Giphy
Kapow!
"Mantis Shrimp have 16 different sets of cones. Rods and cones are in your eyes. Cones see color, rods see light and motion."
"Dogs have 2 sets of cones—green and blue. Humans have 3 sets of cones—green, blue and red."
"Mantis Shrimp are seeing colors we can't comprehend and explains why they're very colorful."
"That's not even the strangest thing about them."
"They can also punch as fast as a .22 bullet which cause a cavitation bubble which boils the water around them at temperatures of several thousand Kelvins."
~ RigzDigz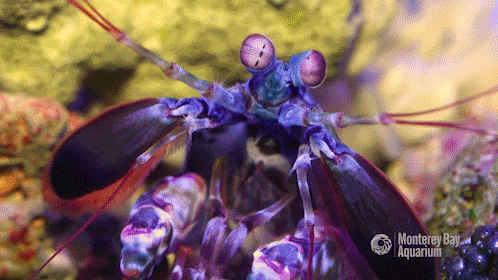 Giphy
Terrible Twos
"Cats have the mental capacity of a 2-year-old which makes a lot of sense."
~ Alive_Ad823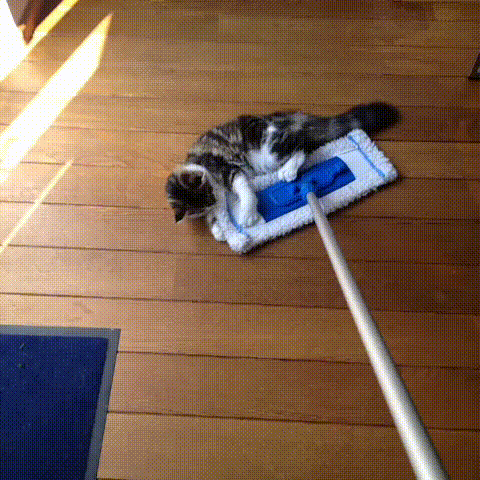 Cats Dragging GIF
Giphy
Like Tinder
"When a female sloth wants a mate she'll hang onto a tree branch and just scream."
~ Remarkable_Sink2542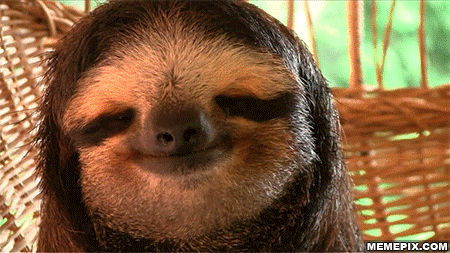 Giphy
Good Thing They're So Small
"Dragonflies are the most successful predators on Earth."
"When lions choose prey they have like a 10% chance of catching it."
"African painted dogs—who hunt in packs—have the highest kill rate of any mammal, successfully catching 51% of their prey."
"When a dragonfly locks onto a target, it has a 99.9% success rate!"
~ PurpleInevitable2103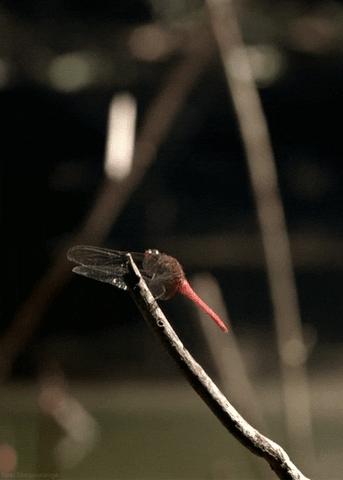 Giphy
On A Swivel
"Owls have really long necks, but it's hard to notice that because their feathers are so fluffy."
~ ergonaut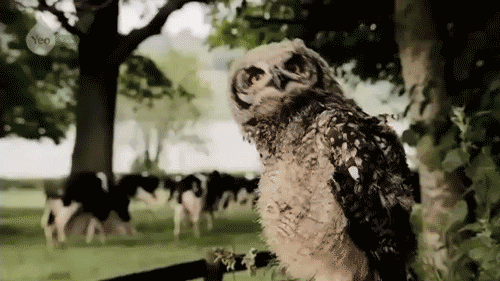 Giphy
What About Cousin It?
"Sea otters are the most densely furred animal with 600,000 to 1,000,000 hair follicles per square inch."
"Dogs have about 15,000 per square inch, humans on average are between 800 to 1,290 hairs per square inch."
~ atom1129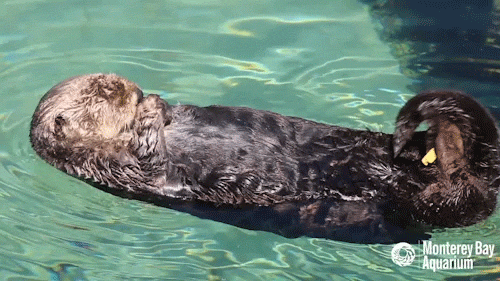 Giphy
Or Two Sets Of Twins
"Armadillos always have offspring as quadruplets."
~ Uncle_Bill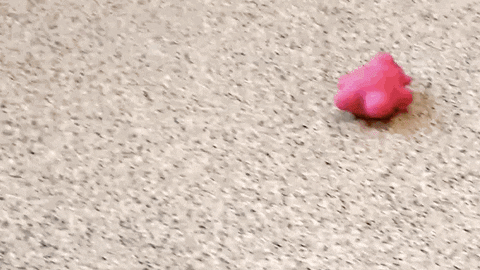 Giphy
Sucker Punchers
"Octopus punch other fish for no reason—so, for fun."
~ Samanthalynn8915
"There's a direct correlation between species' intelligence and dickish behavior."
~ TheDesktopNinja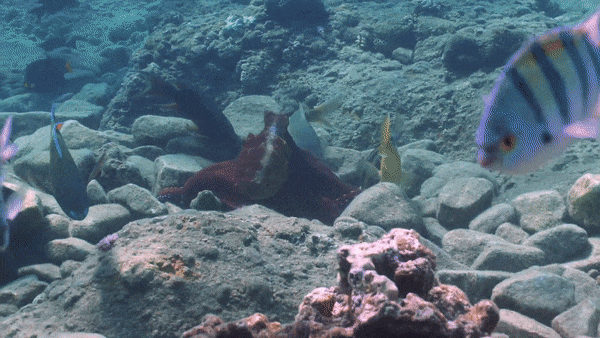 Giphy
Looks Are Deceiving
"Polar bear fur isn't white—it's translucent (for most frequencies of light). And they have black skin underneath."
"So polar bear fur lets all the light through to their black skin to warm them—except for a few visible frequencies to keep them camouflaged as white."
~ seedanrun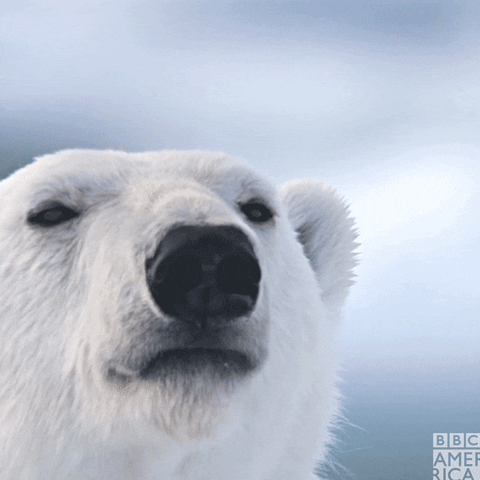 Giphy
Who's Going To Attack One‽‽
"Honey badgers can turn their a**holes inside out and use the smell to deter attackers."
"Not sure what exactly has the guts to attack a honey badger, but if they have the courage to do so, the badger sure as hell isn't gonna make it easy."
~ nonexistantauthor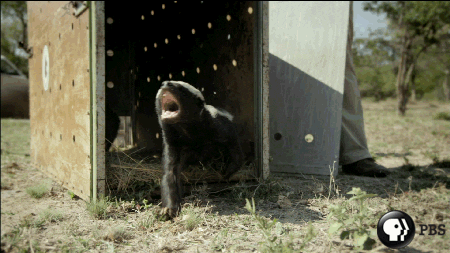 Giphy
Big Momma
"The Blanket Octopus exhibits the highest degree of sexual dimorphism known."
"Females: About 6 feet across."
"Males: About one inch."
~ Fabulous-Pause4154
High Times
"Dolphins will intentionally use puffer fish to get high."
~ altkaldra
"They upset blowfish so they inflate, and therefore emit poison. It gets the dolphins high. Then they pass it around, literally."
~ smack4u
"Not just the dolphins. I recently saw a video about 10 animals that like to get high. Very interesting."
~ s137leo__
"Lemurs do that with giant centipedes/millipedes too."
~ chubbyknuckles420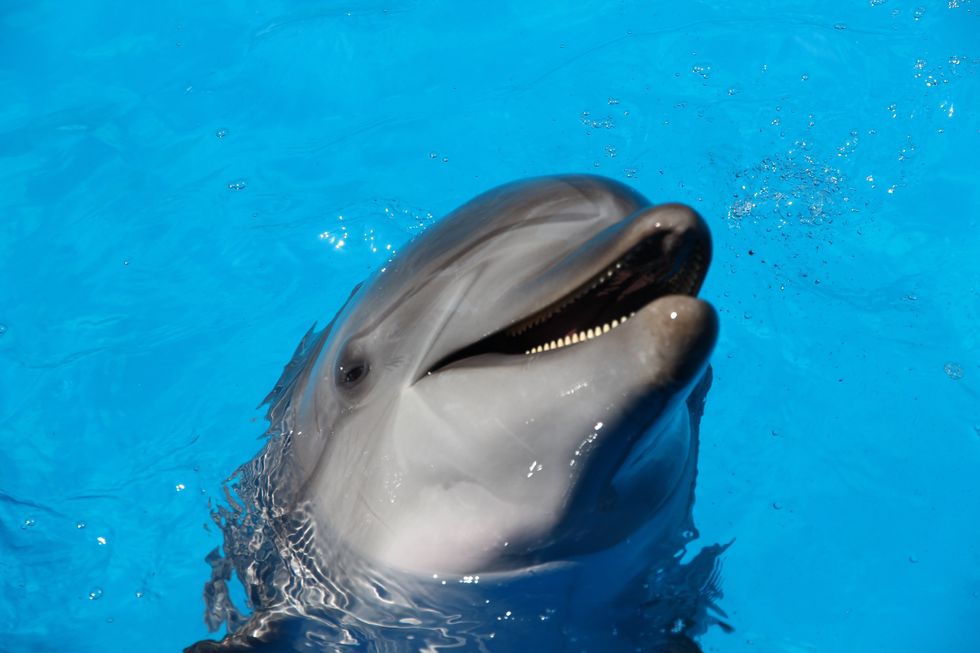 Fabrizio Frigeni on Unsplash
Better Than Bike Helmets
"Woodpeckers' tongues wrap around their brains to cushion them from the vibrations of slamming their face into trees all day."
~ we_made_yewww
"Their tongues also have barbs to grab bugs out of the holes."
"Their brains have additional cushioning because, you know, they spend their days smashing their face as hard as possible into trees."
~ RhynoD
Detachable Organs
"Argonauts [paper nautili] are small octopuses that are too lazy to have intercourse."
"They detach their penises and toss them into the open sea to mate with female argonauts."
"The detachable 'd*ck' is a tiny tentacle, complete with suckers and sperm, that develops in a cavity under the eye of a male argonaut [paper nautilus]."
"When it's time to mate, the tentacle explodes out of the cavity, instantly killing the male argonaut. The tentacle then swims towards a female argonaut to insert itself."
"Sexy, huh?"
~ Schwarzes__Loch
What's your favorite weird animal fact?
Content Warning: Mental Health, Suicide, Domestic Violence
We all know that we technically can't make anyone else do anything, and we certainly can't "fix" other people. Other people will only change or do something if they choose to; the only person we can really control is ourselves.
But some people really love to try, often to hilarious and terrible results.
Already cringing, Redditor Dapper_Algae6280 asked:
"People who entered a relationship thinking 'I can fix them,' how did that go?"
Time for an Upgrade
"There is a weird thing that happens when you 'fix' someone. They tend to think if you liked them broken, then they deserve better than you now that they are better than they were."
- TheRealLifePotato
"As horrible as it sounds, to have a happy, emotionally healthy relationship you need two happy, emotionally healthy people. If you want to be in that sort of relationship, you need to fix yourself first."
- inactiveuser247
"This right here. After three sh*tty relationships in a row, I realized this is a me problem. I took a few years off from dating to reflect and really learn to see red flags and understand myself so I wouldn't make that mistake again."
- MikoSkyns
No More Spark
"My now ex had PTSD, depression, and a variety of other issues she claimed. After two and a half years of dating (being my first and only relationship), she became more social, less suicidal, and overall happier as a person."
"She decided to cheat on me with someone else due to 'lack of communication' and us 'no longer having a spark". The irony."
"For context, we were 17 at the time, in high school, and I worked full-time hours with initiatives to hang out, which were refused. Red flags everywhere."
- elteragxo
"Your situation is eerily similar to mine, what the f**k?"
"I met a girl with mental and emotional issues and decided to fix them through a healthy relationship. She recovered and found someone else because 'the spark was gone.'"
- Aimlessdrifter8778
Misery Loves Company
"Now we are both broken."
- Brave-Butterscotch76
"The same thing happened to my sister-in-law. She married a very negative and miserable guy while saying 'he will get better' or 'we're working on it,' and now she's a very negative and miserable person."
- Moreofyoulessofme
Getting to Watch a Partner Grow
"At first we were only f**king. I don't know if I ever thought I could fix her, but I did fall in love with this beautiful lady with severe anxiety, depression, and trust issues after being in a domestically violent relationship."
"We were f**k buddies for about six months and I got a glimpse of her issues but I still went ahead and asked her to be my girlfriend The heart wants what it wants."
"We dated for a year and a half (two years since meeting), and I actually got to see her at her worst a few times, but I was finally able to get her therapy with a great psychiatrist and treatment, this is when I asked her to move in with me. We've been living together for six years."
"Four years ago, she had the worst breakdown I've seen. She went full-on paranoid, wall-scratching nervous, she was even doubting me and my motives to be there. It was a very difficult week, and she left the house and went to her mom's house in the middle of the night."
"Eventually, her therapist was able to get a hold of her and get her back to her senses. Her doctor then suggested that I also should go to a counselor or at the very least we should do couples therapy so we had strong bases for our relationship and we did."
"I now look back and won't change her for anything in the world, she has grown so much, and she glows right now. I now see her smile and it's glorious. She's achieved a great position too and it's amazing just to see how much happier she looks."
- Spiritual-Narwhal666
Not a Match
"I fixed what I wanted to fix, but that still didn't make us right for each other. In the end, I think she's in a much happier place than she could have been, so I think it was worth the time invested."
"We were wrong for each other, but at least we both came out better positioned to receive the happiness that would come to us later."
- MrWeb20
In Their Nature
"A couple of months into the relationship, I fixed him."
"After some irritation, he stopped peeing on the carpet. Now, my cat still brings mice, but I guess, that's just his nature."
- mobileJay77
The Importance of Boundaries
"I don't know if I would say that I 'fixed' her (and I wasn't trying to), but I definitely taught my last ex the importance of being able to set boundaries and to stop going out of her way to please people who consistently hurt her."
"Eventually this would lead to us breaking up, but I have no regrets. I have issues of my own that were wearing her down and she did what she had to. Same rules apply. We're both better off because of it."
- TylerTexas10
Happily Ever After
"She fixed herself and I fixed myself with each other's support, and we are living happily ever after, it seems, with ongoing work on ourselves and our relationship."
- DonPronote
An Uncommon Ending
"I didn't fix them. But I tried my hardest to be patient and supportive while they fixed themself. Sometimes I was better at support than other times. Sometimes they were better at fixing than other times."
"It ended up being worth the patience. Things have been great with us for years now. I know this isn't the normal outcome though, and I feel incredibly lucky."
- I_Invented_Frysauce
A Little Help from Our Friends
"Usually I'm the one people try to fix.. I think the repeated attempts definitely helped me. Now my current partner gets to enjoy the previous hard work."
"...I think I just got tired of hurting the people who love me and fixed myself, though."
- addrien
All Their Idea
"You can't fix anyone. You can only fix yourself, but if you really want to try and fix someone, you have to make it seem like it's their idea."
- BuhrZap
A Helping Hand
"I don't think you can fix anyone. You can only help them fix themselves, which is very different."
"If someone is actively trying to fix themselves, and you can actually be the person to support them through it, then it can work, but it could also not work."
"I do think there should be a distinction between the two. I mean, trying to fix someone is a bad idea, but if you like someone and are willing to support them in their journey to fix themselves, it's probably not the worst idea in the world."
- brooksie1131
Lesson Learned
"It went so well that they managed to cure me of the desire to 'fix' anybody."
"I'll toss you a life preserver if you're trying to save yourself. But I'm not jumping in the water with anyone so they can drown me on their way out."
"People who need to hit rock bottom in order to better themselves will use you to soften their landing if you let them."
- GlobalPermit5428
Best Friends Forever
"It went well but it didn't work out."
"So we kind of fixed each other we were both at very weird points in our lives and we only dated for about one and a half years. We didn't need a romantic partner but we did need a friend in each other."
"We're both in better places now and the best of friends. We both want each other to be part of our lives just not as lovers."
"All and all, I say we got the best outcomes in our lives."
- CODMAN627
So Worth the Investment
"He was an Uber driver with only a high school diploma."
"I married him anyways and bankrolled his education because he was fun as f**k to be around, was the smartest person I've ever met, and loves me like I'm the only woman on Earth."
"Now, he's a computer engineer and we are landlords together and have bought investment properties. We are very happy together."
"Partners work together to create success. I think selfish people ask, 'what's in it for me?' Marriage is about selflessness."
"I'm glad I sacrificed for his education. His mind would be wasted otherwise and he's a genius."
- BabyElephantWalks
In most of these cases, the situation went poorly after a Redditor tried to change someone, and for good reason. If that person isn't ready or doesn't want to be fixed, it's only going to damage the relationship.
There's also something to be said about unconditional love. If you don't want to date the person exactly as who they are right now, why are you even trying to date them?
If you or someone you know is struggling, you can contact the National Suicide Prevention Lifeline at 988.
To find help outside the United States, the International Association for Suicide Prevention has resources available at
https://www.iasp.info/resources/Crisis_Centres/