Jaroslav Bobrowski is a German triathlete. He's is 5'7", weighs 174 pounds, and has less than 10% body fat. Based on his stats, one would imagine Bobrowski survives solely on a well-balanced, strategically-proportioned diet, right? Wrong.
---
Bobrowski has adopted a unique diet similar to that of intermittent fasting. The typical approach to intermittent fasting is to fast for 16 hours a day and to consume your day's calories within an eight-hour time frame. Other methods involve fasting for a 24-hour period twice a week, or eating only 500-600 calories twice a week and eating normally the rest of the week.
Bobrowski's method is more extreme. He fasts for a 20-hour period, consuming his day's calories in four hours.
Recently he chose Running Sushi, an all-you-can-eat conveyor belt sushi restaurant in Landshut, Germany, as the place for his daily binge.
While at the restaurant, Bobrowski consumed a whopping 100 plates of sushi. Furthermore, the restaurant's Trip Advisor page pictures two to three pieces of sushi per plate. That means Bobrowski probably ate somewhere around 200-300 pieces of sushi.
Some have estimated that he ate 4,000 calories in that sitting, possibly 18 pounds worth of food.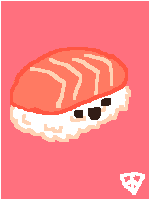 So, what happens when you eat that much sushi at an all-you-can-eat sushi buffet? You get banned.
The athlete said:
When I went to the checkout, I wanted to tip, but the waiter did not want to accept that. I'm banned from now on because I'm eating too much. I was stunned.
The buffet costs €15.90, or approximately $18, for supposedly unlimited food. Because of their pricing, the restaurant makes money only from drinks.
Running Sushi's owner, Tan Le, spoke about why they chose to ban Jaroslav:
I myself am dead after 13 plates, but he always took five or seven plates at a time, so there was a gap on the sushi carousel and the other guests asked if we had skimped on the fish. I want to win customers and not offend any guests. But at €15.90 for unlimited sushi, we only earn money on the drinks and he only consumed one tea the whole evening.
Many people couldn't help but think of another famous guy who was also banned from an all-you-can-eat buffet.
After reading this article, "Man who ate 100 plates of sushi banned from all-you-can-eat buffet," I am reminded of… https://t.co/2CCc5jfn7h

— Bill Roggio (@Bill Roggio)1537296159.0
@peterwsinger https://t.co/x7QSnxExJr

— 𝚕𝚕𝚘𝚢𝚍 𝚓𝚊𝚌𝚘𝚋𝚜𝚘𝚗 👨🏻‍💻 (@𝚕𝚕𝚘𝚢𝚍 𝚓𝚊𝚌𝚘𝚋𝚜𝚘𝚗 👨🏻‍💻)1537229748.0
Others were stunned at his eating skills.
#IL Syö niin paljon kuin jaksat -ravintolalla paloi käämi: Saksalaismies sai porttikiellon - "Tarjoilija sanoi, ett… https://t.co/zzCsSXiNgh

— Karoliina (@Karoliina)1537089752.0
#IL eat as much as you could-the restaurant burned the coil: The German man was banned-"the waiter said I'm eating too much" #JaroslavBobrowski #SouthGermannewspaper
But some people felt the restaurant didn't live up to its name.
An "All You Can Eat" #sushi restaurant in #Germany bans #triAthlete after he consumed the equivalent of 5 people. I… https://t.co/wZDOCws0My

— ReadytoPay_Navi (@ReadytoPay_Navi)1537203240.0
Since no one else is going to say it, I will: This is the most blatant case of false advertising I've ever seen sin… https://t.co/5RiIXUyRyM

— Noah Palmer (@Noah Palmer)1537212927.0
It seems as though Running Sushi has since amended their rules.
@Newsweek It's also no longer all-you-can-eat, just like "unlimited" data plans. Sadly it's in Germany bit had it… https://t.co/And0n4qVSf

— Marco Niese (@Marco Niese)1537221298.0
It also looks as though Bobrowski is not the only athlete who has been banned from an all-you-can-eat joint.
Congratulations, Jaroslav Bobrowski for achieving an important rite of passage in the life of the 🌍's greatest athl… https://t.co/GY3l8rXlS4

— Mary Bowers (@Mary Bowers)1536957109.0
He does, however, seem to be the only "sushi man." Bobrowski will continue his pursuits at another buffet, China City.