As Nick Herbert's son got older, it became apparent that Nick needed to equip his son with a cell phone. However, between his adolescent attention span and desire to remain cool in front of friends (by not talking to his dad on the phone), Nick quickly realized that he needed a way to convey important messages to his son. And so, ReplyASAP was born.
---
ReplyASAP requires kids to reply (ASAP) to their parents before resuming their normal phone activities.
Until they contact their parents, their phone will be locked.
If the phone is on silent, an alarm will sound. So, no more putting the phone on silent and ignoring the numerous calls and texts from worried parents.
The creator, Nick Herbert, shared why he created the app.
"This app was born out of personal frustrations with current messaging apps.

I have a son, Ben, who is at secondary school. When he started secondary school I bought him a smart phone so that I could contact him and he could contact me (obviously not while at school).

However, what I thought was a solution turned into a different problem. Because the phone was 'smart', he could play games and watch videos on it. So invariably he keeps his phone on silent so I wouldn't know. As such when I try and contact him he rarely answers, either because he doesn't hear the phone, or because (and I've finally had to admit this to myself) he may be embarrassed to speak to his Dad in front of his friends."
Herbert went on to explain the background behind his app idea.
"There are times that I need to get a message to him and he has no way of knowing that the call or text he ignores / doesn't see is important or not, and I have no way of knowing if he has seen it (and I mean really seen it and not just moved it so he can get on with his game). There are messaging apps that tell you when a message is delivered and seen, but the point is the message can be ignored or not seen because he didn't hear it.

So, ReplyASAP, is my solution to this problem."
Nick also included his son in the app's design process.
"During the development process I spoke to Ben and showed him the designs and thinking behind the app and he likes the idea because he will know that if he gets one of these messages then he will always hear it and will know its important. He will also have the ability to send me these messages - so there is a mutual understanding that using ReplyASAP is only for important things and not because he needs new batteries for his xbox controller."
Finally, Nick explained that the app could also be applied to other situations past that of parent-child.
"When speaking to my friends they could all see other 'grown up' uses for the app because the majority of them kept their phones on silent most of the time too. Their suggestions ranged from changing your order when your friend is getting the drinks in at the bar, to finding your phone when you've misplaced it at home, to work situations when you need to get hold of work colleagues quickly."
Okay, Nick Herbert is brilliant.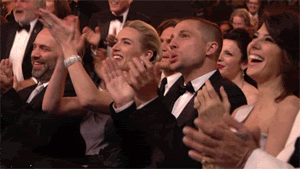 Giphy
The internet is thrilled about this new solution to the (technology) age-old problem.
OMG!!! He should get a Nobel Prize or something😍😍😍 https://t.co/ChzYqoyQ8l

— Delia Tuohy (@Delia Tuohy)1546938089.0
@PureWow This is great! Good job! 😎

— George Serpa (@George Serpa)1546887075.0
Oh life is gooooood. https://t.co/4c6NwE2KxQ

— Old Soul Mama (@Old Soul Mama)1546905462.0
It's over for my child. https://t.co/SNEUVRebaM

— Semhar (@Semhar)1546957873.0
ReplyASAP app forces child to text reply and the phone freeze frame until reply #RememberWhoPaysYourBills

— Paul Menz (@Paul Menz)1546965910.0
Taking it to the next Level of parenthood 😄😄😄 https://t.co/zQWGIR87lO

— Janis (@Janis)1546939855.0
@LizaLLucas that should be built into the operating system in my opinion, not just an app. but it should be a featu… https://t.co/GkZ32pxxAX

— John (@John)1546944137.0
Is this a good idea or a GREAT idea? https://t.co/JJuuR4cIRl

— Adventure Walks (@Adventure Walks)1546907825.0
https://t.co/eZCvB0FMOb This app is a Jewish mother's dream @urbanJAP @JewBoyProblems

— Avi Sholkoff (@Avi Sholkoff)1546915291.0
Thank god they didn't have this when I was a kid 🤣😂 https://t.co/47Ey44incM

— The Social Media Dr. (@The Social Media Dr.)1546981068.0
As of now, ReplyASAP is only available for Android, but an iOS version is allegedly coming soon.