Pet Owners Describe The Times Their Pets Quickly Went From Sweet Angels To Furry Demons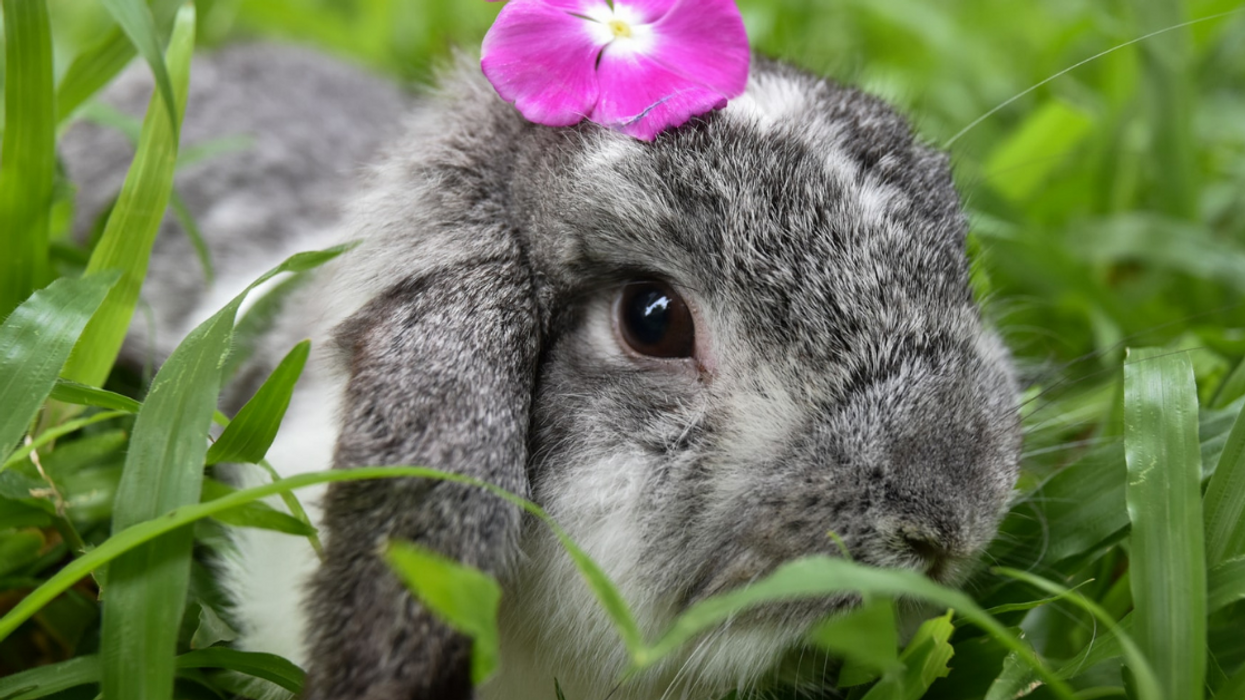 Thapanee Srisawat/Unsplash
Optimus Prime can open doors.
This seems perfectly reasonable if you're talking about Optimus Prime the leader of the Autobots and possibly the greatest Transformer to ever transform.
But I'm talking about Optimus Prime, my 90 lb rescue pit bull who likes to break into neighbors homes.
---
Reddit user AngusGibsonT asked:
" Pet owners of Reddit, what's the quickest you've gone from 'My sweet furry angel' to 'Why are you doing this, you goddamn goblin?' "
When we adopted Optimus Prime, we had no idea he knew this little trick until he let himself out of our house and INTO a neighbor's home down the street.
They were polite ("Um, hi, it seems we have one more pit bull in our living room than we did a few minutes ago. Are you missing someone?") and he isn't aggressive—but anything can happen out there and it's my responsibility as his person to keep him safe.
He's not safe letting himself into and out of rooms, houses and buildings.
Mr. Prime is a stunningly gorgeous boy who loves his cuddles and doesn't understand personal space—do any bully breeds? Why do they need to be snuggled constantly?
But he is also a monster who lets himself out of our house, the vets office, friends places, the car and pretty much anywhere else.
Flat handles, round handles, pocket doors, child locks, kennels—none of it matters. Only a deadbolt has foiled him, so now our front door stays deadbolted.

The thing is, he doesn't DO anything once he opens the doors. He just opens them and stands there, sometimes across the threshold so you can't close it again.
Aside from the time he visited the neighbors, he mostly just seems to have a thing against closed doors. There's no panic, there's just typical bully refusal to leave something alone.
So me and 'Houdini The House Manatee' (he's enormous, grey, and lazy) spend the day playing passive-aggressive games. He walks around opening the doors and just standing in the doorway. I spend the day closing the doors he opens 'cause we live in Florida and mosquitos.
Optimus isn't the only pet wreaking havoc.
Pet owners of Reddit absolutely do not have it together and it makes me feel a little better about myself, honestly.
Rabbit Becomes Man, Man Becomes Pest
"I have raised two rabbits from birth. They're half-siblings with the same father; a boy and girl."
"Girl has always been shy and sweet. And so was boy …up until his testicles dropped."
"My boy became a man overnight, and not a good one."

"Up until his appointment for neutering came, he became the devil incarnate. Honking, running around in circles, pissing all over his toys. All toilet training completely forgotten. Biting us. Growling. Scratching. Wiping his tic-tac on anything fabric. Destroying anything in his path."
"We lined a Perspex storage box with hay that we used as 'horny jail' - a time out zone, if you like, to sit think about what he'd done."

"He's still a little bruiser by nature, but after his surgery he calmed down immensely, especially once his sister was spayed as well."
"On the day they were reunited, I held my breath as they sniffed and chased. But they re-bonded successfully and are inseparable. He's so protective of his sister and grooms her regularly."
"He's smaller than his sister, and I think he just has Little Man Syndrome half the time. I wouldn't have him any other way"
"Tldr; Boy rabbit becomes man. Man becomes pest. Pest has his balls cut off. Pest calms down and becomes a loving brother. I love him."
- LexiRae24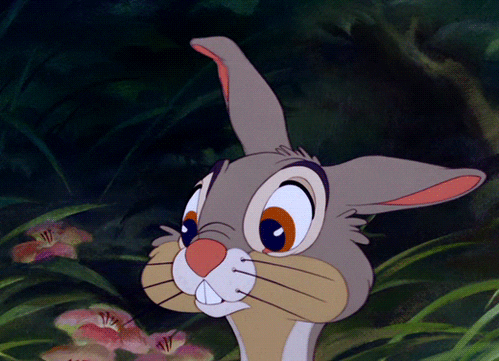 Giphy
The Dogs Plan
"Had a pit when I was in my early 20s."
"I went through some crap and ended up pretty much homeless. I did have a hotel room for a few months, which made me feel grateful to no be on the street."
"My job at the time was crap pay for sh*t work."
"I was down to my last few dollars and bought some chicken nuggets for myself and got my dog his food, because I'd rather barely eat than to see him hungry. Chicken nuggets wouldn't fill me, but it would be SOMETHING and he could eat too."
"For the first time ever, out of nowhere, he jumped on the table and ate my chicken nuggets. I didn't even have enough money for a single pack of ramen."
"I was so mad I yelled and screamed at him and he took off running out the door."
"He was gone almost 3 full days till some old man came walking towards the hotel with my dog on a leash. He came to my door and said he'd seen me letting the dog out before and found him behind his garage."
"We chatted a while and I ended up sharing my struggle story with the old man. The next day I get a call in the hotel room phone with a job offer making almost 16 an hour."
"Old man owned a small construction business and created a position of 'Site Cleaner' for me. I just picked up trash and swept floors after drywallers and electricians etc."
"My first check had a bonus on it labeled 'down payment for apartment.' I still think the dog had his own plan."
- phatkidd76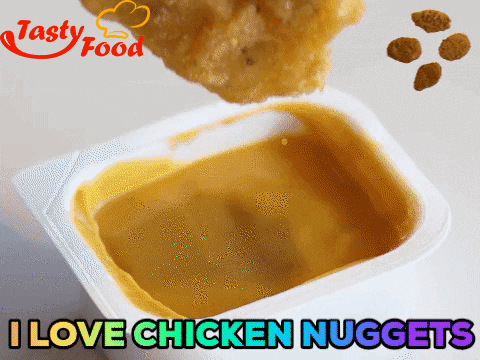 Giphy
My Husbands Cat
"My husband's cat loves him, and only him, unreasonably."
"It's adorable. He's her person and she gets jealous if he's snuggling me instead of her. We're on the couch and he puts his arm around me? She'll squirm her way onto his lap and just stare at me. So that's pretty cute."
"The problem is that when he goes away, she cannot handle it at all."
"This critter goes through the stages of grief, every time. One day of denial (she hangs out on his office chair and generally behaves normally)."
"Two or so days of bargaining (she climbs on my lap, apparently hoping that if she acts real cute, I'll turn into my husband?)"
"Three days of depression (she hides under his desk and only comes out to eat at night.)"
"Finally, she hits anger. She waits until I clean the litter box, and have gone outside to throw the poo out. Then, she SH*TS ON THE FLOOR."
"This lasts anywhere from one to seven days and does not end until my husband returns. She never progresses to the acceptance stage."

"OH BUT IT GETS BETTER. It all ends when my husband finally gets home."
"This ungrateful sh*tgoblin sees him walk in the door, looks me dead in the eye, and strolls into the litter box like she hasn't just spent the last week tormenting me."
"I get it. It's absolutely separation anxiety. Poor goblin."
"We have tried Feliway, but I'm allergic to it. So we set her up in my husband's office overnight (food, water, litter, and privacy from my rambunctious cats) and make sure he leaves some unwashed shirts for her to snuggle."
"She's only got one eye and doesn't hear well so I think it helps her feel safer. But nothing will satisfy her until her person returns."
- WavePetunias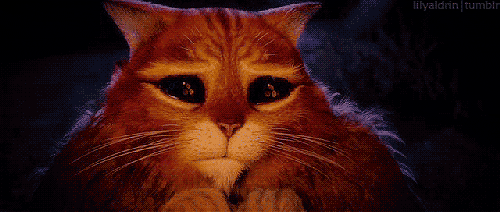 Giphy
Rabbits Can Climb?
"When my then 18 month old, ball of attitude with fluff on it house rabbit bit through my laptop cable while it was plugged in, then proceeded to get angry with the cable and kept biting it because it was biting him back."
"I got home to a totally destroyed cable and a rabbit who had nothing but a minor stomach problem for a few days."
"Everything was on top of a table - including the outlet! I didn't know the little bastard could CLIMB to reach the top of it. Did you know rabbits can climb? BECAUSE I DIDN'T."
"There's no way he could have jumped on stuff to get up there. He literally had to calculate a route and CLIMB."
"All accessible cables are now fully armoured and I check everything for potential bunny access, no matter how improbable."
"He's ridiculously lucky to be alive. He's 6 in July."
"He's a total prick. But I love him."
.- CrazyPlatypusLady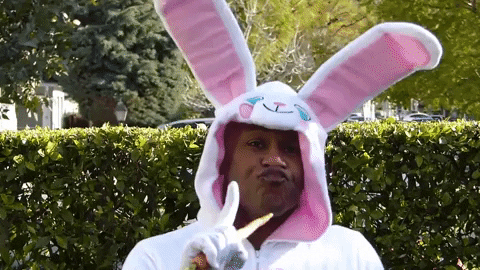 Giphy
Brownie Time
"My German Shepard."
"Wife decided to make brownies in a glass pan. After they had cooled down, we put them back in the oven to eat after we went to go pick up dinner."
"Well, we came back to an open stove, dog diarrhea mixed with vomit all over the house, and my dog laying in the center of the living room - hyperventilating."
"Old boy had used a tea towel we had hanging over the handle to pull the stove open, and decided to eat the brownies, glass pan and all! He must have pulled the pan out and eaten the brownie - and half the shattered glass pan."
"Thankfully this was 22 years ago and I had access to a military vet so it 'only' cost $1200 for the surgery he needed to have the vet remove glass out of dummy's stomach."
"He lived for another 10 years."

- Hardheaded_Hunter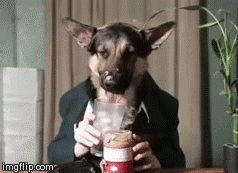 Giphy
Menace To Society
"I am constantly flip flopping between the two"
"My cat is adorable and I love her. But god damn she is just... she's a f*cking menace to society, honestly."
"Cat outside the window? Gotta try and murder it through the window and then maul mom for a week when I can't. Why? Because yes, that's why."

"New furniture in the house or old furniture being disposed of? I am now angry, let the mauling commence once more. For an entire week."
"Something left on a table? I must knock it off the table."

"Same item now put in a deep cubby to prevent me from being an asshole? I must claw my way into the cubby, and then knock it on the floor again."
"Too close to the cat tree for too long? Time to slap."
"Hold her for a second too long after she bawled around the house with her toy in her mouth demanding cuddles? Time to maul."
"There's a box outside? or a bag? Time to attack the window until it's investigated by someone, and then it's time to maul mom for a week about it."
"I don't know why she feels the need to be a spicy lil sh*t. It's a good thing I named her Pepper, I guess."

- GenjisWife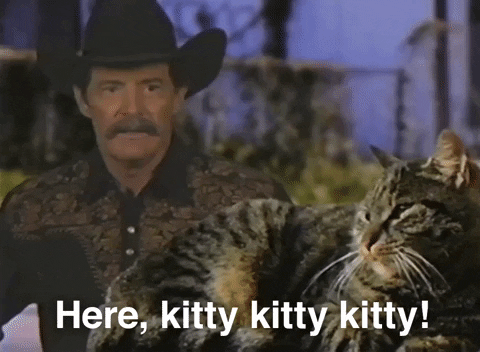 Giphy
Chinchilla Love
"My chinchilla goes from 'sweet innocent fluffball who just wants some treats and pets' to 'horny little bastard' real quick."
"I'll just be sitting with him giving him pets and he'll try to hump my foot. Or the blanket. Or a pillow. Or a stuffed animal. Or my knee."
"Honestly, any nearby semi-soft thing is in danger of being humped."
"He's also jizzed on his vet. More than once."
"The vet never seems shocked by it, though. Male chinchillas don't normally get neutered since it's risky for them. It's usually only done if there's a medical reason for it, so this must happen pretty regularly."
- whateverimtootired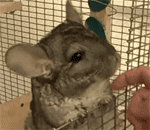 Giphy
Gag-Crying
"I had a really well-behaved blind foster dog."
"I was very sick one night and put him to bed in his kennel (which he loves) earlier than normal. I slept later than normal too since I felt so horrible."
"I woke up expecting him to have had an accident and was so proud he hadn't pooped anywhere since I'd left him in there so long."
"That is, until I brought him out of his kennel and he chugged an entire bowl of water and then threw up. Turns out he had pooped, but then eaten it and now vomited watery poop all over my doormat."
"Since he'd drank so much water, it spread all over my floor. Cue me gag-crying with a bottle of 409 and paper towels."
"I didn't blame him, obviously."
- astrosergeant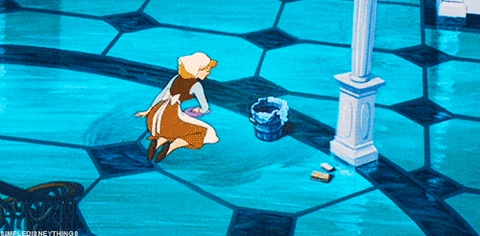 Giphy
Merry Christmas
"When one of my cats was still a kitten, she would climb the Christmas tree. We thought it was funny and didn't really mind that much because she wasn't big enough to knock it over or really cause any damage."
"Until she decided to open her mouth as wide as possible to bite a FREAKIN GLASS ORNAMENT and then it basically got stuck in her wide open mouth."
"My husband and I were both freaking out and trying to get it out of her mouth, and then the GLASS ORNAMENT BROKE IN HER MOUTH. Shockingly, she was perfectly fine and somehow didn't cut her mouth but it was the most ridiculous and terrifying thing I've had a pet do."
"Our Christmas ornaments are all made of plastic now because of this."
- beloved_wolf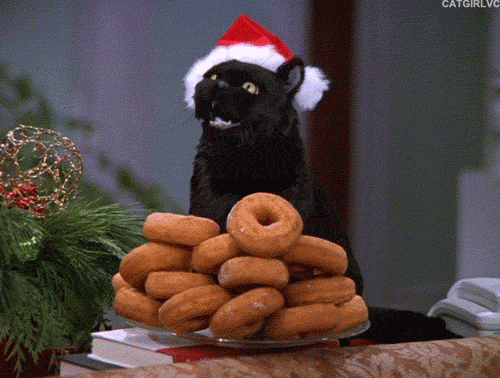 Giphy
Under Two Feet Of Snow
"My dog loved snow. I love snow."
"The first time I ever got to take him out in a proper blizzard in NYC was so exciting. It dumped so hard so fast, I had never seen anything like it. I had to take him out for a walk."
"He was beside himself, hopping in and out of deep drifts like a juiced up rabbit, completely disappearing beneath the surface and re-emerging a few feet away, crazed. So pure, so playful. That's my boy."
"It was late at night in Brooklyn, streets were empty."
"I took him into a fenced-in basketball court up the street from my apartment. Pristine, untouched snow. I let him off leash to go absolutely nuts in the stuff. I stood by the gate beaming as he dashed and darted and dived."
"Within seconds he made a bee-line to the far corner where he began rolling around, fixated. I knew that roll. The roll reserved for smelly things."
"By the time I sprinted to the far end of the court he was covered, head to tail, in soft wet human feces. Someone, at some point before the storm, literally sprayed an ungodly amount of diarrhea shit in the corner of that court and despite being buried under two feet of snow, my dog immediately clocked it and bathed in it."
"It was matted so deep in his fur I spent over 6 hours cleaning him and the mess in my apartment that night. And still had to call a cleaning service and air out the stench for days and days in the dead of winter."

"Dogs, man..."
- MEEfO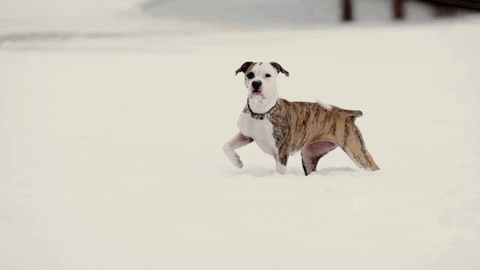 Giphy
"The Sweetest Psychopath"
"Pretty much everything."
"I adopted her at two years old, some sort of pitt mix, and the vet pegged her perfectly. She said 'she's the sweetest psychopath we will ever meet.' "
"She's so lovable and loving, but has such a strong prey drive and fear of the unknown. Poor girl. I love her and hate her every f*cking day."
- Gotforgot
Steve
"One time when I was doing homework at the kitchen table, my puppy (Steve, who it now 5 I believe?) was just chilling under the table."
"Suddenly, I hear gagging noises. I look under the table with my mom to see what is happening."
"That a-hole throws up a whole sock! Then just acts like nothing happened."
- Alyvent
Bless You
"My cat came up and was purring and giving me little kitty kisses as I was eating my birthday breakfast."
"Then he sneezed in my open mouth and on the bite of food I was bringing to it."
- PM_ME_YOUR_WEIRD_PET
Groggy Gribble
"Wasn't there to experience it, but when my dad took our new kitten to get neutered, he warned the vet that he was quite the little bastard."
"He explained that he will bite, claw, scratch, & draw blood from anyone he felt even slightly intimidated by. The vet (obviously) said it was fine, & that they see cats much worse all the time. In fact, Gribble (my cat) was completely calm after leaving the kennel."
"My dad brushed it off & chalked it up to the vet being good at his job."
"When my dad returned to pick Gribble up, the vet had his arm stretched out as far as possible while holding Gribble by his neck & cautiously approaching my dad."
"Apparently, after the grogginess wore off, Gribble went absolutely batshit on the vet & his assistants, leaving decent sized marks to prove it. All the vet had to say was, 'Well, I can see what you meant earlier.' "
- beccabitesback
Lizard Puppy
"I have an Argentine blue Tegu I adopted after his original owner passed away."
"For those of you who don't know Tegus are often called 'lizard puppies' by the internet and for good reason. They're affectionate, Intelligent, and all around very personable large lizards with one exception."
"Anywhere between 10 months to 2 years or so when tegus hit puberty they enter a brief but violent stage of growth that tegu owners affectionately call 'guberty'."
"During this stage they literally act how you'd expect a raging, hormonal teenager to act and become Satan incarnate. They will lunge at and bite anything that moves and seemingly overnight transform into a vengeful God of hatred trapped in a little scaley package no matter how much they bonded with you before."
"My boy went from being a sweet, beautifully socialized little man into a emo teenager who didn't just threaten you with dark poetry and blasting Black Sabbath in his room all day; he had a powerful bite and tail to back up the threats."
"There was an extra twist to his behavior I didn't quite expect though. Apparently during this time male lizards can also get extremely horny; especially if their owners are female."
"Instead of lunging at me with pure adolescent hatred my little man had other intentions when he attempted to latch onto my leg or arm."
"He rubbed his ass on everything to leave his scent, would come running at me full tilt, and I had to wear shoes when I was in the house or he would attack my feet, rip off the sock, and steal it so he could attempt to violate it."
"I gave him a stuffed turkey so that he could take out his horniness on that instead of trying to latch onto my arm or leg."
"Did I mention tegus have powerful jaws? Because they do, and honestly I'm lucky the bites I got were the gentler amorous kind."
"I saw his gross little winky far too many times that summer. I would have preferred he just hated me like a normal lizard but no. I had a 6 lb horny lizard, instead."
"Thankfully my boy got through 'guberty' and is back to his sweet self and giving me an appropriate level of affection when I take him out every day to roam my house."
"I know his previous owner would have laughed his ass off at the ordeal."
- Alternative_Many_614
Smacking A Service Dog
"I have PTSD and a service dog. He is my second, after my first lovely lady retired (but never stopped working) and then passed on."
"This isn't about him, but does involve him. This is about my cat."
"I've had this cat for almost as long as I've had a service dog and my working theory is that he learned from my first that he could do something to help me when I needed help."
"It's wonderful having two animals who are so attentive to my needs. It's not so wonderful for one of them to be possessive over the ability to do things for me."
"Sometimes, when I need help and my cat has gotten to me first (usually because he can be up on my desk/table/etc while my dog is next to me on the ground) my cat will get prickly with my dog and be like, 'I GOT THIS. Jeez, leave off! I got it this time!' and slap him in the face with his paw when he too tries to help."
"and my poor dog is like, 'but it's my job. I need to do job for human. I can't leave! I HAVE JOB.' "
"My previous service dog was pretty good at rolling with this and let him help me while squishing against my back safely away from kitty paws."
"My current service dog has not puzzled this out yet and will keep trying to help from the front and keep getting bapped in the face for his troubles."

"Fortunately, I can ask my dog to go fetch something for me (meds, sweat shirt, what have you) so he can still do something for me even if he isn't immediately doing the getting-all-up-in-my-bzns thing he's trained to do."
"This isn't every time. My cat hovers nearby if my dog gets to me first, which is usually."

"On occasion, he will come over and try to take over if he thinks my dog isn't doing a good enough job, which involves smacking my dog to get him out of the way."
"This is very rare, and seems to happen less and less as my cat gets older. My guess is he is grudgingly deeming my dog is doing a better job than he initially thought."
- FaustianPacts
Now, because I'm the kind of writer who knows what the people really want—here's a picture of Optimus. Specifically, a picture of him gorgeously basking in the light of a door he just opened.
Dog tax paid, dear readers.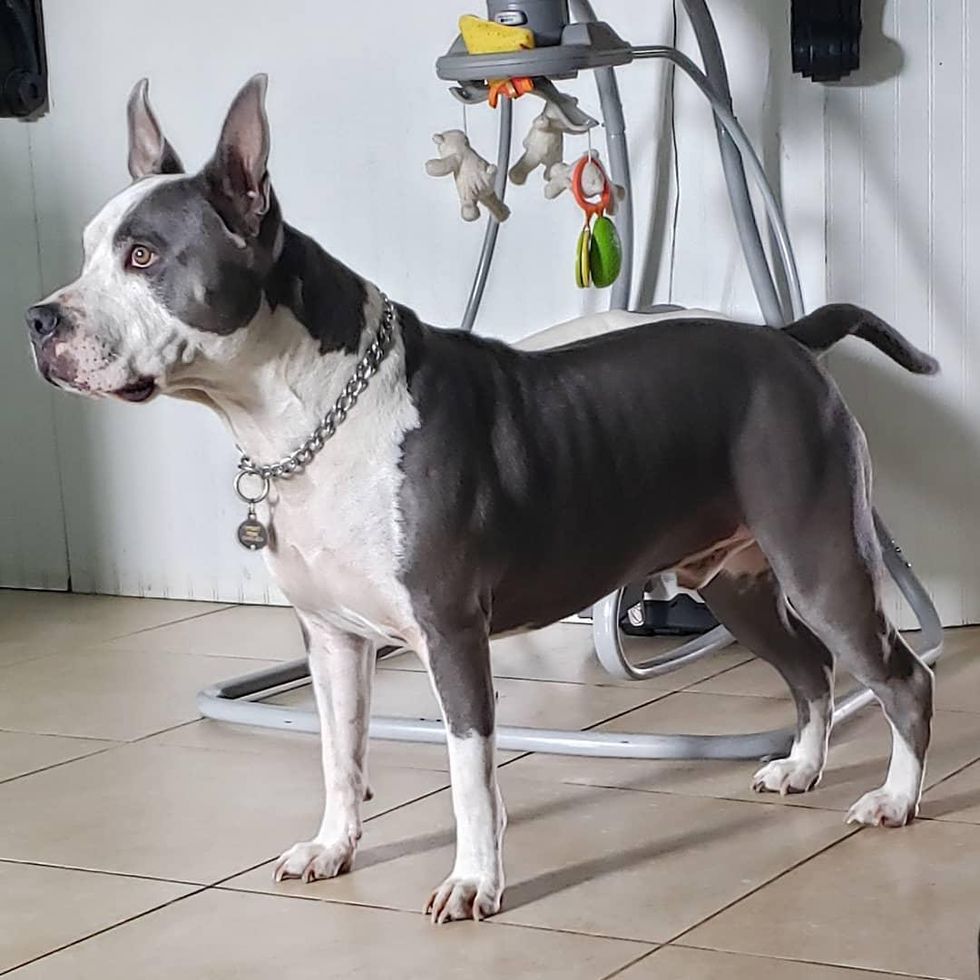 Want to "know" more?
Sign up for the Knowable newsletter here.

Never miss another big, odd, funny or heartbreaking moment again.
Reddit user tjeast asked: 'What did you find out after a first date that was a deal-breaker?'
As much as we would love to be able to date one person, for that to be the right person for us, and for the two of us to get on with our life together, we all know it's going to take at least a few tries to find the perfect match.
But some of these matches make us want to throw in the towel.
You've got to listen to your gut (and your eyes) when you sense a red flag.
Redditor tjeast asked:
"What did you find out after a first date that was a deal-breaker?"
Just... A Couple... Of Red Flags
"I found out that he had restraining orders against him from not one, but two exes. He also asked if he could move in with me on the first date."
- lalalabeeee
An Ex Collector
"On the surface, he was a lawyer with an Ivy League degree. Then just one layer deep, he had six kids with five different women."
"One of his exes hated him so much that she took their kids to Germany to get away from him."
"And the kicker (yes, more than the Germany ex)? His youngest was six months old and he was sleeping on his latest ex's couch."
- Banjo-Becky
Questionable Connections
"I met up for drinks with a woman, and she started telling me about how she thought I'd get along with her brother. After a couple of drinks, we ended up at the bar where her brother worked. He's a h**l of a guy."
"We kept playing hair metal on the jukebox and drinking beers. She went from saying I would get along with her brother to I remind her of her brother. The more she drank, the more she said it."
"We ended up making out, and she started repeating the s**t about her brother while trying to get something going with me."
"I made sure she got home safe, but that s**t creeped me out so much that I never spoke to her again."
- weeew87
Secret Babies
"Prior to our first date, he said he didn't have any kids."
"While he was driving me home after our first date, he mentioned that he hated letting his baby mama use his car because she always messed with the radio stations and that it took forever to get his seat adjusted back to how he liked it."
"I was just out of high school and wasn't looking to date anyone with kids. With how disrespectful he was during our date, finding out that he had a kid was an automatic deal breaker for me."
"He then kept calling and texting me and after I blocked his number he kept creating new social media accounts to get a hold of me because he wanted to go for a second date and kept bringing up that he was making good money so I'd be an idiot to say no to him."
- 2baverage
Specific Looks Wanted
"My date kept trying to braid my hair, lol (laughing out loud). At first, it seemed weird, but not like a deal-breaker, but then he KEPT asking."
"The first time he asked, we were walking through the park, and I was telling a story, but he interrupted me, asking, 'Can I please braid your hair?'"
"I laughed, politely said no, and continued talking, but he kept interrupting, asking to braid my hair."
"I asked why, but all he said was, 'I just want to braid it,' and kept reaching for my head. I swatted his hand away a few times, and when that didn't work, I told him I was ready to go home."
"It was so creepy!"
- TheDahliaXO
Her Body, Not His Plans
"He told me that he couldn't wait to have kids with me and that he had picked out our kids' names."
"When I told him that this was our first date and that I wasn't sure about kids and that this was a super creepy thing to say to me, he insisted it was my duty as a woman and that it would make me very happy."
"Yeah, there was no second date."
- NymeriasWrath
Just Practicing for Thanksgiving!
"He was a felon. He had a really unbelievable story about being locked out of his ex's house and he broke in while JUST HAPPENING to be holding a rifle from Turkey hunting. Terrifying."
- _lmmk_
Very Different Interests
"She got off on watching the guys she was with get in fights. She gave some dude the come-f**k-me eyes and then expected me to brawl when he came up to hit on her. F**k no, girl, maybe you can catch a ride home with him."
- discussatron
No Third Wheels
"Her other guy showed up in the middle of our date. She said, 'Can I talk with him for a minute?'"
"I said, 'Sure,' and then walked out the door and never looked back."
- New2ThisThrowaway
Not a Good Morning
"She was married. We met at a bar and left together. We went and had dinner, saw a movie, and she spent the night."
"The next morning she said, 'I wonder if my husband figured out I didn't come home.'"
"Then she asked me for a ride to work, and I got a ticket because she didn't wear her seatbelt."
- PM_ME_THEM_TACOS_GURL
Totally Wrong
​"He asked me to pay for his court fees, that was my turn-off, so I wanted to leave to end the date."
"I said my goodbyes, and then he threatened to tell the whole restaurant I was having an affair and cheated on him if I left."
"I stayed in fear of embarrassment."
"Later, I excused myself to the restroom where I made my escape to the door. He saw me from the window."
"I saw him coming out, so I ran a bit, and when I looked back, he was chasing me. (I got away, but wow.)"
- Ok-Ambassador-8982
Supporting the Arts
"He was a really bad magician. He brought cards and everything, but he couldn't land a trick."
"I felt bad and took him up on a second date, but that was it."
- Durdengrl322
Financial Investments
"He lost a pile of money in crypto and NFTs. But he still tried to convince me to get my money into it."
- hanginwithyuka
"Some people cannot be saved from themselves."
- Creative_Recover
Unrealized Love
"I think she was in love with her best friend and didn't realize it."
"She told me she and her long-time best friend she called her 'wifey' lived together in a single room with the friend's baby. She said that this friend always comes first and they're inseparable. They also have gotten kicked out like three times from house to house."
"She left the date early because whoever they were renting from was threatening to kick them out."
"We never really talked again but I wanted to tell her she shouldn't be dating because she's already in a relationship."
- PupEDog
We've all heard of first date fails, terrible dates in general, and big relationship deal-breakers, but just the same, we can completely understand how these were such major deal-breakers.
From lying about their real life to trying to involve us in something we're not interested in, there are some people who are simply not meant for us because their lives are just too different from ours. And that's okay!
People can be just the worst, right? Everyone on earth has a million stories about their fellow human beings acting downright terrible. From cheating partners, to rich jerks, to random acts of cruelty, we've all seen humanity's darker side. It should be little surprise then that the people of the internet have some of the most infuriating, cringe-inducing stories about horrible people—and we've collected them for you here!
One of the lamest ways to insult someone is by describing their behavior as being gay.
The attempt at emasculating a perceived straight heterosexual male by comparing his actions to something that a homosexual male might do is a common form of mockery by alpha males.
Examples include mocking a guy who gets manicures, wears pink, or sits with his legs crossed. "Gay, gay gay," says the immature antagonizer.

Typically, the ribbing occurs between friends and is not prompted by verbal attacks.
Still, this casual form of bullying can be tiresome and only perpetuates misconceptions and stereotypes that can be harmful to the LGBTQ+ community.

Strangers online shared their experiences being targeted when Redditor Spagoobli0 asked:

"What is the dumbest thing people called you gay for?"
Apparently, maintaining good hygiene is so gay.
Being Clean
"i was called gay for showering daily."
– ilive4manass
"with other men?"
– intheken

Scrubbing The Backside
"I was told it was gay to wash my a**. The guy was recently evicted for defecating on his own floor for 6 months and not paying taxes."
– my-recent-throwaway

Pro-Tip
"In boot camp we shower with other dudes. I had someone call me gay in the shower for washing my a**. As if the only reason for washing my a** is to make it presentable for someone else. Nah, dude, I just don't want skid marks in the tighty whities they make us wear."
"It's not even like I was doing it weird. Like if I was bent over spreading my cheeks so everyone could see my brown eye, that would be one thing. But I literally just took a handful of suds and ran it down the crack a couple times because, pro tip to my fellow dudes; the water running down your back is not enough to clean the part of you that poop comes out of."
– Morningxafter

Lotion Up
"I once had a friend of mine stop by before we were going to meet some people for brunch. I had just taken a shower and gotten dressed when he walked in the front door (I always had a just walk in policy, suburban life). I have pretty dry skin so I was putting on a bit of moisturizing lotion. First words out of his mouth were 'moisturizing? That's pretty gay isn't it?' I said 'If feeling like I don't want to scrape my skin off is gay, whip out the d*cks!'"
– bg-j38

Keeping up with appearances is hard enough.
The Damaging Effects
"'Gay' was the first 'dis' I ever heard, I had no idea what it meant for like a year. I just knew it was the worst thing to be. My whole generation struggled with that and I really feel for the people who had to come out to friends and family when I was young, it must have been really tough. I came out as bi about 6 or 7 years ago and that was pretty brutal, and the only reason I came out was because something happened that made it clear I was. Tbh it was f'king humiliating and awful at the time, it really f'ked with my head and my self worth. I am totally, 100% ok with it now, in fact I'm kind of proud I have the balls to tell people I'm bi now. It's become who I am and I'm ok with it.
"Just to be clear I've never had an issue with anybody being gay, at all. It's just for me it was a really difficult thing to deal with. Extremely personal. A lifetime of unconsciously being told gay was 'bad' has an effect on me, I wish it didn't but the truth is it did. I have mad respect for all openly gay and trans people."
– NitroD*ckclapp

Revealing Color Choice
"Had a guy genuinely ask if I was gay because I was wearing a red pair of Vans."
– LemonMan589
"Maybe he was cruising."
– InverseRatio

List Of Indicators
"I was a child in the 80s. Calling people gay was standard derogatory talk for checks notes literally everything. Bad play in sport, choice of clothes, hobby, etc."
– f_ranz1224
The Hopscotcher

"I was called gay for about 6 months in middle school for jumping down a hopscotch thing as I walked past it after lunch."
– Sado_Hedonist
What happens in the bedroom...

Going Down
"Like giving oral sex to my wife. Will never understand that."
– Beenthere-doneit55
"Fellas, is it gay to go down on a woman?"
– raveturned
"I view it selfishly. It combines the two two things I love the most, eating and having sex. If that makes me gay, so be it."
– Beenthere–doneit55

Flawed Logic
"They think if you'll do down on your wife you'll go down on a guy?"
"How would the two even translate??"
– WillieOverall
Even before I came out to my friends as gay, being called anti-gay slurs–even in jest–only suppressed my inclination to want to share my truth.
One of the things I've been mocked for during high school pre-coming out was my love for Disney.
The girls had no problem sharing my passion, but the jocks made fun of me for wearing a Mickey Mouse T-shirt to school, saying I was a "sissy boy" for liking Disney and that only "f*ggots" liked Disney.
Now, I know plenty of demographics–gay and straight, all ethnicities–that universally appreciate Disney. But I have to say, good on them for being accurate in knowing who I was before I did: a proud f*ggot who loves Disney.

All of us have surprising or unusual things people do that turn us on.
These can be simple things, like washing dishes, reaching for something on a high shelf, or pouring a drink which, whether it's the person doing it or the act itself, turns out to be surprisingly sexy.
Rather more interesting, however, are the things people do that draw us to them that aren't remotely sexy at all, but in fact completely wholesome.
Even so, seeing people do these things, or behave in this manner still has the same power to make us fall completely weak at the knees and melt our hearts.
Redditor levoyageursansbagage was curious to hear all of the innocent things that people find utterly alluring, leading them to ask:
"What is the most wholesome behavior you find really attractive?"
Excitement Can Be Infectious

"When people get really excited over something they enjoy."- BoiledCabbage
"Being genuinely excited about something."
"I love me a nerd."- Howdydobe
Loving All Living Things
"It was really hot and little rain for a couple of weeks and we have backyard critters roaming around typical of the suburbs."
"So my wife puts a big Tupperware bowl of water out that she changes daily in case an animal gets thirsty."
"I was looking at it one day and a stick had fallen in the bowl so I went to remove it."
"My wife yells at me, 'No! Don't take the stick out, that's so bees can crawl out if they fall in'."
"I thought it was adorable."- yakfsh1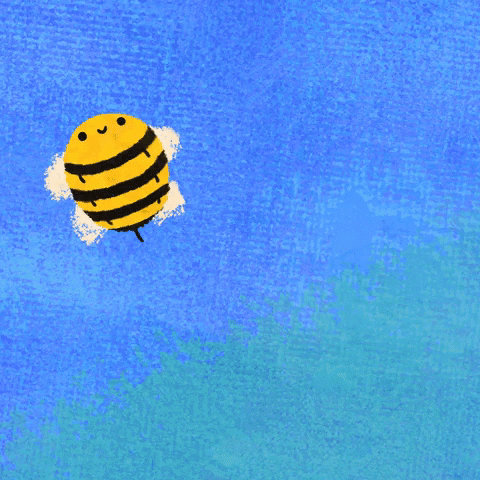 Honey Bee Loop GIF by Kev Lavery
Giphy
Truly Unforgettable
"When someone remembers a really random small detail I've only mentioned once."- Starriyer
Compassion Over Convenience
"Doing the right thing even when it's inconvenient."
"I was on a date and he took a call from a friend in crisis."
"They worked the problem out and he said 'I love you' to his friend (who said it back)."
"He explained he needed to take the call and apologized that it happened during the date."
"No apology necessary!"
"He demonstrated loyalty and vulnerability and it was incredibly sexy."
"Even better that it's just who he is; none of it was for show."- Hiberniae
"When someone helps old people."
"Maybe getting up to give their seat to them in a public bus or in general, helping them carry their heavy bags, or something."- itsMat_hi_ka
"When a person knows the right time to simply listen to someone in distress and the right time to offer advice."- Old_Army90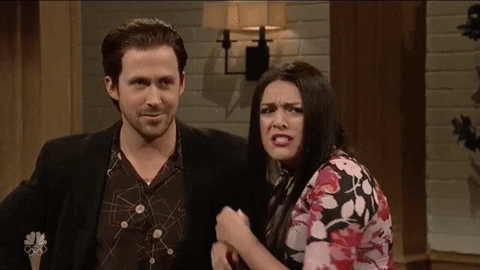 Giphy
The Greatest Love Of All...
"My husband will run around playing games with our son in the playground and will fully commit to whatever game that is.'
"There's no standing around talking to the adults, he will get fully involved in the make-believe world."

"10/10, fully present parenting."- Ambivertigo
The Gift Of Laughter

"People that make themselves crack up."
"People with their particular and weird little sense of humor that unashamedly laugh at what they think is so funny."
"Extra points if they're laughing because of a joke they're telling themselves."
"It's my favorite thing to see someone do."
"As long as the joke doesn't seriously hurt other people."
"I love good dark humor."
"If someone's genuinely trying to be hateful, it loses appeal completely."- tresjoliesuzanne
"When I'm with my wife at a restaurant and the baby in the next booth is staring at her, she will wave to the baby and make funny faces to get the kid to smile/giggle."
"That."- SadConsequence8476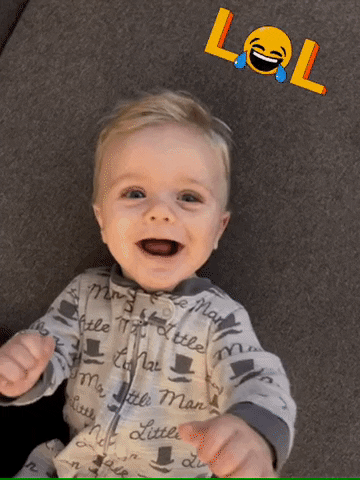 happy baby lol GIF by TheMacnabs
Giphy
Heal The World...
"I went backpacking with my boyfriend for the first time recently and I noticed that anytime we came across a little piece of trash on the trail, he would pick it up and put it in his pocket to throw away properly at the first opportunity."
"It just highlighted to me that he was conscientious and kind even when it came to things a lot of people would overlook, and I found that incredibly attractive."- snickerdoodle--
Happiness Comes In Many Forms

"Seeing a man be genuinely happy for someone else, I recently discovered this about myself."- West_Cherry3944
Literal Food For Thought
"A friend of mine has this habit of making sure that everyone around her has eaten on time."
"'A well fed tummy makes the brain think properly'."
"That's her exact words."- in_out_in_out_·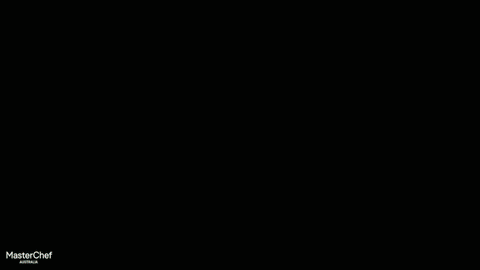 Food Cooking GIF by MasterChefAU
Giphy
No One Should Take Themselves Too Seriously
"Silliness, the sillier the hotter."- Fearless-Finish9724·
The Epitome Of Selfless

"My husband grew up extremely poor."
"Not homeless but close."
"Whenever we're out and we see someone asking for food, he will quietly walk over and take them to whatever restaurant they want."
"He will then order them whatever they want."
"When we met, he was in grad school and had no money."
"He still did this."
"It made me swoon."- curryp4n
Reading these heartwarming and touching affirmations, it does give one pause that kindness and compassion are considered so unusual.
Even so, no doubt that's what makes selfless, and kind-hearted people so attractive.