Comedian and actress Amy Schumer tries to advocate for body positivity.
In her Netflix special, Amy Schumer: The Leather Special, she said, "I feel strong. I feel healthy. I do. I feel sexy."
---
So when Instagram user "Cewlguy" face-tuned one of Schumer's photos through an app to illustrate that a thinner version of the actress was better, the I Feel Pretty actress had no time for that.
Amy Schumer Has a Message for the Fan Who Photoshopped Her Bikini Photo: 'I Love My Body' babies https://t.co/dHfMdeeL8e

— Amir Weinberger (@Amir Weinberger)1535650219.0
Using a before photo of Schumer wearing a black and white bikini at the beach next to an altered, slimmer version of her body, the user wrote:
"So I think Amy looks great already but man does she look way better I'm [sic] my OPINION in the second photo."

The since deleted post was screen-grabbed by the Daily Mail and shared online.
Amy Schumer slams Facetune enthusiast who retouched her bikini body to be thinner https://t.co/5jNDD8hsqN

— Daily Mail Celebrity (@Daily Mail Celebrity)1535686213.0
Schumer disagreed with Cewlguy's post. But instead of lashing out, she responded:
"I disagree. I like how i really look".
"That's my body. I love my body for being strong and healthy and sexy."
"I look like I'd give a good hug or have a drink with you."
"The other picture looks nice but it's not me. Thanks for sharing your thoughts as well. See, we're both right."

(@Cewlguy/Instagram)
The comedian added a comment to Cewlguy's post, writing "Real a__ me" to the before picture and "Boo" to the Photoshopped version.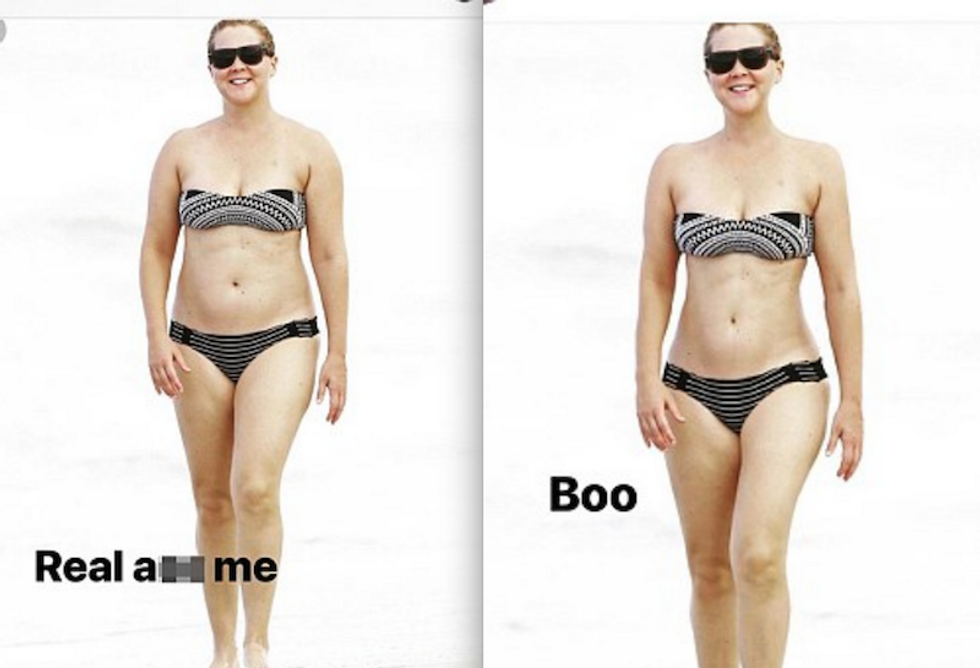 Screengrabbed images of the deleted post from Daily Mail.
(
DailyMail
)
The face-tuner expressed remorse after having second thoughts and reading Schumer's response. Cewlguy immediately took down the post.

The user then apologized and ceased activity on the account originally intended to feature face-tuning of various celebrities.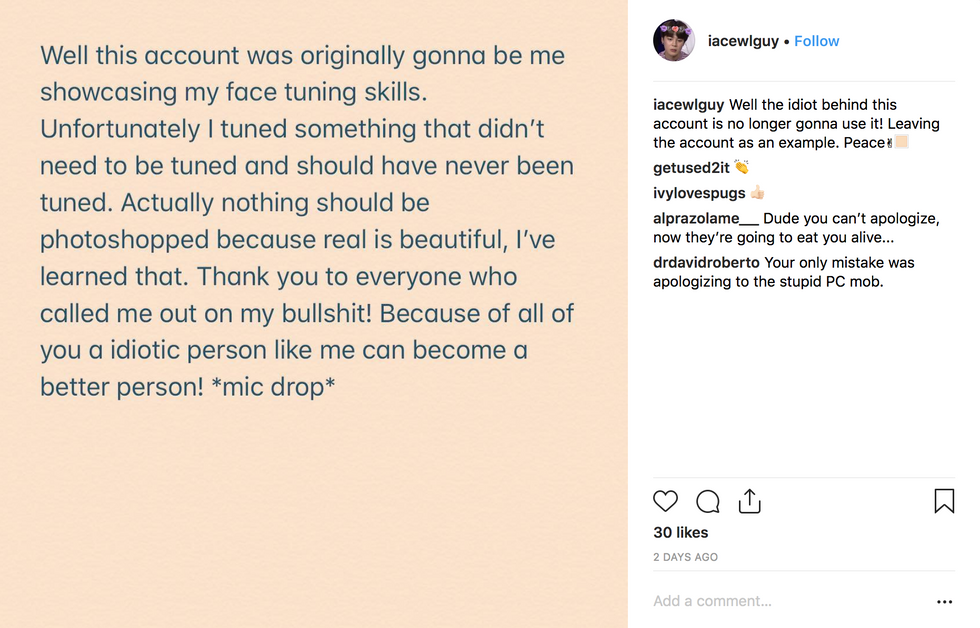 (@Cewlguy/Instagram)
Cewlguy expressed regret, admitting they should never have tampered with an image that was already beautiful.
"Actually nothing should be photoshopped because real is beautiful, I've learned that. Thank you to everyone who called me out on my bulls—! Because of all of you a [sic] idiotic person like me can become a better person!"
In addition to the public apology, they posted directly to Schumer's account as well.
"I understand that this can be seen as negative but I really wasn't trying to be! I was just curious and decided to see what you'd look like with my face tune app and I didn't realize that it was that bad!
"I'm sorry for my ignorance and I will take it down! I have no right to make people feel bad about themselves!"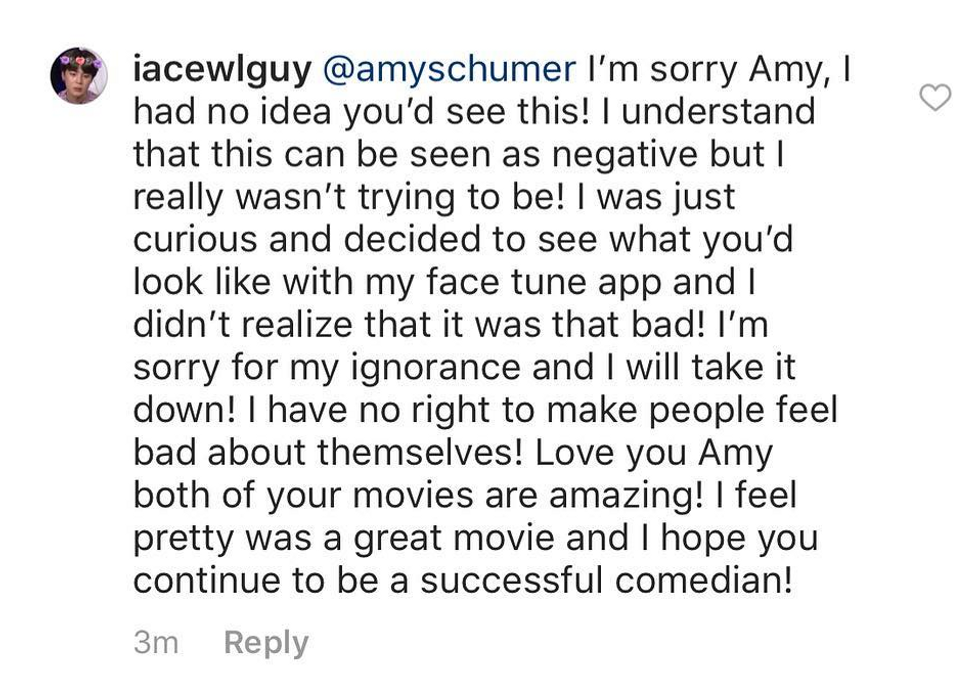 (@cewlguy/Instagram)
@THR At the end of the day be polite and realize celebs are people and give them space. Otherwise just follow the don't be a dick directive

— Jon (@Jon)1462086151.0
Back in December 2016, Schumer responded to backlash in response to Hollywood rumors she would play Barbie in an upcoming live-action movie. Critics said she was "too fat" for the role.
Schumer took to Instagram and spoke out on the purported fat shaming.

"Is it fat shaming if you know you're not fat and have zero shame in your game? I don't think so. I am strong and proud of how I live my life and say what I mean and fight for what I believe in and I have a blast doing it with the people I love."
In her same post, she elaborated on what she sees when she looks in the mirror. It's a different perception from what the trolls have to say.
"When I look in the mirror I know who I am. I'm a great friend, sister, daughter and girlfriend. I'm a badass comic headlining arenas all over the world and making tv and movies and writing books where I lay it all out there and I'm fearless like you can be."
Cewlguy is no longer actively using the account, but instead of deleting it altogether, left it as an example of keeping opinions about other people's bodies to yourself.