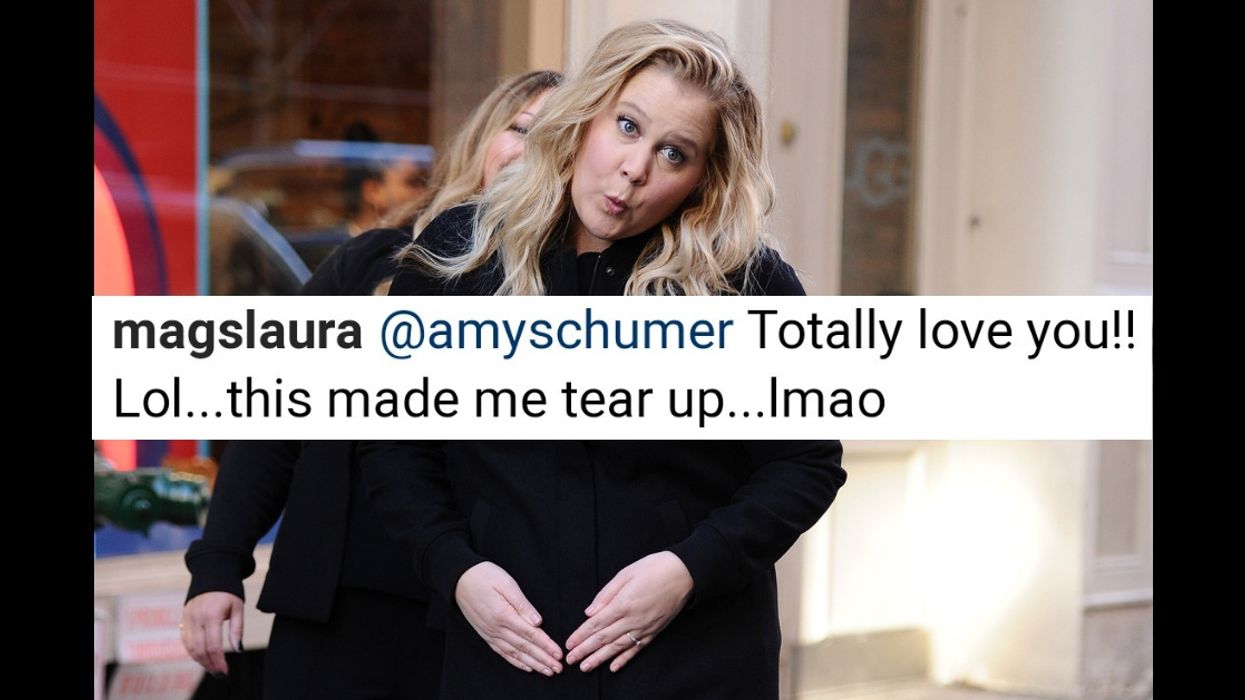 Josiah Kamau/BuzzFoto via Getty Images)/magslaura/Instagram
Actress and stand-up comedian Amy Schumer has a new special coming to Netflix this month called Growing.
---
Netflix describes the upcoming special on its show page:
"Amy Schumer spills on her new marriage, personal growth, making a baby and her mom's misguided advice in a special that's both raunchy and sincere."
Given the subject of the special, Schumer decided to share a promo poster to Instagram and Twitter on International Women's Day.
The poster draws definite inspiration from the "We Can Do It" World War II poster of Rosie the Riveter by J Howard Miller, and portrays pregnancy as empowering.
Schumer has been quite open about her pregnancy, and her exposed baby bump in the promo reinforces this idea that pregnancy isn't something shameful that needs to be hidden.
Quite a few people loved the poster, and the encouraging message that all bodies are beautiful.

annelearns/Instagram

detroitwhooty/Instagram
@amyschumer Amy, you big, tall, brilliant, funny, beautiful, gorgeous, sexy, leggy blonde bombshell, I LOVE ❤️ YOU!… https://t.co/yu6oRUUNyt

— Hartley Pleshaw (@Hartley Pleshaw) 1552062713.0
@amyschumer You are gorgeous Amy. I cant wait to see your show soon

— Jose Estrada (@Jose Estrada) 1552076405.0
@amyschumer love this photo!

— chelle (@chelle) 1552057256.0
One woman shared similar pregnancy photos.
@amyschumer #Twinning! This was me posing for my mothers artwork last year when I was pregnant. https://t.co/24QE6MOwWj

— Michaela Lamy (@Michaela Lamy) 1552057847.0
Others were excited to watch the new special.
@amyschumer Omg this is awesome! 😍 and I can't wait to watch!

— Jennifer Correa (@Jennifer Correa) 1552057768.0
@amyschumer Yessssss Give me birthday gifts of laughter!!!

— salima kamau (@salima kamau) 1552065621.0
@amyschumer I'm so excited!!! Love @amyschumer :3

— Radeon9 (@Radeon9) 1552068542.0
@amyschumer Just watched @IFeelPretty very funny and sad, i shed a tear or 2...thoroughly enjoyed it 😍💕

— Sisi (@Sisi) 1552087894.0
Some were also looking forward to Amy's future endeavors.

danahurst/Instagram
Schumer's special will be available to watch on Netflix starting March 19th.