The unique crowd-sourcing capabilities of the internet has changed the game for most of the niches and corners of people's interests that exist.
Cooking techniques are a prime example.
---
The world of cooking techniques and secret recipes no longer looks like it once did. Just a few decades ago, obtaining a secret recipe was a monumental act.
You had to get in touch with your parents or a relative, look at a 60-year-old index card covered in your great-grandmother's illegible script, and make blind guesses at the measurements--which were noticeably absent.
Then, after two or three attempts, you finally work the dish out perfectly. After all that work, it's a fat chance that you'd ever pass an earned heirloom like that along to even your closest friend.
Now, you click around for about 10 minutes until you find a very well explained recipe on a website that's hidden just enough to ensure not everyone at the upcoming potluck read it. Boom, secret recipe.
One Reddit thread went so far as to quicken the process even more. It's a helpful forum full of techniques and casual recipes. It's as beneficial as it is existentially threatening to the "secret recipe" altogether.
speakthat asked, "What is your personal and unique quick recipe/food hack?"
Little Touches
"If you can afford actually good balsamic vinegar, just a little drizzle can be amazing."
"People have regularly been like, 'Wow, I don't usually like salad but this is awesome' or, 'Damn, you make the best vegetables.' ... It's literally just a bit of pretty decent balsamic (not the insanely expensive stuff, but not off the shelf of your average grocery store), olive oil, and salt."
"Also works to brush on stuff like roasting carrots for a glaze."
Tabula Rasa
"You can throw nearly anything on pancakes and most times it will taste good." -- Red_Distruction
"Pancakes and burgers is the fun, but ugly, cousin to chicken and waffles." -- johnnycakeAK
Thickening Agents
"When making mac and cheese, blend up some (cooked) carrots and cauliflower with some milk/water so you end up with an orange-y liquid, add cheese and then mix in some cooked macaroni. It makes it creamier, healthier and thicker and you barely taste any difference."
Split and Unite
"If you're making an omelette, separate the yolks and the whites before you cook them. Whisk them both up individually (do the whites until they become frothy), mix the two back together and then cook them as normal. It'll make it super wobbly and fluffy as opposed to a patchy dry mess."
Doctoring Up
"Crack an egg and stir (or not) into the boiling soup of any cheap-a** (or not) instant noodle and you've now got some tasty ghetto fabulous broth to enjoy. Use two eggs if you're feeling naughty."
-- SoulSonick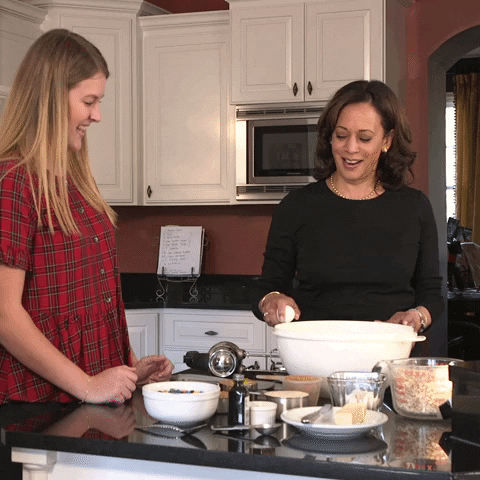 Giphy
For the Warm Weather Coming
"Sliced cucumber with no fat Italian dressing, salt, pepper, paprika. Its healthy, bright, and has a little kick. A nice, cheap summer time snack."
-- ButtersHound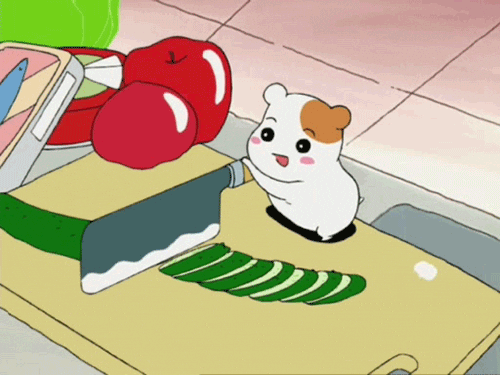 Giphy
Still Thicc
"I substitute unsweetened, plain Greek yogurt for sour cream all the time. On home-made tacos and burritos most often, but even with a bit of ranch seasoning for veggie dip."
"It has more of a bite than the sour cream, which I like, and I feel like I'm getting a better nutrition bang for my buck. I don't like sweetened yogurt, so this has been a nifty way to work it in to my diet still."
A Take on the Flatbread
"Naan bread, any type of sandwich meat, tiny tomatoes, spinach, gouda cheese. Throw in random spices of the day, usually garlic salt, paprika, Italian seasoning, and ground black pepper."
"Throw everything to half a side of the naan bread, fold over bread, throw naan on pan with lid to grill and melt the cheese. Serve with taziki sauce or mayo sriracha. 👌 sounds like a lot of work but it takes me less than 10 minutes to have a easy semi healthy dinner."
The Open-Faced 1970s
"A can of tuna mixed with a can of cream of mushroom soup. Scoop it onto halves of hamburger buns. Sprinkle it with cheddar cheese. Bake open faced in oven at 350 until cheese is melted. My mom learned this in Home-Ec in junior high in the 70's!"
A Premium Extra Layer
"When I bake banana bread, I always butter the loaf pan, then throw in a tbsp or two of sugar to coat all of the butter. Gives the bread a really nice sweet finish on the outside without the use of a glaze."
"I tried this with dark brown sugar once and ended up with a loaf soaked in molasses, which was disgusting so definitely stick with normal granulated sugar for this one lol."
Do you have something to confess to George? Text "Secrets" or "
" to +1 (310) 299-9390 to talk to him about it.