People Debate Mandatory Retirement At 75 For Congress And The Supreme Court
When Ruth Bader Ginsburg passed away in the fall of 2020, the United States panicked.
Namely, democrats and liberals were terrified by the prospect of another conservative judge on the United States Supreme Court, which already had a two-seat majority.
Then of course, there was the ongoing debate as to whether or not then-sitting president Donald Trump was entitled to pick another Supreme Court judge, as the 2020 presidential election was only weeks away.
Barack Obama was famously banned from appointing Merrick Garland to the Supreme Court owing to the fact that it was an election year, even though President Obama still had eight months left in his presidency.
Of course, RBG's death at age 87 also brought to the forefront an ongoing debate about whether there should be age limits for Supreme Court Justices.
---
Redditor houstontexas2022 was curious to hear where the Reddit community stood on this issue, leading them to ask:
"Would you support a mandatory retirement age of 75 for US House, US Senate & US Supreme Court Justices and if not why?"
If There Are Minimums, There Should Be Maximums
"Yes."
"We have age minimums."
"We need maximum age limits these people are making decisions for a future they won't be involved in."- mattjf22
Age Doesn't Always Equal Wisdom...
"I am 82 years old."
"Personally, I feel that anyone my age who still gets off on power needs to be kept away from normal people."
"But to the point of this post, the world has been run by old people since the beginning of our species, and just look at the place!"
"Yes, if you were intelligent to begin with your wisdom and common sense will increase with age, but so will your cynicism."
"If you were a young jacka**, you will become an old jacka** — and a hide-bound prejudiced old jackass at that."
"Give them a nice pension at 70, with the condition that if they mess with politics or government again they lose the pension."- SemichiSam
Would Have Greatly Affected The Last Two Elections
"70 and as for president no one can run over 65."
"FFS get with the program folks just retire."- Upstairs-Bid6513
Age Limits Are Only The Beginning
"Age requirement of 65, 2 term limit, Congress people serve 4 year instead of 2 year terms, and no campaigning more than 60 days before the election."- Deedoodleday
Term Limits First

"I feel like if we were to attach an age to it, it should be the age of retirement, but I feel like it would be more important to have term limits."
"Limits would fix almost all the same issues and address more, without arbitrarily deciding someone is too old to serve the state."- Askmyrkr
"Term limit is the way to go."- bob2235
Not Where Our Concerns Should Be...

"No, the problem isn't age, it's our election system."
"Politicians get old in office because it's so f*cking hard to vote them out!"
"End legal bribery, end FPTP, and we'll see a much healthier turnover in our political processes."- FountainsOfFluids
What Matters Is Their Qualifications And Abilities

"I'll be the contrarian."
"If you're good, you're good, regardless of age."
"I'll take a 75-year-old who is smarter, savvier, and better representative of my values than a 35-year-old."
"If you don't like them because they're senile, don't vote for them, that's all."
"Honestly, I feel the same about lower-age limits that aren't just the age of majority."- walkerintheworld
75 Is still Too Old...
"I would go even younger at 70."
"Sure that may mean we would lose Bernie, we would also be ditching McConnell, Pelosi, and the other fossils in office who refuse to address the problems we face."- Daryno90
Wrong Priorities
"Would rather see mandatory voting like Australia."- szthesquid
Wouldn't Change Anything
"No."
"Making politicians retire at some arbitrary age would not address the underlying problems our system has."- giope_1995
"What problem are you trying to solve by doing this?"
"Apparently, people want to be represented by ancient dinosaurs."- SideShow117
Defeats The Point Of Democracy

"No, absolutely not."
"Nor should there be a minimum age (apart from 18)."
"The point of a representative democracy is that the people vote for whom they want."
"Putting restrictions on who can run serves no purpose other than invalidating the votes of people you disagree with."
"It's not up to you or me to decide who is 'valid' as a candidate."
"That's the entire point of democracy."
"And to those of you that are convinced that if all the old people were just gone, then everyone would agree with you, you're ironically the exact kind of uninformed voter that you claim to be trying to prevent."- scottevil110
"No, because if there was a 76-year-old candidate I liked I would want the freedom to vote for them."
"Supporting things like this is so short-sighted."- tedesco455
In the heat of the moment, it's easy to make rash decisions about government and democracy.
Frustrating though it may be, it's important to remember progress is a slow, steady stream and doesn't come easily.
Also worth remembering, there are indeed two sides to most arguments, and far more can be resolved in a discussion than in an attack.
Let's face it. No one looks forward to a doctor's visit.
Anyone declaring otherwise is fibbing and needs to have their head checked–which should be no problem for them to clear their schedule for.
While some visits consulting a medical pro is beneficial for identifying an ailment or for seeking relief, the process can still be unnerving.
Curious to hear from the experiences of strangers online, Redditor sydthakidd asked:

"What was your worst experience at a doctor's office?"
When doctors don't know who or what they're treating, it's a major concern.
Unnecessary Scan
"I was getting a bone density scan for some odd reason, and the doc came in a while later and told me I had Osteoporosis. This was not why I was there in the first place and was completely surprised. I asked him if I could see the chart, and it was for a 70 year old woman. I was a 30 something man, and he had the wrong chart! Turns out I did not have any issues at all, well, bone density related…"
– Curleysound

Pumping Iron
"Oh god, this reminded me of the time I took iron pills daily for four months because LabCorp mixed my results with someone who had severe anemia."
"When I went back to be tested again, my iron levels were SO goddamn high it was almost bad."
– swanlakepirate423

Lethal Prescription
"I went to a clinic to see a doctor about a fever and body aches and informed him I was allergic to NSAIDs.. he said he'd give me something and it was not an NSAID."
"Went home, swallowed the pill, immediate allergic reaction starts.. rushed to the A&E of a hospital where they pumped me full of drugs to stop the allergic reaction.. and the doc there asked me why I took the NSAID."
"I think the A&E doc reported the clinic doctor because he was never seen again."
– bearyken

Bad Communication
"I had a similar thing at a hospital here. Told multiple nurses and staff that I was allergic to aspirin, basically everyone except the doctor. Doctor prescribed me Advil, and assuming he looked at my chart and having no idea that both are NSAIDs, took Advil. Came back to the hospital an hour later in anaphylaxis and difficulty breathing."
"25 years later, had a minor surgery at the same hospital and now they put a bright band around my wrist immediately, and the first thing any person I interacted with asked is 'Do you have any allergies?' Annoying to be asked that 25 times in a 4 hour period, but nice to see that policy has changed to make sure that kind of thing doesn't happen again."
– impossibilia
Unpleasant Emissions
"I had pinched my syatic nerve pushing carts at work. He accused me of having very kinky sex while my gf was in the room. I told him it was at work, and he assured me he would not judge me if it was from sex. He then gave me OxyContin and told me when ever I needed a refill I should call him and he'd make sure I had plenty. Very weird."
"The other is super mild but he kept farting. Like the whole time he'd fart every few minutes."
– Karsa69420

The last thing these Redditors expected was to endure more suffering after seeing their doctor.
Fix It, Don't Break It, Doc
"I thought I had a broken nose. The doc was showing me, on a heavy glass x-ray plate, that my nose was not broken. But as I was looking up, he dropped the plate on my nose and broke it."
– Wind2Energy
"'I, uh, guess you're here for a broken nose after all, huh?'- Dr probably."
– Chris_the_Otter

The Inappropriate Specialist
"Was 17, had an infected ingrown toe nail. My pediatrician tried cutting and digging it out with what looked like pliers and bracing his leg against the table. After f'king around for a bit he realized he wasn't going to get it. No numbing gel or anything. Hurt like a mofo. Scheduled an appointment with a podiatrist, he numbed it, had it removed in about two minutes and told me to never see that dr. Again."
– Sam_i_am_68

More Embarrassment Than Pain
"Laid on my side with my back to the door for a prostate exam. Heard people walk by talking while a finger was in my butt and realized the door was open."
– survival-nut
"I want to move to another country on your behalf just from reading this."
– OddEpisode

If at first you don't succeed...
X Didn't Mark The Spot
"The ENT doctor removed a skin cancer from my nose, leaving an ugly scar. Turns out he excised the wrong area and I went to a different doctor to actually remove the cancer."
– DdraigGwyn

"Smug Bastard"
"Not me, but a close friend:"
"She was having debilitating migraines, to the point she couldn't work or function. She waited nearly a month to see a neurologist. Upon a brief examination, he said:"
"You don't have anything wrong with you. Just exercise and try not having headaches."
"Three months later, he finally relented and did an MRI. She had massive lesions on her brain. She was diagnosed with MS. The smug bastard was somehow irritated she had a positive diagnosis. Her health wasn't as important as his ego."
– wheresmychin
Second Doctor Saves The Day
"I had been sick for a while and had been gaining about 20 pounds a month. I had seen multiple doctors and they just told me I was just eating more than I thought which was ridiculous. I went to a doctor for a skin issue and the new doctor walked in the room and looked at me from across the room and said 'let's get you to the emergency room' after about five seconds."
"I had end stage cirrhosis of the liver. That kind of sucked. I had a liver transplant 362 days ago and only in the last month have I started to feel like I am getting back to normal."
"Did you know you can get so sick your hair turns gray and then get better and the gray hair goes away? It's weird honestly."
– blippityblue72

Hands-down the worst experience ever at a doctor's office was before I met with my actual doctor.
While I was waiting in a separate room waiting to go into the doctor's office, the phlebotomist came in to take some blood samples from me.
I have very prominent veins with the bluish hues making them even more visible. Yet, the phlebotomist managed to miss piercing through my veins.
Not once. Not twice. NOT THRICE.
She had to run out to get my primary care physician to jab the needle into me for my fifth–but thankfully his first–successful time.
It's a wonder how I managed to get back home in my highly woozy state.

If you were to ask most parents these days what they hope their child might be when they grow up, chances are the majority of them will say a doctor or a lawyer.
Or, at the very least, they might say they hope their child marries one.
However, had you been growing up in late Victorian or Edwardian England, being a doctor or a lawyer, let alone marrying one, was not exactly something to brag about.
For if you were someone of any means or rank, you probably wouldn't work at all.
Thankfully, the stigmatization of those jobs wore away over time, and people now respect them for the important professions they are.
Sadly though, the passage of time has not been as kind to other professions, whose pedigree has suffered the reverse fate.
Redditor probablyuntrue was curious to hear which professions people believe no longer carry the same pedigree they once did, leading them to ask:

"What job used to be prestigious but isn't anymore?"
If Anyone Rues The Invention Of The Automobile...
"Blacksmith."
"They were the town engineer, manufacturer, craftsman, and problem solver all in one."
"Now they are mostly just hobbyists."- BaconReceptacle
And All They Told Was The News...
"Newspaper columnist and local news anchor."

"They used to be celebrities when they were the primary mediums people got their news from."- 4Ever2Thee
Blame It On The Name Change...
"Flight attendant."
"Back in the 1970s, if you were dating a 'stewardess', all your friends were jealous."- Earguy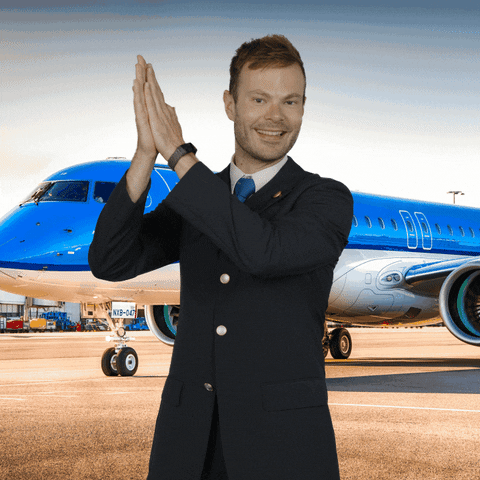 Cabin Crew Applause GIF by KLM
Giphy
Maybe It's People's Taste Which Has Taken A Hit...
"I was a furniture and cabinet maker in the 2000s."
"I designed and built entertainment centers for the new flat-screen tv fad."
"Paid great, everyone thought I was cool."
"No one gives a sh*t anymore and the pay has scaled way down with this economy so I'm back in school."- Low-Abbreviations-38
Owing To Certain Connotations, Perhaps?
"Spice trader."
"I was of course talking about reading actual spices."
"With the new movie, being a character in Dune is probably more prestigious than it has ever been."- I_might_be_weasel
Thanks Spotify...
"Nighttime radio DJ."- Scrappy_Larue
"They used to set what music was cool and not."- laudinum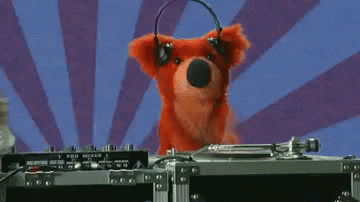 Dj Puppet GIF
Giphy
Before There Was Kinkos...
"Printer."
"Lithographic or various others."
"Used to be an amazing career and essential to society."
"Since the rise of the internet and decline of printed media the industry has died."
"Not that long ago, the spread of information was made possible through printers, not anymore."- Advanced-Stupid
There Sevice Has Been Expedited, or perhaps "Expedia'd"...
"Travel Agent."
"Finding flights, booking good hotels, knowing the cool places to go, how to get tickets to events, and how to pull it all together for someone used to be fairly useful skills to have."
"Now the job is basically nonexistent apart from super high-end or specialty positions."- MrMojoFomo
Their Cargo Is Seldom Precious...
"Letter carriers for the postal service."
"All I deliver now is junk mail and Amazon packages."
"Certified letters used to be treated like it was a classified gov document(because it could be) that you were responsible for."
"You even had to sign out to receive them because you were accountable for them."
"Now they come mixed in with the bulk junk mail."- flyjum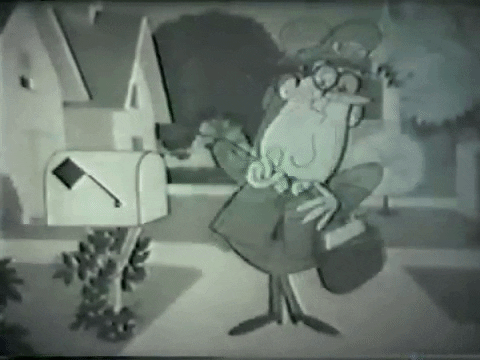 Postal Worker Vintage GIF
Giphy
"Bank manager."- biga204
"I would argue that position is still prestigious in towns under 20k pop."- 2cats2hats
Some Money Management Isn't So Glamorous...

"Working at a Bank."- DogusEUW
"Before the credit score was invented, working as a banker was prestigious because you got to decide if someone got a loan or not."
"Everyone want to be buddies with a local banker because he could sign off on a loan and set the terms."
"How do you think grandpa bought the house?"

"Now individuals don't do that algorithms do."- Limp_Distribution
"...All The Livelong Day..."

"Freight conductor/ engineer."
"Used to be a great career."
"The hours and schedule have always been rough but the pay made up for the inconvenience."
"Now corporate greed, sh*tty contracts, mass company surveillance, and insane attendance policies have turned railroading into a sh*t job."- Boo_Blicker
Survey Says...
"Land Surveyor."
"3 of the 4 presidents on Mount Rushmore were land surveyors, and owning property was a big deal so people who could give you legal authority over ownership were pretty well respected."
"Now you make $12 an hour starting to dig holes lol."- HandsOfJazz
When You Realize You're On The Wrong Track...

"Working in academia, in a way."
"Over last several decades, tenure tracks got way more competitive."
"Young scientists are now often overworked, underpaid and have uncertain future."
"No wonder that many leave the academia for private sector."- MyKinkyCountess
It's Very Easy To Judge..."
"Is any job considered prestigious nowadays?"
"It feels like the internet has allowed us a deeper look into what every profession really is like and the aura of mystery/awe that used to surround particular jobs just isn't there anymore."- justgonnaknowaway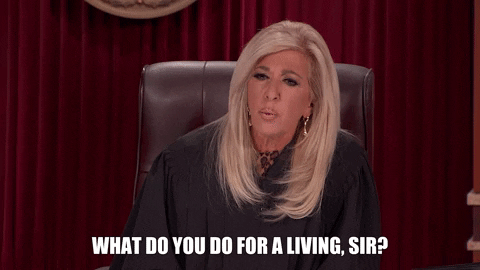 What Do You Do For A Living GIF by Hot Bench
Giphy
It's certainly worth wondering what makes people think a job is prestigious or not?
The pay? The duties? The qualifications?
None of which should ultimately factor in, as when push comes to shove, all jobs have value.
After all, most of the jobs that were considered "essential" during the height of the pandemic were generally anything but lucrative.
But where would we be today without them?
No one wants to hear that they've been let go, but, trust us, in the following examples, it's definitely for the best. From shocking acts of sabotage to dangerous drownings and even playing with oneself on company time, these jaw-dropping Redditor's stories have one thing in common—a sometimes sad, but always satisfying, ending.