Friends has been off the air for 15 years and it's still as popular as it's ever been. It's only natural that the cast––who've all since moved on to steady careers in television and film––would be asked about the show, even after all this time. Matt LeBlanc, who played Joey "How you doin'?" Tribbiani, shared a special something with fans during an appearance on The Tonight Show with Jimmy Fallon.

---
LeBlanc revealed he "stole" a prop from the set of the hit show after it ended.
The characters of Joey and Chandler (who was played by Matthew Perry) had a Magna Doodle (a magnetic drawing toy) hanging on the door of their apartment. The words would change every so often, thanks to the efforts of Paul Swain a crew electrician who would play around with it.
Magna Doodle Back In Joey & Chandler's Apartment - Friends S04E20 www.youtube.com
LeBlanc says he took the Magna Doodle and gave it to Swain as a parting gift.
"I stole it and gave it to him, so he's got it. So, that's kind of cool," he said. "I could have sold it for a lot more."
You can watch his interview below:

Matt LeBlanc Reveals the Friends Props He Stole from Set www.youtube.com
That wasn't all LeBlanc took, however. He says he also took the foosball from Joey and Chandler's foosball table. It now resides in his toolbox. (It's certainly seen better days!)
"I have it in my toolbox somewhere. Why it's in my toolbox, I don't know," he shared.
LeBlanc joked that he wanted to take the couch, but that he couldn't fit it in his car.
People (still!) can't get enough of Friends.
A few thought that LeBlanc would have taken a different prop, though:

Ester/Tonight Show

deadpool SMASH/Tonight Show
People still love their Joey, though!

xXDiMartXx/Tonight Show

Dima Jonblat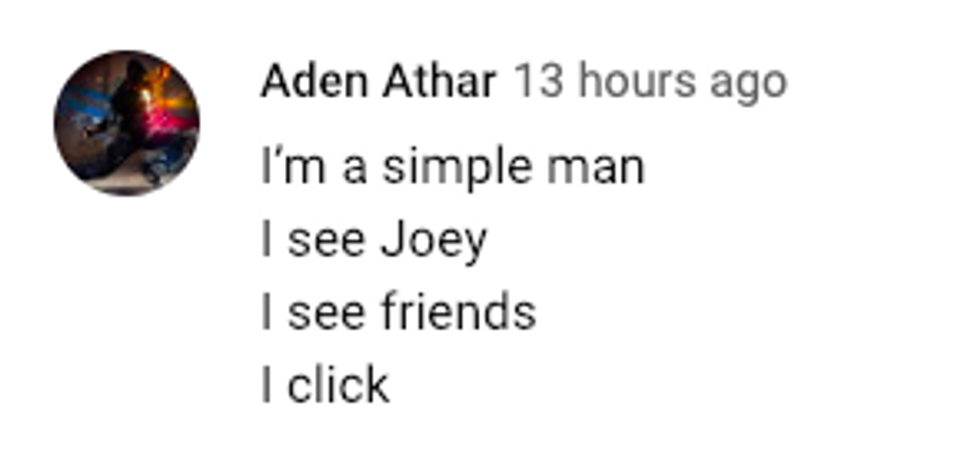 Aden Athar/Tonight Show

Vanessa green/Tonight Show
LeBlanc also found out he was wrong about the number of claps in "I'll Be There for You," the Friends theme song.
"How many claps are in the Friends theme tune?" asked host Jimmy Fallon.
"Five," LeBlanc replied.
"Oh no, it's actually four," Fallon said.
"No it's five, I've heard it like a thousand times," LeBlanc said.
Oh, really?
Matt LeBlanc and Jimmy Debate How Many Claps Are in the Friends Theme Song youtu.be
Never change, Matt. Never change.