As far as bad ideas go, Sexy Handmaid is right up there with the terrible Pepsi campaign where Kendall Jenner solves racism in the United States with a soda pop.
Come on folks, we can do a lot better.
---
The website Yandy launched this years Halloween costumes with a sexy Handmaid's Tale.
If that wasn't bad enough they added this tag to really get you in the mood.
"An upsetting dystopian future has emerged where women no longer have a say."
"However, we say be bold and speak your mind in this exclusive Brave Red Maiden costume."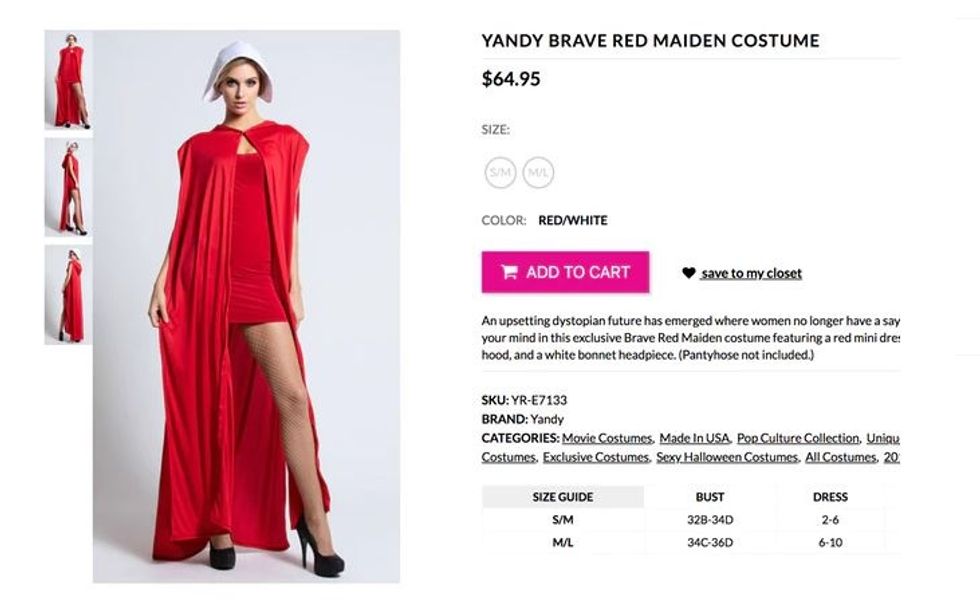 Yandy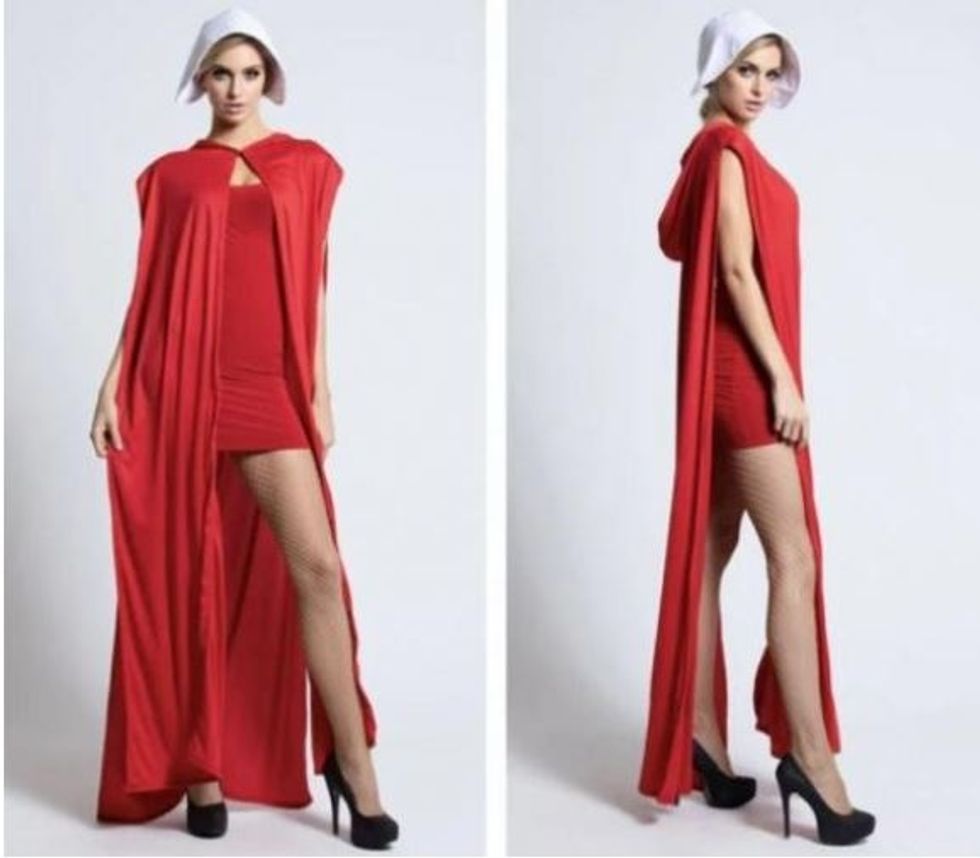 Yandy
Needless to say it didn't go over well.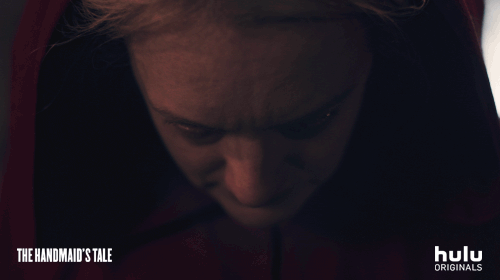 media.giphy.com
The comments were brutal.
@ReloadGV When you want to look your best for the Monthly Raping, no other outfit will do!

— 🎃👻 Gabby 🦇💀 (@🎃👻 Gabby 🦇💀)1537543970.0
@gabbyhon "Excite your Commander while defying your Aunt. All Eyes will be on you" this thing just writes itself

— Reload 🇨🇦 (@Reload 🇨🇦)1537544485.0
@CNN Who approved this? Because if you have to be told this is inappropriate, you should be fired.

— ✍@Let me tell you a story✍ (@✍@Let me tell you a story✍)1537567196.0
@CNN This was a horrible idea. I'm glad it was pulled. Bed message it is sending.

— GODS PLAN💜🙏💜: (@GODS PLAN💜🙏💜:)1537568599.0
@CNN Seriously? No one in the company thinks it's inappropriate? I know it's just a show but kinda traumatic when I see the outfit @devila7

— ✨ (@✨)1537568661.0
@CNN Way to read the freaking room, Yandy. "Sexy 'Lebensborn' Camisole" can't be far behind.

— Eunartha Bossamy (@Eunartha Bossamy)1537567672.0
Today: Slutty Handmaid's Tale Costume. Tomorrow: Slutty Global Warming. https://t.co/bLr7s1owOX

— Kashana (@Kashana)1537475973.0
I'm dressing up as existential despair this Halloween https://t.co/fMyuNuuU1g

— Jessica Valenti (@Jessica Valenti)1537489206.0
Gee, we cannot understand what women could possibly be offended by. Especially with the outfit inspiring comments like these from some men.
@CNN On a liberal woman that outfit would be foul. But on one of our beautiful conservative women it would be very hot.

— Larry (@Larry)1537567234.0
@CNN "Widespread" = fat liberals who can't fit in it.

— Godfather (@Godfather)1537567224.0
And women.
@CNN @cnn It's what all the Hollywood libs ware on the red carpet hahahaha

— Kathleen Shanahan (@Kathleen Shanahan)1537567570.0
@CNN Why would you stop selling that? I'd do her?

— freedom ≠ loophole (@freedom ≠ loophole)1537567818.0
@CNN The women marching in these outfits DID NOT look like this lady. Must have made their own as they don't do plus sizes

— JHS (@JHS)1537567845.0
@CNN People have lost their minds. The model is stunning. I am willing to bet that the women who complained look li… https://t.co/PrPWA8uAPE

— David Legum (@David Legum)1537567402.0
The company removed the costume and issued this official statement:
"Yandy always has stood, and will continue to stand, at the forefront of encouraging our customers to 'Own Your Sexy.' We support our customers being comfortable in their skin, regardless of who they are or what they choose to wear. Our corporate ideology is rooted in female empowerment, and gender empowerment overall."
"Over the last few hours, it has become obvious that our 'Yandy Brave Red Maiden Costume' is being seen as a symbol of women's oppression, rather than an expression of women's empowerment. This is unfortunate, as it was not our intention on any level. Our initial inspiration to create the piece was through witnessing its use in recent months as a powerful protest image."
"Given the sincere, heartfelt response, supported by numerous personal stories we've received, we are removing the costume from our site."