Warning: The following contains spoilers about Star Wars: The Last Jedi.
The second installment in the latest Star Wars trilogy saw the end of famous Jedi and lead character of the original franchise, Luke Skywalker. After an epic battle with his nephew, Kylo Ren, in which Skywalker used the force to project an image of himself onto Planet Crait that was so convincing Ren didn't realize he was battling a projection rather than the real thing, Skywalker had expended the last of his vital energy and faded away. The moment, in many ways, seemed to be a nod to Obi-Wan Kenobi's death in Star Wars: A New Hope.
Now a comic book version of The Last Jedi published by Marvel is giving us some insight into Luke Skywalker's final thoughts. The comic panel shows Luke sitting on the planet Ahch-To, the same as in the movie, but we get a thought bubble as he sits.
It reads:

And so it ends as it began. By the light of two suns. Before stepping into a larger world.
This is a reference to how we met Luke in the first film, on the planet Tatooine, which had two suns.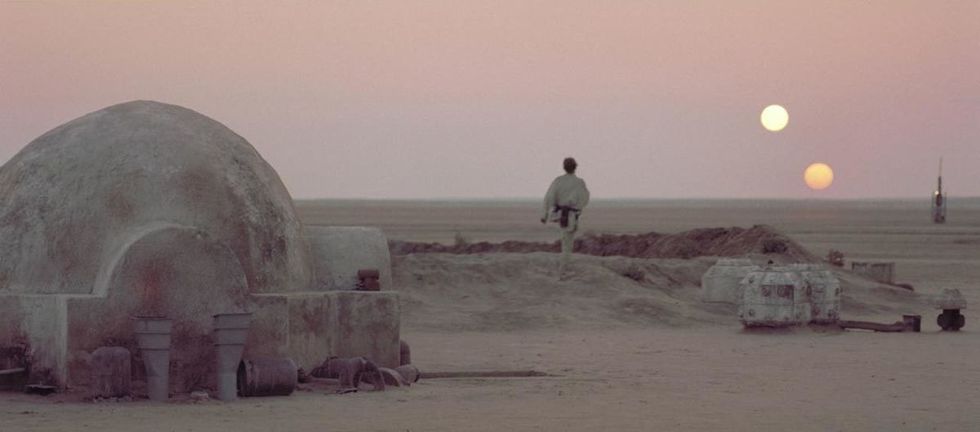 Lucasfilm
People were here for this ending.
@garywhitta You gave him a most gratifying moment, to leave that open ends, where it will leave our sweet imaginati… https://t.co/4fodeV7WVa

— galatians_4_6 (@galatians_4_6)1536918752.0
@garywhitta It's truly highlighted 'no one's ever really gone', which was spoken by none other than Master Skywalke… https://t.co/xYVMvIoc2L

— galatians_4_6 (@galatians_4_6)1536918005.0
@garywhitta It really is beautifully written. Nice work.

— Dan Hanks (@Dan Hanks)1536873749.0
Others had their own ideas.
@slashfilm "Never did get those power converters" - L.S. https://t.co/N4J815c1wR

— Chad Bennett (@Chad Bennett)1537386173.0
@slashfilm I know the answer to this one! "I pooped."

— Eric Vespe (@Eric Vespe)1537385508.0
@EricVespe @slashfilm People do do that when they die - though I'm not sure that applies if you Force Die. One for the Jedi experts...

— Craig Walmsley (@Craig Walmsley)1537389033.0
@slashfilm "Where did that other sun come from?" "Who knew Force Webex was so tiring?" "I'm literally Skyping it… https://t.co/SDu35TG1VU

— Craig Walmsley (@Craig Walmsley)1537388893.0
@CBR Did I leave the oven on?

— El Shawno Deluxe (@El Shawno Deluxe)1537268798.0
And someone had this idea for a little crossover.
Now that would be interesting.